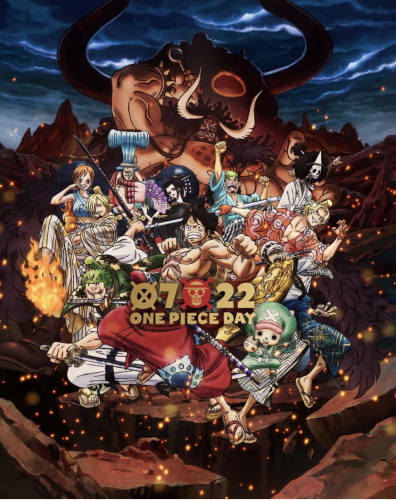 What You Need to Know:
On ONE PIECE Day, July 22, the latest information such as new visuals and the new OP of the anime released in a special 23rd anniversary live show where Luffy/Mayumi Tanaka and Usopp/Kappei Yamaguchi appeared.
ONE PIECE Day was established by the Japan Anniversary Association and is the date when One Piece began its serialization in Weekly Shonen Jump.
In addition to the Straw Hat Pirates dressed in Wano costumes and Kaidou of the Beast Pirates, some of the new visuals released are special ones of Trafalgar Law and Sabo dressed in special costumes!

Starting on August 2nd, the new opening theme will be "DREAMIN' ON" by the 5-piece dance and vocal group Da-iCE.
The official stamps for ONE PIECE Wano Kuni will be released on July 28th in the LINE stamp shop. And the LINE Creators Collaboration x ONE PIECE allows anyone to create and sell LINE stamps of characters from the TV anime "ONE PIECE"! This also begins on July 22. (Note: May only be available in Japan or with Japanese LINE accounts).
Also, two new videos (Luffy & Law, Luffy vs. Kaidou) were added to the "Dubbing Challenge" project, where you can attempt dubbing while watching the video. There is also a function for downloading challenge videos, so if you are interested, check https://adventure-sunday.com/ for details!
Source: animeanime.jp
ONE PIECE LINE Stickers

---
Who says nobody likes you when you're 23!?
Let's all celebrate One Piece with all this cool stuff!