Kingdom 4th Season

Genre:
Action, Adventure, Historical, Military
---
Airing Date:
April 9, 2022
---
---
Studios:
Pierrot / Studio Signpost
Official Images / Key Visuals
Characters & Voice Actors
Xin:
Masakazu Morita
A 1,000-man commander of the "Feixin Unit", who started off as a servant, and dreams of becoming the "greatest General in the world". He meets Ying Zheng, the present king of the State of Qin, by fate in the midst of a violent coup in the royal capital. He is honest, straight forward, and his manly spirit gains much trust from his subordinates. His strong body, mind, and instincts improved through the battles, which has kept him alive through many deadly situations. He learns much from the way of life of Generals such as his teacher Wang Qi, who named Xin's unit the "Feixin Unit" on the battlefield, and through competing with his rivals, such as Meng Tian and Wang Ben, he steadily climbs the steps towards the "Unity of China" along with his sworn friend, Ying Zheng.
Ying Zheng:
Jun Fukuyama
The 31st king of the State of Qin, who later becomes Zheng, the King of Qin. He has good looks and is very intelligent. Though young, he has the presence of a king backed up by his excellent leadership. He wants to finish the age of wars by unifying all China, which is something no one has ever done. However, not many have realized his talent and Lü Buwei has a stronger influence in the palace. Xin, who he fought along with at the coup in the royal capital, swears that each of their goals materialize. With the help of his advisor, Chang Wen Jun, and his brother Cheng Jiao, who is frustrated by Lü Buwei's actions, Ying Zheng regains true power in the palace to realize his grand goal.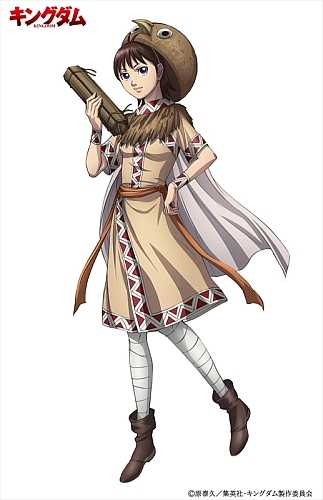 Heliao Diao:
Rie Kugimiya
The military strategist of the "Feixin Unit" of the State of Qin. She helps Xin and Ying Zheng, the king of the State of Qin, and joins the team. To help Xin and Ying Zheng reach their goals and fight along with them, she studies military strategy under Lord Changping, the head of military affairs of the State of Qin. At first, she wasn't trusted by the rough members of the "Feixin Unit", but is now loved by them and referred to as the "little girl strategist." She's a strong asset to the unit as a dependable strategist who sometimes carries the "Feixin Unit" to victory, and other times saves them from tight pinches.
(Credit Honey's Anime when you use our description.)
---