ReLIFE (2013) was an interesting slice of life comedy that featured a main character who found a chance to redo a part of his life that hadn't gone so well the first time around. With that in mind, we recommend two more recent shows that have a protagonist in a similar situation to ReLIFE's Kanzaki Arata! ReLIFE has themes of teen angst, enjoying the so-called "springtime of one's youth", but also learning to let go of the past and one's self-loathing. If you like ReLIFE, you might just enjoy getting into these two titles!
Liked Re:LIFE? Watch Yahari Ore no Seishun Love Comedy wa Machigatteiru. Kan (My Teen Romantic Comedy SNAFU Climax!)
Episodes: 12
Aired: July 2020 – Ongoing
17-year-old Hikigaya Hachiman is an apathetic, antisocial high schooler who believes that the popular aspects attributed to youth are just a pathetic farce. As a punishment for an essay he wrote mocking social relationships amongst his peers, his teacher forces him to join the Volunteer Service Club, a school club committed to helping students with a variety of different issues. There, Hachiman meets the school's so-called ice queen, Yukinoshita Yukino, the only other member of the Volunteer Service Club. The two cooperate to help students with their problems, but can Hachiman really do that given his dreary outlook on life?
With this story being in its third season, we've had a bit of time to see Hachiman slowly grow into a new perspective. The main similarity between Oregairu and ReLIFE lies in the rehabilitative aspect of their respective main characters' arcs. Arata's pessimism towards life stems from his feelings of inadequacy, his job-hopping, as well as the trauma he experiences after the death of his superior at his first job. Oregairu has the super pessimistic, apathetic, and rather self-loathing Hachiman, who had a bad experience with a girl once and now believes that joyful youth is just a lie. He also has no friends – you can see how hollow he is when you look at his eyes. The theme with both characters is that they have been given an opportunity to start changing themselves for the better by being forced to confront themselves in one of the most tumultuous times in a person's life: adolescence.
Liked Re:LIFE? Watch Yesterday wo Utatte (Sing "Yesterday" for Me)
Episodes: 12
Aired: April 2020 – June 2020
Uozumi Rikuo is a university graduate working at a convenience store in Tokyo. He has a rather bleak outlook on life, but things start getting interesting when an eccentric girl named Nonaka Haru starts visiting him. When Rikuo hears that a crush he had in college is back in town, he reaches out to her so that they can pick up from where they left off. However, Morinome Shinako has been carrying heavy baggage from past experiences that render her unable to accept nor reciprocate Rikuo's feelings. All three of them, Rikuo, Haru and Shinako have pasts that need to be left in the past so that they can move forward.
A common thread between ReLIFE and Yesterday wo Utatte is the way in which the main characters of both shows have heavy baggage from the past that weighs on them in the present; however, things start moving when the main characters of each universe meet each other. They must confront the ghosts of their pasts so that they can move forward in their lives which are otherwise lives that bleed dreary monotony and stagnation.
Final Thoughts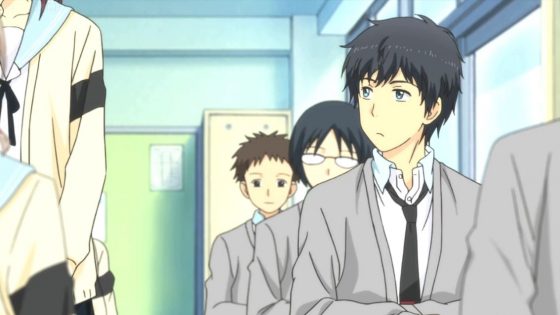 ReLIFE was an awesome slice of life title that taught us to live our lives in the moment and take the opportunities as they come, otherwise, we may come to regret living as passengers in our own lives. Slice of life is an amazing and diverse genre and the titles we've mentioned are only two of many others that are like ReLIFE!
If you liked ReLIFE, drop a comment below with recommendations of shows that are just like it, you might come across something you wish you'd heard about earlier!
---