What You Need to Know:
Mary Skelter™ : Nightmares hits the PlayStation Vita system this September 19 (NA) and September 22 (EU), and to celebrate we have a ton of fresh new content to share with you all. Two new modes, Massacre Mode and Blood Skelter Mode have been revealed which we'll cover in detail below, and of course we have a character spotlight to focus on as well!
Source: Official Press Release
About Massacre Mode and Blood Skelter Mode
Jack's party of Blood Maidens, prisoners who possess the power to fight Marchens, overcome the Jail's obstacles thanks to their special blood-activated abilities!
Blood Maidens have two meters a Blood Meter and a Corruption Meter. Overkills trigger blood splatter which fills up the Blood Meter. Once it's full, she'll enter Massacre mode, which strengthens her power during battle!
But be careful, massive damage to the party and KO's fill the Corruption Meter. A full Corruption Meter causes the Blood Maiden to lose control... And then she'll enter Blood Skelter mode. In this powerful berserk mode, she will indiscriminately attack enemies and allies! Only Jack's Mary Gun can stop them.
Strategically balancing Massacre mode, Blood Skelter mode, and watching the meters is the key to victory!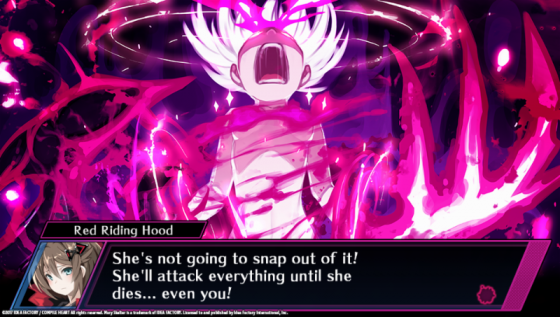 Character Spotlight
THUMBELINA
The oldest of the three Blood Maiden sisters. She pushes Jack around and is so prideful that she can't even compliment him.
SNOW WHITE
The second oldest of the three sisters. She has a gentle personality and is kind to Jack. Despite her best intentions, she ends up complicating things. She's afraid of looking into mirrors.
SLEEPING BEAUTY
The youngest of the three sisters. She's comforting to Jack when he feels down. She's almost always sleepy, so she expresses most opinions with a simple nod or by shaking her head.
KAGUYA
A lazy Blood Maiden who spends most of her time in her room. She uses her special ride, Bamboo 1, to move around or to fight. It takes a while for her to open up to Jack.
---
Sleeping Beauty is cute, I like her character archetype.
Kaguya for some reason reminds me of Hifumi from New Game and of course you know, I'm a huge fan of Hifumi!
---