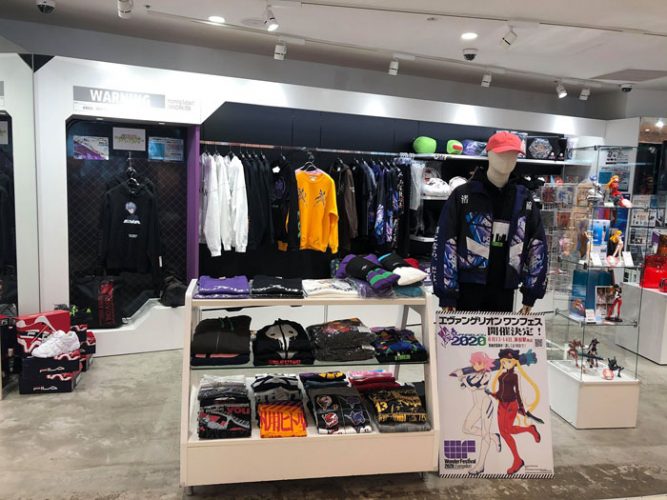 [**Editor's note: Many businesses are closed in Japan and travel is stalled, but we covered some splendid locations before the pandemic hit so we'd like to invite you to virtually travel with Honey's Anime to a few of the last spots we were able to visit! Stay healthy and, enjoy!]
It's no secret that there are a lot of shops to buy anime goods from across Japan, and especially in Tokyo's otaku neighbourhoods. Most of these shops are general ones, selling a wide variety of different anime's merchandise. That's great because it means that most fans can find something that they love from their favourite anime—but it also means that most goods are not specialised. It's always going to be phone cases, key chains, files/folders, pins, and stationary. Really lucky fans might find a t-shirt or a plush.
That's not good enough for one of Japan's most famous and well-loved anime—Evangelion. Evangelion is so widely loved and so continuously popular that it has its own store! And not just another pop-up shop that's only around while an anime is popular; no, Evangelion has had a permanent home in a shop in Ikebukuro for a few years now. It's been so successful that a second location opened up in Shinjuku last autumn! So Evangelion fans, get ready. We are going to show you an inside view of these unique stores.
---
Evangelion Store Info
Location (Ikebukuro)
Address
Ikebukuro P'Parco 2F, 1-50-35 Higashiikebukuro, Toshima City, Tokyo 170-0013

Nearest train line(s)
"Ikebukuro Station" - JR Yamanote Line, JR Saikyo Line, JR Shonan-Shinjuku Line, Fukutoshin Line, Marunochi Line, Yurakucho Line, Tobu Tojo Line, Seibu Ikebukuro Line

"Higashi-Ikebukuro Station" - Yurakucho Line

Location (Shinjuku)
Address
0101 Annex 1F, 3-1-26 Shinjuku, Shinjuku City, Tokyo 160-0022

Nearest train line(s)
"Shinjuku Station" - JR Yamanote Line, JR Saikyo Line, Jr Shonan-Shinjuku Line,JR Chuo-Sobu Line, JR Chuo Rapid Line Odakyu Line, Keio Line, Keio New Line, Narita Express, Tokyo Metro Marunouchi Line, Tokyo Metro Oedo Line, Tokyo Metro Fukutoshin Line, Toei Shinjuku Line

"Shinjuku-sanchome Station" - Tokyo Metro Marunouchi Line, Tokyo Metro Fukutoshin Line, Toei Shinjuku Line

Cost of Admission
N/A
Hours of Operation
Time and days
Sunday - Saturday
11:00 - 21:00

Official Website
https://www.evastore2.jp/news-tokyo-01/ (Japanese only)
The Experience

The Evangelion store has a little something for everyone. With a large space (the one in Ikebukuro recently expanded and is even bigger than ever!), there's a wide selection of items available to meet every taste and budget. Half of the Evangelion store is devoted to fashion and the other half to general goods. The fashion side has shirts, jackets, shoes, socks, and even ties! They range from very subtle and fashionable with small logos or phrases on them to items with characters emblazoned across them in bright colours. The Evangelion store even has fancy jewellery if you're looking for something really nice. Keep an eye out especially for the special Radio EVA brand items which are perfect for the fashion-conscious otaku and usually more subtle than the other clothing.
The other half of the store is a hodgepodge of other fun goods. There are a lot of office and school supplies like stationary, pens, stickers, pencil cases, and the like. There are also phone accessories like cases, charge cables, and external batteries. Then, there are hair accessories, cheaper jewellery, pins, and key chains. Do you need a mug, bento box, chopsticks, or a reusable drink bottle? There's a whole wall committed to food and drinks! Plus there are usually some fun household items like storage boxes, welcome mats, slippers, and more.
Last but not least, even if you're just window shopping don't forget to check out the special displays at the Ikebukuro store! Sometimes there are big statues of the Eva units you can snap a picture of, and there's always a small display of art and signatures from some of the people involved with creating the show. A lot of these displays are always changing so you never know what you might find.
Additional info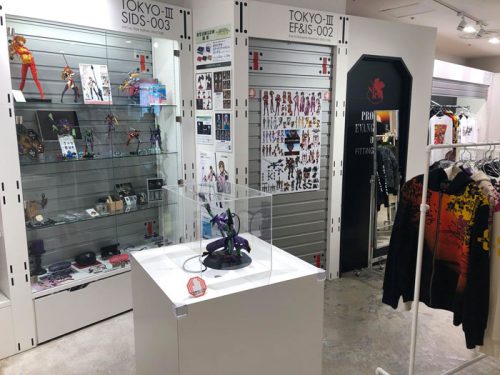 Like any store, the merchandise available at the Evangelion store is always changing! That means it's a great place to visit every time you're in Ikebukuro or Shinjuku, whether you live in Tokyo or are travelling. It also means that you may not find the exact things you can see in the pictures in this article which were taken around the time of publishing, so just keep that in mind!
The Evangelion store does have a website with a lot of their goods on it so you can have a look before you go to get a feel for what may be available. The Ikebukuro location is larger and thus usually has a wider selection of items.
Final Thoughts
Whether you're looking for some fashionable new clothes, a small gift for a friend, a decoration for your house, or something you can use at the office, the Evangelion store probably has it. With goods ranging from subtle to unmistakably otaku, the Evangelion store is able to cater to fans from all walks of life and looking for all levels of devotion. If you want something small that makes you happy when you see it every day, you can get it. And if you want something that everyone else will notice and know your devotion to Asuka and Rei, well, they have that, too. The only real limit is your wallet!
Have you been to the Evangelion stores in Ikebukuro or Shinjuku? What did you buy there? What would you buy if you could go? What other anime do you think could have a permanent store like Evangelion does, or which would you love to see have one? We would love to hear from you!
---