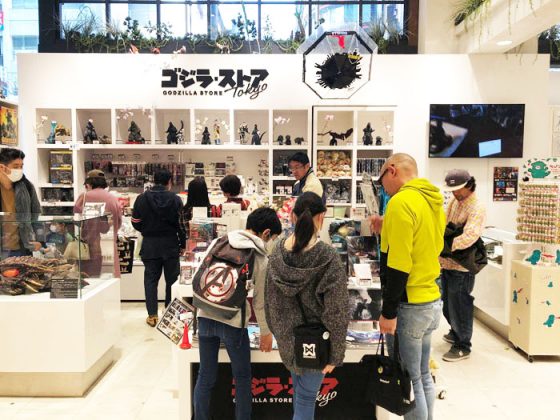 Did you know that Godzilla is officially a citizen of Japan? It's true, and he more than deserves it for being one of the country's most world-famous characters. Since 1954, Godzilla has been captivating the world across many forms of media, and his name and visage are recognisable by nearly everyone. In over 60 years, Godzilla has gained fans from all over the world and remains a constant part of Japanese pop culture and, for some tourists, a reason to travel across the world to visit Japan.
While Godzilla merchandise and goods are available at a lot of stores in Japan, Shinjuku has an entire store dedicated to the King of Monsters. Godzilla Store Tokyo is a permanent shop in 0101 Annex that has every kind of Godzilla merchandise you could ever want—and even some for his other monster friends as well! If you love Godzilla, this shop is for you. And even if you aren't the biggest fan of him, it's still a fun place to drop by if you find yourself in Shinjuku.
---
Godzilla Store Tokyo Info
Location
Address
0101 Annex 1F, 3-1-26 Shinjuku, Shinjuku City, Tokyo 160-0022

Nearest train line(s)
"Shinjuku Station" - JR Yamanote Line, JR Saikyo Line, Jr Shonan-Shinjuku Line,JR Chuo-Sobu Line, JR Chuo Rapid Line Odakyu Line, Keio Line, Keio New Line, Narita Express, Tokyo Metro Marunouchi Line, Tokyo Metro Oedo Line, Tokyo Metro Fukutoshin Line, Toei Shinjuku Line

"Shinjuku-sanchome Station" - Tokyo Metro Marunouchi Line, Tokyo Metro Fukutoshin Line, Toei Shinjuku Line

Cost of Admission
N/A
Hours of Operation
Time and days

Sunday-Saturday

11:00 - 21:00

Official Website
https://godzilla.store/shop/default.aspx (Japanese only)
The Experience

Godzilla Store Tokyo has something for every fan of Godzilla, and for every budget. The back wall of the shop is lined with clothing; from simple t-shirts to shiny sukajan, or "souvenir" jackets. A lot of the clothes have awesome traditional Ukiyo-e artwork with Godzilla as a special addition. There are also usually some clothes that are based on the various Godzilla films that have released over the years. Plus there are always some items that have Mothra and Ghidorah, too! The souvenir jackets are especially flashy and eye-catching with their bright colours, big designs, and silky fabric, but they don't come cheap. For true fans though, they make a great souvenir.
If you want something a little more subtle and budget-friendly, Tokyo Godzilla Store also has lots of small goods for sale like folders, magnets, key chains, notebooks, stickers, and more. Some have the name of the shop, but most are general Godzilla goods. There are also mobile accessories like phone cases and portable chargers along with charge cables, and even some Godzilla toys! On the flip side, if you have a lot of money you're happy to dedicate to the King of Monsters, you can pick up one-of-a-kind collectibles like figurines, and sometimes high-quality jewellery.
If you're familiar with the Japanese tradition of gift-giving for friends and co-workers when you travel (omiyage), then you won't be surprised to also see a lot of boxes of snacks at Tokyo Godzilla Store. Cookies, rice crackers, chocolates, and sometimes even curry can be purchased with Godzilla artwork on the box and sometimes even on the treats! Even if you don't have a Japanese office to take these snacks back to, they're a fun and affordable souvenir to take home. Some even come in a collectable box you can keep even after the snacks are history.
Additional info
Godzilla Store Tokyo is usually not very crowded, even on the weekends. It's not a very big space, though, so if you really want to shop for all your favourite Godzilla goods it's best to go on a weekday. You might even have the shop to yourself! If your otaku interests don't stop at Godzilla, don't leave 0101 Annex without checking out the Evangelion store on the same floor. There's also a pop-up space that regularly features other anime goods! Please also keep in mind that any goods you see in our photos were available at the time this article was published and may not be available when you go. Be sure to check the store website in advance for a better idea of exactly what is going to be for sale.
For any big Godzilla fans, a trip to Shinjuku wouldn't be complete without seeing the huge Godzilla statue. Luckily it's just a ten-minute walk away from Godzilla Store Tokyo! Head right down the main road towards Shinjuku Station's East Exit, and hang a right headed towards Kabukicho. You can't miss the giant Godzilla on top of Toho Cinema; you can even take a great photo with all of your new Godzilla swag. Sometimes the statue even roars and releases smoke out of the mouth if you're lucky enough to catch it.
Final Thoughts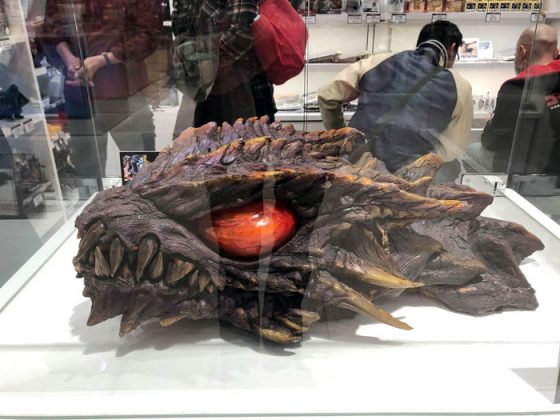 Godzilla is such a huge part of Japanese pop culture for so many people that its only natural for there to be a fun permanent store dedicated to him right in the heart of Tokyo. Whether you're just curious or a die-hard fan looking for the perfect memorabilia, Godzilla Store Tokyo is worth checking out. At the very least it has a lot of cool and interesting things to see, and you never know what kind of thing you might find to buy that you never knew you needed. Plus what kind of trip to Japan is it without paying a little homage to its biggest resident?
Have you been to Godzilla Store Tokyo before? Would you like to visit it someday? What kind of things would you like to buy? Do you have any questions about the shop? We would love to answer your questions in the comments!
---