Episodes : 13
Genre : Action, Adventure, Fantasy, Game, Supernatural
Airing Date : Jul 7 2015 – Sep 29 2015
Producers : Madhouse
Overlord Preview / Plot (No Spoilers)
Have you ever dreamed about being inside a video game? With nothing to do other than exploring the world, hunting, leveling up and covering yourself in glory as you become the greatest and most feared warrior in the land? Well, Overlord makes that dream come true for its main character. This is the story of a guy who spends most of his time playing Yggdrasil (a fictional MMORPG) until he mysteriously ends up turning into his own avatar.
After years of dedication to this game, the player known in Yggdrasil as Momonga is the leader of the greatest guild in the virtual realm. Eventually, the game is announced to be shut down and Momonga remains online until that happens. To his surprise, he's not automatically disconnected from the game. Instead he finds himself in the body of his Undead character and able to interact with NPCs (Non-Player Characters) like they were real people. Thus, Momonga-sama, ruler of Nazarick, sets out on a quest to find out the mysteries of a now very real world of fantasy.
What is Overlord Like? This Anime is for people like what?
Being a bit of a trapped-inside-a-video-game cliché, Overlord is the perfect show for gamers and video-game enthusiasts. This idea of turning video-games into reality has already been done several times before, but (in my opinion at least) no other show ever exploited its potential nearly as cleverly or effectively as Overlord does. Not to underappreciate shows like SAO, Btooom or Accel World, but Overlord stands out for being particularly faithful to MMORPGs. Anyone interested in video-games and especially those who are deeply into role playing games will find tons of familiar terms, characters, abilities, locations and adventures. Overlord is also aimed at an audience that is keen on fantasy and fantastic adventures filled with action.
What's so appealing about this piece of work?
The main reason why you're probably going to like this show is because it's straightforward entertaining. Overlord flows fast and gracefully from one adventure to the next, with more than enough action, stunning animations and an unpredictable sequence of events. It proves to be a lot of fun whether you are or not into video games of that sort. But to those of us who do love RPGs, Overlord does a great work at portraying the most relevant and appealing traits of these games.
Overlord Trailer
Overlord's Main Character List
Momonga / Ains Ooal Gown
Voice Actor :Hino, Satoshi
As the leader of the most famous guild in Yggdrasil and the ruler of the Great Tomb of Nasarick, Momonga is an incredibly powerful and resourceful wizard. As an Undead he is cold, detached and cautious. However, certain humanity remains in him, since he prefers to be respected and recognized as righteous rather than feared. He also shows a very human trait in his ambition to rule over the new world. Momonga displays an ambiguous nature comprising both good and evil. He appears sometimes as a savior and hero, but the rest of the times he is shown as a selfish schemer, a hypocrite and a master of deceit. Deep down he's probably not so cold, since he shows to have a soft spot for his creations and for the rest of the members in his guild. There might even be a heart underneath the robe and all those bones.
Albedo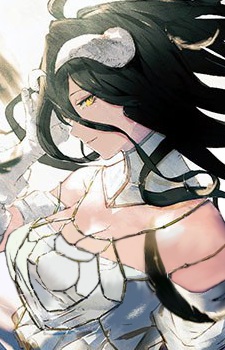 Voice Actor :Hara, Yumi
She is Momonga's hot assistant and right hand. Albedo is a demon-girl in charge of general management at Nasarick. As the highest ranked NPC in Nasarick, she answers to Momonga alone. In the past, she used to be quite difficult to deal with, but ever since Momonga altered her personality settings, Albedo is caring and loving around her master. She's really passionate and possessive as well as she is jealous. Albedo can be a little scary sometimes when she feels threatened by another NPC, often displaying a yandere behavior.
Overlord Review
After these thirteen episodes, Overlord proved to be more than just another action and adventure Anime. Madhouse took an already existing formula and created a masterpiece. I believe Overlord is the ultimate version of the real-life-videogame themed Anime. I see this show as the final product of several instances of trial and error. I'm not actually saying that previous shows about games were a failure (I think they were great in their particular way). But Overlord displays every characteristic that a gamer (or anyone interested in RPGs or fantasy worlds) would be eager to find in a show.
The main character is admirable in different levels. Momonga, who adopts the name of his guild, Ains Ooal Gown (we'll refer to him by this name from now), is constantly relaxed and centered. One of the first things that shocked me about him is how calmly he reacted when he realized he was inside the game. A normal reaction for anyone in his position would be to freak out or to act with skepticism instead. Yet, he remains calmed and focused throughout the show, even when he faces strong enemies, proving that he knows the extent of his own power better than we do (something which makes Overlord really unpredictable and exciting).
Also, Ains is a strategic master. He realizes that if there's anyone else like him out there, they might be hostile. Therefore, he acts carefully, keeping a low profile while he gathers information little by little. Ains is a cold, calculating player, often accepting jobs or taking quests that are miles below his power level in order to earn fame, a higher rank or just to collect pieces of information. However, he can also be highly admired and respected for his sense of justice and his sympathy for humans (which is indeed rare considering he is no longer human himself).
The plot of the story is really captivating and unique, since Ains' goal is not to get out of the game but to actually conquer it while he searches for other players like him. A feature that spices this storyline is how real the world around Ains turns. The fact that the NPCs have the ability to express feelings, emotions, thoughts and opinions washes away every last sense of loneliness. Besides, it makes it much more entertaining watching Ains' foes tremble in panic and beg for their lives before experiencing the most brutal deaths.
I get the impression that Overlord is all about Ains Ooal Gown and his progressive display of power and strategy. However, the secondary characters are no minor detail. Albedo is a nicely developed she-devil, the only one capable of making Ains Ooal Gown feel awkward. This leaves place to certain funny situations every time Albedo harasses her boney master (see what I did there?). She's very sweet, loyal and protective of her master, so she's quite likeable. The rest of the characters are all surprisingly unique and different from each other. Even though they all swore loyalty to Ains Ooal Gown, some of them are quite mysterious, which might lead you to think of a potential uprising.
Production (OS+animation): As a Madhouse production I'd say Overlord is a great piece of work. The bar they set is high and some of their productions are but disappointments. This is not the case for Overlord. To me, they succeeded in every last detail. The animations together with the action scenes are everything we could expect from a Madhouse production. The soundtrack is unanimously considered one of the best among this Summer's Anime. Both the opening and ending theme songs are real hit material. I honestly loved Overlord and I would place it among my top 3 for this Summer. All in all, a must-watch action filled fantasy adventure.
1. Overpowered
Probably the most essential characteristic of this show is Ains' overpowerness. It's just so exciting to watch him crush his lv1 and lv2 enemies with his lv100 skills and items. Just imagine starting a game with full stats, ultimate items and nothing that can keep you from exploring a vast unknown world. That's gamer heaven.
2. MMORPG's Typical Locations
From the Great Tomb of Nazarick, to the small country village, the deep forest and the spooky cemetery, Overlord gathers all those epic locations that demand slaughter and bloodshed. Different quests take our hero through a variety of locations that are characteristic of any RPG. The scenery is truly something else.
3. World Domination
This is Ains Ooal Gown's first thought when he realizes everyone else is gone and there's a new world around him. Well of course! Who wouldn't think on world domination in his position? It would almost be a crime not attempting to rule the world when you have that much power. We're invited to join Ains-sama as he rises up in the world to bring glory and prestige to Nazarick.
---
As countless of other Madhouse works, Overlord finished airing leaving an open end. I certainly hope we can have a second season of this show. I believe it still has so much to explore and exploit. They've done a fine job so far; I bet they could keep it up on a second season.
What are your thoughts on Overlord? Did you enjoy it as much as other Anime that aired this Summer?
---