If you're an otaku who enjoys shojo anime or manga, chances are you have enjoyed Fruits Basket in some capacity. It's one of the most famous and successful reverse-harem stories ever and has fans that span across generations thanks to how long it's been relevant. And with the second season of the new anime airing and being devoured by fans, well, it was only a matter of time before it got a collaboration cafe in Japan!
Actually, Fruits Basket is too popular for just one cafe - rather, it got three! The chain Princess Cafe has two locations in Tokyo and one in Osaka, and all three of its locations have been taken over by Fruits Basket for the end of summer. Keep reading to discover the special food and drinks inspired by all the characters, along with some great exclusive merchandise.
Fruits Basket Cafe, Ikebukuro, Shinjuku, Osaka
Location
Ikebukuro
Address
Princess Cafe and Shop B1F, 1−32−4 Higashiikebukuro, Toshima, Tokyo
Nearest train line(s)
"Ikebukuro Station" - JR Yamanote Line, JR Saikyo Line, JR Shonan-Shinjuku Line, Tokyo Metro Yurakucho Line, Tokyo Metro Marunochi Line, Tokyo Metro Fukutoshin Line, Tobu Tojo Line, Seibu Ikebukuro Line
"Higashiikebukuro Station" - Tokyo Metro Yurakucho Line

Shinjuku
Address
Princess Cafe and Shop, 0101 Annex 6F, 3−1−26 Shinjuku, Tokyo
Nearest train line(s)
"Shinjuku Station" - JR Yamanote Line, JR Saikyo Line, JR Shonan-Shinjuku Line, JR Chuo-Sobu Line, JR Chuo Rapid, Tokyo Metro Marunochi Line, Tokyo Metro Fukutoshin Line, Toei Oedo Line, Keio Line, Keio New Line, Odakyu Line
"Shinjuku San-chome station" - Tokyo Metro Marunochi Line, Tokyo Metro Fukutoshin Line

Osaka
Address
Princess Cafe Osaka Building 1 2F/3F, 4-8-16 Nipponbashi, Naniwa, Osaka
Nearest train line(s)
"Namba Station" - Nankai Line, Nankai-Koya Line, Nankai-Limited Express

Cost of Admission
Food and Drink cost
Hours of Operation
Time and days
11am - 10pm every day
Ikebukuro - August 22nd - September 6th 2020
Shinjuku - August 1st - August 16th 2020
Osaka - August 5th - September 6th 2020
Official WebsiteWebsite
http://pripricafe.com/fruba/index.html (Japanese only)
---
The Experience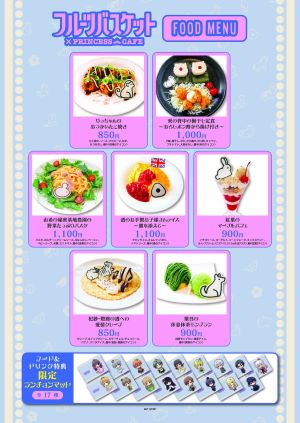 Let's face it, Fruits Basket has a lot of different characters. It would be quite impressive for a cafe to manage to have a dish for everyone on the menu, but Princess Cafe does a good job of trying to give everyone some kind of feature. The main dishes focus on the most important characters, but many lesser characters still have a dessert or drink inspired by them.
Starting with the main dishes, you can choose from comforting omurice for Tohru complete with a cute rice ball design on the side, pasta with a little rat for Yuki, a fried chicken platter for Kyo, and a plate of Osaka speciality takoyaki with a little monkey for Ritsu. Momiji and Shigure get desserts inspired by them with a parfait and matcha mont blanc cake respectively.
Moving into the drinks, there's a wide range covering the rest of the Sohma family and Tohru's friends. Interestingly, while most drink menus at collaboration cafes have drinks inspired by individual characters, the ones at the Fruits Basket cafe are a bit more random. You choose the base flavour of the drink from choices like blueberry and yoghurt, berry jelly with cider, and Calpis with marmalade, and the decoration is a random one from a set. If you choose the ones from Tohru's friends, you will get a surprise design. The same goes for the drink for Yuki and Kyo, and for other members of the Sohma family represented by their Zodiac animal. You can see the possible options when you order the drink on the menu, but just remember that you can't tell the waiter which one you want. It's fun to have a bit of mystery and a surprise when your drink arrives at the table!
Additional info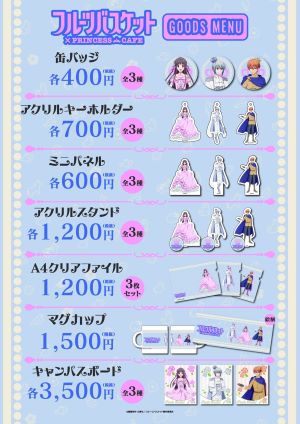 No collaboration cafe would be complete without exclusive goods, and the Fruits Basket Cafe is no different. First, let's talk about the free gifts since everyone likes a present! Each main dish or dessert comes with one of 17 random table mats. The options include all the members of the Sohma family, along with Tohru and her two best friends. The second free gift comes with each drink and is one of yet again 17 random coasters. You do not get to decide which design you get, but the randomness and mystery are all part of what makes going to a collaboration cafe special. Plus, you can always try to trade with other people at the cafe if they get your favourite character - just be polite about it!
Of course, there's also plenty of exclusive merchandise available for sale, too. A lot of the goods feature Tohru in a ballgown along with Yuki and Kyo in formal dress, too. You can get anything from keychains and mugs to canvases with the characters in this unique art style. Some items just have one of the trio, and others come in a set of all three. There's also plenty of goods featuring the cute animal art of all the Zodiac members such as a lunch bag, a pass case for your train/bus card, and a towel. If you're ready to test your luck with another mystery, there are also random keychains and buttons available with all the Sohma family characters - you never know which one you're going to get!
---
Final Thoughts
For Fruits Basket fans that just can't get enough of this incredible anime remake, the Fruits Basket Cafe at Princess Cafe can really help to fill the void and keep you hyped. With the second season of the anime currently airing, there's nothing like getting your hands on some great exclusive swag - and posting some enviable photos of your food and drink on social media, too! If you're a Fruits Basket fan in Japan, you've got to try to get to the Fruits Basket cafe before it closes. And even if you're not here, we hope you've enjoyed a virtual tour of the cafe!
Have you been to the Fruits Basket Cafe? What did you order and how was it? If you could go to the Fruits Basket Cafe, what would you order? Which coaster or table mat would you be crossing your fingers for? Drop us a comment below!
---