Episodes : 12
Genre : Comedy, Ecchi, Romance, School, Seinen
Airing Date : July 2015 – September 2015
Producers : J.C.Staff, Genco, FUNimation EntertainmentL, Kodansha, Movic, Warner Bros., the Klock Worx, Showgate
Prison School Preview / Plot (No Spoilers)
High school life is hard for any kid, especially if you feel like an outsider. Well, the boys at Hachimitsu Private Academy are outsiders, as there are only five boys in the whole school and the Underground Student Council is out to get rid of them as soon as they can.
The Underground Student Council might just have their way when the boys decide to peek in on the girls while they are changing. Unluckily for the boys, they are caught but not thrown out of school. They are held captive in a school prison where they have to do hard labor as they wait out their sentence.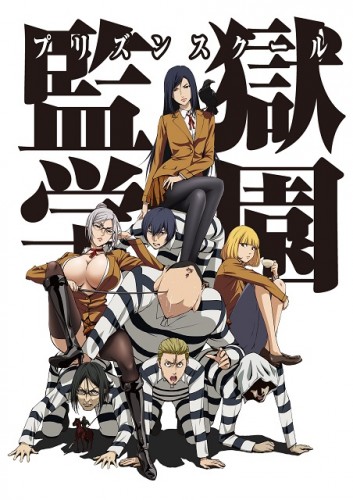 What is Prison School Like? This Anime is for people like what?
The style of Prison School reminds me of High School of the Dead in where the female characters are heavily enhanced and the artist isn't afraid to show it. Even as it was heavily censored, the undertones of sexual desire is what is true in high school life. If you concentrate more on the erotic side of the anime, it also leads you to Great Teacher Onizuka. Heck, I bet if Onizuka went to this school, he would have been put in the prison as well… Even as a teacher.
What's so appealing about this piece of work.
Prison School is heavily censored and most of that censorship is needed. If it wasn't censored, it would be a hentai instead of an anime. It is appealing to the older audience and I wouldn't let anyone under 16 watch it. However, the sexual content doesn't really get in the way of the story, it is put there for the comical value and serves it purpose.
The creator puts a lot of work into bringing the sexual frustration of high school life to the screen and wraps you into a story that lets your wild side out of the cage for a short period of time.
Prison School Trailer
Prison School Main Characters List
Kiyoshi Fujino
Voice Actor :Hiroshi Kamiyama
Kiyoshi is the main character for Prison School. He is also the one less likely to do anything perverted at the start. Once the other guys drag him into a little mischievous fun, he is dragged with them into the prison life. But, life isn't all that bad for Kiyoshi, as he is able to get a girlfriend before he is locked away which gives him something to fight for.
Mari Kurihara
Voice Actor :Sayaka Ohara
Mari is the Underground Student Council President and the main reason the boys are hated at school. Though, with the principle at Hachimitsu Private Academy, a lecherous old man, doesn't help the boys in one bit. Mari will do anything to get the boys expelled, even if her methods are cruel and unusual. Her council members abide her every order and try their best to get the boys expelled.
Chiyo Kurihara
Voice Actor :Chinami Hashimoto
Chiyo is the first girl to talk to Kiyoshi after he dropped a sumo wrestler eraser in class. She immediately started to like Kiyoshi because anyone who likes Sumo can't be a bad person. When the boys are put in prison, she is the only girl to believe that they are not bad. She helps the boys in any way that she can.
Prison School Review
After finishing the final episode, I couldn't say that I was too impressed with the overall story of Prison School. Each episode was set around the premise that all of the boys were getting in trouble for what one or two of them have done. The punishment would be harsh which some of the boys liked. After the first few episodes, you could almost predict what would happen in the next episode, the foreshadowing was too obvious and the character development wasn't what I expected it to be. If you're looking for a story based anime, then look elsewhere.
Now, if you are looking for an anime that has fan service and erotic flavored humor, then look no further. The amount of censored sections of this anime are so profound that some of the time, I wonder why they even bothered to animate that section of the show. Now, you know the reason not to watch this show, let me give you a few reason to watch this.
It is hilarious. It uses the sexual frustration that is common in high school as a war between the sexes. Twisting the normal Girl vs Boy, into a 50 Shades of Black, type of anime. It is borderline hentai. If the last two episodes went any further, then it would be hentai. But, teasing is not the same as the real act.
1. A Prison in the School
I guess this is an obvious selection since the anime's name is Prison School, but how many other school anime sport a prison for students misdeeds? The prison was set up long before the boys were allowed into the school, so you have to ask, what was it used for in the first place?
2. Censorship
While censorship is used in many anime and manga, it is evident that Prison School used this censorship to enhance the comedy and push the boundaries of what they can show on public TV. If there is ever a DVD/Blu-ray release of Prison School without the censorship, I might watch it to wonder how much they did show.
3. Meiko Shiraki
Okay, I guess this show does a lot of stereotyping. Meiko brings two stereotypes and puts them into the same body by making Meiko a blond body builder, so gullible that she is distracted for ten minutes with an arm wrestling contest.
With her shortcomings it is surprising that Mari counts on her so much. Must be something in their past.
---
So, Prison School is defiantly not for children. Anyone who views this show should be able to recognize the perversion in the anime and not get too distracted by it. But don't let what I just said stop you from watching it. Yes, the show is big on erotic depiction, but it also shows what kind of frustrations go through a high school teenagers mind.
But then again, some ecchi scenes are over the top in this anime and it could turn some people away from it. It's a good anime for laughs and doesn't go to deep into a good story line, and it is easy to follow.
---