También puedes leer este artículo en:Español
You know how different Anime often introduce really cool and sexy characters. Well, Prison School, one of the most (if not the most) hilarious shows of the past year, has both of these, in bunches.
The girls on this show are really sexy, both for their curvy bodies and for their attractive personalities. The male characters on the other hand are all unique and original, each with their own tastes and perversions, and one funnier than the next. They're all really cool in their own way.
Now let me introduce you to the Top 10 Sexy and Cool Prison School characters!
10. Shingo Wakamoto

Shingo is, at first sight, the coolest looking of all the five boys at Hachimitsu Academy. He's the more attractive one and has a laidback nature that makes him look like much less of a loser next to the other boys. However, he's as perverted as the rest of them, and he does not hesitate to go peep at the girls' bathroom with the others.
I place him at #10 because his pessimistic personality and his treacherous behavior are very uncool. In the end, he remains loyal to the boys though, so he's not so bad. Plus, his misinterpretations of what was going on between Kiyoshi and Gakuto in the showers were hilarious.
---
9. Anzu Yokoyama

Anzu is Shingo's love interest. She was a member of the Underground Student Council until she developed a crush for him. She was tempted by the USC President, Mari, who offered her a position at the USC in exchange for her aid to manipulate Shingo.
It wasn't difficult at all for her to seduce Shingo. Anzu has everything a guy wants; good looks, a pretty face, an easy-going personality, and a taste for videogames. Of course, like the beautiful and sexy woman she is, Anzu is great at deceiving men.
---
8. Reiji Andou

Andre's character is just great. The way he looks is already funny. The guy is abnormally huge and has a teeny tiny face on his big head. To make him even weirder, he's got unusually long earlobes. It's really hard not to laugh at this guy's appearance, especially when he gets spit on his little face and he licks it off.
That's right, he loves licking the Vice-President's spit. That's what I find so funny and cool about this kid, he doesn't mind getting beat to death, in fact, he loves it. He just can't get enough of Meiko's mistreatments, and he has wet dreams with her whip and with licking her boots. Plus, if that one hair on his nipple is not cool, then I don't know what is.
---
7. Chiyo Kurihara

Chiyo-chan is Kiyoshi's love interest and the President's younger sister. She's the sweetest and kindest girl in the show, which is why Kiyoshi falls for her in the first place. She's not afraid of the boys or against their admission at Hachimitsu Academy as most of the other girls. As a matter of fact, she befriends Kiyoshi right away and invites him to a sumo competition.
What I find so sexy about Chiyo-chan is mostly her utter cuteness. The girl is so innocent and naïve that she's adorable. She always sees the good in people, so she defies her older sister at her own risk in order to help the boys from getting expelled. This lovely young girl has a very protective nature and the heart of a lion.
---
6. Kiyoshi Fujino

Kiyoshi is the main character, and as such, one of the coolest by far in the show. He's the one we tend to feel identified with the most. He's the average kid who just wants to meet girls and fall in love. He's the less perverted one of the boys and probably the only male character with any moral whatsoever. He was the last one who wanted to peep at the girls' bathroom, showing he's quite a decent guy.
But what makes such a normal character so cool? Kiyoshi is very unique and cool in one thing; he's not driven by his sexual desires as the other boys, but by his deep love for Chiyo-chan. To me, that makes him one of a kind, especially considering how far he can go for this love. I'm talking about his cross-dressing.
---
5. Mari Kurihara

Mari is Chiyo-chan's older sister, the Chairman's daughter, and most importantly the Underground Student Council's President. She's also known as Crow-User Mari, since she's usually accompanied by crows that serve her. She's both feared and admired for being wealthy, beautiful and one of the most influential students at Hachimitsu Academy.
Mari's beauty is breathtaking, although we seldom get to see her in sexy outfits or any awkward situations that let us see a bit more of her. In that sense, she's not as sexy as other girls who show a lot more. On the other hand, that's also part of her sex appeal, being the more refined beauty whom you wish to see with less clothes. Anyway, we do get to see her clothes being ripped off on the last episode. Totally worth the wait!
---
4. Chairman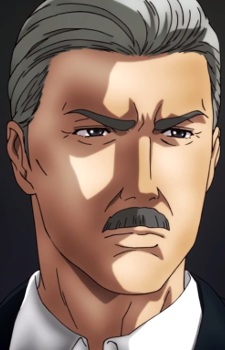 The ass-man is Hachimitsu Academy's chairman and father of Chiyo and Mari Kurihara. He's an old man with a strong character and a great sense of justice. He sympathizes with the boys and often tries to help them by giving them opportunities to prove their innocence. It's also this strong sense of justice that makes easier for others (mainly the student councils) to manipulate him.
He's by far one of the most perverted characters on the show. He's got an obsession with female booties, shown in the pornographic material on his computer, on his ass mouse pad, and mainly on his pictures of South American butts. This grown up man is a role model for the boys at Hachimitsu, as well as one of the coolest males on Prison School.
---
3. Hana Midorikawa

The lovely Hana, where should I begin? It's true that she's not the sexiest character at first, especially after we've been introduced to both the President and the even hotter Vice-President. She's beautiful indeed, yet she wears a little too much clothing and looks like a bit of a tomboy. But Hana is not exactly sexy for the way she looks.
What makes Hana so freaking sexy are the extremely awkward and nose-bleeding situations she often shares with Kiyoshi. Somehow, every time she wants to get back at him for seeing her peeing, she ends up with no pants and even more embarrassed than before. These scenes are among the sexiest Prison School moments to me. Hana was definitely a huge surprise.
---
2. Takehito Morokuzu

The self-proclaimed "most resourceful student", Gakuto, is the mastermind behind every one of the boys' attempts to escape the prison block at Hachimitsu Academy. He's the smartest one of the five, although some of his ideas are terrible and often get him beat up and severely injured. He's quite nerdy, mostly interested in Japanese history and in action figures of The Three Kingdoms.
However, he's just as perverted as any of the other boys (if not more). Gakuto is both the funniest and bravest guy on the show, being willing to fart in class at the cost of his reputation for the sake of the escape plan and a Guan Yu collector figurine. This makes him the coolest and most beloved male character on Prison School.
---
1. Meiko Shiraki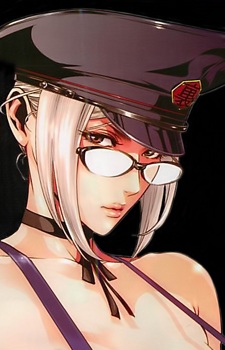 Meiko Shiraki is the Vice-President of the Underground Student Council and the one in charge of punishing the boys during their stay at Hachimitsu Academy's prison block. She's has sexy written all over her. She's a voluptuous woman with humongous breasts, a braless cleavage, a mini skirt and knee-length boots.
What could possibly be any sexier than this? Oh yes, she has a horse whip with which she punishes the boys. She's a sadist whose ultimate torture method is sitting on your face while she's wearing a leather tight outfit. Did I mention she's also the sweatiest female ever?
---
This is it for our list of sexy and cool Prison School characters. We hope to get a second season of this Anime soon, since we already know (thanks to the manga) there are even more cool and sexy characters to meet, such as Kate Takenomiya and Risa Bettou. We also expect to get more from Joe, whose obsession with ants just wasn't cool enough for him to make it on our list.
Now, go ahead and tell us who were your favorite Prison School characters and why! ˆ_ˆ
---