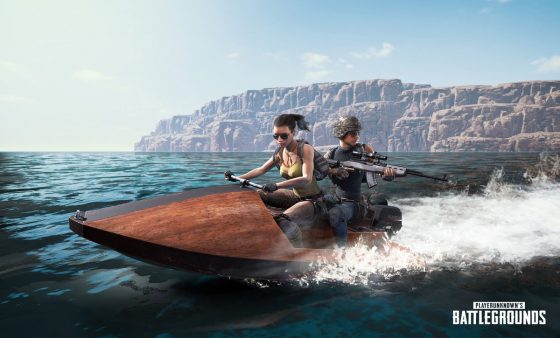 What You Need to Know:
In one of our previous articles we brought up an idea that perhaps implementing Jet-Skis into PUBG would truly add more excitement, and low and behold our ideas manifested into reality! Just about an hour ago, the PlayerUnknown's Battlegrounds team officially announced the 'Aquarail', a Jet-Ski that will be available for both Erangel and the new Miramar map.
What this means is that players will no longer need to just rely on the motorboat to get across to the other side, now they can grab a friend and hop on the Aquarail to take out other players around them. This new method of travel adds an entirely new meta to the game, since players will now have the advantage of not only traveling across the water at higher speeds, but due to the water update that allows bullets to penetrate, players who decide to swim across will need to make sure they've got some level 3 armor on.
We invisioned a day when our crew could race across the open water like Waverace 64, and that dream has finally come true. We're totally stoked for this announcement and look forward to when the test servers go back up before 1.0 drops. With more surprise announcements on the way just who knows what we'll see next!
---
All I can hear in my head is....WAVE RACE
Oh man, these announcements just keep raising the bar even higher. Just what will they announce next?!!
---