The Road Often Traveled
Episodes : 21
Genre : Action, Adventure, Magic, Fantasy
Airing Date : October 2019 – February 2019
Producers : Lerche
Radiant Review Introduction and Story
Despite possessing many of the traditional components associated with action and fantasy series commonly published through magazines like Shounen Jump, Radiant is a rare example of a non-Japanese manga. To be exact, Radiant is written by a French author named Tony Valente, with chapters being published through France's Ankama magazine. The manga proved popular enough to justify a Japanese translation, making Radiant the first French comic to receive such a treatment. Lasting for 21 episodes, Radiant's first season has already been awarded a sequel.
Taking place in a fantastical and colorful universe, Radiant's world is threatened by the monstrous Nemeses. Along with being quite dangerous, Nemeses can curse humans, causing them to become infected. Known as Sorcerers, the infected few gain access to magical powers, although this comes at the price of ostracization. Seeking to ease the tension between humanity and Sorcerers, Seth sets out to discover the Radiant, a place assumed to be responsible for creating Nemeses. In order to complete this task, the young protagonist joins the Artemis Institute to try and fine-tune his abilities. Partnering with a girl possessing a split personality and a cowardly researcher, Seth must stay one step ahead of the Inquisition while seeking to unveil the world's secrets.
Why You Should Watch Radiant Review
1. Expectations
Radiant comes alive whenever the focus shifts to the Inquisition, specifically the charming Dart Dragunov, an officer tasked with capturing Seth. Although Sorcerers are the only ones adept at fighting Nemeses, they also present a danger to normal humans. The Inquisition protect humanity from the threat posed by the infected. A handful of soldiers are about as complex as Saturday Morning Cartoon villains, but Dragunov is arguably the most level-headed character of the series. Radiant resist the urge to paint the Inquisition as faceless enemies to be dispatched by Sorcerers. Both sides present valid reasons for acting the way they do.
Why You Should Skip Radiant Review
1. Seth
While a supporting cast outshining the lead is not too unusual, problems begin to arise when everyone seems like an improvement over the protagonist. For a lack of a better descriptor, Seth is a stereotypical shounen-action main character. He is loud, energetic, somewhat of an idiot, optimistic, and blunt. As an added bonus, Seth's status as a Sorcerer means the protagonist is treated like the plague in his home town. Gratefully, Radiant quickly changes the setting to Artemis Institute, so Seth's days in the Hidden Leaf Village are numbered.
Once in a while, a character comes around who is so blatantly derivative and archetypal, you cannot help but assume the story is highlighting the hero's cliches as a set up for an eventual subversion of expectations. Sadly, this anime is no Hunter x Hunter. While Radiant demonstrates a degree of nuance in the handling of some of its secondary characters, Seth remains a dime-store Luffy throughout the majority of the opening season. On a slightly more positive note, Seth is not particularly overpowered and occasionally tastes defeat.
2. A Tame Trio
Radiant takes its sweet time to get going. The first significant arc doesn't really commence until about the season's half-way point, with the earlier entries opting for an almost slice-of-life tone. Permitting the time is used effectively, a slow start can allow room for the audience to grow familiar with the main characters. Regardless of the anime's intentions, the execution falls flat due to the central trio lacking much in the way of depth. Seth has already been discussed, but Mélie and Doc hardly fare much better.
Sweet, approachable, and comfortable with magic; Mélie is easily the best of a sad bunch. That being said, she is a touch too honest to be all that compelling of a character. Amounting to little more than a gag, Mélie's split personality is closer to Dragon Ball's Launch than Yu Yu Hakusho's Shinobu Sensui. Doc is useless albeit periodically funny. All three characters wear their emotions on their sleeve and are exactly as they seem.
3. Nothing New
Regardless of the manga's country of origin, Radiant is undoubtedly a battle shounen anime. Putting aside the source comic, since the point of this article is not to review the franchise as a whole, Radiant's adaptation suffers from a nearly inescapable sense of deja vu. Be it the characters, art style, or world; every element harbors back to other famous and superior series. Consequently, fans of the genre are likely to derive some enjoyment out of Lerche's anime, especially once Seth and the gang head to Rumble Town. At its best, Radiant is only decent, but the anime takes quite a while to arrive at that point.
---
Final Thoughts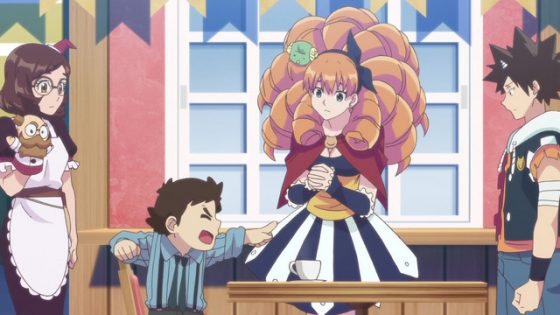 Radiant is not the worst thing ever. As far as fantasy anime go, Lerche's adaptation firmly belongs in the forgettable pile. The season's second half is a notable improvement over the earlier chapters, so the upcoming sequel may be worth checking out.
Did you agree with our review? Is Radiant worth watching? Please let us know in the comments below!
---