"Time to Level Up!"
Mangaka : Kishimoto, Massashi
Publisher : Shonen Jump
Genre : Action, Samurai, Sci-Fi, Shounen
Published : February 2, 2020
Discussion Time
Samurai 8: Hachimaru Den had the god-like Fudo Myo-O appear in chapter 35 and vanish in this latest 36th chapter. However, thanks to his appearance not only did our samurai learn about the boxes—kind of—but had the download speed up to completion, a process that should have taken weeks according to Daruma. With the download complete, Hachimaru revels at seeing all of these cool abilities show in a very RPG-like way. Unfortunately, Hachimaru's joy is deflated when his master reminds him that to use those skills his levels need to be at the proper numbers. With the stars of his father literally shining down on him, Hachimaru prepares for what most likely will be a long road of training!
Stepping away from our RPG inner world, Samurai 8: Hachimaru Den focuses back on the cat-like samurai Hanaichi and the girl he just recently rescued. Confused as to why she was rescued above anyone else, our cat samurai tells the girl she will grow up to be one of the galaxies' most powerful samurai! As lost as she is, this short tale ends with an alarm that indicates two possible keys nearby!
Back to Hachimaru and his crew; Hachimaru uses the map within his mind and realizes one of the keys is really…really close. Ryu, apparently, is also a possible key which makes their journey just a bit simpler! However, another blip is appearing and that is in the from of our other cat-lead group as he makes for his goal! What will happen as two cat samurai masters meet? We won't find out today but, till we do, let's examine a few solid notes about chapter 36 of Samurai 8: Hachimaru Den!
Why You Should Read Samurai 8: Hachimaru Den (Samurai 8: The Tale of Hachimaru) Chapter 36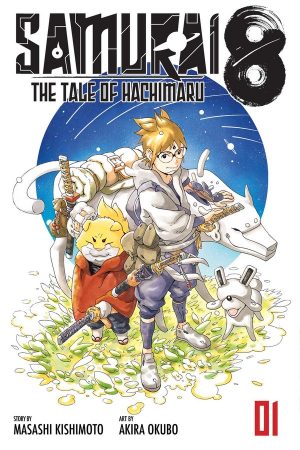 1. Hit Those Goals!
While Hachimaru has been blessed to have the great Fudo Myo-O speed up his download—as silly as that sounds—the power within won't be as quick to obtain. Just like a grind-heavy JRPG, Samurai 8: Hachimaru Den has shown that Hachimaru will need to level grind to increase his status in order to obtain these impressive-sounding techniques.
2. Great Samurai Woman?
If we've learned anything from the world of Samurai 8: Hachimaru Den it's that anyone can be a samurai. If what this cat-like samurai is saying turns out to be true, then that little girl from another planet might be a powerful warrior herself in the future! Let it be known, girls can be impressive samurai too, and don't you forget it!
---
Final Thoughts
Samurai 8: Hachimaru Den 36 has introduced some big plot points—like Ryu being a key-holder—and we're excited to see how the series will use these developments! Do you have any ideas/theories on Samurai 8: Hachimaru Den's future chapters? Comment below to let us know! If you loved this review and want plenty more like it, be sure to keep stuck to our wonderful hive here at Honey's Anime!
---