Not a Cat but a Dog?
Mangaka : Kishimoto, Massashi
Publisher : Shonen Jump
Genre : Action, Samurai, Sci-Fi, Shounen
Published : February 9, 2020
Discussion Time
Samurai 8: Hachimaru Den latest chapter—chapter 37—has two new possible foes appear before Hachimaru and the crew. A dog-like samurai lies in front of our samurai and he seems aware of the key holders. The doggy samurai introduces himself and the crew is surprised to hear his name is Hanaichi who was thought to be like Daruma, a cat samurai. The federation wastes no time before launching an attack against him but Daruma jumps in blocking the two samurai. Daruma has finally awoken and knowing that Hanaichi is looking for the keys means he can't just stand down. Hanaichi also reveals that like Hachimaru and Ryu, the little girl he saved is a possible key holder but needs to awaken as a samurai first.
While there was almost a fight the samurai finally settle down and begin talking about their current dilemma, Ata. While the true samurai masters chat, Hachimaru witnesses a warrior named Goku seemingly hitting on Ann! Sanda even makes a remark saying Hachimaru might lose to this dude based on his looks and possible skill which just further annoys the young samurai. While these two clash, Hanaichi and Daruma decide to team up and share info so they can face Ata together. Unbeknownst to them, Ata is indeed flying through space and he has a goal to claim some samurai spirits! The 37th chapter wraps up from here leaving us wanting to know what will happen next!?!? Well, till next week's episode let's look at some highlights from chapter 37 of Samurai 8: Hachimaru Den.
Why You Should Read Samurai 8: Hachimaru Den (Samurai 8: The Tale of Hachimaru) Chapter 37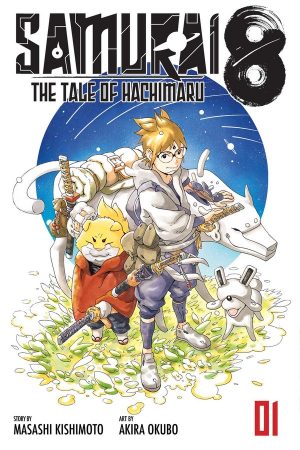 1. Hachimaru's New Rival!
Hachimaru and Ann have recently gotten a lot closer but it seems a new rival has appeared who might steal her heart! Goku seems to be a pretty charismatic samurai but is he secretly hiding more behind his charming demeanor? Here's hoping Hachimaru doesn't lose to this new warrior!
2. Legendary Rivals Team Up!?
While Goku and Hachimaru have become two rivals, Daruma and Hanaichi have put aside their differences to team up in search of the key holders. However, is this team-up legit or are they just using one another for the same goal?
---
Final Thoughts
Samurai 8: Hachimaru Den 37 had a little bit of everything this week and it made the chapter fly by really quickly. Rivals have been formed and partnerships created all in one chapter! What else can happen next? Comment below with some thoughts so we can chat about all things Samurai 8: Hachimaru Den! For even more manga chapter reviews keep stuck to our hive here at Honey's Anime!
---