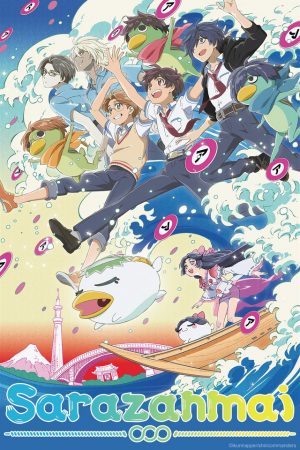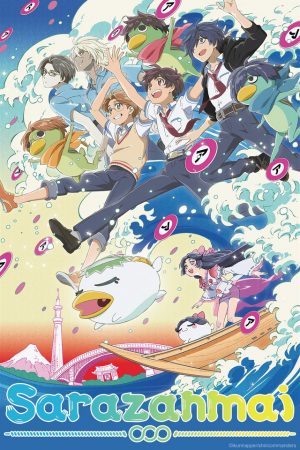 Sarazanmai

---
Airing Date:
April 12 2019
---
Studios:
MAPPA, Lapintrack
Official Images / Key Visuals
Synopsis
Asakusa.
Kazuki Yasaka, Toi Kuji, and Enta Jinai are second-year middle school students. They meet a mysterious being that looks just like a kappa named Keppi who steals the shirikodama (magical ball hidden inside the butts of people that kappa wish to steal) from each of the boys thus forcing them to transform into kappa.
Keppi tells the three boys, 'if you want to change back, then it can be done, but you have to connect in 'a certain way' and bring me the shirikodama from zombies.' The three boys then link up, but can they steal the shirikodama from zombies?! At the same time, Rei Niiboshi and Maku Akutsu are working to make something happen at the police station they work at.
Characters & Voice Actors List
Kazuki Yasaka

Voice Actor: Ayumu Murase
---
Kazuki is a second-year middle school student. He was a bright, young boy who loved soccer, but now he is obsessed with 'a certain something'
Toi Kuji

Voice Actor: Koki Uchiyama
---
Toi is a transfer student at Kazuki's middle school. Due to some dark rumors, he is isolated in class.
Enta Jinai

Voice Actor: Shun Horie
---
Enta is Kazuki's childhood friend. Ever since he joined the soccer team with Kazuki, they have been referred to as the 'golden combo.'
Keppi

Voice Actor: Junichi Suwabe
---
Keppi is a mysterious kappa-like creature who claims that they are first in line for the throne of the Kappa Kingdom. He takes out the Shirikodama of humans and makes them transform into Kappa.
Rei Niiboshi

Voice Actor: Mamoru Miyano
---
Rei is an officer who works at a police officer and is Mabu's partner.
Mabu Akutsu

Voice Actor: Yoshimasa Hosoya
---
Mabu is an officer who works at a police officer and is Rei's partner.
Episodes
11
Theme Songs

Opening Song: Massara by KANA-BOON
Ending Song: Stand by Me by the peggies

Adaptation

Original


Main Staff

Director: Kunihiko Ikuhara, Nobuyuki Takeuchi
Series Composition: Kunihiko Ikuhara, Teruko Utsumi
Character Design: Kayoko Ishikawa
Animation Director: Kayoko Ishikawa
Original Illustrator: Migi
Music: Yukari Hashimoto
(Credit Honey's Anime when you use our description.)
---