There are a lot of shoujo anime, but very few shoujo romances are as great as Bokura ga Ita, which found a way to make us have hope in love then wrench our hearts out. Yes, Bokura ga Ita really found a way to toy with us that not every shoujo romance anime has. If you enjoyed Bokura ga Ita as much as we did, then you are sure to enjoy this article. Did you like Bokura ga Ita? Watch these two gems from this spring anime season.
Today, Honey's Anime is presenting to you our Like Bokura ga Ita? Watch This! special for shoujo romance anime of spring anime 2017. Hang in there because we're going to introduce to you our recommendations from this season.
About Bokura ga Ita

Episodes: 26
Aired: July 2006 - December 2006
Takahashi Nanami wanted to make many new friends at her new school. About ⅔ of the girls are in love with Yano Motoharu, who gives Nanami the wrong name of one of her friends, embarrassing her in front of everyone so Nanami hates Motoharu. The line between love and hate is thin and it is no surprise to see that Nanami's feelings of hate may bend towards love very easily.
Liked Bokura ga Ita? Watch Tsuki ga Kirei!
Episodes: Unknown
Aired: April 7, 2017 - ongoing
Starting their last year in junior high, Mizuno Akane and Azumi Kotarou become classmates for the first time and their mutual feelings spark. They both have mutual friends and classmates, Nishio Chinatsu and Hira Takumi. As Akane and Kotarou try to understand their feelings more, they are also too shy and innocent to bring their feelings directly to the surface.
Three Major Similarities Between Bokura ga Ita and Tsuki ga Kirei
1. Cute, Slow Romance
If what you loved about Bokura ga Ita was watching Nanami and Motoharu slowly fall in love, then you'll really enjoy the love story in Tsuki ga Kirei. Nanami and Motoharu started off as opposing people, but they gradually fell in love and gave us the story that is Bokura ga Ita. Akane and Kotarou are very much the same, although they fell in love at first sight it seems. The two spent the next few episodes awkwardly interacting and having a hard time conveying their real feelings while skirting around the issues before finally, we get a cute but awkward couple.
Akane and Kotarou's romance is very much sweet and slow-paced, which may be what any of the readers are looking for. While their feelings are quite clear, Akane and Kotarou are going to fumble over the ideas of what it means to be a couple and how to express their feelings.
2. School Life
If you love the idea of a school life romance like Bokura ga Ita, then you are more than sure to have it in Tsuki ga Kirei. School can complicate romances and people's lives, and you see it is evident here in Tsuki ga Kirei. Nanami and Motoharu had to deal with school festivals, classes, homework and studying, which only made certain plot points more difficult or more meaningful. Likewise, we see similar things unfold in the likes of Tsuki ga Kirei.
Akane and Kotarou have their own clubs and responsibilities that either take time away from each other or show the other a different side of them. Kotarou plays the taiko drums for festivals and is in the literature club, which is evident by the way he narrates. Akane is a track athlete. You can see how their personalities unfold in their club activities and how their emotions affect their performance. It's rare to see a school life romance actually use school life aspects in its plot, but Tsuki ga Kirei does a good job at it.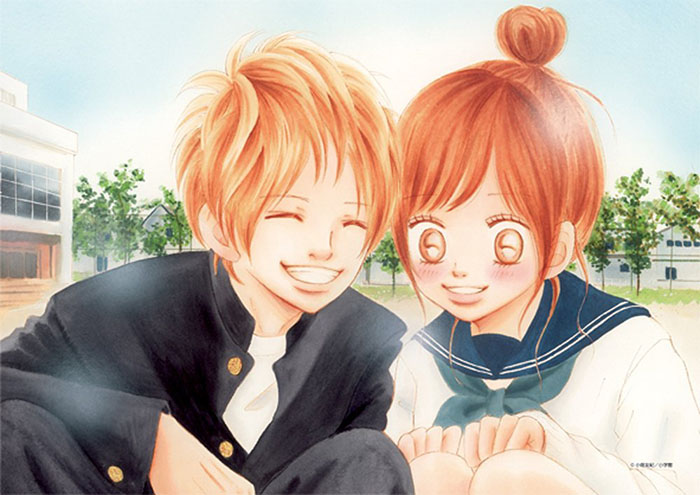 3. Love Triangle
One aspect about Bokura ga Ita that really gets the fans is the love triangle. That love triangle between Nanami, Motoharu, and Masafumi is a wild and tumultuous love affair that only riles you up further if you read the manga. Yet it's the enticement of a well-developed and meaningful love triangle like Bokura ga Ita's that really keeps the viewers in their seats more than any reverse harem out there. We don't even know if the love triangle between Motoharu and the two Nana's (one his dead ex) can even be ignored considering how much drama it brings into the mix.
Then in Tsuki ga Kirei we have a love web (square?!) between Akane, Kotarou, Chinatsu, and Takumi. These four clearly all have feelings for each other and it becomes very complicated and Akane and Kotarou's relationship grows. We see Takumi, who is dumbfounded. Chinatsu is heartbroken and has to cope with losing the boy she likes to her best friend. However, Akane is just as troubled by the fact that Chinatsu likes Kotarou. It's all of this drama that really has us agreeing that you will like Tsuki ga Kirei if you have seen Bokura ga Ita!
---
Liked Bokura ga Ita? Watch Fukumenkei Noise!
Episodes: 12
Aired: April 11, 2017 - ongoing
Arisugawa Nino goes to the beach every day to sing in hopes of finding the two boys who broke her heart by forsaking her as a child. When she does not sing, she wants around wearing a mask and listening to music. One of the boys is named Sakaki Momo, Nino's first love, who used to sing with Nino. The other is Yuzuhira Kanade, a boy who used to draw compositions in the sand. Nino made a promise to them both that should they part, her voice will be the one thing to bring them together again.
However, as fate would have it, all three of them attend the same high school. Six years have passed so not all is the same. Nino places all of her hope in these two boys, but what has the passage of time done to them? Will they be able to be friends or will love and personal drama make it impossible for them?
Three Major Similarities Between Bokura ga Ita and Fukumenkei Noise
1. Love Triangle
Let's get the obvious out of the way, like Bokura ga Ita and Tsuki ga Kirei, there is a love triangle in Fukumenkei Noise. However, unlike the former titles, the love triangle is pretty evident from the first episode. Heck, it is evident from the synopsis. Nino has two significant boys in her life: Yuzu and Momo. As episodes go on, it is clear that Nino only has eyes for one while the other is quite clear about his own feelings for her. However, the only one we have to keep an eye out for is the one that Nino loves.
The relationship between these three becomes more complicated as they all delve deeper into the world of professional musicians. Each one of them carries a burden, some heavier than others, and it only creates more strain on the love triangle in Fukumenkei Noise. If you want a more dramatic love triangle than Tsuki ga Kire's love web, Fukumenkei Noise is sure to deliver it to you.
2. Teenage Emotions
Not just our main characters, it is shown that many of the characters of our secondary cast have these roiling teenage emotions that are churning in the underbelly of Fukumenkei Noise similarly to Bokura ga Ita.. Many of Motoharu and Nanami's friends have their own dramas. Let's not forget Akiko from Bokura ga Ita who seems to only add more drama between Motoharu and Nanami's relationship with her own feelings. Likewise, Nino's new friends also have their own feelings and dramas.
This can be seen with characters like Miou, who loves Yuzu and really seems to lose her purpose in the musical group with the appearance of "Alice." Then there's their friends, Yoshito and Ayumi, who seem to be quite easy going but actually are hiding something below the surface. The characters do not get a chance to develop as much as in Bokura ga Ita, but the studios did make an attempt to give the side characters in Fukumenkei Noise some substance rather than as side characters who exist solely to be used when needed.
3. Decisive Main Character
While this may be up for debate but both Bokura ga Ita and Fukumenkei Noise have rather decisive main characters as they understand what it is that they want and do all they can to attain it. Nanami knows she wants to be in a relationship with Motoharu and despite all that seems to get in the way of their relationship, she will always pick Motoharu in the end, even when many fans may have cheered on Masafumi. Nanami wanted to wait out in the cold on that Christmas day to know whether or not Motoharu really cared about her. She was decisive. She didn't try to convince herself that things were not as they were. Nanami took everything head on and did what she had to do to know whether or not things would work out (and they didn't for a while).
Likewise, Nino is very decisive. She sang every day at the beach to find the two boys who vanished from her life. Nino doesn't listen to people when they talk about things that don't interest her (a running gag in the anime and manga). Nino wants to pursue music, even when Momo is against it. She even lies to Momo about her feelings to protect herself (and possibly hurt Momo back). Nino may seem like an annoying shoujo protagonist, but at least she does what she can to achieve what she wants. She's more like Kyouko from Skip Beat! than Hikari from Special A at least.
Final Thoughts
If you loved Bokura ga Ita, we are sure you will find some entertainment out of these two shoujo anime from spring 2017. Whether it's for love or drama, we're here to satisfy that thirst! Let us know what you think about Bokura ga Ita and how much you miss it! If you've seen Fukumenkei Noise or Tsuki ga Kirei, let us know your thoughts all in the comments below!
---