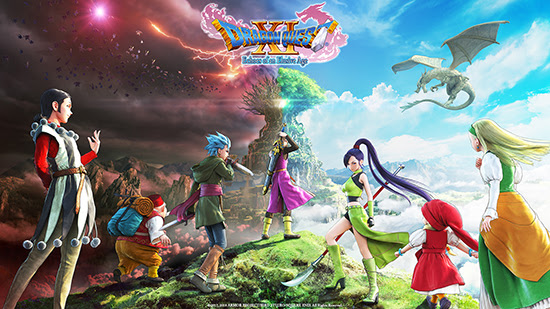 What You Need to Know:
During this morning's SQUARE ENIX E3 Showcase 2018, SQUARE ENIX announced details for special editions of DRAGON QUEST XI: Echoes of an Elusive Age, the latest title for one of the most revered role-playing game franchises of all time.
Available for pre-order in limited quantities exclusively from the SQUARE ENIX Online Store, the "Edition of Lost Time" contains a variety of treasures to complement the adventure, which include The "Edition of Light" version of the game, Companion Compendium, Symphonic Suite, The Map of Erdrea, A Collectible Steelbook Case, Bonus Digital Content
The physical Day One "Edition of Light" is available to pre-order now from retailers nationwide for the PlayStation 4 system, and comes with a reversible cover featuring artwork from Akira Toriyama. Additionally, players who pre-order from the online PlayStation Store can treat themselves to the exclusive "The Legend Reborn" Theme as an instant reward along with in-game DLC items when the game launches. Fans who pre-purchase from STEAM will receive an exclusive PC Wallpaper Set and in-game DLC items.
A brand-new story-focused trailer also sheds light on the main hero and the challenges he must overcome with the help of his loyal companions. The trailer ends with the reveal of new key art, created specifically for the Western release.
Source: Official Press Releases
Pre-Order Perks
The "Edition of Light" version of the game for the PlayStation®4 computer entertainment system*
Including Supplicant, an accessory with the power to restore magic points, Healer, an accessory with the power to restore hit points, and 3 Seeds of Skill, a consumable item which confer a players extra skill points.
Companion Compendium – a 128-page hardback art book featuring concept art and famed artist Akira Toriyama's early designs
Symphonic Suite – a 2-disc set featuring orchestrated versions of in-game music
The Map of Erdrea – a 20"x15" cloth map
A Collectible Steelbook® Case
Bonus Digital Content – including Pep Pop, a drink that immediately peps up all active allies, and 15 more Seeds of Skill, which confer players extra skill points.**
---
Oh yes! Give me this package! I need this!
Love Love LOVE Dragon Quest! Truly excited for this one!
---