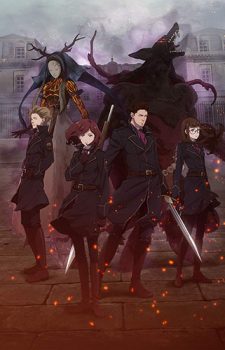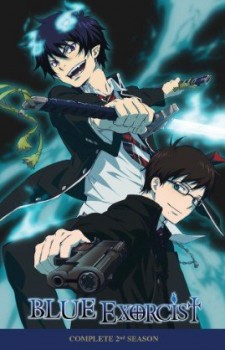 Ao no Exorcist is the story of Rin and Yukio Okumura, two orphaned brothers. When they lose the only home they've ever known, Rin decides to go with Yukio to school, training to become exorcists. Even as Rin deals with the fact that he is actually the son of Satan, he and his friends go through plenty of battles with demons from the underworld. Ao no Exorcist is an engaging tale with action in every episode! If you're looking for other action-packed shows based around supernatural elements, we have a few suggestions from this season's selection of anime!
Liked Ao no Exorcist (Blue Exorcist)? Watch Kimetsu no Yaiba (Demon Slayer: Kimetsu no Yaiba)!
Episodes: 26
Aired: April 2019 - ongoing
Tanjirou Kamado and his family live peacefully in the wilderness, taking care of each other contently. One day, when Tanjirou returns to his home, he discovers that his mother and siblings have been murdered by a demon, leaving only his younger sister Nezuko still alive. Unfortunately, Nezuko is only alive because she has been transformed into a demon herself, so Tanjirou sets out to find a way to turn her back. He begins his path to becoming a demon slayer, a long and difficult road, with his sister by his side…
Major Similarities Between Ao no Exorcist (Blue Exorcist) and Kimetsu no Yaiba (Demon Slayer: Kimetsu no Yaiba)
1. Focused on Demons
The central focus of both shows revolves around the supernatural, with both anime having main characters that are demons. At the same time, demons are the main enemies for our protagonists in both series. Having the supernatural element in both Kimetsu no Yaiba and Ao no Exorcist gives both anime an added boost to make it more interesting than just your average action series.
2. Main Characters Grow Up as We Watch
Ao no Exorcist starts off with Rin being rather immature, but he continues to grow up throughout the course of his training and the battles he goes through. With each hard situation he has to go through, he becomes a better character for it in the end. Tanjirou from Kimetsu no Yaiba goes through a similar process, though he is more naïve in the beginning than immature. We love being able to see protagonists who grow up over the course of the anime and become even better for the experiences they have to go through!
3. Loss of Family Early On
Rin and Yukio have always been on their own somewhat, but they even end up losing their last true family figure in a tragic attack at the beginning of the anime. The two of them have to rely on one another going forward, even through life's difficulties. In much the same way, Tanjirou and Nezuko have lost their entire family early on in the series. These are all characters that have lost everything, yet they still have at least one sibling to rely on through it all.
---
Liked Ao no Exorcist (Blue Exorcist)? Watch Fairy Gone!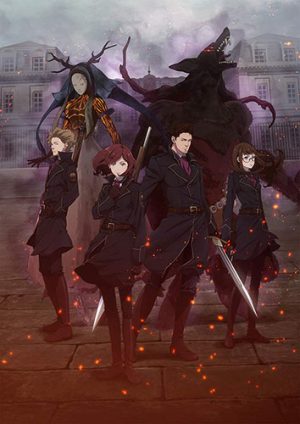 Episodes: 24
Aired: April 2019 - ongoing
Mariya is the latest member of an organization known as "Dorothea," who investigates crimes, specifically when instigated by Fairy Soldiers. In the past, fairies were used in the war by "Fairy Soldiers," summoned after removing the organs of a possessed animal and transporting those organs into humans, effectively giving the human an alter ego fairy to fight with. Many of them have lost their purpose since the war, and this is the story of their potential future as Mariya learns more about the mystical beings she encounters, even those who may have resorted to criminal means after their participation in the past war.
Major Similarities Between Ao no Exorcist (Blue Exorcist) and Fairy Gone
1. At War with Supernatural Forces
Rin and his companions spend their time as exorcists fighting against the demonic forces threatening to overtake their world, though sometimes these forces are more organized or planned in their attacks. Fairy Gone also focuses on a war with the supernatural, but this war was mostly in the past, with remnants remaining during Mariya's time with Dorothea. Both of these anime deal with the darker side of combat often in their episodes.
2. Organization to Right Wrongs
True Cross Academy is a school where students learn to become exorcists, hidden behind the front of a completely normal school for most of those who attend there. Rin comes in as a complete newcomer to True Cross, giving us a newcomer's perspective of the academy. Dorothea is also an organization created around the purpose of monitoring supernatural beings in their world, with Mariya acting as our newcomer lens for the anime. In both Ao no Exorcist and Fairy Gone, the organizations in charge of protecting humanity from these unknown dangers are themselves rather secretive, but we are able to learn about them thanks to the respective protagonists.
Final Thoughts
Ao no Exorcist is an action-packed anime with interesting supernatural elements. Kimetsu no Yaiba and Fairy Gone are both recent anime that embrace many of the same things Ao no Exorcist has—even in the vibe that the series give off.
What do you think of our suggestions? Are you watching either Kimetsu no Yaiba or Fairy Gone this season? Let us know in the comments below!
---
---