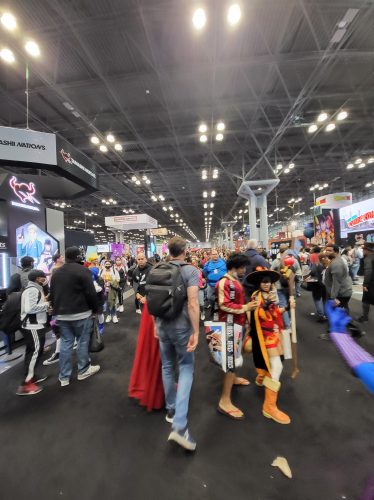 For 16 years, Comic-Con NYC has tried to yearly impress conventiongoers by getting better and better. Even during the pandemic, NYCC still delivered all the best ways for fans of comics, anime, games, and all things nerdy to gather and discuss their love in various ways! New York Comic Con 2022 had to be larger than all the previous years and for the most part, was significantly better than the last decade of this impressive convention. Yet, was NYCC 2022 all glowing lightsabers, or were there some things that could have been a bit stronger with the force? Let's talk about The Good, The Bad, and The Okay of New York Comic Con 2022!
The Good: Biggest NYCC Ever

If you've ever been to an NYCC, then you know these events aren't small in any form! Being held in the Jacob K. Javits Center, NYCC has a lot of space available to be utilized thanks to this several-floor building that just seems to never end! NYCC 2022 made sure to really use every nook and cranny this year by having almost 4 floors of content. Literally, for the first time, congoers could go to the 4th floor for all the panels, go to the lowest for the Artist Alley, the third floor was the show floor and the first floor was autograph signings and other cool events! We know we missed a lot because there was just too much to explore and witness at this year's NYCC!
Still, this was one of the few times where we overheard people happy that they found plenty of exhibits that met their interests whereas previously, there were a few unhappy folks that felt NYCC didn't have something they wanted to do/see. We can only imagine if NYCC 2023 tries to match this level of entertainment…they will have to use literally the roof for even more events!
The Okay: The Crowding and Mask Mandate

Okay, now unless you have been living under a literal rock you know the last several years we've all been plagued by Covid-19. During its height, NYCC was forced to do what many cons did and go digital which was cool but definitely didn't feel like the same experience. Now in 2022, the pandemic we faced still looms in the shadows but we are more prepared to deal with it thanks to vaccinations and stronger immune systems. New York, along with most of the nation, has begun to lift the mask mandate and that is great but we did notice that NYCC 2022 had a mandate of sorts that also wasn't very enforced. There are even guidelines on the official NYCC website about making sure people wore proper masks but we walked around for days and noticed many weren't using masks and/or were very lax about them. This was worrisome as we did find ourselves masking up as much as possible as we know Covid-19 still is a threat and we wished NYCC would have been a bit stronger in enforcing this mandate. Sadly, with over 200'000 attendees, we know it wasn't an easy feat to prevent everyone from wearing masks in such a large building.
The Bad: Less Anime…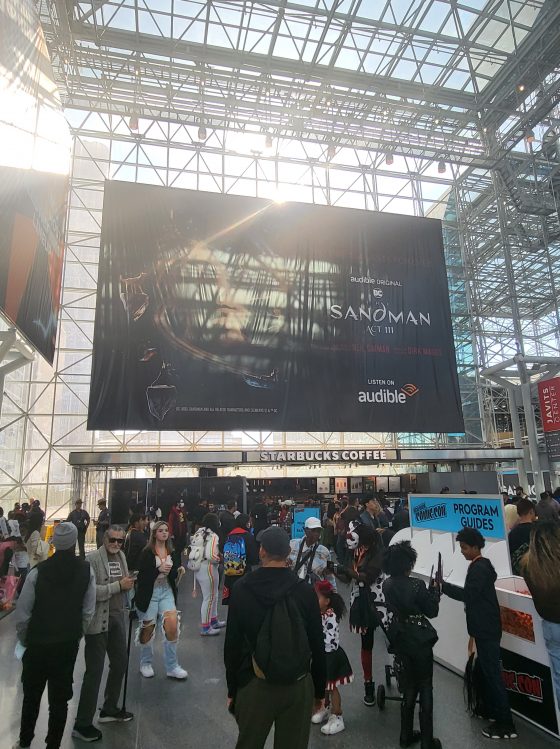 Before you grab your pitchforks and torches, let us be clear. We understand that no matter what, NYCC is meant to be a comic book-themed convention, not an anime one. Yet, over the years, we have noticed NYCC trying to push more anime outlets like Viz Media and Crunchyroll which made it more appealing to otaku congoers. That being said, we felt NYCC 2022 tried to go back to the comic roots a bit more with a heavy emphasis on comics, media about comics like The Sandman series—which is on Netflix and is amazing—and various other comic collectibles. There was still tons of anime to be found as we noticed One Piece stole the show with their preview booths of the new game, One Piece Odyssey, and the movie One Piece: Red. But seriously…there were a lot fewer anime booths—still a lot of panels though—and anime vendors. Don't worry though, AnimeNYC 2022 is coming in November so otaku can look forward to that as the primary anime-focused convention of NYC!
Overall…Pretty Amazing Convention

NYCC 2022 was in many ways better than the last several years and shows the positive growth of the convention! We can only hope that every year going forward the convention will grow and be even greater with each passing year! Our time with NYCC2022 was short but we still got to enjoy it a lot and no we aren't alone in thinking this was a solid NYCC overall!
---
Final Thoughts

NYCC2022 is over now sadly but our coverage of it is far from over! We've spoken about NYCC2022 enough for now and open the floor to you readers to let us know your experiences! Comment below to tell us some of the things you loved/hated about NYCC2022 as we hope you all had a great time with it! Be sure to keep stuck to our convention going hive here at Honey's Anime for even more NYCC2022 coverage and other anime-themed articles!
---