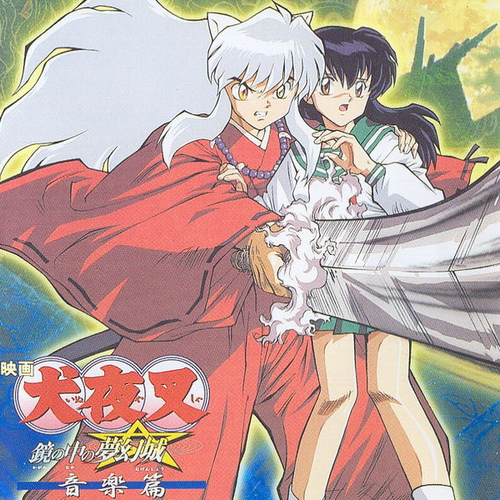 Episodes : 167
Aired : October 2000 – September 2004
In their quest to recover and restore the sacred Shikon Jewel, Kagome and Inuyasha are accompanied by many allies including Miroku, Sango, and Shippo, as well as a marvelous assortment of music! In this article we're going over the beloved soundtrack of InuYasha, highlighting the many artists involved in the opening and ending themes and the orchestral work of the series' composer Kaoru Wada. For brevity, we're focusing on the original series.
Popstars and rock bands - InuYasha's OP/ED
InuYasha's first opening is "Change the World" by longrunning male idol group V6. As the first, this OP is probably the series' most iconic. It's full to the brim with an innocent enthusiasm and energy, with bright, pop-y vocals and soft rock style instrumentation complete with period-appropriate orchestra hits which are always a lot of fun. V6 wouldn't be the only boy band to contribute music to InuYasha, nor would "Change the World" be their last, the group also providing the 8th ending theme "Brand-New World". "Brand-New World" is a little bit slower and more relaxed but stylistically and thematically similar, and brings a sense of completeness with the first opening.
Singer-songwriter Hitomi's "I Am" was used for InuYasha's second opening. Like the first, it's quite upbeat but is less overtly pop with a more pronounced soft rock influence. This opening's most notable features are Hitomi's somewhat unusual voice, prominent percussion, and the "ooh wa ooh" used in the chorus.
Up next is "Owarinai Yume" by Nanase Aikawa, another soft rock song with a strong drumline. This song, which means 'unending dream', is more serious sounding than the previous openings and packs infectious guitar riffs that mesh well with Nanase Aikawa's soaring vocals for a slightly somber opening song.
Along with "Change the World", Every Little Thing's "Grip!" is probably InuYasha's most popular opening theme, likely thanks to pop/rock duo ELT being one of Japan's biggest artists in Japan of the time. "Grip!" is a triumphant soft rock piece with a great sense of buildup and balanced instrumentation mixing synths, guitar, and the usual rock ensemble, but the real star of the show is Kaori Mochida's vocals. "Grip!" was off of the band's Many Pieces album which sat at No. 1 on the Oricon charts for 25 weeks in 2003!
"One Day, One Dream" is InuYasha's penultimate opening. This song feels something like a return to form from "Change the World" and is similarly done by a male idol group, this time by popular duo Tackey & Tsubasa. What stands out most on this track is the buildup, of which there are actually two, that jump from very slow to energetic to high tension (in the Japanese sense). You can now dream!
InuYasha's final opening is "Angelus" by enka singer turned pop star Hitomi Shimatani. Compared to the other openings, "Angelus" is definitely the odd one out with its bombastic brass and Latin music style but that doesn't mean it's low quality by any means. This opening full of energy and excitement and Hitomi Shimantani's voice is distinctive and powerful, this combined with its unique musical genre, makes it yet another great addition to InuYasha's musical library.
Without going into exhaustive detail for the 8 different ending themes, we'll mention the work of band Do As Infinity who contributed the much-loved second ED "Fukai Mori" as well as the fifth, "Shinjitsu no Uta". Do As Infinity's addition of traditional Japanese instruments with their stellar musicianship and Tomiko Van's haunting voice made these pieces very memorable for fans of the series. Other ED highlights include the nostalgic original "My Will" by girl group Dream and "Come" by certified superstar singer Namie Amuro.
Kaoru Wada's orchestral brilliance
The soundtrack of InuYasha is considered one of the greatest in all of anime, and for good reason! Composer extraordinaire Kaoru Wada made a monumental effort in creating this series' music, reportedly writing well over 100 pieces. While obviously not all of these were ultimately selected, InuYasha's soundtrack remains voluminous and rich in variety, some highlights being "Hanyou Inuyasha", "Kikyo's Heart", "Beautiful Memories", and "Inuyasha's Lullaby".
Not that many anime get full-blown, high-quality orchestral scores, and fewer still achieve something as unique as what Wada managed to do with InuYasha. Mixing traditional Japanese instruments and musical styles with the versatile range of a full orchestra, Wada's compositions combine the best of both worlds to make a big impression that fits perfectly with the series' subtitle "A Feudal Fairy Tale".
What further makes the soundtrack to InuYasha so strong is its brilliant use of leitmotif in its character and story themes, and how melodies will sometimes be mixed together to highlight relationships and events. From haunting beauty to epic intensity and melancholy reminiscence, InuYasha's soundtrack has a lot to offer!
---
Final Thoughts
With exciting openings full of youthful energy and an expansive, intricately made orchestral score, the music of InuYasha has stood the test of time and remains a favorite of many. The attention to detail in the music to bring together and accentuate the story of InuYasha makes it all the more memorable as a series, connecting viewers across time to the classic story.
We hope you enjoyed this article! Please let us know what the music of InuYasha means to you in the comments below!
---