Finally, Spring is in full swing!
You made that rhyme on purpose. Get out.
Can we talk about how dark and depraved Mahou Shoujo Site is? Because wow....
I loved Tada-kun wa Koi wo Shinai! Let's see what the editors have to say.
Who Needs Story Anymore?
We are coming out of the gates swinging this season and I am relieved that new anime are actually holding promise. One that really has delivered a strong debut is Hinamatsuri. It opens up with a Yakuza Chinpira named Yoshifumi Niita talking about a deal he has closed. All of a sudden, a strange face in a metal pod appears. He thinks that the alcohol has gotten to him and goes to bed. He wakes up the next morning and it is still there. He releases this girl named Hina who in turn, threatens to destroy everything he loves including super expensive vases.
This anime leaves you laughing from the first moment to the end and the quick delivery is what makes everything so much better. Yoshifumi is the straghtman to Hina who is painfully oblivious to the ways of the world leading to hilarious, and sometimes painful, outcomes. The best line this episode has been when Niita buys Hina high quality ikura and she proclaims that she must be a full-fledged woman now. He quickly retorts that she isn't and avoids abuse. Another one would be when she ends up in the yakuza office drinking 100 yen tea and declares that it has the tastes of high quality tea. One liners abound and honestly, the best part is that this season seems like it is going to be nothing but it. I have found my comedy anime for the season.
I-I-I can't breathe! ahahaha!
Final Letters and No Need for Orders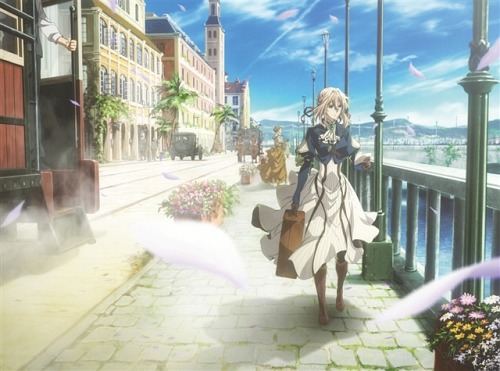 Agh, I was going to write about Tada-kun wa Koi wo Shinai or 3D Kanojo Real Girl, but man, I cannot just NOT write about Violet Evergarden's ending (Yes, I used a double negative!). Since the start of the series, I thought Violet Evergarden would end the same way I thought Sora mo yori Tooi Basho would end, with the dead coming back to life (figuratively, of course). Yet, once again, I was wrong. Gilbert did not come back to Violet's life. Instead, the ending consisted of Violet discovering herself after the war and the loss of Gilbert, as well as everyone writing down their hopes in a letter.
I have to say that the ending was so satisfactory. Violet is finally able to move on and proceed without orders. She enjoys her job and is actually able to convey her feelings now. Then there's Hodgins' letter. That one was really amazing to me as he writes to a non-existent daughter that might be possible in his future, telling her many things within his heart. I was touched as it talks about a future with many possibilities, which is not something people at war are able to dream about. It really shows a difference in the time period and the growth they are all seeing. It was a great way to end the entire anime.
It just felt so perfect!
We get it, she's being bullied
Shows about magical girls with tragic stories and dark plots don't surprise us anymore. Yes, Madoka Magika was a hit because of this, but we had plenty other options since then, being Mahou Shoujo Ikusei Keikaku one of the latest entries in this subgenre. This season, among a huge list of remakes and continuations, there is Mahou Shoujo Site… and I watched it.
The first episode explains nothing about the magical girls in this universe, but we definitely get an idea of why there's tragedy behind this: Aya Asagiri is a poor girl who's always getting bullied, not only at school but at her house too. But the way this episode depicts the main character is weak, almost as weak as her. She's a poor thing, we got it, but why? And most important, what's with this magical girl website popping up? The manga version of this story is a hit or miss, so I really wanted to see if the anime is any good. Judging by the first ep, this is all about redemption or vengeance, that's if you can manage Asagiri's meaningless life for a few more episodes. There's nothing to make us feel empathy for her aside for hating bullies! All we got was a lot of cliché scenes involving toilet-drowning, rape attempt and the classic death in the train tracks. If you like gore and the magical girl twist, go ahead, but a cool plot is nowhere to be seen... yet. Who cares about great first impressions, right?
Wake me up when this anime is worth it.
---
Finale
And that is it for this week of Hot Moments! Now that Winter is over, we are in the spring of action anime. 71 titles at that! Thanks for reading until the end. Let us know below what you are watching for Spring!