This week was HOOOOOOT!! And I'm not talking about the temperature alone...
I'm still catching up with all the new stuff, but some shows are actually living up to the hype. And I can see our writers are going to talk about some of them!
Yeah, and let's not forget all those ongoing series too.
Enough talking, girls. Let our writers do their thing!
3700 Years Later...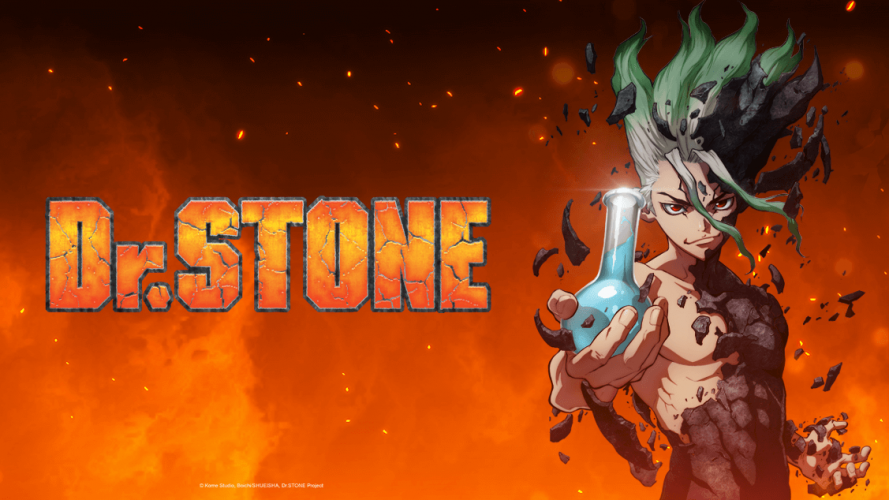 Finally, the time has come for a series I've been dying to get an anime adaptation for! In our first episode, we see a modern day Japan and are introduced to our two main characters, Senku Ishigami and Taiju Oki. Dr. Stone seems like a comedy/romance at first with our characters just having a normal high school life but things change quickly when a weird green light engulfs the word. All of humanity--minus the animals--are turned to stone with Taiju and Senku sharing the same fate. However, after 3700 years Taiju breaks out of his shell and finds Senku also has done the same. Together, the two rely on each other to forage the land for food--Senku acting as the brains while Taiju the brawn--and also look for a way to cure the stone affliction. Our first episode ends with our two survivors indeed finding an elixir made from ingredients that does break the rock shell off of a bird they experimented on. With such an exciting first episode, Dr. Stone is going to be one of the better series this season I can already tell!
Imagine being trapped in stone for so long! Dr. Stone is going to be an epic fantasy/survival anime!
The Fifth Survivor Joins the Party
Tanjirou and Zenitsu officially meet the other Demon Slayer, a crazed man named Inosuke. After Tanjirou fights Inosuke briefly, the group parts ways with the children that they saved. Tanjirou, Zenitsu and Inosuke head for a rest house to heal up after all the injuries they sustained. Tanjirou also introduces the other two Demon Slayers to Nezuko, though the meeting doesn't go quite as he might have expected…
Even though this episode was relatively relaxed after the fights of the past few arcs, it was still one of my favorite episodes so far, just because of the interactions between Tanjirou, Zenitsu and Inosuke. Inosuke constantly tries to pick a fight with Tanjirou, who is so naively kindhearted that he just responds to Inosuke with more kindness, making the boar-man even angrier! And Zenitsu's fear of literally everything - including even the old lady showing them hospitality - makes for a hilarious contrast with Inosuke's brashness. Zenitsu's reaction to meeting Nezuko was also a pretty funny moment. Each of the character's faces are so expressive, which makes them seem so much more relatable. I'm excited to see more of this trio of Demon Slayers working and traveling together, as the next half of this series promises to be just as amazing!
I love these three together! I can't wait to see what comes next!
Those Memories are Precious to Me

Well, it happened sooner than I thought, but the new Fruits Basket anime made me cry. I thought I was prepared – I knew that this episode was about Momiji's backstory and the anniversary of Tohru's mother's death – but this beautiful show knows exactly which heartstrings to pull to bring on the waterworks. Momiji and Tohru are two of the most cheerful characters in the series, but they hide tremendous pain behind their smiles. Momiji's mother was so devastated by her son's curse that she tried to kill herself, subsequently choosing to have her memories wiped to forget about "giving birth to that creature." Now he watches over her and his unknowing younger sister from afar, trying to keep that connection alive without traumatizing his family again.
Tohru weeps openly upon hearing this, but Momiji won't let his true feelings come through except for a slightly wilted smile. She's also masking her own pain, though, as shown in a flashback when she collapses in tears beside her mom's hospital bed. It's only been a year since then and her friends see that she's as chipper as ever in normal situations, but in quiet moments, that car accident is fresh in her mind. Why do these pure-hearted people have to suffer when they didn't even do anything wrong? Perhaps that's just how life is.
I want to go hug my mom now...
Live Streamers, a Llama Man, and a Giant Panda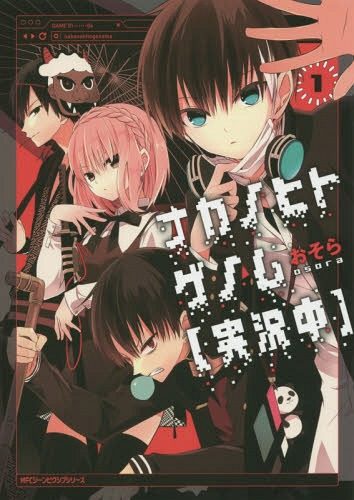 The premier of Nakanohito Genome [Jikkyouchuu] was a wild ride. After unlocking special content in a game called Nakanohito Genome, Akatsuki Iride finds himself stranded in a forest alongside a girl named Karin Sarayashiki. Suddenly the two of them get chased by a giant panda and attacked by a giant rat, but are saved thanks to the appearance of the sword-wielding Kaikoku Onigasaki and some quick thinking by Akatsuki. With the threat taken care of the three of them are approached by a man wearing a llama mask who informs them of their situation of being stuck in the game and transports them to the school. There they meet the other five people who have been forced to participate. Each of them reveals their video game genres of choice and learn that they must compete in a series of events in order to obtain 100 million viewers.
I'm really not sure what to think after watching this episode. Everything was so fast paced we got two episodes with content jammed into one. The characters all look like they are going to be interesting despite not being the most original. Visually, the episode was fantastic and all of the cool things they did with the visuals made every moment of the first episode that much better. With comedy, drama, great characters, and a whole mystery to unravel, it will be exciting to see where the series goes from here.
Akatsuki is so lucky. I want to hug the giant panda too!
---
Finale
That's all for this week, please check back next week and tell us what you're watching!