Episodes : 6 (OVA)
Genre : Harem, Ecchi, Comedy, Adventure
Airing Date : October 27, 1995 to June 28, 1996
Producers : ADV Films, K.S.S, A.P.P.P, Media Blasters, Discotek
Golden Boy Preview / Plot (No Spoilers)
Golden Boy is about a perverted university student that dropped out of his law program. No wait! He's not the plain, dull school boy we are used to seeing at the center of harems. Actually Kintarou Ooe, our protagonist, dropped out of the program because at only 25 years old, he mastered the law curriculum.
He's actually a dorky genius that completed the university's requirements but left before graduation. His knowledge-hungry self just couldn't be satisfied with just a degree so he decided that he must study life itself. He embarks on an aimless journey with nothing but a backpack and his bike.
The way Kintarou studies life is through getting short part-time jobs and learning from that experience. He does, however, have a requirement for his job hunt: it must involve a pretty or sexy girl. His perverted acts easily win the disgust of all the girls but he doesn't cry, reject, step down or whine like others. He takes the bull by the horns and in a unique way fixes the day, resulting in those girls chasing after him.
What on earth could he be doing to win over so many girls without fail? To find out, follow his adventures in the Golden Boy anime and be ready to write down some notes!
Who Does Golden Boy Cater To?
Obviously, this is an anime with a target audience of young adults like Kintarou. Ecchi and comedy are the strong points of the anime so people looking for a good laugh with a decent story would be the perfect targets. Unlike other harems, this one is about life at work, good to watch if you have had some job experience. Of course, in the anime, everything is exaggerated for comedic purposes but i'm sure in more than one way Kintarou's experiences will remind you of your own first days on the job. If you're looking for just careless fanservice, bouncy goods, perverted humor or someone with admirable guts, Golden Boy is up your alley.
What's Appealing About This Anime?
Surprisingly, what's good about this anime is the story and characters. They tell a good story within only 6 episodes, using one main character and a wave of supporting characters. Each secondary character is unique and each girl has her own perfect match in some way with Kintarou. By the end of each episode, you get the feeling that this episode's girl and Kintarou are meant to be and together. You long for them to reunite and live happily ever after, but… that's not gonna happen.
Another good point about this anime is the last episode. It shows you the animation process from start to finish and this is super interesting if you're into art, and especially Japanese animation. The real animators of Golden Boy filled this episode with real problems animators tackle as if they were writing their own group's biography. All of the episodes are different in the stories they tell, so the order you watch them in isn't crucial, but I wouldn't recommend watching this last episode first since all of the characters make a comeback only for this one. So this is a funny, ecchi anime that literally teaches you about a slice of life? Count me in.
Golden Boy Preview
Golden Boy Character List
Kintarou Ooe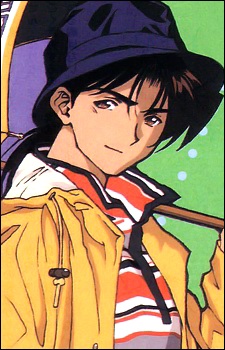 Voice Actor :Mitsuo Iwata (JPN) Doug Smith (ENG) Nacho De Porrata(SPN)
Kintarou Ooe is the only main character in the anime Golden Boy. He's a 25 year-old genius that hides his intelligence behind his more compulsive perverted behaviour. He's keen for finding strange part time jobs that involve beautiful girls. He carries a small pocket notebook for his personal life research, especially for recording women's attributes. He's an average guy but hard-working. The clever way he completes every task on the job wins him his charm with the ladies. As a side note, he's a real good cyclist!
Madame President
Voice Actor :Tsuru Hiromi (JPN) Grant Tiffany (ENG)
Owner of a software company, she is your typical dominatrix in Kintarou's eyes but treats him like trash all the time until she discovers he's an actual genius and good willed guy. Kintarou made a better program in one week than her employees could ever do in three months of work so she decides to run after him to confirm his brilliant skills by herself.
Hayami Ayuko
Voice Actor :Inoue Kikuko (JPN) Ulu Sue (ENG)
Owner of a swimming school. She wants the best swimming instructors for her school because she needs to protect her title of gold medalist. She's a fierce swimming goddess in Kintarou's eyes but too strict on her young students. Kintarou illustrates that the only way of introducing swimming to young children is not drilling technique, but care and joy instead. This opens her eyes a little too late to realize that Kintarou's way out of her league at teaching.
Chie
Voice Actor :Kanai Mika (JPN)
A kind cel painter in an animation studio. She's dedicated to her job but very stressed by it too. She gives all she's got to animation and serves as a good role model of a hard worker for Kintarou. She's more passive than the others because she's the only one who doesn't run off chasing Kintarou and instead will wait for him to come back. Yeah, she's that confident.
Noriko
Voice Actor :Shiratori Yuri (JPN) Sevier Kim (ENG)
Noriko's a sweet family girl who would do anything for her folk's business. She is a simple girl that enjoys making traditional Japanese flower arrangements. Due to her simple mindedness she is unable to see the man she likes is only flashing money at her to lure her into a clearly bogus marriage. She's an innocent, somewhat foolish girl blinded by love, in Kintarou's eyes. He helps unmask the deviant that calls himself her boyfriend and thanks to this, she is clear now on the man she should marry in the future: Kintarou.
Katsuda Naoko
Voice Actor :Minaguchi Yuko (JPN) Keith Allison (ENG)
A girl with a father complex who loves to tease whomever her daddy brings over to work at the house. She is mischievous as all her sexy moves are planned only to trick all guys that lay a finger on her. She's the image of an innocent angel but is an inexperienced tease in Kintarou's eyes. He takes a heavy beating from some guys ordered by her father even though it was due to a lie planned by her. This moves her and makes her see that not all guys are the same, so she pursues her newly discovered feelings for Kintarou.
Terayama Reiko
Voice Actor :Tamagawa Sakiko (JPN) Chapman Laura (ENG)
She is a girl with a double life. In front of her daddy's men, she's an elegant maiden but as soon as she leaves the house, she becomes a twisted daredevil on her motorbike. She hates men and practically makes love to her motorcycle. To Kintarou, she's a very sexy exhibitionist only when no one is looking. She challenges Kintarou to try and catch her while having a bike race; the prize is him getting to do as he pleases with her.
Golden Boy Review
Golden Boy is such an underrated anime that it kind of insults me; it's uber good in my opinion. Okay, it's from the mid 90's but, who cares? The anime style is still pretty cool and I have to admit many ecchi anime made today are not even half as fun to watch as this one. It has bold fan service and a handful of pervy jokes… Why isn't this anime a renowned classic ecchi again? I'm still wondering myself. I have to admit that I have seen this anime over 4 times in different languages and the English dub beats any version hands down.
The intro song just screams 90's! The melody, the fashion, and the bike just blow you back to the past. In the English dub, all the voices are a perfect match for each character's attitude, especially Kintarou, who sounds as dorky as he looks. Regarding the animation, everything flows so smoothly that it hardly looks its age, and they implement some elements of traditional Western cartoons when it comes to the comedy points. When it's time to be serious, the animation changes drastically to a well-drawn mix of traditional anime style, Western style, and complex perspectives. When it's comedy, the characters get drawn in less detail and become stretchy and wacky making it clear when the laughs are coming.
From the first episode, Kintarou gets you hooked on his stupidity. He acts so brave but he's really just a moron who can't deal too well with others, thus getting himself into the most unbelievable situations. For example, in the first episode, when he wants to help the bicycle shop man and gets all buffed up to face some yakuza loan sharks but instead turns the corner to walk away humming… We gotta give it to them, THAT was funny and possibly the scene that got us sold for good.
1. This Guy is Really Creepy!
I mean, he gets turned on by the strangest things! Washing a toilet and getting freaky over the thought that some girls sat on it, thinking that a computer programming term is related to a sexual position, trying on a bra, getting spit on in his mouth by his angry boss - and this is only a glance at the first episode! This anime doesn't try to hide the ecchi in a forced censored "well placed" image over the girl's body, it goes full throttle and is not afraid to be very graphic which is something many anime nowadays are shy about!
2. Kintarou's Good Deeds are Golden
Maybe this is what Golden Boy means? He's way better than a good samaritan; he fixes the lives of everyone he passes by without asking for anything in return. He barges into these girls' lives like a wave, unties all their emotional and psychological problems leaving them reflecting over their own mistakes and again like a wave, he leaves silently before they are able to properly grasp their emotions for him. This is oddly romantic and unique, my kudos to Tatsuya Egawa, the writer of Golden Boy.
To be honest, the structure of the anime seems a bit repetitive but this doesn't mean it becomes boring! As pervy as Kintarou is we never see him land any moves on any girls UNTIL we reach the part at the swimming pool. The time he challenges the instructor to a swimming match and ends up basically sucking the soul out of the girl is kind of intense and unforgettable. Later on, we have the exaggeratedly lusty motor bike girl that leaves nothing to our imaginations.
3. The Last Episode
I would say it's a bonus. It's unlike any of the other episodes. I mean, it's not as perverted or interesting as the others, but for me it was the most instructional. It teaches you about the life and ambience in an animation studio; it even gives you details on how anime is made! It's like the real animators are talking and encouraging viewers who have aspirations of working in the anime industry! All the past characters make a comeback in this episode and all of them repay Kintarou by doing him a favour and helping him finish the animation for his current part time job.
---
That's it for the anime review. It was a short but satisfying series. It continues in the manga but I honestly haven't read it or have any intentions to. I wonder who Kintarou stays with in the end? Will it be with a completely different girl exclusive to the manga? I honestly think he should go back to Noriko! Although in the anime, he admits he'd be happy settling down with the weird double-sided Reiko. I don't know, what do you guys think?
There's little doubt that Golden Boy is still one of the best harem/ecchi anime of all time. It has great 90's style character design, accurate information about every job, nice fanservice shots and great music. Not to mention that you can watch it all in one go! The OVA is roughly 3 hours all together! So if you really liked this anime, it's your duty to introduce it to the less fortunate people who don't know what they're missing!
As an aside, the opening theme song of the series is called "My Golden Boy" by Computer Jockeys and the ending theme is called " Study A Go! Go! Go! " by Golden Girls and these same band names are used as anime titles mentioned in the last episode. Is this merely a coincidence? I don't think so!
If you think that Golden Boy was completely underrated please comment below! And if you don't then you had better have a real good explanation! Humph! (┛◉Д◉)┛