2018 was a great year for anime across all the different streaming platforms, with plenty of options for everyone. We tried to take a look at the best options to highlight for you in each streaming platform, compiling comprehensive lists for you to enjoy!
Much of FUNimation's catalog is similar to that of Crunchyroll's in terms of new anime, though their older anime options have begun to differentiate. That being said, we have chosen the most entertaining 2018 anime available on FUNimation for you to browse through, varying across genres and the seasons in which they originally aired.
10. Hakata Tonkotsu Ramens

Episodes: 12
Aired: January 2018 – March 2018
Fukuoka might look like any other peaceful, prosperous city on the surface, but it is actually well-known for its vivid dark underbelly, with killers, detectives and professional assassins-for-hire thriving in its streets. The story of Hakata Tonkotsu Ramens follows detective Zenji Banba and cross-dressing hitman Xianming Lin as their paths cross and they start to actually rely on one another–something no one in this city ever risks…
With a plethora of interesting characters to get to know and a great storyline, Hakata Tonkotsu Ramens was overlooked by many viewers at the start of the year. The graphic content makes it not suitable for younger audiences or those who are squeamish, but the anime's vivid story and characters make it well worth the watch, and we're glad that FUNimation managed to find room for it in their catalog!
---
9. Karakai Jouzu no Takagi-san (Teasing Master Takagi-san)

Episodes: 12
Aired: January 2018 – March 2018
Karakai Jouzu no Takagi-san is the lighthearted love story of Nishikata and Takagi. Takagi loves to tease Nishikata, which is made all the easier for her because she knows him so well and is able to predict his behavior. Nishikata's goal is to successfully make Takagi blush from embarrassment as well one day, but will he ever be able to think one step ahead of his lifelong friend?
This anime centers on a simple competition between two friends, showcasing an episodic format that is relaxing but entertaining. Despite the predictability of Takagi always winning, the characters and their antics are so endearing that we could watch them forever! Nishikata and Takagi have a chemistry that leaves us always wanting another episode. If you're looking for a simple show to make you laugh, Karakai Jouzu no Takagi-san is perfect for you.
---
8. Ginga Eiyuu Densetsu: Die Neue These – Kaikou (The Legend of the Galactic Heroes: The New Thesis – Encounter)

Episodes: 12
Aired: April 2018 – June 2018
The Galactic Empire and the Free Planets Alliance have been engaged in a war for years. Though the different groups have exchanged plenty of blows over that course of time, nothing could prepare them for the emergence of two tactical geniuses, each from opposing sides of the conflict. Ginga Eiyuu Densetsu: Die Neue These tells the story of how Reinhard von Musel and Yang Wen Li became rivals in this all-out battle.
Through the eyes of Reinhard von Musel and Yang Wen Li, we get to see the intricacies of the two sides' political structures, as well as get to know plenty of interesting characters. While the characters aren't quite as well developed as they were over the course of the original series, Ginga Eiyuu Densetsu: Die Neue These still tells an engrossing tale over a short period of time.
---
7. Black Clover

Episodes: 75+
Aired: October 2017 – ongoing
Asta and Yuno are two young orphans with a dream–to become the next "Wizard King," the strongest mage in all the Clover Kingdom. Though the differences in their abilities might be vast, since Asta cannot use magic at all, these two friends won't let their status or their struggles hold them back from achieving their dreams!
Black Clover was touted as the "ultimate" shounen anime, and it certainly follows many of the usual tropes that shounen series fall into. That being said, this anime is still an enjoyable experience, particularly if you're already a fan of similar series. If you can make it past Asta's screaming from the early stages of the show, you'll be in for many more interesting characters and story arcs along the way!
---
6. Goblin Slayer

Episodes: 12
Aired: October 2018 – December 2018
Goblins are one of the most vicious monsters out there, raiding and ravaging as they see fit with little to hold them back except for the occasional adventurer. When a young Priestess is the only one left standing in a goblin attack, she thinks it is the end… But suddenly, the Goblin Slayer appears on the scene, saving her and changing her life forever!
Goblin Slayer is a hardcore, dark anime focusing on the battles of its titular character, who sets out to exact revenge on all goblins everywhere and never deviates from this desire. It was one of the most talked-about series from this past year, shocking the anime community with its graphic first episode, and remains one of the most interesting series from 2018.
---
5. Shingeki no Kyojin Season 3 (Attack on Titan Season 3)

Episodes: 12
Aired: July 2018 – October 2018
With the revelations that have been unveiled still fresh in their minds, Eren and the other members of the Scouting Legion begin to discover even more secrets hidden among the royal family, particularly with Historia. The entire military police and its governing bodies are after the Scouts, including Levi's old mentor, Kenny. Historia will discover the truth about her family, and Eren will learn where his Titan-transforming powers actually come from. Despite all the uncertainties, one thing is definite; no one will ever be the same again…
This latest season of Shingeki no Kyojin delves into even more questions of the nature of humanity. With Eren, Historia and the other members of the Scouts learning more about the truth of their world behind the walls, each revelation and action has immediate consequences. As we eagerly wait for the next season, those who haven't watched the series yet can enjoy all the terror and surprise for themselves on FUNimation!
---
4. Seishun Buta Yarou wa Bunny Girl Senpai no Yume wo Minai (Rascal Does Not Dream of Bunny Girl Senpai)

Episodes: 13
Aired: October 2018 – December 2018
Seishun Buta Yarou wa Bunny Girl Senpai no Yume wo Mirai follows the story of Sakuta Azusagawa as he, and the women around him, struggle from the unusual "Puberty Syndrome." Mai Sakurajima is also dealing with the disease, as a former child actress who stopped her career suddenly. Sakuta decides to help Mai get through her problem, bringing him into contact with a few more girls who have contracted this strange disease…
Sakuta, Mai and the other characters are what really make this series worthwhile, bringing in an emotional element to an otherwise pretty basic story. Told in episodic arcs to highlight each character's journey, Seishun Buta Yarou wa Bunny Girl Senpai no Yume wo Mirai can be silly, but it takes pride in its unique character interactions based around the supernatural. The characters are what makes this anime memorable and will bring us back to the show later on. Though we were sad for its ending, we look forward to what the series will possibly bring in the future!
---
3. Zombieland Saga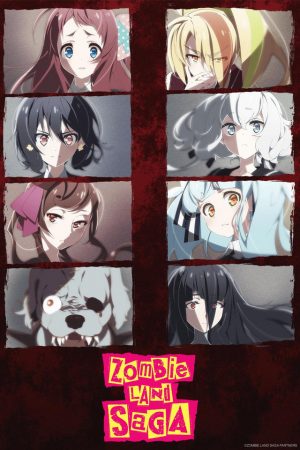 Episodes: 12
Aired: October 2018 – December 2018
Zombieland Saga follows along as a group of girls from various walks of life unite to form an idol group and save the Saga prefecture. Oh, and did we mention they're all zombies, trying to hide their true forms?
Sakura Minamoto and the girls of Franchouchou might get up to plenty of crazy antics, but they also go on a surprisingly meaningful journey together. From the moment that Sakura first gets hit by a truck (yes, it does happen more than once), Zombieland Saga is full of unexpected moments, from the hilarity that Koutarou Tatsumi brings to the crisis that Sakura goes through upon remembering her past. Once again, the characters are what truly make this show worthwhile, in every silly, serious or singing interaction with one another. Each girl is developed well over the course of the series, allowing for more serious topics to encroach upon their funnier moments. We still have plenty of questions that need to be answered, but with FUNimation adding Zombieland Saga to their roster, we know we can re-watch the episodes at any time!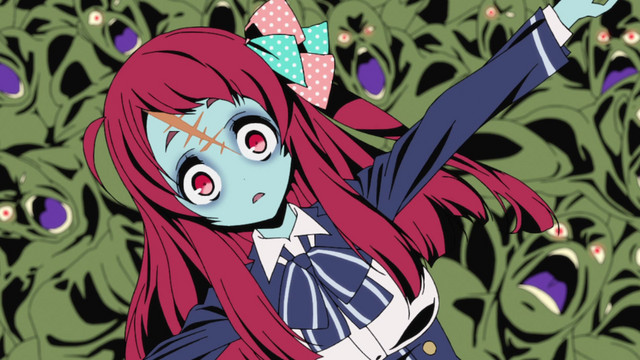 ---
2. Golden Kamuy

Episodes: 12
Aired: April 2018 – June 2018
Saichi Sugimoto managed to survive the Russo-Japanese War, but he is struggling to fulfill his deceased friend's wish to save his widowed wife. That is until he hears of the legendary lost Ainu gold and a potential map to find it. When an Ainu girl named Asirpa saves him, "Immortal" Sugimoto and the girl decide to team up in order to find the gold, as well as Asirpa's father.
Despite the number of characters, each one introduced manages to bring something new! Golden Kamuy has plenty of hilariously weird moments, using characters that somehow manage to be serious and vicious in one minute and silly in the next. The anime itself also fluctuates across this line, simultaneously managing to teach us about Ainu culture and cooking while showcasing savage battles. Each of the characters grows and develops over the course of the series' two seasons, with some surprising us right up until the end. If you'd told us at its beginning that Golden Kamuy would be one of our favorite shows from 2018, we never would have believed you; and yet here we are, agonizing over the wait for the series' next season!
---
1. Tensei shitara Slime Datta Ken (That Time I Got Reincarnated as a Slime)

Episodes: 23+
Aired: October 2018 - ongoing
One of the few shows on our list still airing, Tensei shitara Slime Datta Ken tells the story of Satoru Mikami's rebirth as a slime in another world. Now named Rimuru Tempest, our protagonist sets out to explore, discovering new friends and new abilities along the way!
Rimuru Tempest is easily one of the most interesting main characters from the past year. Though he is reborn in typical isekai fashion, the characters and plot make this anime far more refreshing than you might expect! Rimuru is all-powerful, yet he is an adorable little slime slowly learning more about his new world; and the way that he manages to shape events is both hilarious and incredibly meaningful. We've been enjoying Tensei shitara Slime Datta Ken at every step along the way, and we can't wait to see what else this anime has in store!
---
Final Thoughts
FUNimation has really stepped up its streaming in the last few years in order to compete with other platforms on the market, and they picked some great shows to follow along with in 2018. These shows vary across genres and when they aired in the year, but they all share the ability to make us want to keep watching. Even if we were to only have these options on FUNimation, we would be happy. Thankfully, there are even more great anime to enjoy!
What did you think of the anime on our list? What was your favorite anime from 2018? Were there any other series on FUNimation that you thought deserved a shout-out? Let us know in the comments section below!