In the anime landscape, it isn't hard to hook guys into intense action anime series. You have your classics like Berserk—we mean the original 90s version—and more modern series like Black Lagoon. Yet, as we see more and more, anime isn't just aimed at guys anymore. Just like video games, anime is starting to be loved more and more by the ladies and while they may love shows that guys watch, girls can also have different tastes in what they find appealing. An anime viewer of the female persuasion might want action with a tinge of romance or want a strong female lead taking control. Heck, maybe girls want some guys as main characters, but only if they are classy, stylish and dang good at what they do, this might spoil one series we're going to mention below. Regardless of anything, girls want action series and deserve action anime that will suit their tastes!
Here at Honey's Anime, we sat down in the hive and began thinking of what action anime shows worked for the female demographic. After a lot of debating and reliving some older series, we came to a good list of shows and of course will share them with you readers out there. Even with some of these shows being geared for the lovely lasses out there, some guys might enjoy these shows just as much. No matter what gender you are or identify as, one thing you will soon learn is this: Our Top 10 Action Anime for Girls list kicks butt and you're in for some great shows!
10. Romeo x Juliet

Episodes: 24
Aired: April, 2007 - September, 2007
Based on the classic William Shakespeare work—and we should add very loosely based—comes our first recommendation called Romeo x Juliet. Unlike the more romantic driven Romeo and Juliet, Romeo x Juliet infuses war, romance, drama and tons of action. We loved the epic scenes in Romeo x Juliet and are always recommending the series to ladies who want a romance story that isn't just a high school drama done for the one thousandth time. Though be prepared to shed some tears here and there as Romeo x Juliet does have a familiar ending that makes it a truly bittersweet story to witness.
---
9. Kaze no Stigma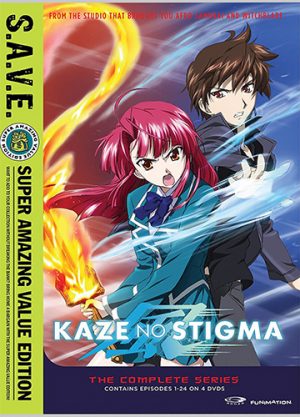 Episodes: 24
Aired: April, 2007 - September, 2007
While Kaze no Stigma might have a snarky main dude who loves to say some rather rude things, he is joined by a strong female lead—and romance candidate—Ayano Kannagi. Kaze no Stigma is a fun action series that doesn't rely on overly mature themes or tons of blood and that makes it a nice entry point for ladies who want to ease their way into the action anime scene. Unfortunately, Kaze no Stigma doesn't have the best ending seeing as how the creator—Yamato Takahiro—passed away before completing the story. We still don't think this means Kaze no Stigma isn't a solid anime and we think many girls—and guys—will love it. We need more warrior girls like Ayano and luckily, our list has plenty.
---
8. Akame ga Kill!

Episodes: 24
Aired: July, 2014 - December, 2014
Usually when you see a young swordsman going forth to become this legendary knight you think he will be the main character without a doubt. Akame ga Kill! however proves that this trope in anime isn't always correct. While Tatsumi—the wannabe knight mentioned above—is the main character he is usurped by the lovely ladies of Akame ga Kill! like Akame and Leone who ae just ten times more awesome. These women make Akame ga Kill! an action show worthy to be watched by the female anime viewers out there and will say it also proves something else. Women can be fearsome warriors in anime and you best not forget it.
---
7. InuYasha

Episodes: 167
Aired: October, 2000 - September, 2004
We've known many anime viewers that were of the female orientation that told us one of their absolute favorite introductions into the action anime genre was one show in particular. The hit show with its white-haired protagonist sharing the name of the title, InuYasha. While InuYasha might seem like a shounen romance story, there's an absurd amount of action thanks in particular to the various warriors found in the series. Kagome starts off the show as a weak high schooler with an attitude but quickly becomes a formidable archer and is joined by Sango who kills demons for her day job! By now, InuYasha is considered a classic so there aren't many who haven't seen it. Yet, we do know anime is still a growing media and for those new to anime, InuYasha isn't a bad way to go.
---
6. Code Geass: Hangyaku no Lelouch (Code Geass: Lelouch of the Rebellion)

Episodes: 25 (Season 1)
Aired: October, 2006 - July, 2007
While mecha based anime don't always resonate with most female anime viewers, we have an exception to the rule. Code Geass: Hangyaku no Lelouch melds wicked action, beautiful art, mecha and several girls who kick serious behind in the series. What we also love about Code Geass: Hangyaku no Lelouch is that it relies more on intellectual themes by infusing the story with politics to keep the viewer from just thinking it's yet another mecha series. Ladies, you have to trust us on this. If you ever wanted to get into a mecha action series, you won't be failed by Code Geass: Hangyaku no Lelouch.
---
5. Kuroshitsuji (Black Butler)

Episodes: 24 (Season 1)
Aired: October, 2008- March, 2009
You know what most action anime are missing? Handsome butlers who do one fine job being good servants. Yes, that's right everyone. As we mentioned earlier, we knew our Top 10 Action Anime for Girls list wouldn't be complete without Kuroshitsuji which is also known as Black Butler. Kuroshitsuji might have some lovely looking lads filling the screen more often than not but there's plenty of cool action moments. Sebastian—Kuroshitsuji's main butler—isn't an ordinary human and he shows it with some cool moves that are brutal but oh so great to witness. If you haven't seen Kuroshitsuji then it's time to change that and watch this incredible action series to see why there are so many girls who can't get enough of Sebastian and his master, Ciel Phantomhive.
---
4. Juuni Kokuki (The Twelve Kingdoms)

Episodes: 45
Aired: April, 2002- August, 2003
What do you get when you take a girl who tries her best but is considered an outcast and a prince that ends up being chased by demons from a strange otherworld and takes our main girl into this place with her? You get Juuni Kokuki which is a nice stop action fantasy that from the start. It impresses with strong visuals and truly engrossing narrative. Youko—Juuni Kokuki's main character—is another example of a weak girl who grows from her journey and becomes a warrior who rivals the best male warriors in the series. Juuni Kokuki might be an old series—but not the oldest on our list—but we can't recommend checking it out enough, ladies. In many ways, Youko stands as a good example of how to grow as a woman and not let the world stop you from showing your skills and strength. Just don't do that with a literal sword…you might get in trouble.
---
3. Seirei no Moribito (Moribito - Guardian of the Spirit)

Episodes: 26
Aired: April, 2007 - September, 2007
There's a common theme in anime and movies where people who need protection have to run to a man to help them survive. In Seirei no Moribito, we obliterate this trope and place a woman—in this case Balsa Yonsa—as the guardian who proves her worth time after time in Seirei no Moribito. Production I.G. doesn't disappoint with Seirei no Moribito as it has some epic set pieces and some truly amazing art. We know many anime viewers—male and female alike—who haven't tried Seirei no Moribito and that needs to change immediately. Go check out Seirei no Moribito right this second…well, first finish this article then go and watch it!
---
2. Versailles no Bara (The Rose of Versailles)

Episodes: 40
Aired: October, 1979 - September, 1980
Earlier, we mentioned that there was one older series on here. Finally, we have reached that title with Versailles no Bara that released in 1979! Yes, we said 1979. However, don't immediately assume this is too old of a show to get into and it's not worth it due to its older animation and art style. Versailles no Bara is easily one of the best examples of a woman's action anime with our main girl having to disguise herself as a man in her kingdom, learning to act like a man and having to fight like one too. Versailles no Bara is one of the best anime experiences older animation can offer and for those who love action anime, you won't find much better than this. That is especially true if you are a girl who wants a more feminine action anime but one that isn't dumbed down or made to specifically aim at female viewers.
---
1. Akatsuki no Yona (Yona of the Dawn)

Episodes: 24
Aired: October, 2014 - March, 2015
At number one on our list of Top 10 Action Anime for Girls is Akatsuki no Yona, the best example of an action anime that will appeal to any girl. Akatsuki no Yona has a similar theme of main girl—who is a princess—knows nothing of a tough life but when things change drastically, she has to arm herself and throw away the rich and pampered lifestyle in favor of a warrior's one. While Studio Pierrot has had their fair share of troubled works, Akatsuki no Yona is certainly not one of them. Plus, there's a nice amount of romance and drama thrown in to keep our characters constantly dealing with love problems and such. That to us is a win-win and its why Akatsuki no Yona stands as one of the best action series for those who are more feminine.
---
Final Thoughts
As anime lovers, we understand that anime shouldn't have a gender specific focus. There are obviously shows geared for men to enjoy—just look at the mass number of harems out there—but that doesn't mean women can't enjoy the same series. Our Top 10 Action Anime for Girls isn't meant to split the audience but more so to show ladies out there that there are action series made with the mindset that girls might want to watch these anime just as much as a guy would. We've mentioned our top 10, but maybe we missed some. Comment down below on any shows you think could have been added to our Top 10 Action Anime for Girls list to inform others! Remember to keep stuck to our hive for even more articles like this one courtesy of us here at Honey's Anime.
---