Summer is just around the corner, and it still makes our blood pumping despite all the shenanigans happening around the world. The scene of the sun's golden rays licking our skins, while sweat pours out of our body is… not really that enticing after giving it some thought. On the other hand, summer means going to beaches! If that doesn't pump you up, then we've gathered 10 manga scenes to get you excited to go to the beach.
10. The Beach Exam Arc in Shokugeki no Souma - Chapter 277-282

Authors: Shun Saeki (Art), Yuuto Tsukuda and Yuki Morisaki (Story)
Genres: Ecchi, School, Shounen
Volumes: 36
Published: November 2012 to August 2019
During their final exams during their second year in Tootsuki, Souma and the whole second year class were tasked to start their own food stands along the beach. The main goal of the exam was to earn at least 9,000 Yen per day. Since it's a three day examination, each restaurant must at least earn 27,000 Yen. Fortunately for Souma and the other elite ten second years, they were grouped together so cooking up some tasty treats shouldn't be a problem. The problem was that they were given a shoddy shack that could pass as a venue for a haunted house attraction.
Trying to fix and get the whole restaurant vibe going were the goals for the first two days. Alas, they were only good at cooking and not fixing. They had to make do with a makeshift kitchen and produce 27,000 Yen in a single day. They got to work and sold yakisoba breads to hungry beachgoers. At the end of the day, they had amassed a grand total of 6.5 million yen and passed the exam with flying colors.
---
9. The Watermelon Splitting in Fukigen na Mononokean - Chapter 44-45

Authors: Kiri Wazawa
Genres: Comedy, Supernatural
Volumes: 15
Published: September 2013 to Present
The Mononokean had received one job order for the day. It was to send Oisuke-dono back into the underworld. Oisuke-dono, however, had a request before getting exorcised. He wished to go get his home. Ashiya and Abeno immediately got to work and followed Oisuke-dono. It turned out that his home was under a watermelon splitting area made by the neighborhood kids. They postponed the job for a much more important task at hand. Since the kids were afraid that they had picked a fight with a thug, they'd let them do the splitting. Ashiya cheated, so Abeno was the one who splitted the watermelon. Best of all, they ate the sweet, tasty, and watery watermelon together.
---
8. The Beginning of Jisatsutou (Suicide Island) - Chapter 1-2

Authors: Kouji Mori
Genres: Mystery, Drama, Psychological, Seinen
Volumes: 17
Published: November 2008 to August 2016
Due to Japan's increasing suicide rates and doctors' needing to save people over and over, the Japanese government decided to make a decree. Individuals who repeatedly tried to commit suicide would be given a choice to forfeit their lives. They were then sent into an island called the Suicide Island. Sei was part of the batch who found themselves at a town near the shore. Knowing nothing about that island, they decided to explore around and try to find what they can find. They then found a source of water and some establishments. Finally, they had to spend the night in some spooky building.
---
7. The Shark Fighting Scene in Jisatsutou (Suicide Island) - Chapter 123-125

Authors: Kouji Mori
Genres: Mystery, Drama, Psychological, Seinen
Volumes: 17
Published: November 2008 to August 2016
After Sei and Liv decided to split from the others and live on their own, they primarily forage for fruits, hunt some animals, and dive for fishes to get their supply of food. However, Sei observed that the number of sharks within their diving area are somewhat increasing. When he got into the raft, they saw an especially big one. Sei and Liv then decided to confront the shark. They built floaters and arrows. Using his archery skills, Sei managed to kill the shark and secure additional food for the both of them.
---
6. That Time Sanji Almost Died from a Nosebleed in One Piece - Chapter 609

Authors: Eiichiro Oda
Genres: Action, Adventure, Comedy, Fantasy, Shounen, Super Power
Volumes: 96
Published: July 1997 to Present
The Strawhat Pirates had successfully arrived at Fishman Island. They did a lot of loitering around and mingled with the locals. Being stuck with okamas for two years, Sanji made sure to spend the time with what makes him happy--mermaids. He happily swam and mingled with the mermaids as much as he wanted. He, however, got too excited after getting hugged by a beautiful mermaid. This resulted in a colossal mermaid-shaped nosebleed and sent the whole crew into a panic.
---
5. The Fireworks scene in Kimi ga Kirai na Koi no Hanashi - Chapter 7

Authors: Sora Mizuki
Genres: Romance, School, Shoujo
Volumes: 2
Published: August 2017 to March 2018
After some naughty beach dudes tried to get revenge on Kisaragi by throwing a bottle at him, the bottle shattered and Chihiro ended up getting her foot injured. Kisaragi's sister got mad and made Kisaragi serve as Chihiro's "cane" during the festival. They both wore yukata, bought some candied apples, played some games, shot at a running thief, and watched some fireworks. Best of all, they finally confessed their feelings towards each other and officially became a couple.
---
4. The Swimsuit Competition in Maga-Tsuki Beach festival - Chapter 33-34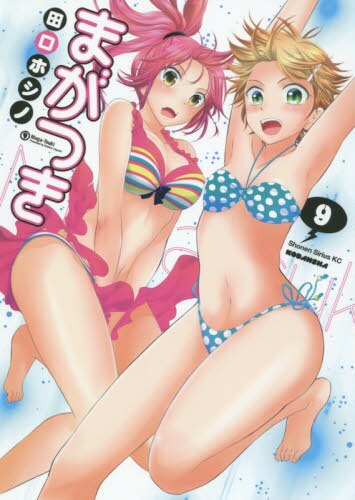 Authors: Hoshino Taguchi
Genres: Comedy, Ecchi, Romance, School, Shounen, Harem, Supernatural
Volumes: 13
Published: February 2011 to February 2017
Yasuke and the entire gang had finally gone to the beach. After the much awaited swimsuit revelations, they found a stage built near the shore. Apparently, a swimsuit competition was being held. The girls decided to join for a chance to win a luxurious hotel suite. Izuna, however, could not participate since Yasuke was not allowed within the contest's premises. A random girl then waltzed in, kissed Yasuke, and turned him into a girl.
After a series of events, Yasuke was forced to join the competition before being turned back into a boy. The first round was a race which was won by the five of them. Since the contest could only have one winner, the second round became a flaunting battle to earn the votes of the audience. Right before the voting, the stranger appeared and ended up winning the competition.
---
3. The Piping Beach Volleyball match in Beach Stars - Chapter 1-2

Authors: Masahiro Morio
Genres: Comedy, Ecchi, School, Sports, Seinen
Volumes: 7
Published: March 2007 to December 2008
Nanase Iruka's 17th birthday just came. Not all birthdays seemed to be a happy one, though. At least, that's what she thought. Her beloved school volleyball club was disbanded without notice for lacking members. When she was searching for their trophy, she ended up breaking it. In an attempt to cheer her up, the other two members, who were also her friend, brought her to the beach. What else would they do there? Of course, beach volleyball!
Hayakawa Sanae, an esteemed beach volleyball player, told Iruka to suck it up for being small. Iruka then challenged her into a match. What ensued next was a piping hot exchange of spikes, sets, and receives.
---
2. Going to an Island Via Luxury Boat in Liar Game - Chapter 103

Authors: Shinobu Kaitani
Genres: Drama, Game, Psychological, Seinen
Volumes: 19
Published: February 2005 to January 2015
Nao had successfully earned the right to participate in the qualifiers. For the next round, all the players were rounded up and sent to an island. How did they go there? Riding a fancy boat, of course. The island is fully equipped with a tennis court, a golf course, and other amenities. The players got acquainted with each other, and the referee then explained the game they were playing for the qualifiers. The game that is perfect for every kind of party--Musical Chairs.
---
1. Kumika no Mikaku Beach chap (Chapter 28)

Authors: Akihiro Ononaka
Genres: Romance, Sci-Fi, Slice of Life, Seinen
Volumes: 6
Published: August 2015 to July 2018
Kumika and the whole alien gang went to the beach to do what everybody else did at the beach, have fun! They donned their swimsuits and immediately frolicked around the water. When Kumika jumped in, she thought she was drowning. A friend then held her, which also a catalyst for her to discover her new skill--floating. After a while, Souchiro called them to eat some food. When we're talking about beach food, it could only be barbecue and grilled seafood! They heartily gobbled everything. Kumika also discovered the taste of grilled clam with a little bit of soy sauce. The last activity, of course, was splitting watermelon!
---
Final Thoughts
Going to the beach is a surefire way to have fun and beat the scorching summer heat. It's best to come along with friends, workmates, teammates, family members, or even the entire neighborhood. We're pretty excited to hit the sandy shores ourselves, and we hope that we, along these manga scenes, have hyped you as well. Do you think we've missed a sweaty and sweet manga scene? Feel free to tell us in the comments below!
by Christian Markel
---