También puedes leer este artículo en:Español
We begin a new year, and here at Honey's we're all looking forward to the upcoming anime of 2016 with great enthusiasm. But before we get into the new shows, we want to pay tribute to the masterpieces that the past year has brought us.
On this special occasion, we'll rank all those gorgeous and sexy girls that got into our hearts over the last year. 2015 introduced us to a great number of beauties for all tastes, from the voluptuous hotties to the kawaii girls and the lolis. Now it's time to decide who was the best of them all.
I present you my Top 10 Female Characters of 2015!
10. Umaru Doma from Himouto! Umaru-chan (My Two-Faced Little Sister)

Episodes: 12
Aired: Jul 2015 – Sep 2015
The lovely Umaru; no other girl on this list stole my heart the way she did. She's just so cute I want to puke rainbows. She's the main character of the most kawaii show of 2015. She's a spoiled brat who loves food, manga and videogames.
At school, Umaru is the perfect girl. She gets the best grades and everyone loves her for being so nice and charming. She's a role model to all of her friends. When she gets home, however, Umaru turns into a lazy little girl who's only interested in eating junk food and playing around, and she always gets what she wants from her poor brother Taihei, even if she has to throw a tantrum like a big baby.
---
9. Meiko Shiraki from Kangoku Gakuen (Prison School)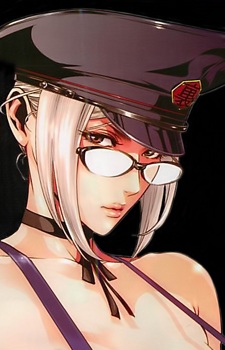 Episodes: 12
Aired: Jul 2015 – Sep 2015
Here we have the most sadistic babe of 2015. Meiko is the Vice-president of the Underground Student Council and the one in charge of making a living hell out of the boy's stay at the prison block in the Hachimitsu Academy. She's not afraid of beating the crap out of them, and her beatings are just as strong as her hatred of men.
Meiko is one of the main female characters in what has been one of 2015's most hilarious shows. For that and two other huge reasons, she couldn't miss our list (even though Hana earned a place in our hearts too). Plus, she gets an award for the sweatiest character of the year.
---
8. Rory Mercury from Gate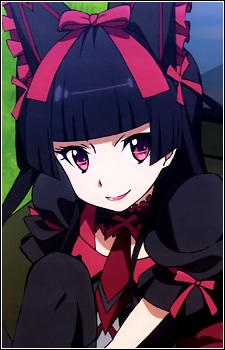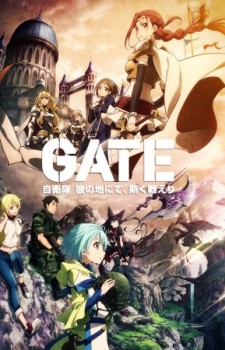 Episodes: 12
Aired: Jul 2015 – Sep 2015
I think it's safe to say Rory gets the award as loli of the year. She's absolutely charming and vicious, a rare combination that works great. It does get a little awkward at times when she's killing people and getting sexually aroused by it, especially considering she looks like a 13 year old girl. I'm afraid to say I like that.
But then I remember she's not a prepubescent girl but a 961 years old demigoddess of death, and I get over it. Rory is so cool that she wields a humongous purple halberd that she can handle like it was a lollipop. This past year has probably given us the ultimate goth loli.
---
7. Fremy Speeddraw from Rokka no Yuusha (Rokka: Braves of the Six Flowers)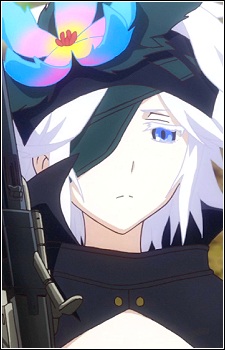 Episodes: 12
Aired: Jul 2015 – Sep 2015
Gunslingers are always appealing to everyone, especially when they are cute looking girls. Fremy turned out to be quite an interesting character, being even more likable than princess Nashetania herself from the very beginning. As the Saint of Gunpowder, she had a really interesting story.
She's the result of an experiment of the Kyouma race. She's the only half-Kyouma/half-human in the world. She was used by the Kyouma army to assassinate the most powerful warriors in the realm. This gantai (eye patched) is certainly not to be messed with.
---
6. Ayame Kajou from Shimoneta to Iu Gainen ga Sonzai Shinai Taikutsu na Sekai (Shimoneta: A Boring World Where the Concept of Dirty Jokes Doesn't Exist)

Episodes: 12
Aired: Jul 2015 – Sep 2015
I bet no one has ever looked nearly as good as Ayame does wearing underwear on their face. She's the vice president of the Student Council at the highest moral standard high school, the Tokioka Academy. What nobody else but Tanukichi knows is that she's also the terrorist known as Blue Snow.
As Blue Snow, she founded the terrorist organization SOX with Tanukichi to declare the war on moral standards. She defies the Peace Makers by prancing around with panties on her face and a robe with nothing underneath, since she loves getting naked in public. But hey! That's exactly why we love her so much.
---
5. Nao Tomori from Charlotte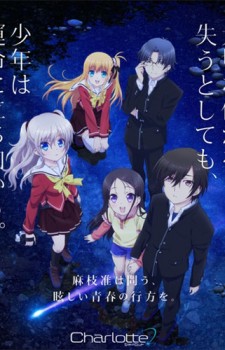 Episodes: 13
Aired: Jul 2015 – Sep 2015
Nao Tomori is the girly and immature Student Council President of Hoshinoumi Academy. She's a gifted child with a very unique and special ability. She has a very particular form of invisibility. She can disappear from her target's sight field. That means everyone but her target can see her while she does this.
Contrary to her ability to disappear, Nao loves to be recognized and noticed since she's so girly and vain. She's also extremely short-tempered and is always ready to kick you in the face if you upset her. A special girl indeed!
---
4. Hestia from Dungeon ni Deai wo Motomeru no wa Machigatteiru Darou ka (Is It Wrong to Try to Pick Up Girls in a Dungeon?)

Episodes: 13
Aired: Apr 2015 – Jun 2015
Hestia is a goddess. I mean for real, she descended to the world of humans to give a worthy human adventurer her blessing. She's not among the most important gods, but who cares! Hestia is a cutie pie; she's completely adorable and would do anything to keep her adventurer, Bell, happy.
She's constantly helping him to improve, not for self-gain but because she actually cares about him. Not to mention that she's also all over him, which makes us both envy and hate Bell for avoiding her. She's just so hot!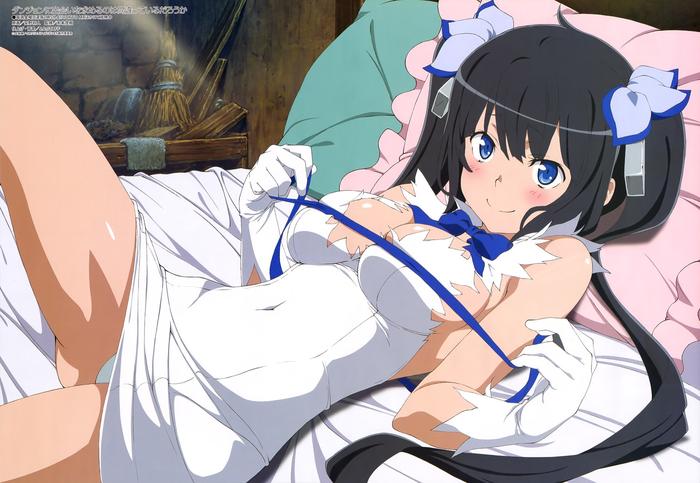 ---
3. Shinoa Hiiragi from Owari no Seraph (Seraph of the End)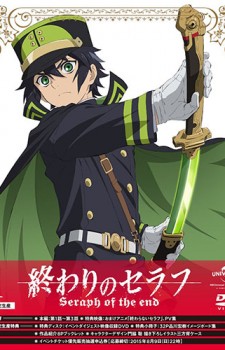 Episodes: 12
Aired: Apr 2015 – Jun 2015
Shinoa Hiiragi is a sergeant of the Japanese Imperial Demon Army. She cares little about anything other than her squad. She's got the sarcastic and sassy attitude we all love and she's always teasing people and putting them in awkward situations.
Her perverted nature, combined with her cuteness, makes her one of Owari no Seraph's highlights. In fact, I believe we could say she's the reason why we kept watching the show. Shinoa has been one of the most badass girls of the year, yet she also showed us her soft side as the story developed. She's got the whole package.
---
2. Yukino Yukinoshita from Yahari Ore no Seishun Love Comedy wa Machigatteiru. Zoku (My Teen Romantic Comedy SNAFU TOO!)

Episodes: 13
Aired: Apr 2015 – Jun 2015
Yukino is the president of the Service Club. She's a cold, sarcastic and unfriendly girl who's ironically quite popular. She claims to be exceptional, which is why she acts as the head of the Service Club, to help the "less fortunate". Yup, she can be quite condescending. However, she does help others, and I don't think we can say she's not sympathetic towards others.
Yukino is incredibly beautiful, though she has a flat chest and she hates when people notice it. She always has to be the best at everything and the most dignified and elegant. Of course, Hachiman is quite right in calling her "Ice Queen", but if there's something Yukino has in loads, that is personality.
---
1. Hiyori Iki from Noragami Aragoto

Episodes: 13
Aired: Oct 2015 – Dec 2015
The main female protagonist of the Noragami series, Hiyori Iki, is one of the most adorable and captivating girls on this list. She has a golden heart and a strong sense of right and wrong. She fights injustice and helps the ones she loves no matter the cost. Plus, she's got a set of peculiar abilities and she can kick your butt.
Hiyori does have certain advantage over the rest of the girls on the list because we already know her from Noragami. She's just so interesting and likeable though, that she had to be here. Plus, many of us were ecstatic to have her again with us this year. We were truly blessed. :3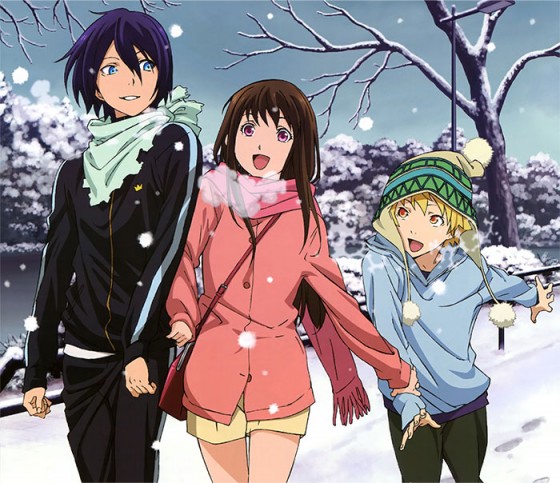 ---
What a great year it's been for the females! They surely stepped up the game and raised the bar for future anime girls to come. These ladies definitely bring down the notion of "weaker sex", and we hope to have more women like them on the following anime seasons.
Other beauties that left their mark on the past 2015 are Nona (Death Parade), Megumi (Shokugeki no Souma), Hana (Prison School), Stella Vermillion (Rakudai Kishi) and Miia (Monster Musume).
Go ahead and tell me who's your favorite girl of 2015! ˆ_ˆ
---