También puedes leer este artículo en:Español
Some of the most interesting characters that frequently get featured in anime are the vampire characters. Vampires can come in so many different styles. With traditional blood-sucking villainous vampires, to cute moe girl vampires, there is no limit to what kind of character we will see from them. Today, we are going to look at some of the best vampires around as we countdown the top ten anime vampire girls. We will cover a wide array of vampire girls and look at what makes them special. Let's get started.
10. Redcurrant from Mahoutsukai no Yome (The Ancient Magus Bride)

Episodes: 24
Aired: October 2017 - March 2018
Chitose Hatori has lived a life of loneliness without any friends or family to speak of. With nowhere to go, Chitose is auctioned off and sold to a strange robbed man named Elias Ainsworth. Elias tells Chitose that he is a magus and uses his powers to transport them to his English cottage. There Chitose meets all sorts of strange and magical creatures. With a place she can finally call home, Chitose begins her life as Elias' apprentice
The first vampire girl on our list is a little unusual. Redcurrant has spent her life drinking the blood of men without a second thought. She takes a liking to artistic men and tries to only suck their blood. When we see Redcurrant, she meets a man named Joel and we get to follow her tragic story. She grows very attached to him and forms a bond with him, unlike anything she has experienced before. For years Redcurrant stayed by his side unknowingly sucking away his life force and ultimately causing his death.
---
9. Yuuko Tamaru from Devils Line

Episodes: 12
Aired: April 2018 - June 2018
Tsukasa Taira enjoys her everyday life as a college student. However, her life takes a strange turn after Tsukasa is attacked by a vampire. Before the vampire is able to kill her, Tsukasa is saved by a half-human half-vampire named Yuuki Anzai. Yuuki believes Tsukasa is still in danger after the incident and takes it upon himself to protect her. As he watches over her, the two of them grow closer and start to develop feelings for one another. Now Yuuki must find a way to keep his relationship with Tsukasa without giving in to his vampire urges and sucking her blood.
Yuuko grew up in an orphanage designed to raise and research devil children. After leaving the orphanage Yuuko tried to live like a regular human, but after a knife accident, Yuuko loses control and attacks her husband. Thanks to the incident Yuuko is chased down and arrested by the Public Safety Department. Yuuko doesn't get a lot of screen time and we don't get to learn much about her, but her story is really interesting. She hates her vampire-like powers and even goes as far as to hide them from her human husband and trying to live like a regular person. Unfortunately, things don't work really work out for her and she has to face her reality head-on.
---
8. Agatha from Sirius (Sirius the Jaeger)

Episodes: 12
Aired: July 2018 - September 2018
In the year 1930, a group of vampire hunters known as the Jaegers, head to Japan to help fight against the vampires that have appeared. While the Jaegers main goal is to hunt down vampires, they also are in search of a magical item called the Ark of Sirius. One of the Jaegers, named Yuliy, has dedicated his life to killing all of the vampires after they destroyed his village. Sirius the Jaeger follows the story of Yuily and the Jaegers in their struggle against the vampires that plague the world.
Agatha comes from a long line of royalty, but unlike other royal vampires, Agatha is very active in the search for the Ark of Sirius. With over a hundred years of experience, Agatha is a huge help in the vampire's battles with the Jaegers. Agatha's powers are like a typical vampire with superhuman strength and agility, but she also has some unusual powers like her extendable razor-sharp nails. While Agatha doesn't have anything that makes her special and doesn't get a lot of screen time due to her untimely demise, she is still a great character and is exactly what you think of when you think of a vampire girl.
---
7. Krul Tepes from Owari no Seraph (Seraph of the End)

Episodes: 12
Aired: April 2015 - June 2015
Vampires have taken over the world. After a deadly virus wiped out most of the population, the vampires were able to easily take control of the remaining humans, using them as slaves. A pair of orphans named Yuichiro and Mikaela are just two of the many children that the vampires have captured. The boys devise a plan to escape from the vampires clutches along with their fellow orphans, but thanks to a few mishaps, Yuichiro is the only one that makes it out alive. Once he escapes, Yuichiro runs into a group of humans fighting back against the vampires called the Moon Demon Company Four years after his escape, Yuichiro is ready to out to bring an end to the vampires as a member of the Moon Demon Company.
Krul is a royal vampire and a member of the Progenitor Council. Born as a human, Krul was turned into a vampire by the first progenitor and quickly rose through the vampire ranks. Krul looks down and humans and views herself and the other vampires as superior beings. Although Krul spends most of her time manipulating things behind the scenes, she is also able to hold her own in a fight.
---
6. Carmilla from GeGeGe no Kitarou

Episodes: 72+
Aired: April 2018 - Ongoing
Mana Inuyama has been experiencing a bunch of strange supernatural events. In order to get to the bottom of what has been happening, Mana writes a letter to the Youkai Post. After ending her letter, Mana meets Kitarou, a youkai boy who is the last member of the ghost tribe. Kitarou travels around fighting off evil spirits that pop up around the country. Together Kitarou and Mana start looking into all of the strange things happening around Mana.
Carmilla is a powerful vampire and a member of Backbeard's army. She uses her brains and unique vampire powers to help her battle against Kitaro's group. Out of all of the girls on the list, Carmilla looks the most like a typical vampire with her pale skin and black and red color scheme. To go along with her vampire design she is also able to turn herself into a bunch of bats. Carmilla is a great character and gives you everything you want out a vampire girl.
---
5. Almaria from Ange Vierge

Episodes: 12
Aired: July 2016 - September 2016
One day, magical Hairou portals open up and connect five different worlds. With the opening of the portals, teenage girls everywhere started developing mysterious powers. Unfortunately, these portals also brought various monsters with them putting the worlds in danger. In order to stop these monsters, a school is built on Seiran Island in order to train the girls and give them a place to hone their powers. Ange Vierge follows a group of girls who ban together to protect the world
Almaria comes from the Black World and she has the ability to make weapons out of blood. She is a little cocky, but Almaria is also very kind and caring to the other girls around her. Almaria is embarrassed of her vampire heritage and doesn't like the fact that she has to drink blood. Along with her vampire powers, Almaria also looks the part having a gothic style and she even has a pair of bat wings.
---
4. Yue from Arifureta Shokugyou de Sekai Saikyou (Arifureta: From Commonplace to World's Strongest)

Episodes: 13
Aired: July 2019 - Ongoing
Hajime Nagumo was just your average high school student before he was transported to a new world alongside his classmates. With his only skill being transmutation, Hajime is useless compared to his powerful classmates, leading to him being bullied and ostracized. While in a dungeon with his class, Hajime is betrayed by one of his classmates and falls to the bottom of the dungeon. Hajime is able to survive the fall, but the dungeon is filled with many dangerous monsters who are trying to kill him. With only his basic abilities at his disposal, Hajime begins a fight for his life.
For 300 years, Yue was trapped in the Great Orcus Labyrinth. Sealed away by her family because of her magical prowess, she is freed by Hajime and joins him on his journey. Yue has incredible power even amongst the vampires which ultimately led to her imprisonment. While she is a bit childish, she is always serious when it comes to fighting and protecting Hajime.
---
3. Hikari Takanashi from Demi-chan wa Kataritai (Interviews With Monster Girls)

Episodes: 12
Aired: January 2017 - March 2017
Tetsuo Takahashi is a biology teacher at Shibasaki High Schoolis fascinated by half-monster, half-human beings known as the Demi. Takahashi thinks that the only way he will ever be able to truly understand them is if he is able to speak with them. Luckily, as a teacher, he has plenty of opportunities to interact with them thanks to the Demi's integration into human society. Takahashi decides to interview three girls from his class, a vampire named Hikari Takanashi, a dullahan named Kyouko Machi, and a snow woman named Yuki Kusakabe. Through his interviews, Takahashi learns that these Demi girls aren't that unusual after all.
Hikari is unlike all of the vampire girls we have looked at so far. She doesn't have special powers and outside of her fangs, you wouldn't even be able to tell she was a vampire. This is what makes Hikari such a great vampire girl. Even though being a vampire is a big part of her character, she is much more than just a vampire girl and she has been able to integrate into human society without an issue.
---
2. Otogiri from Servamp

Episodes: 12
Aired: July 2016 - September 2016
Mahiru Shirota has made sure to live a boring and unusual life, always going out of his way to avoid troublesome situations. While walking home from school, Mahiru sees a stray cat and decides to help it, thinking it would be less troublesome than leaving it on the street. However, Mahiru soon learns that bringing home the cat was going to bring a lot more problems than he expected. Kuro the cat turns out to be a vampire whose only desire to laze about all day. After revealing his human form to Mahiru, Kuro tells him that he will leave in the morning, but thanks to the appearance of some deadly creatures, Mahiru and Kuro are forced to form a contract. With the contract binding them together, Mahiru and Kuro are forced to fight alongside each other against the other vampires that appear in the city.
While Otogiri isn't nearly as strong as the other vampires around her, she more than makes up for it with her brain. Otogiri is a stoic girl working under Tsubaki and uses her abilities to do anything he needs including espionage and combat. For combat, Otogiri is able to take control of puppets and people to fight in her place. Otogiri is a fantastic character and is an interesting take on a vampire character.
---
1. Shalltear Bloodfallen from Overlord

Episodes: 13
Aired: July 2015 - September 2015
The online game Yggdrasil has just shut down. In order to honor the game he loves, Momonga decides to log in one last time and enjoy the last moments of the game. Things take an unexpected turn when Momonga finds out he can't log out of the game. Momonga discovers he was transported inside the body of his avatar with no way out. He adapts quickly to his new surroundings and decides to change his name to Ainz Ooal Gown to honor his former guild. Ainz sets out to make the most out of his time in this new world as the Overlord of the Great Tomb of Nazarick.
Originally created by Peroroncino, Shalltear becomes one of Ainz's most loyal allies. Despite her frail appearance, Shalltear is incredibly powerful and is able to carry out any order given to her by Ainz with ease. Whenever necessary, Shalltear is able to transform into her true vampire form giving her immense power. Shalltear is the complete package and has everything you want out of a vampire girl. She has cool powers, looks like a vampire, and has a unique flair that separates her from all other vampire girls.
---
Final Thoughts
That is it for our list of the top ten vampire girls in anime. There have been so many fantastic vampire girls in the last few years, but these ten are truly the best of the best. Which vampire girl is your favorite? Are there any other vampire girls you think should be on the list? Let us know by leaving us a comment.
---
---
One of the oldest and most popular legends across many different countries and cultures, the vampire is used both as a symbolism of power, immortality and sexuality. Traditionally a staple of horror stories, nightmares and the occult, vampire characters have also found a place as a romantic fantasy in modern media. For many viewers, few characters can be as seductive, charming and simultaneously terrifying as the vampire girl.
A top female anime character will need to have a combination of visual appeal, overwhelming power and a sense of character or vulnerability that befits an immortal being who spends most of their time in solitude. Without further exposition, here is Honey's Anime Top 10 Anime Female Vampires.
10. Rima Touya from Vampire Knight

Episodes: 13
Aired: Apr 2008 - Jul 2008
Cross Academy is an elite boarding school with two separate, isolated classes: the Day Class and the Night Class. On the surface, Yuuki Cross and Zero Kiryuu are prefects of the academy, and attempt to keep order between the students as classes rotate in the evenings. As the night class is full of utterly gorgeous elites, this can sometimes prove to be a bit difficult. It is completely necessary, however, as those "elites" are actually vampires. Yuuki and Zero act as guardians, protecting the secrets of the Night Class and the safety of the ignorant day class.
Rima Touya is one such member of this Night Class, the most diminutive in stature and also the youngest member of the class. Rima in fact works as a model alongside Senri Shiki who is heavily rumoured to be her lover by the end of the manga run. Rima's appeal is largely in her style, in true Victorian era vampire mythology she is rocking a seductive Lolita get up. Rima combines her fashion sense with a refined air that makes her the epitome of charming vampire nobility.
---
9. Erika Sendou from Fortune Arterial

Episodes: 12
Aired: Oct 2010 - Dec 2010
Fortune Arterial is an anime adaptation of a 2009 adult eroge visual novel game/ Fortune Arterial's story revolves around the male protagonist Kohei Hasekura, who transfers into a prestigious public school in the style of an English six-year school encompassing junior-high and high school students. The school is on an island named Tamatsu Island off-shore from mainland Japan, and the only way to get there is by boat. Soon after transferring, he discovers that one of the student in the class next door to his, Erika Sendou, is in fact a type of vampire.
As you can expect from a harem anime adaptation of an eroge visual novel, Erika Sendou is at the peak of moe powers. Wide eyed, beautiful and with an air of innocence to appeal to otaku's everywhere, Erika is a worthy addition to this vampire gilr list for visual and romantic reasons alone. Personality wise she is in fact rather driven and once she has her sights set on a target she will go to any length to achieve it. Erika is also capable of touching moments beyond her more styling, obviously uncomfortable with her family history and her own vampiric qualities, she eventually decides she would like to forgo her vampire life for a chance of a normal love life with protagonist Kohei. If only real life was a moe eroge…
---
8. Himea Saito from Itsuka tenma no kuro usagi (A Dark Rabbit has Seven Lives)

Episodes: 12
Aired: Jul 2011 - Sep 2011
Taito has been really sleepy lately, and keeps dreaming of a girl vampire (Himea Saito) who says she has given him her "poison." Sometimes he even thinks he hears her voice when he's awake. But after surviving an accident that should have killed him, Taito's world changes drastically and he realizes that his dreams are more real than he thought. It turns out that Taito has indeed met Himea years before when she fell in love with him and cursed him to always be with her. However due to unforeseen circumstances they were separated…
Himea is a top female vampire due to her appealing moe design but also due to her deep rooted vulnerability. For an all powerful vampire, Himea has quite a self esteem problem, something many of us can relate too. Tired of humans wanting her purely for her supernatural abilities, Himea falls head over feels (wink wink) for Taito when he is the first human to view her as her own person, rather than just a vampire. Seeing her pain at Taito having forgotten her, her vulnerability and loneliness is palpable when she attends his human high school in the hopes of being able to win his heart back.
---
7. Mina Tepes from Dance in the Vampire Bund

Episodes: 12
Aired: Jan 2010 - Apr 2010
From the SHAFT animation studio comes this visually striking tale of the ruler and guardian of all vampires, Mina Tepes. After millennia in hiding, Mina Tepes, the Princess of the ancient covenant and ruler of all vampires, wants change. Using the vast wealth of the Tepes line, she has paid off the entire gross national debt of Japan and in so doing, gained the authority to create a "special district" off the coast of Japan that is to become the future haven to vampires the world over! Now, on the eve of the landmark press conference announcing the existence of vampires to the world, terrorists and rival factions are plotting to assassinate Mina Tepes before she has a chance to make her world-changing announcement.
Mina Tepes takes on the appearance of a cute, haughty pre-pubescent girl despite being centuries old. Dance in the Vampire Bund does an excellent job of encapsulating the time span of a vampire's life and particularly in Mina's long struggle to protect her fellow vampires. As the Queen of vampires she has a strong feeling of obligation towards her own kind, feeling as if a mother to all vampires everywhere. Her iron will to provide a safe haven for vampires across the world is what makes Mina Tepes stand out from other girl vampire characters.
---
6. Seras Victoria from Hellsing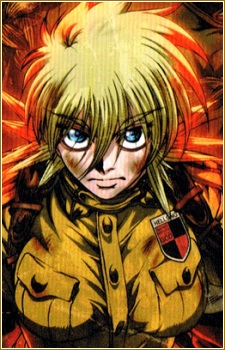 Episodes: 13
Aired: Oct 2001 - Jan 2002
Hellsing follows the anti-heroic vampire, Alucard, and a police girl-turned-vampire, Seras Victoria, two vampires employed by the vampire-extermination group of England, the Hellsing Organization. Slowly but surely, through their active duty, they find a new breed of vampires beginning to arise. This initial anime incarnation of the Hellsing legend was written largely independently of the manga and therefore focuses on offering a more visceral and visual spectacle with a love for graphic violence, style and sex appeal.
Few female anime vampires can encapsulate all these qualities than Seras Victoria, the legendary vampire Alucard's trusted partner. At first reserved in using her powers, certain event in particular causes her to fully unleash in gut wrenching glory. Seras is in fact far more fleshed out in this anime adaptation than in the original manga and in many ways is the central focal point rather than her more historically illustrious companion Alucard. Her search for answers is intense and captivating, as is Seras and Alucards methods of dealing with their enemies in order to obtain them. Seras is the epitome of cool when it comes to a vampire girl representation.
---
5. Leticia Draculair from Mondaiji tachi ga Isekai kara Kuru Sou Desu yo? (Mondaiji)

Episodes: 10
Aired: Jan 2013 - Mar 2013
Izayoi Sakamaki, Asuka Kudou, and You Kasukabe have tremendous psychic powers and are bored with the regular world. An envelope arrives for each person, and when each opens their envelope, they are stunned to see the scenery around them change to a world they had never encountered before. They've been summoned by the Black Rabbit to help the community "No Name" to overthrow the Devil King. In this 'No Name' world, the four heroes will encounter and do battle with all manner of mythical creatures, including Gods, wizards and vampires.
Leticia Draculair is one such vampire girl character that the gang will meet on their journey. Leticia serves as the mad to the community of 'No Name' complete with full French maid outfit and demure sensibilities. Her true impact comes from her history, Leticia is in fact a former demon lord herself and despite her young appearance is actuall 500 years old. While very proud of her past and her former power, she is more than willing to give up all her power to help support and provide happiness to the community of her world. An essential part of the team in Mondaiji and a truly selfless and beautiful vampire, Leticia is a very different breed of night walker.
---
4. Moka Akashiya from Rosario + Vampire

Episodes: 13
Aired: Jan 2008 - Mar 2008
By a bizarre coincidence, Tsukune Aono has accidentally gotten himself admitted to a youkai academy, a school attended by monsters. Just when he thinks he'll run away from there, he meets the beautiful Moka Akashiya and his mood turns ultra happy. However, Moka is not necessarily all she seems. While beautiful, shy and incredibly popular, if the rosary on her chest is removed, her other self emerges, an all powerful, vengeful master vampire!
Moka is an excellent Jekyll and Hyde style character, her outer self is a high school moe princess whom all the guys idolise and long for. Her secret inner self, is a visually darker and more aggressive tsundere vampire girl persona. These are two separate characters as vampire Moka even says to Tsukune 'be kind to the other Moka'. The true key to Moka's character is that in fact the outer version that everyone knows and loves is in fact false and is merely a method to protect herself until she finally meets someone that can love her truly. What isn't there to love about a brooding and deadly vampire tsundere just waiting to be won over!
---
3. Youko Shiragami from Jitsu wa watashi wa (Actually I Am…)

Episodes: 13
Aired: Jul 2015 - Sep 2015
Jitsu wa Watashi wa centres on high school protagonist Kuromine Asahi, "the man who can't lie." On the way home from school one day, he learns an important secret. His crush, Youko Shiragami, is actually half vampire! Will Kuromine be able to keep this most delicate of secrets and preserve the hidden identity of his idolized muse. What follows is a romantic vampire harem comedy that has been a smash hit in Japan this past summer season.
It's easy to see why Kuromine fell in love with Youko Shiragime, she is undeniably cute and also has a level of vulnerability that is often absent from vampire girl characters. Youko is desperate to maintain her human identity as she promised her vampiric father and human mother. However that is easier said than done, especially when it comes to hiding her fangs or staying clear of direct sunlight. Youko is ditzy and shy by nature which makes her a perfect candidate to be many an otaku's number one new waifu!
---
2. Shinobu Oshino from Bakemonogatari (Ghost Story)

Episodes: 15
Aired: Jul 2009 - Jun 2010
Thanks to Meme Oshino, Koyomi Araragi, a high school student, is able to remain a human after coming across a female vampire. However, since the incident, Koyomi seems to meet girls who have an apparition-related issue. Hitagi Senjougahara doesn't weigh anything. Suruga Kanbaru's left arm resembles that of a monkey's. Nadeko Sengoku was afflicted by curses from her classmates. Mayoi Hachikuji, a young girl who cannot find her way home no matter how many times she tries. Koyomi, a Mr. Nice Guy, ends up helping each and every girl solve her problem with the help of Meme Oshino and her constant companion, the demure and cute young girl Sinobu Oshino.
However Shinobu Oshino is certainly not all she seems. She was formerly the powerful 500-year-old vampire, coming from a royal bloodline, named Kiss-Shot Acerola-Orion Heart-Under-Blade. Quite the impressive name and title, which she fully justifies in terms of the power she possesses. According to a number of manga adaptations, Shinobu was said to have the purest heart in the world, so much so that it caused her parents and many followers to commit suicide as they felt they had reached the pinnacle of their existence. In the present day she is a mysterious character that develops entirely through physical actions and expressions due to her preference to remain silent. A rich character arc and excellent interaction with Koyomi make Sinobu an excellent anime vampire girl.
---
1. Saya Otonashi from Blood +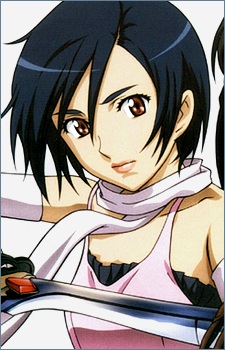 Episodes: 50
Aired: Oct 2005 - Sep 2006
Blood + is the tale of a secret war that has been raging for centuries. There are two major groups involved in this conflict; the first consists of monsters known as Chiropterans who can change their appearances into that of human beings. They are actually immortals who feed on the blood of the living. The second group is an organization known as the "Red Shield," formed to track down these monsters and exterminate them. This is ostensibly a battle between two alterations on vampire mythology. Otonashi Saya is a high-school girl who lives a peaceful life with her family. The only problem is, she has no recollections of her life beyond that of the past year; however, a fated incident will lead to the restoration of her memories and of her vampire identity.
Throughout the 50 episode Blood + series, Saya undergoes a drastic transformation from a typical high schooler with everyday ambitions to a powerful, driven and relentless vampire hunter of demons. Saya is an iconic female lead that refuses to be downgraded into a damsel in distress or in need of a male counterpart to save her. Saya possesses few of the common vampire weakness we understand from the myths, sunlight is no danger, only religious paraphernalia and the mention of Deity's is enough to deter her hunt. An iconic vampire character regardless of gender, Otanashi Saya deserves her spot as the number one female vamp!
---
That's it for our top 10 female vampires in anime, did you favourite feminine blood sucker make it? How would you rank your own top 10 anime vampire girls in the history of anime? Any older entries we've missed? Please leave us a comment below and get involved with the Honeys Anime community and content contributors!
---