With a history dating back to the early '70s and ties to Bandai Namco, Sunrise Studios holds a spot among the highest tier of anime creators. Over the years, the company has generated a slew of completely original series that garnered a positive critical reception and adapted a couple of beloved light novels and manga. Whether producing the latest batch of Gundam episodes or creating comedy gold with Gintama, Sunrise Studios regularly delivers smooth high-grade animation!
With well over a hundred series under the studio's belt, picking Sunrise's best is far from an easy task. While the company is primarily known for its TV output, Sunrise also produces fantastic cinematic films, publishes supplementary light novels as Yatate Bunko Imprint, and, for a short period, distributed its own video games. A jack of all trades but a master of anime, time to look at Sunrise's crowning achievements!
10. The Big O

Episodes: 13
Aired: Oct 13, 1999 – Jan 19, 2000
Written by the somewhat twisted mind of Chiaki J. Konaka, who penned Serial Experiments Lain and the anime adaptation of Hellsing, The Big O presents an absolutely fascinating setting centered around the citizens of Paradigm City, who collectively lost their memories about 40 years prior to the start of the series. Building a heavy neo-noir atmosphere and paying tribute to classic Japanese and Western Shows from yesteryear, The Big O failed to find an audience in Japan, prompting Sunrise to reduce the first season's planned 26 episodes to just half that amount.
In a rare twist of fate, The Big O proved to be a hit with Western viewers and the series received a new lease on life. While fans of Sunrise's mecha roots should be more than satisfied with The Big O's explosive action scenes, the show works best when focusing on its cool protagonist and central mystery. Comparable to Batman and James Bond, Roger Smith is suave, larger than life, and endearing! Boasting gorgeous and stylish animation, The Big O is an anime that warrants remembering.
---
9. Seikai no Senki (Banner of the Stars)

Episodes: 13
Aired: Apr 14, 2000 – July 14, 2000
Serving as a follow-up to Crest of the Stars and based on Hiroyuki Morioka's science fiction novels, Banner of the Stars sees Sunrise returning to space. Unlike Cowboy Bebop's spaghetti western influence or Outlaw Star's comedic undertones, Seikai no Senki is a proper space opera featuring large-scale battles and a substantial focus on character development.
Set in the midst of an intergalactic war, Banner of the Stars follows the adventures of Princess Lafiel and her bodyguard Jinto Lynn, as they act as ambassadors for the imperial army. From there, politics and mind-games start to rear their ugly heads and things get rather complicated. While opting for more battles than its predecessor, Banner of the Stars hardly neglects the story's emotional core.
Representing the vastness of space in a form that is easily digestible for viewers can be challenging, but Seikai no Senki accomplishes its task without any issues! Even though the anime's pace can be rather lethargic, the characters and dialogue more than make up for it!
---
8. Binbougami ga! (Good Luck Girl!)

Episodes: 13
Aired: July 4, 2012 – Sep 26, 2012
Slapstick is a staple of anime and precious few studios approach these moments with the unbridled passion displayed by Sunrise. With a couple of Gintama seasons under its belt, the studio has perfected the art of physical comedy and Binbougami ga! comes close to being Sunrise's hilarious Magnus Opus.
It's Always Sunny in Philadelphia demonstrates that selfish protagonists can be fantastic sources of entertainment and the same extends to the anime industry. Binbougami ga! pits two polar opposite characters who are out to destroy each other for their own personal gain. Due to a flaw in the cosmos, Sakura Ichiko inadvertently steals the luck from the people around her, prompting the arrival of the poverty god Momiji to take away Ichiko's ability. Unwilling to part with her good fortune, the two women engage in massive shounen-style brawls to determine the winner!
Binbougami ga! is a comedic gold-mine and the humor never fails to elicit a laugh. The animation is bombastic and compliments the insane antics of the characters, while the supporting cast is enjoyable enough to add a few extra dimensions. Binbougami ga's dramatic moments fall flat, but they do not take away from the slapstick.
---
7. Love Live! The School Idol Movie

Episodes: 1
Aired: June 13, 2015
Love Live! is never going to be about complex storylines or thought-provoking social commentary; no, we appreciate the franchise for its catchy songs, lighthearted tone, and endearing characters. Co-developed by Sunrise, music label Lantis, and ASCII Media Works' Dengeki G's Magazine; Love Live! revolves around nine schoolgirls who attempt to launch a career as idols. Taking place after the events of the second season, Love Live! The School Idol Movie serves as a conclusion for the cast's third-year students and slaps a fresh coat of paint on the franchise.
Even if the content and premise seldom open themselves up to any profound concepts, that hardly means Sunrise did not bring its A-game! Love Live! The School Idol Movie is an astonishing work of art that boasts crisp animation and fantastic direction by Takahiko Kyogoku. Offering some much-needed closure, Sunrise's film is an easy recommendation for fans of the series.
While not for everyone, Love Live! The School Idol Movie is an earnest and engaging slice-of-life musical about nine ambitious schoolgirls on the cusp of adulthood.
---
6. Mobile Suit Gundam: Iron-Blooded Orphans

Episodes: 25
Aired: Oct 4, 2015 – Mar 27, 2016
If there is one genre Sunrise knows like the back of its hand, that would have to be mecha. Iconic and serving as a gateway into the medium, Gundam is among the most recognizable names in anime and Sunrise is the studio responsible for its storied history. Released almost three decades after the series' inauguration, Mobile Suit Gundam: Iron-Blooded Orphans stands among the very best incarnations of the mecha brand.
Set 300 years after the "Calamity War" that ended with Mars being colonized by humans, Iron-Blooded Orphans follows a group of children soldiers who revolt against their overlords and launch their own private military outfit. While they do eventually pick sides, Sunrise's 2015 anime is gritty and morally ambiguous. For example, Iron-Blooded Orphans' protagonist Mikazuki Augus might fight for the good guys, but the teenager is a borderline sociopath who never hesitates at the thought of killing.
Visually, Iron-Blooded Orphans is purposefully dirty and highlights the ugliness of war. Considerably darker than its contemporaries and bolstered by a simply stunning soundtrack, Iron-Blooded Orphans should be experienced by Gundam veterans and newbies!
---
5. Yakitate!! Japan

Episodes: 69
Aired: Oct 12, 2004 – Mar 14, 2006
Who doesn't love bread? Well, Sunrise is clearly not an exception as the studio dedicated a 69 episode series to baking. Based on the manga by Takashi Hashiguchi, Yakitate!! Japan is a shounen series that glamorized the art of cooking a decade prior to the launch of Food Wars!: Shokugeki no Soma.
Kazuma Azuma is a boy on a mission to craft the ultimate Japanese bread capable of representing the entire nation. While France and Italy have their own definitive brands of freshly baked goods, Japan lacks that distinction and Kazuma exists to fix this discrepancy. In order to perfect his craft, the boy applies for Japan's legendary Pantasia Main Branch Store, although he ends up getting stationed at a much smaller and quirkier shop.
Even if baking is not to someone's fancy, Yakitate!! Japan's main appeal is its outrageous puns and wacky humor. Parodying many shounen tropes, Sunrise's long-running anime is a blast to watch!
---
4. Danshi Koukousei no Nichijou (Daily Lives of High School Boys)

Episodes: 12
Aired: Jan 9, 2012 – Mar 26, 2012
Daily Lives of High School Boys' title is an accurate representation of Sunrise's anime. Based on Yasunobu Yamauchi's manga, which was published by Square Enix, this slice-of-life comedy manages to genuinely portray its robust roster of characters as actual high school students. With the exception of a couple of absurdist gags that nearly always hit, this is a relatively grounded comedy focusing on the antics of a group of teenagers.
Attending Sanada North Boys High School; Tadakuni, Hidenori Tabata, and Yoshitake Tanaka are the best of friends and compliment each other perfectly. While Tadakuni is quite serious and relatable, Tanaka and Tabata are hilarious characters who regularly get involved in awkward or silly misadventures. Even if these three act as the leads, in reality, Daily Lives of High School Boys is an ensemble comedy boasting over a dozen recurrent characters.
As a sketch series, Daily Lives of High School Boys' episodes are divided into a couple of short vignettes, although some of the stories are expanded upon in future entries. Fast-paced and witty, Sunrise's comedy never outstays its welcome and improves with each subsequent viewing.
---
3. Seihou Bukyou Outlaw Star (Outlaw Star)

Episodes: 26
Aired: Jan 8, 1998 – June 25, 1998
Picture this; a Sunrise anime set in space that pivots on a crew of freelance mercenaries that are willing to take on any job to fund their ship's maintenance. Does this synopsis remind anyone of Cowboy Bebop? While Sunrise produced both series, Outlaw Star is a completely different beast from Shinichirō Watanabe's masterpiece.
Dreaming of becoming a pilot, Gene Starwind is nothing more than a wingless hired thug partnered up with the 11-year-old James Hawking. In the middle of escorting a gorgeous woman carrying a suitcase, the duo's lives are turned upside down when their escort reveals herself to be an outlaw hiding a young girl. Suddenly, Starwind and Hawking find themselves speeding across space while being hunted by multiple gangs.
Outlaw Star is frantic, intermittently hilarious, and packed to the brim with outrageous visuals! A perfect companion piece to Cowboy Bebop and Trigun, Sunrise's anime has earned the right to be mentioned alongside some of the medium's greats.
---
2. Cowboy Bebop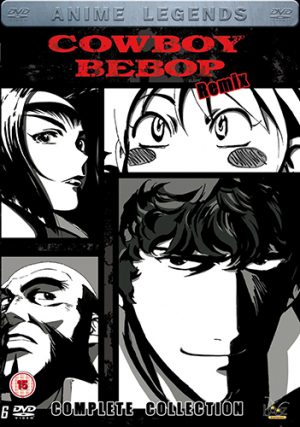 Episodes: 26
Aired: Oct 24, 1998 – Apr 24, 1999
By this point, is there anything that has yet to be said about Cowboy Bebop? This is the one anime capable of rivaling Dragon Ball Z's popularity and cultural relevance outside of Japan. Influenced by Western media and effortlessly blending an array of genres like neo-noir, comedy, and horror; Shinichirō Watanabe's anime altered the industry for the better.
For those two people who are not familiar with Sunrise's series, Cowboy Bebop centers around the trials and tribulations of a crew of bounty hunters. Whether referring to the former hitman Spike Spiegel or the sensual Faye Valentine, the anime's entire roster of characters are well-written, three-dimensional, and iconic. Dealing with themes of existentialism, loneliness, and regret; Cowboy Bebop far exceeds its pulpy roots to construct a thoroughly engaging and emotional story. There is more to this anime than meets the eye.
Due to a relatively slow start, Cowboy Bebop falls just short of absolute perfection, but precious few anime manage to fly this close to the sun! Also, the soundtrack is orgasmic!
---
1. Gintama

Episodes: 51
Aired: Apr 14, 2011 – Mar 26, 2012
At the blink of an eye, Hideaki Sorachi's story can flip-flop from irreverent comedy to deadly drama, but Gintama handles both tones without breaking a sweat. While Sunrise only produced the first 265 episodes of the series before handing the reins to Bandai Namco Pictures, Gintama' saw the studio going out on a high note.
With the exception of Gintama': Enchousen's short-run, Gintama' served as Sunrise's swan song for the franchise and the studio went out in style! As the Odd Jobs crew; Gintoki, Kagura, and Shinpachi continue to accept weird and dangerous requests by anyone willing to ask. For the most part, Gintama' focuses more on the comedic side of things, although the Kabukicho Four Devas and Baragaki arcs do have their fair share of dramatic moments.
Parodying a multitude of series and stuffed with pop-culture references, Gintama is a masterclass in comedy. Sunrise's animation rarely falters, while the more serious arcs can be simultaneously violent and heartbreaking. Even though the Bandai Namco Pictures seasons are perfectly fine, Gintama was at the height of its powers while under Sunrise's banner.
---
Final Thoughts
Sunrise is a veteran of the industry and its filmography reflects the studio's reputation. From grandiose space operas to raunchy comedies, there is something to suit everyone's needs. Hopefully, Sunrise will bless the world with another couple of decades worth of gorgeous anime.
What is your favorite anime produced by Sunrise? Please let us know in the comment section below.
---
---
Sunrise is a studio that needs no introduction. Like many studios formed in the 70s, it was originally made up of ex-Mushi Pro members. Sunrise quickly distinguished itself, and grew into a huge production company with numerous sub-studios. Specialising in mecha anime, the studio has often been at the forefront of the genre, defining the genre from the 70s to today.
This top 10 details Sunrise's most successful anime - it's a mix of commercial and critical success, and how much influence they had on a particular genre. Included are only anime produced by Sunrise (or as prime contractors). At number 10 is one of Sunrise's most recent offerings; Kakumeiki Valvrave!
10. Kakumeiki Valvrave (Valvrave the Liberator)

Episodes: 12
Aired: Apr 2013 - Jun 2013
In a future earth dominated by war between two world-superpowers, Haruto Tokishima is a normal high school boy, living in one of the only remaining peaceful regions. However, when one of the factions invades his peaceful colony, this looks set to change forever. Discovering the secret super-weapon Valvrave, Haruto now has the power to protect everything he loves, but at a terrible cost!
Though not as well known as some of Sunrise's other mecha offerings, Kakumeiki Valvrave still has plenty to offer! The series is an important addition to the studio's extensive mecha collection as it shows that even now it's possible to add new elements to a very well established genre.
---
9. City Hunter

Episodes: 51
Aired: Apr 1987 - Mar 1988
Set in 1980s Tokyo, City Hunter follows Ryo Saeba, a super-cool, womanising, hired gun, and his partner, the beautiful-but-tough Kaori Makimura. The pair roam Tokyo, solving cases and fighting crime, while kicking ass to 80s beats.
Another anime which is based on a popular manga, Sunrise's adaptation is a cult series in its own right. Seriously aided by its voice acting, the series' main characters Ryo and Kaori were voted amongst the most popular anime characters for several years running. Sunrise capitalised on the series' success with the release of a movie and several specials.
---
8. Planetes

Episodes: 26
Aired: Oct 2003 - Apr 2004
When travelling outside earth is part of daily life, humanity is plagued by a few problems you might never think of. For example - what happens when a speeding shuttle hits an old, abandoned satellite at thousands of miles per hour? Enter Technora's Debris Collecting section; a gang of underpaid and overworked space-cleaners. It's their job to clean up all the debris floating junk, be it big or small, and keep humanity safe above the skies.
At first glance Planetes might seem mundane, but this futuristic slice-of-life anime is one of Sunrise's hidden gems! Despite modest popularity, it won awards in anime and sci-fi circles, and showcases Sunrise's ability to please both mass markets and anime connoisseurs alike.
---
7. Densetsu Kyojin Ideon (Space Runaway Ideon)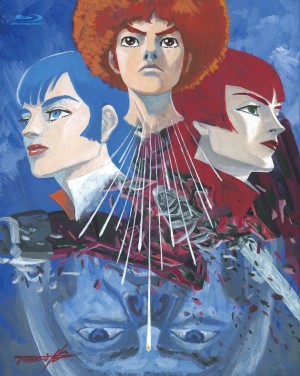 Episodes: 39
Aired: May 1980 - Jan 1981
On the planet Solo, human scientists uncover the remains of an ancient civilisation. These include a mysterious robot called the Ideon. It soon transpires that humans from another planet, calling themselves the Buff Clan, are also searching for something on Solo. After their meeting turns violent, the Earthlings must discover the secrets of the Ideon before it's too late!
Space Runaway Ideon is a Sunrise anime with far-reaching influence. Though not as critically successful as Gundam, Ideon was one of the first truly dark and gritty mecha anime, paving the way for favourites such as Evangelion. Though low ratings forced the show to end prematurely, fans eventually pressured the studio into releasing two movies which concluded the action, leading to it eventually becoming a cult classic.
---
6. Tiger and Bunny

Episodes: 25
Aired: Apr 2011 - Sep 2011
Enter Sternbuild City, where all superheroes compete in a reality TV show to be crowned "King of Heroes". One of these superheroes is veteran Wild Tiger; he's considered past his prime and has virtually no chance of taking the award. However, when he is teamed up with rookie Barnaby "Bunny" Brooks, things start to look up for the old-timer - that is while the two aren't busy arguing! Can Tiger and Bunny overcome their differences and be crowned kings?
One of Sunrise's more recent fan favourites, Tiger and Bunny was a critical and commercial success. It spawned a one-shot manga, and two films - a sort-of prequel and a sequel. The series was so successful that when Bandai released a series of action figures they quickly sold out!
---
5. Inuyasha

Episodes: 167
Aired: Oct 2000 - Sep 2004
Higurashi Kagome is just a normal schoolgirl, until one day she is transported to Feudal Japan by a demon. As if this wasn't enough, she discovers she is the bearer of a powerful gem, whose power could be devastating if it falls into the wrong hands. When the gem is smashed into a million pieces, Kagome joins forces with the half-demon Inu Yasha, and a host of other characters, to hunt down the gem's shards, and stop them being used for evil!
From number 5 onwards we enter the big guns! Inuyasha is based on a popular manga which itself had an original run of 8 years! Not to be outdone however, Sunrise followed Inuyasha with a second season, four movies and an OVA. Inuyasha is an anime which is quietly successful, and one that every anime fan has heard of!
---
4. Gintama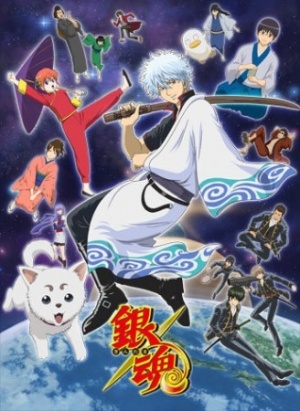 Episodes: 201
Aired: Apr 2006 - Mar 2010
Gintoki Sakata is a samurai living in feudal Japan. Well, he was, before aliens conquered humanity and made carrying swords illegal. Now he is joined by Kagura and Shinpachi as the Yorozuya - people who will do anything for money! As can be expected, things rarely go to plan, and often the trio are led on hilarious adventures, which rarely pay them in the way they expect it.
As if being responsible for a load of cult anime from the 70s, 80s and 90s wasn't enough, Sunrise also had a string of hits in the 2000s. Gintama is one of these; based on a popular manga, the anime arguably rose to be as popular, if not eclipsing the manga's fame. For Sunrise the anime is a star performer, with two sequel series and two movies.
---
3. Code Geass: Hangyaku no Lelouch (Lelouch of the Rebellion)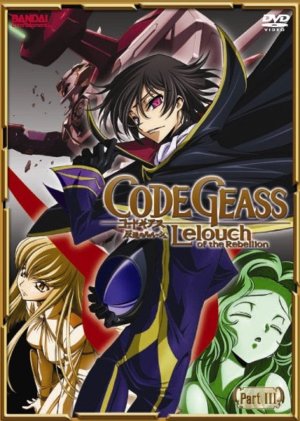 Episodes: 25
Aired: Oct 2006 - Jul 2007
Seven years ago Japan was invaded by the Holy Empire of Britannia, using newly developed mobile suits called Knightmare Frames. In the present day Japan is called Area 11, and Japanese people live as second-class citizens while the Britannian aristocracy lives comfortably in fortified settlements. Lelouch is one of these aristocrats: disillusioned by the actions of the Empire, he one day receives a power which starts him on a journey to bring the Empire down!
Code Geass is massive! A blockbuster, and often gateway series for new anime fans, it received a string of awards including best anime at the International Anime Fair. With its constant lauding, it's no surprise that it was followed by manga, OVAs, novels and video games. Code Geass is one of Sunrise's most important anime and has something for all anime lovers!
---
2. Mobile Suit Gundam (Kidou Senshi Gundam)

Episodes: 43
Aired: Apr 1979 - Jan 1980
In the future, humanity is split into two main factions; the Earth Federation and the Principality of Zeon. The two factions are locked in a war in space - one that will seemingly never end! One day, when Amuro Ray's colony is attacked by the Principality's forces, he takes control of the Gundam - a weapon that is hoped to end the war and bring peace to the galaxy.
Here is an anime which needs no introduction! Gundam is one of the most prolific anime of all time, spawning a massive amount of spin-offs, many of which are successful in their own right. Surprisingly the series was cancelled for low ratings - but it was brought back when the toys were a sellout success. This series was absolutely critical for sunrise, and was a big factor in transforming it from a single studio to the giant of anime it is today! As well as portraying mobile suit pilots as ordinary people, which arguably changed the genre for good, Gundam is now a cult series which went on to win numerous awards.
---
1. Cowboy Bebop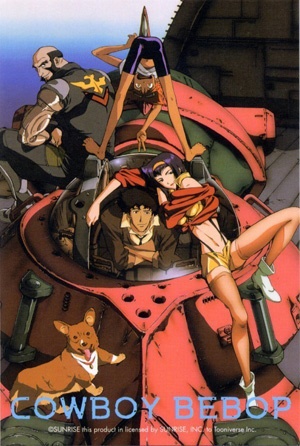 Episodes: 26
Aired: Apr 1998 - Apr 1999
In the year 2071, humanity is now spread amongst the solar system. Unable to police the new frontier, the Inter Solar Police System relies on bounty hunters to bring in dangerous criminals, often for massive rewards! The series follows Spike and Jet, a bounty-hunting duo for whom things always seem to be going wrong. Along the way they are joined by the zany Edward, and the mysterious Faye Valentine.
Widely considered a masterpiece, this is another gateway anime which has attracted many people to the genre. For Sunrise this was nothing new, but another cult anime couldn't hurt their already sizeable reputation! Winning best anime at the Anime Grand Prix awards and a string of best character awards too, it also spawned a manga, a movie and two video games!
---
That's all for this list! The top 4 for this were really hard to place - I'll admit I've always had a soft spot for Gundam, despite its dodgy animation and voice acting. Cowboy Bebop will always be one of my favourites though; it features one of the coolest fighting duos ever, and has a kick-ass soundtrack too. If you have anything to say, let's hear it in the comments!
---