As we are swiftly creeping into 2017, there's no time like the present to start on some new anime. In particular, various anime feeds (*ahem* Honey's) have been sprouting exciting news on a bunch of sequels to emerge this season. As we patiently await their arrival, you can all sit in on our top 10 best recommendations of anime sequels. Many on this list have only two seasons, with the second being better than the first, according to ratings, popularity and overall general consensus. These sequels document the continuation of the first season's awesome storyline and/or expand upon it. So when you read into this article, do you second this motion?
10. Ajin 2nd Season

Episodes: 13
Air Date: October 2016 – December 2016
In the anime Ajin, we discover that humans and Ajin co-exist. Appearing very much like humans, the only major factor that sets them apart from humanity, is the fact that once they die, they can revive themselves instantly. With this immortality, not much else is known about their species other than the government's regulation on their existence, taking them into custody to 'study' their nature. Additionally, long ago, they were labeled as threats, seeing that their indestructability could be an advantage in power. However, in modern days, many recognize Ajin as creatures that are subhuman. Our main character is Kei Nagai, who appears as your normal high school student, until one day, he emerges from a fatal accident that should have claimed his life. From this, news has traveled globally and Kei has found himself on the run. Moreover, Kei discovers that there are more Ajin in existence than he once expected.
In continuing the story of Ajin with its second season, so much has evolved with Kei, Tosaki and the Ministry, and Sato's war against humans. Ajin 2nd Season contains so much activity with its characters and the story. With each event and individual progression, there is an abundance of shocking occurrences and unexpected twists. Furthermore, with so much build-up from the previous season, it would be extremely difficult not to find out what happens to Kei, the resulting fate of Ajin, and the world.
---
9. Ushio to Tora 2nd Season (Ushio & Tora)

Episodes: 13
Aired: April 2016 – June 2016
Ushio to Tora is about Ushio Aotsuki, who is constantly pestered by his father, the priest of the temple they reside at, about tales of youkai and the supernatural. A skeptic to his father's pscyhobabble, Ushio ignores these fables. One day, while his father is away, Ushio is tasked with overseeing the temple. To his surprise, what his father has been spouting for forever is actually true: Ushio discovers a youkai, Tora, impaled by the legendary Beast Spear. Tora tries to convince Ushio to release him from his bond, but he refuses. As an ancient evil threatens the livelihood of Ushio's family and friends, he has no choice but to do as Tora says, using the Beast Spear as a threat if things go awry. The story of Ushio to Tora focuses on the duo's endeavors into the supernatural world. What Ushio once believed to be fictitious, he is now going to have to endure, as the dangers of spirits can be treacherous in the world of the living.
Ushio to Tora 2nd Season is the continuation of this series. The animation, musical soundtrack and battle sequences do not fail or fall short of the first. The story continues on and keeps developing. Not only does it center on the teamwork of Ushio and Tora, but it also focuses on other characters that also provide a great contribution to the story and our MCs' growth. For both seasons, although the style of animation appears very dark and gloomy, don't let this concept draw you away: there are a bunch of funny and light-hearted moments.
---
8. Gin no Saji 2nd Season (Silver Spoon 2nd Season)

Episodes: 11
Air Date: January 2014 – March 2014
"With neither a goal nor a dream, Hachiken enters Ozeno Agricultural High School in Hokkaido, also known as Ezono. What awaited him there were sweat, tears, youth and …animals!" As his peers are driven and ambitious, Hachiken has uprooted himself from his city life into the countryside, where he believes he will excel, but couldn't be more wrong! Silver Spoon tells the story of Hachiken, growing to appreciate the struggle of agricultural routines and life, and learning these strenuous skills with his newfound, experienced friends.
Silver Spoon 2nd Season continues Hachiken's adventure at Ozeno Agricultural High School as he enters his second semester. As Hachiken has finally somewhat adjusted to the norms of daily agricultural studies, he is still undecided with what he wants to do when he graduates. Aside from what was provided in the 1st Season, the 2nd Season still supplies us with that comedic, slice of life element. A simplistic, yet interesting anime, both seasons offers a refreshing and original concept to the countless of series in existence.
---
7. Free!: Eternal Summer

Episodes: 13
Aired: July 2014 – September 2014
Free! follows a group of friends, Haruka Nanase, Rin Matsuoka, Nagisa Hazuki, and Makoto Tachibana, who as kids competed in swim competitions. The four boys were passionate about swimming, but as they grew older, they also grew apart. Years have gone by, and time has reunited them in high school to once again revive their pastime. Haruka, Nagisa and Makoto decide to form a swim club at their school. Bitter and competitive with Haruka, Rin finds himself over the idea, refusing to take part. As such, the trio is in search of a fourth member to complete the team. We are introduced to Rei Ryuugazaki, who over time closely connects with his new teammates. As we tune into their intense training, we also watch the boys face new challenges, make new friends, deal with past conflicts, and rekindle old friendships.
Free!: Eternal Summer continues the boys' second/third year in high school. The Iwatobi Swim Club is still moving strong. Haruka and Rin, for the time being, have ceased their rivalries, but with the combination of old and new friendships, as well as adding fresh fish into the pond, these two butt heads once again, stirring up old issues and competition. To add to the pressure, their need to perform their best at regionals weighs heavy. As we freestyle our way through this season, Free! Eternal Summer still provides us with lots of fanservice, interesting characters, and realistic sports animation that make the scenes come to life. Furthermore, the tone of storytelling takes on a more dramatic, sentimental approach, emphasizing more emotional connection with viewers.
---
6. Space★Dandy 2nd Season

Episodes: 13
Air Date: July 2014 – September 2014
Space Dandy is a 13-episode anime centered on three space alien hunters who travel across galaxies trying to find undiscovered creatures to claim for their large bounties. The trio includes Dandy, QT, and Meow. With each episode, each story has its own ironic, yet distinctive message to portray and a narrative that doesn't require viewers to catch a previous episode in order to follow through to the next, which may be a good and bad thing. On their quest to hunting down unregistered aliens, the trio always encounters something strange, making their hunt an exciting and uneasy task. Collectively, Space Dandy leaves viewers puzzled, as no mission is identical to the last.
Space Dandy and Space Dandy 2nd Season glides under the anime radar, even though it stems from major production studios/staff. The 2nd Season offers more enjoyment and silliness than the 1st. It's zany, "in-your-face" loud, and applies satire in unique ways. Moreover, its attention catching animation is very imaginative, creating a one-of-a-kind viewing experience.
---
5. Bungou Stray Dogs 2nd Season

Episodes: 12
Air Date: October 2016 – December 2016
Bungou Stray Dogs is an action, supernatural anime following Atsushi Nakajima, an orphan who gets recruited by the Special Detective Company. This group of detectives takes on seemingly impossible cases, in addition to fending off their counterparts, the "Port Mafia." Aside from their intellect and talents, these detectives have incredible abilities that are extremely helpful in violent and intense confrontations. Bungou Stray Dogs 2nd Season continues on this story furthering development for each character, adding several influential forces and documenting encounters of stirring mysteries to solve.
When we journey into Bungou Stray Dogs 2nd Season, the anime begins by filling in some missing pieces from the previous season: it introduces viewers to the establishment of the Special Detective Company, as well as Dazai's time in the Port Mafia. As we move further along, this subplot integrates itself back into the main storyline, providing imperative explanations, with mutters of "oh, I get it now." In addition to this, the theme and style of the 2nd Season appears darker and more serious, illuminating the current course of mysteries and leaving capacity for further obscurity.
---
4. Magi: The Kingdom of Magic

Episodes: 25
Air Date: October 2013 – March 2014
Magi: The Labyrinth of Magic is a supernatural, fantasy Shounen about a magi—a rare class of magicians—named Aladdin, who embarks on a quest to journey around the world. This anime captures a timeless adventure, stemming from Arabian Nights and other Middle/Far Eastern ancient mythology. Aladdin is joined with several others on his expedition, Alibaba, Ugo, Morgiana, and Sinbad, and encounters a ton of other familiar names, Jafar, Masrur, and Judar, just to name a few. In this magi world, several dungeons have appeared throughout the land, ages ago, filled with various magical items and treasures beyond imagination. Only a few have come out of these dungeons alive and have claimed the riches within. As our characters focus on acquiring these dungeons for themselves, Magi: The Labyrinth of Magic takes this long-lived folklore by adding modern elements and surprises to keep this classic attractive for all viewers.
After the events of Magi: The Labyrinth of Magic and successfully conquering the dungeon, our heroes are faced with the dilemma of what to do and where to go next; whether to stay with Sinbad or venture elsewhere. Our three main characters, Aladdin, Alibaba and Morgiana, part ways, moving forward onto individual predicaments. We are also introduced to several new characters, shifting the storyline, featuring new, exciting conundrums. Magi: The Kingdom of Magic, identical to its prequel, is composed of great action sequences, a vast range of musical accompaniment that is fitting to each scene and mood, and contains a great balance of silly and serious moments. Both anime can tactfully find a place for Aladdin's oppai obsession and at the same time, reflect on heavy-hitting issues, such as the value of life, slavery, and poverty.
---
3. Kingdom 2nd Season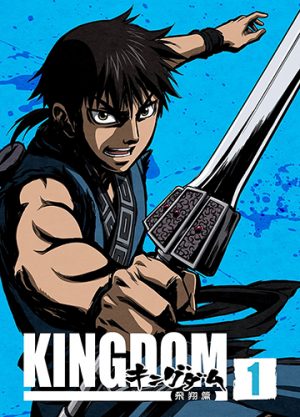 Episodes: 39
Aired: June 2013 – March 2014
Kingdom highlights a unique historical setting during the Warring States Period of China. This story captures the tale of two boys, Xin and his best friend, Piao, in the Kingdom of Qin. As the two boys return to their village, they gaze upon an awe-inspiring sight. In such time of hardship, Xin aspires and dreams big by vowing to become a Great General of the Heavens a.k.a. the world. Consequently, the boys are forced to part ways when Piao is recruited to work in the royal palace, in a bigger plot to influence the balance of power amongst the royal family. Also in this moment, Xin meets the young king, Zheng Ying, where he offers his services to the war effort, providing him the chance to step closer to his dream. In this military strategy, action-packed anime; Kingdom essentially attempts to unite all seven States of China, which has never been accomplished before, spotlighting the grueling nature of war and conflict.
Kingdom 2nd Season continues this saga. Xin is now a notable commander, still eager to climb the ranks to general. The cost of war has given Xin and his unit more motivation to fight on. Even more so, Xin has competition, as there are others yearning for this identical ambition. As for King Zheng, his desire to unite the States is just as strong as Season 1, perhaps more so, as he plans to target Wei, a foothold to attaining a whole China. Apart from the story, Kingdom 2nd Season fails to disappoint. It continues to provide epic battle scenario and the fervent longing for peace.
---
2. Ansatsu Kyoushitsu 2nd Season (Assassination Classroom Second Season)

Episodes: 25
Aired: January 2016 – July 2016
In Ansatsu Kyoushitsu, the misfit students of class 3-E must learn how to assassinate their teacher, who happens to be the greatest threat to Earth. News has broken out that this offender has chopped off a great chunk of the moon down to a crescent shape. Responding to this action, the government has offered a generous reward to whoever succeeds in destroying this threat, the alien being known as Koro-Sensei. In this hilarious anime, the E Class students grow to learn, from an unlikely foe, how to distinguish and battle against real threats in order to save each other and their planet.
Ansatsu Kyoushitsu 2nd Season resumes with the students advancing their skills after their long summer break. Koro-sensei continues to test his students, successfully remaining several steps ahead of them. The entire class builds on more elaborate ways of getting Koro-sensei, altogether instilling comedic relief throughout. Aside from this scenario, E Class must struggle with torments from A Class, as well as people who lack confidence in E Class's skills. We also watch Nagisa confront his individual turmoil and his progression towards becoming a great fighter. Overall, we observe E Class overcoming great odds, tackling various opponents who attempt to get in their way of bringing Koro-Sensei down on their own.
---
1. Clannad: After Story

Episodes: 24
Air Date: October 2008 – March 2009
Clannad is the first part of the journey between Tomoya Okazaki and Nagisa Furukawa. We follow Tomoya and his relationships with various people in high school, particularly with Nagisa, where their friendship grows into romance. After Tomoya's first encounter with Nagisa, he becomes more aware of her presence around school. As Nagisa becomes more active, especially with the revision of the drama club, Tomoya reluctantly helps her, along with several others who grow to be his close companions. As such, Tomoya realizes the intricacies of their lives, providing them with guidance and strengthening each relationship.
Several years later, Clannad: After Story shows Tomoya and Nagisa's lives after they graduate, transitioning into adulthood. Their timeline channels several joyous and super heartbreaking moments. Furthermore, a symbolic, illusionary world is intertwined into the plot, revealing to the characters how to face their difficult situations out in the real world. Clannad and Clannad: After Story shares an incredibly beautiful, delicate, and relatable story with its viewers. Since its release, it continues to gain popularity and recognition throughout the anime realm. This series is a 'must-see'; with its sequel exceeding it's prequel.
---
Final Thoughts
That concludes our list of top 10 anime sequels! We hope you enjoy our choices! A few of these mentioned are some classic, well-known titles, while others are fairly new shows. Some other great sequels that have been making a lot of buzz lately are Haikyuu!!, with three seasons, Natsume Book of Friends, with a whopping five seasons and the sixth premiering in April 2017, Jojo's Bizarre Adventure, with three seasons, and lastly, Sailor Moon Crystal, with three seasons and rumors of a fourth in the making. Furthermore, we know these are only a few of many outstanding sequels out there. Comment below on some others we've missed or simply write us any suggestions. See ya later!
---