It's finally that time of the year: It's cold, so most of us are shivering inside, and the holidays are coming up, so many of us are gathering at home with our families and anticipating the year to come. For anime fans, it's also time to snuggle in our thickest blankets, drink hot cocoa, and enjoy some anime. If you are looking for a fun, optimistic, and popular anime that will get you into the right mood for this season, read on for 5 Best Anime to Watch in the Winter.
5. Rokuhoudou Yotsuiro Biyori (Yotsuiro Biyori)

Episodes: 12
Aired: April 2018 – June 2018
Yotsuiro Biyori is a slice of life anime featuring Kyousui "Sui" Tougoku, who inherits a Japanese-style café from his grandfather. He manages this café alongside a handful of friends, and the café quickly becomes popular due to their excellent hospitality. It's a simple premise, but this anime excels in establishing a calming atmosphere using a color palette that is easy on the eyes and relaxing music. There are also plenty of scenes of delicious food being eaten. To add the cherry on top for pet lovers, there is also an adorable orange cat that appears on screen once in a while, just purring and doing other regular cat things. You can almost imagine that you yourself are enjoying your time at this Japanese-style café. If you are looking for an escape from your hectic life, give Yotsuiro Biyori a try.
---
4. Little Witch Academia

Episodes: 25
Aired: January 2017 – June 2017
Little Witch Academia is a playful fantasy anime about a girl named Atsuko "Akko" Kagari. Though she comes from a non-magical background, she is inspired by the witch Shiny Chariot to enroll at Luna Nova Magical Academy. Things get difficult for Akko when she is faced with a mean rival who belittles her for her lack of magical ability and teachers who do not believe in her potential, but Akko pushes forward and goes on many magical adventurers with her roommates Lotte Yansson and Sucy Manbavaran.
The magical world of Little Witch Academia is bright, colorful, and exciting: definitely a place we wish we could live in real life! The magic spells and action scenes are beautifully animated, and the character designs are all unique; even the side characters are memorable, giving Luna Nova the feel of a real school. Finally, seeing Akko develop into a bright young witch and prove her enemies wrong is satisfying and sends an uplifting message that anyone from any background has unique talents. With its similarities to Western series such as Harry Potter and The Worst Witch, Little Witch Academia is also a great pick to watch with family members who may not be as familiar with anime. If you're looking for a spark of childish joy this holiday season, check out Little Witch Academia!
---
3. Sora yori mo Tooi Basho (A Place Further Than the Universe)

Episodes: 13
Aired: January 2013 – March 2013
A Place Further Than the Universe stars Mari Tamaki, a high schooler who is determined to enjoy her youth but is scared to do it. She meets Shirase Kobuchizawa, who has been saving up money to go to Antarctica and find her mother who disappeared. They are joined by their friends Hinata Miyake and Yuzuki Shiraishi as they embark on this exciting journey.
On the surface, A Place Further Than the Universe appears just like any slice of life anime with an all-girl cast, but it actually develops much more than that with its stellar writing. All of the characters get complex backstories that explain their yearning for adventure, and their interactions with each other are so realistic that they feel like regular high school girls. The characters are adorable to look at, and the soundtrack is beautiful and rousing. It's easy to put yourself in the shoes of these girls and imagine that you yourself are on an adventure with them!
---
2. Mushishi

Episodes: 26
Aired: October 2005 – June 2006
Mushishi is a supernatural mystery anime about mushi, a basic form of life that can appear as many things and is not readily understood by humans. The protagonist is a "Mushishi" named Ginko, and it is his job to research the mushi and their place among other living things.
Mushishi is episodic, with Ginko researching different occurrences in each episode. No two incidents are alike, and each individual plotline remains interesting and unique. Other than Ginko himself, the cast of characters for each episode as well as the setting are different, though the anime manages to flesh out the character well, making them easy to sympathize with despite them only appearing for one episode. The art and sound are minimalistic yet enchanting, and there is a subtle philosophical tone in the storytelling which emphasizes harmony in nature and within the self. We think Mushishi is a great pick for a thought-provoking anime for the season, and as an added bonus, there are plenty of wintry scenes.
---
1. Fumetsu no Anata e (To Your Eternity)

Episodes: 20
Aired: April 2021 – August 2021
To Your Eternity is a recent supernatural drama about an Orb that falls to Earth and shapeshifts into different things. Wandering, it ends up in the form of a wolf and then finds a young boy waiting for his tribe to return from a southern paradise. Lonely, the boy decides to depart from his home and travel to find his tribe and reunite with his family, and the wolf accompanies him, embarking on an emotional journey that helps him experience humanity.
The most unique thing about To Your Eternity is the alien main character, later named Fushi. Initially, Fushi understands little about humanity and is simply curious, but after transforming many times, and eventually into a human, Fushi comes closer to embracing humanity. This would not be possible without the help of his human friends, including Pioarn, who becomes his mentor and teaches him the human language and the meaning of consequences for his actions. Each of the characters has a striking personality and develops a meaningful relationship with Fushi, leaving a positive mark on his growth. In addition to being well written, the characters are also drawn and animatedly skillfully, allowing their expressions to be very emotional. The voice acting is also superb, which makes Fushi sound more and more mature as the series goes on and his character grows. If you are looking for an emotional supernatural tale about a unique character developing as a person, there is no better than To Your Eternity.
---
Final Thoughts
We hoped you enjoyed our list of 5 Best Anime to Watch in the Winter! Which anime are you planning to watch first? Have you already watched some of these series? What did you think? Give us a comment, and we hope you enjoy the winter season!
---
---
Whether winter, where you live, means white snow softly covering everything or a simple cold breeze that chills you to the bone, the craving for something warm and fuzzy at this time of the year is inevitable. Warm drinks like hot chocolate with soft blankets and staying at home feels perfect. In some households, it also signals the time for Christmas cheer and celebration. The peacefulness and joy associated with winter are catching up to us at Honey's Anime too.
With 2020 finally coming to an end, almost everyone is looking forward to the new year with its new challenges. And as we wait for this year to end, what better way to pass the time than watching anime? So, get your blankets, snacks, and warm drinks! Get your friends, family, or significant other to join you or, if you prefer to do this alone, get comfortable.
We have curated the top 10 anime for you to watch this winter, based on popularity and how they set just the right mood, filled with warmth and happiness that is very hard to not be affected by. Whether you want something filled with action, goofy moments, a harem, an adventure, a story of success, or something very romantic, we have it all.
10. Vinland Saga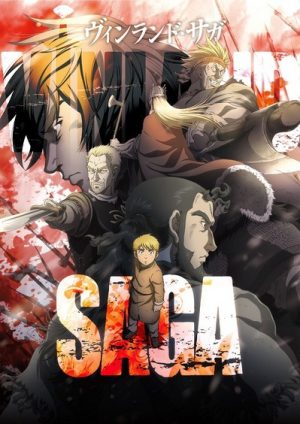 Episodes: 24
Aired: July 2019 – December 2019
Vinland Saga is an epic that starts with the life of Thorfinn Thorsson and his village that is untouched by war and carnage. As a curious child filled with noble values of honor and courage, Thorfinn longed to go on an adventure on his own, listening to the tales of Leif Erikson. However, the youthful innocence of Thorfinn is shattered when his father is killed by Askeladd in an ambush. As the war between England and the Danes grows worse, Thorfinn is left with nothing but a thirst for vengeance, willing to do anything to exact revenge, even becoming Askeladd's henchman.
Vinland Saga is a wonderful epic that will keep you on the edge of your seat as you watch it. The story starts slow, letting you get comfortable with the fictional world before things take a turn. The attention to detail and the realism of the anime will leave you feeling awed yet grounded in reality with its philosophy and the impactful events that take place. As the anime takes place in winter and follows the adventures of Thorfinn filled with action and combat, Vinland Saga is not for the faint-hearted.
---
9. Kimi to Boku no Saigo no Senjou, Aruiwa Sekai ga Hajimaru Seisen (Our Last Crusade or the Rise of a New World)

Episodes: 12
Aired: October 2020 – Ongoing
Our Last Crusade or the Rise of a New World is the story of Iska, the youngest knight of The Empire, a highly mechanized city with rich technology, who crosses swords with Aliceliese, the Princess of Nebulis Sovereignty, nicknamed "Ice Calamity Witch" by her enemies. As sworn enemies, they realize through fateful encounters that they share a similar goal: to put an end to this war and reform the world as they know it or die trying to do so. But what happens when their loyalties are tested as they irrevocably fall in love with each other?
Our Last Crusade or the Rise of a New World is a story steeped in action and combat counterbalanced with its slice-of-life and heartfelt moments making it a very good choice for the winter. Though this anime incorporates the star-crossed lovers trope from Shakespeare's Romeo and Juliet, it does not overdo it. The interactions between Iska and Alice are realistically wholesome as they try to understand each other, looking past their prejudices. This anime will make you wish that Iska and Alice would have a happy ending together as they participate in the Rise of a New World.
---
8. 5-toubun no Hanayome (The Quintessential Quintuplets)

Episodes: 12
Aired: January 2019 – March 2019
The Quintessential Quintuplets follows the life of Fuutarou Uesugi, a high school student who aces his studies but otherwise leads a tough life. His family has incurred a lot of debt, forcing him to work hard to settle it. He comes across a job opening to tutor the daughter of a wealthy family for five times the standard price. Taking up the job, Uesugi is tasked to tutor the quintuplets of the Nakano family: Itsuki, Miku, Nino, Yotsuba, and Ichika. Though beautiful, the quintuplets absolutely hate studying and it is up to Uesugi to motivate them to study.
What's a top 10 anime list without a romantic harem? The Quintessential Quintuplets has comedy and romantic elements that make it a joyride for anyone who watches it. Each of the quintuplets' personalities is refreshingly cute and makes them stand out uniquely. As Uesugi strives to change the sisters' mindset, the sisters change Uesugi as well, making him a better person. Whether you root for one of the quintuplets or all, the anime with its comedy and romance is perfect for the winter mood.
---
7. Majo no Tabitabi (The Journey of Elaina)

Episodes: 12
Aired: October 2020 – Ongoing
Majo no Tabitabi is the story of the witch, Elaina, an apprentice of Fran, a Stardust Witch. Elaina strives to be a travel witch because of her love of traveling and exploring. Inspired by her love for reading, Elaina is excited to quench her thirst for adventure and see the world that she has read so much about. She is ready to see and experience humanity in all its tainted glory. The anime incorporates her adventures as she comes across different people and cultures on her journey, from the strangest like a giant who is in love with his own muscles or the most emotional or humorous like a boy collecting moments of happiness to offer to his loved one. Her journey is bittersweet with the theme of meeting people and parting with them.
The Journey of Elaina is perfect for the winter season, especially the winter of 2020. As outside contact with the world was effectively shortened in this quarantine, Majo no Tabitabi quenches everyone's thirst for an adventure from the comfort of their home. Majo no Tabitabi also incorporates elements of child-like fantasy and magic, making your winter feel magical and filled with wonder. The anime is filled with quirky moments and the lack of an overarching plot makes the anime very relaxing to watch.
---
6. Yuri!!! On Ice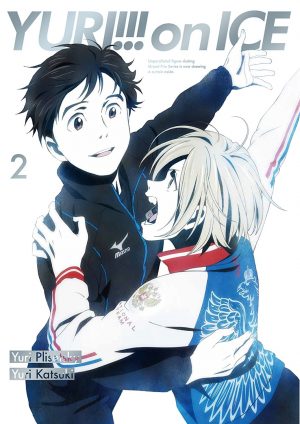 Episodes: 12
Aired: October 2016 – December 2016
Crushed by his defeat at the Grand Prix Finale, Yuuri Katsuki has lost all hope as he watches his dream of ice skating growing farther and farther and his love for pork cutlets grows bigger making his waist grow along with it. One day, he is visited by Viktor Nikiforov, a five-time world champion at ice skating, who offers to be his mentor. Elated at the opportunity, Yuuri accepts and starts his journey again to return to the world stage. However, the competition is fierce as Russian ice-skating star Yuri Plisetsky is set on defeating Yuuri and winning back Viktor as his teacher.
A top 10 anime to watch in winter list would be incomplete without Yuri!!! On Ice. Yuuri's journey in ice-skating is an adventure in itself filled with a competitive spirit and a lot of comedy. The wholesome celebrations that take place along with delicious-looking food are synonymous with the holiday spirit. The subtle romance along with the competitiveness is refreshing to watch as we witness the characters growth throughout the anime. Ice-skating is an activity often associated with winter and in this quarantine, we can live vicariously through Yuuri, Viktor and Yuri. As a fan favorite, who doesn't want to watch characters overcome hardships and rivalries?
---
5. Yuru Camp (Laid-Back Camp)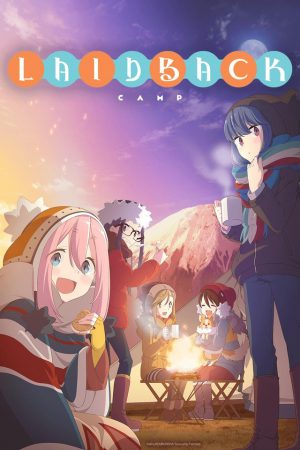 Episodes: 12
Aired: January 2018 – March 2018
What is your idea of a perfect getaway? For Rin Shima, her ideal getaway is camping alone at the base of Mt. Fuji and she has no plans of changing her little solitary world. However, one day, an encounter with Nadeshiko Kagamihara, who also wanted to admire the picturesque beauty of Mt. Fuji alone, forces the two to bond over warm ramen in the chilly night as the campfire keeps them cozy. Soon, they find new companions like Aoi Inuyama, Chiaki Oogami, and Ena Saitou to camp out with. Camping out with friends just became a whole lot of fun!
Laid-Back Camp, like in its title, is a very relaxing laid-back anime about camping. The art and music incorporated in the anime makes the scenery and places come alive. Moreover, all the places in the anime are places that you can visit yourself when you come to Japan. As the characters build camps and friendships together, this anime is also educational as we learn more about camping. Yuru Camp sets the mood perfectly for winter with its cold temperature and warm companionship. With its wholesomeness and amusing characters, you will definitely wish you were camping out at Mt. Fuji too.
---
4. Tonikaku Kawaii (TONIKAWA: Over the Moon For You)

Episodes: 12
Aired: October 2020 – Ongoing
Tonikaku Kawaii is the story of Nasa Yuzaki who faced ridicule all his life for his name. One day, he notices a girl across the street and he cannot help but be captivated by her adorable beauty. What he doesn't notice is that a vehicle was speeding down the road which inevitably hits him. Barely alive, he musters up the courage to ask the girl out. She says yes but only if they are married and Nasa agrees before promptly passing out. Seven years pass and Nasa hasn't seen that girl ever since but one day, she shows up at his door to get married.
TONIKAWA took Fall 2020 by storm with its cuteness overload and wholesome relationship between Nasa and Tsukasa Yuzaki. What makes TONIKAWA stand out from other romance anime is that there is no tension from whether the protagonists will end up together or not. From the very first episode, the two get married, setting their relationship in stone. But watching the two learn how to be husband and wife together while also getting to know each other is very fulfilling and adorable. The cuteness factor, light colors, and comedy make this anime memorable for anyone who watches it.
---
3. Osake wa Fuufu ni Natte kara (Love is Like a Cocktail)

Episodes: 13
Aired: October 2017 – December 2017
Love is Like a Cocktail is an anime short that involves…you guessed it, drinking and cocktails. Chisato Mizusawa is a hardworking assistant office manager who has a secret. When she drinks alcohol, her personality changes drastically from an office worker to a free-spirited cute persona. The only person who knows her secret is her husband, Sora Mizusawa, who is a bartender. To keep this a secret from her coworkers, Chisato lies to them denying her love for alcohol. But every day, when Chisato comes home tired from work, her husband lovingly dotes on her with good food and a refreshing cocktail.
Love is Like a Cocktail blends the themes of comedy, cuteness, and wholesome romance with as much ease as Sora making a cocktail for Chisato. Winter is the holiday season filled with warm treats and colorful food. As the season of celebration and merry-making, the drinks in this anime are perfect to compliment your favorite holiday treats. As a bonus, the wholesome romance between Chisato and Sora tugs at your heartstrings making you feel very warm and fuzzy and this is not just from the alcohol. We warn you though, this wholesome anime sets the standard high for your significant other!
---
2. Nijiiro Days (Rainbow Days)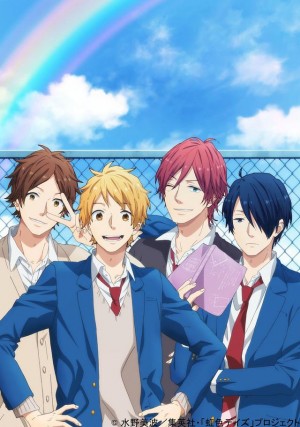 Episodes: 24
Aired: January 2016 – June 2016
Natsuki Hashiba is a hopeless shy romantic who finds love on Christmas Eve when he is offered tissues by a girl dressed as Santa, Anna Kobayakawa. When he finds out that she goes to the same school as he does, they inevitably become friends and maybe even something more. But his friends, narcissistic playboy Tomoya Matsunaga, sadistic Keiichi Katakura, and Tsuyoshi Naoe, a quiet otaku, constantly meddle in his pursuit of love. The anime follows their lives as each finds their own path to love.
Rainbow Days is a comedic and romantic anime that is told from the perspectives of four high school boys. The art is simple and the adorable characters are refreshing to watch. The anime starts and ends in the Christmas season as we watch the romance between Natsuki and Anna unfold. The challenges that the character faces as they pursue love and also get closer to each other is perfect for the holidays. The lack of drama with a whole lot of comedy and romance fills you with warm and fuzzy feelings for the winter.
---
1. Wotaku ni Koi wa Muzukashii (Wotakoi: Love is Hard for Otaku)

Episodes: 11
Aired: April 2018 – June 2018
Narumi Momose has a secret that she has kept from all her past boyfriends and coworkers: she is secretly an otaku and a fujoshi. However, when she reunites with Nifuji Hirotaka, another otaku and a gamer, her secret spills out to her new coworkers when Nifuji casually asks if she is going to attend the Summer Comiket. To her surprise, she finds that her coworkers Hanako Koyanagi and Tarou Kabakura are also secret otakus. When they go out for drinks, Narumi complains about how her previous boyfriend left her when he found out she was a fujoshi. Hirotaka asks Narumi out promising to always be there for her and help her farm rare drops in Monster Hunter. Narumi agrees immediately and their awkward romance starts along with their coworkers who are also a couple.
Love is Hard for Otaku takes the cake for the top 10 anime to watch this winter. This anime appeals to the otaku, the fujoshi, the gamer, and/or cosplayer in you. With its wholesome episodes that do not have a definite plot, you get a sneak peek into the daily lives of these characters as they balance work and hanging out together, attending conventions, or spending money on manga and merchandise making it extremely relatable for every otaku.
---
Final Thoughts
We hope you enjoyed the top 10 anime to watch in the winter. Winter is usually a very cold time and we at Honey's Anime think the best way to warm yourself this season is with good anime while you prepare for winter. Whether you hibernate or work tirelessly before the next year begins, we have anime of almost every kind to suit your preferences this winter.
Let us know which anime you found the most or least fitting for this season! Do you think we left out an important anime that perfectly captures the winter mood? Let us know in the comments below! Happy Winter everyone~