Watching anime alone is fun and fine, but watching anime with another person can make it even more fun. What's even better than watching an anime with another person is watching an anime with your significant other. The different experiences you can have by watching all kinds of with your significant other is as varied as the types of anime you can watch with them. What kinds of anime are the best to watch with your significant other? If you find it hard to answer this question, we are here for you. Today, we are going to be looking at the top ten anime to watch with your significant other. With romantic anime, comedy anime, and some more serious anime, there is something here for whatever mood you and your significant other find yourselves in.
10. Hataraku Saibou (Cells at Work!)

Episodes: 13
Aired: July 2018 - Ongoing
Hataraku Saibou is an anime all about the inner workings of the human body. The trillions of hard-working cells all dutifully do their jobs all in an attempt to keep the human body as healthy as possible. Hataraku Saibou follows the lives of AE 3803, the red blood cell, U-1146, the bacteria-fighting white blood cell, and the numerous other cells that are hard at work. Whether it's carrying oxygen from one part of the body to another or fighting off a virus, these cells are always hard at work.
A somewhat strange anime to start off the list, Hataraku Saibou has plenty for you to enjoy with your significant other. Watching Hataraku Saibou is all about sitting back and relaxing while enjoying all of the laughs the anime brings you. Hataraku Saibou has a good mix of comedy, action, and random information about the inner workings of your body, you'll get a wide variety of positive things out of watching it. The plot is simple to follow and never takes itself too seriously giving you an anime you and your significant other can turn whenever you want something to keep you in a good mood.
---
9. Ojisan to Marshmallow (Ojisan and Marshmallow)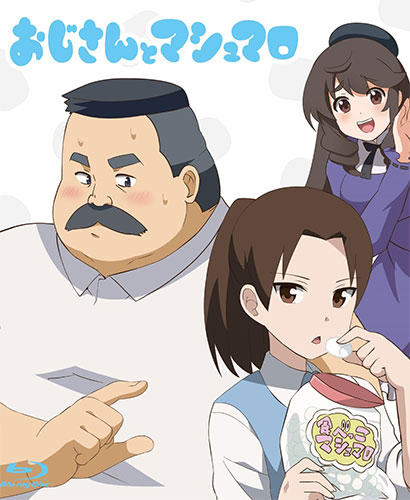 Episodes: 12
Aired: January 2016 - March 2016
Ojisan to Marshmallow follows the story of Habahiro Hige and his coworker Iori Wakabayashi. Habahiro has a love for Tabekko Marshmallows and will do anything to get his hands on some. Knowing he loves the marshmallows, Iori uses them as an opportunity to get closer to Habahiro and often ends up teasing him. Iori's teasing isn't meant to hurt Hagahiro, but she actually does it because she has a crush on him. Despite the age gap between the two of them, Iori finds herself attracted to Hagahiro and always carries around a bag of Tabekko Marshmallows in case she ever needs a reason to get Habahiro's attention.
Watching the somewhat awkward but always adorable interactions between Habahiro and Iori is as funny as it is heartwarming. Ojisan to Marshmallow finds a good balance of comedy and romance with its three minute long run time As you watch through Ojisan to Marshmallow, you can't help but root for Iori in her attempts to win over Habahiro. It is always great to see what the lengths Iori will go to in order to get the attention of Habahiro. The short length of the episodes gives you and your significant other an anime that is easily binge-able and gives you the best qualities of a regular romantic comedy.
---
8. Barakamon

Episodes: 12
Aired: July 2014 - September 2014
Due to an incident involving an art curator calling his work "textbook", Seishuu Handa is sent to live on Goto island by his father. The trip allows Handa to take clear his head and take a break from his daily life as a professional calligrapher. While being shown his new home, Handa meets a young girl named Naru, who has been using his new home as a secret base. Naru and the other children take an immediate liking to Handa despite how cold he is to them. As Handa starts going on adventures with Naru and the other children of the village, he begins to learn from their constant carfree and upbeat attitudes. Handa uses the experiences and emotions he gains to fuel his creative endeavors and he creates a calligraphy style he can truly call his own.
Although Barakamon may not have any romantic elements for you to enjoy with your significant other, it does have a wonderful story and tons of comedy for you to enjoy. The comedy throughout the series will keep you laughing from beginning to end. Watching as the kids of the island and Handa grow to appreciate and accept one another is one of the best things you can experience while watching anime with your significant other. Overall, the anime is heartwarming and relaxing, making it a great anime to watch with someone you care about.
---
7. Akkun to Kanojo (My Sweet Tyrant)

Episodes: 21+
Aired: April 2018 - Ongoing
On the outside, Atsuhiro Kagari appears to be cold and abrasive to everybody around him, but his girlfriend, Non Katagiri knows the kind of guy he really is. Atsuhiro is constantly rude and harsh to Non, however, Atsuhiro is actually just one big tsundere. Atsuhiro is deeply in love with Non and his love for her often causes his tsundere attitude to rear its head. Often taking his love to the extreme, Atsuhiro follows Non around stalking her while he takes photos and records her voice. Akkun to Kanojo tells the story of this awkward couple and their love story that is anything but ordinary.
Akkun to Kanojo gives you another great romantic comedy for you to enjoy with your significant other. Although there is a good amount of romantic elements in Akkun to Kanojo, the main draw of the anime is its comedy. The comedy largely centers around the relationship between Atsuhiro and Non, showing off all the strange things that Atsuhiro does to show off his love for Non. With its shorter run time, Akkun to Kanojo spends most of its time on the comedy, but it still manages to fit in a few heartwarming scenes. The combination of the romance and the comedy is nothing new, but the unique spin on the story with the male tsundere makes for a great viewing experience.
---
6. Tsurezure Children (Tsuredure Children)

Episodes: 12
Aired: July 2017 - September 2017
Tsurezure Children tells the various romantic stories of multiple couples all attending the same school. While some couples get more screen time than others, each couple gets their time to shine. The stories include people falling in love for the first time, unrequited love, and much more. Tsurezure Children looks at love from a variety of angles, giving you a wide range of different ways love happens between couples.
If you want an anime to watch with your significant other that focuses heavily on romance Tsurezure Children is the anime for you. Although Tsurezure Children has a good deal of comedy and more serious moments, every episode is filled to the brim with different romantic stories for you and your significant other to enjoy. Each scenario the couples finds themselves in is different, but each one shows you all kinds of different ways love can be displayed. All of the different stories involve young couples falling in love, watching as they work through their relationships and build up their relationships makes for a great romantic story.
---
5. Shigatsu wa Kimi no Uso (Your Lie in April)

Episodes: 22
Aired: October 2014 - March 2015
Kousei Arima has been playing the piano ever since he was a child, but after an incident involving his mother, he lost all his passion for playing. During a performance, Kousei lost the ability to hear the music he was playing. After the incident, Kousei decided to never compete again. Now, two years later, Kousei is thrust back into the piano world after meeting a young violinist named Kaori Miyazono while waiting to meet up with his friends. Kaori pushes Kousei to continue with his love for the piano and even request that he provide accompaniment for her upcoming competition. With the help of Kaori and his friends Tsubaki Sawabe and Ryouta Watari, Kousei slowly starts to come to grips with his past and rediscover his love for the piano.
If you are looking for a much more serious anime to watch with your significant other, Shigatsu wa Kimi no Uso is the perfect anime to watch. Based on its appearance alone, Shigatsu wa Kimi no Uso appears to be an upbeat and lighthearted anime, but the story takes on a much more serious tone. Shigatsu wa Kimi no Uso provides you with a base level of comedy and some not so serious situations, but once the anime really gets going, it takes you on an unparalleled emotional rollercoaster. With the direction the show takes, you will be glad you are watching the show with somebody when you need a shoulder to cry on.
---
4. Ore Monogatari!! (My Love Story!!)

Episodes: 24
Aired: April 2015 - September 2015
Takeo Gouda is not what anybody would picture when they thought of a high school student. With his height and muscular body, Takeo towers over everybody around him. Takeo's best Makoto Sunakawa is the exact opposite, being the desire of every girl he meets. Although Takeo is not used to receiving the attention of girls, Takeo gets the attention of Rinko Yamato after he saves her from a creepy guy. Rinko is drawn to Takeo's heroic attitude and his selflessness. With Rinko's new found interest in Takeo, she starts baking him treats in hopes of getting her feeling across, but due to Takeo being used to Sunakawa getting all the girls, Rinko's attempts to win him over fall flat. Ore Monogatari!! follows the story of Takeo and Rinko as they start a serious relationship neither of them saw coming.
One of the sweetest romantic anime around, Ore Monogatari!! will keep you and your significant other smiling all the way through. The story Ore Monogatari!! tells doesn't try to be different or fancy, but it still manages to be one of the best romantic anime around by making the most out of its story. Seeing the pure love Rinko and Takeo have for each other is incredibly heartwarming. The simplicity of the story along with its romantic elements makes Ore Monogatari!! not only a great anime to watch with your significant other but also a good anime to watch if your significant other hasn't had much experience with anime.
---
3. Tsuki ga Kirei (TsukigaKirei)

Episodes: 12
Aired: April 2017 - June 2017
Kotarou Azumi and Akane Mizuno are entering their third year of middle school. After a few chance encounters, Kotarou and Akane start to take an interest in one another. One day, Kotarou is punished for missing his cleaning duty due to Akane is unable to contact him. To avoid any problems like this in the future, Kotarou and Akane decided to exchange LINE IDs. Now armed with a way to contact each other, the pair begins conversing often and developing a deep bond that has the potential to grow into something more.
Tsuki ga Kirei gives you plenty of great things that make it perfect to watch with your significant other, but the main reason why you should watch it is the romance. Akane and Kotarou grow throughout the story as they come to grips with their feelings and must overcome the obstacles that get in the way of their relationship. The joy of watching the two of them grow to care deeply for each other can only be made better by having someone you care for at your side. Tsuki ga Kirei shows that your relationship is not always going to be smooth sailing, however, if you work at it and love each other, you can overcome anything.
---
2.Kobayashi-san Chi no Maid Dragon (Miss Kobayashi's Dragon Maid)

Episodes: 13
Aired: January 2017 - April 2017
While leaving for work, Kobayashi runs into a big green dragon named Tooru sitting in front of her door. Although she had forgotten, Kobayashi had offered to let the dragon move in after she met the Tooru while wondering around in the mountains intoxicated. Not wanting to go back on her promise, Kobayashi agrees to let Tooru stay with her and work in her house as a maid. Now living under the same roof, the average human Kobayashi, and Tooru the dragon maid must learn to live together while dealing with their different lifestyles. Things only get more complicated with Tooru having romantic feelings towards Kobayashi and Torru's presence attracting more dragons to the human world.
Kobayashi-san Chi no Maid Dragon has everything you could want in a show to share with your significant other. The anime has a great comedic story that never takes itself too seriously. The banter between Kobayashi and Tooru is great, but the comedy only gets better when characters such as Kanna join the cast. Kobayashi-san Chi no Maid Dragon also includes a great story that has a fair amount of romantic undertones. The combination of the comedy and the lighthearted story give you an anime that is easy to kick back and enjoy your significant other as you embark on a heartwarming adventure.
---
1. Karakai Jouzu no Takagi-san

Episodes: 12
Aired: January 2018 - March 2018
Karakai Jouzu no Takagi-san tells the story of classmates Takagi and Nishikata. Takagi loves to torment Nishikata as she teases him every day. Nishikata does his best to ignore the teasing, but Takagi always knows exactly what to do in order to get the best of Nishikata. Although Nishikata tries to get back at Takagi, his attempts always seem to blow up in his face.
Karakai Jouzu no Takagi-san is a lighthearted anime that is filled with stellar comedy and a budding romance you want to root for. The teasing relationship between Takagi and Nishikata have is childish in a good way and makes for the best scenes in the entire anime. Although Takagi and Nishikata are not in a romantic relationship, we get to see Nishikata's feelings for Takagi grow throughout the series. Karakai Jouzu no Takagi-san is a great anime to watch with someone you care about, not only will you get tons of laughs out of the anime, but you will also get to see to young people really fall in love for the first time and see how they deal with their newly discovered emotions.
---
Final Thoughts
Watching anime with your significant other can be a good way to bond together over a common interest. Hopefully, after reading this list, you have found a few new anime you can watch together. Which anime is your favorite to watch with your significant other? Are there any anime you think should be on the list? Let us know in the comments below.
---