Valentine's Day can be a rough holiday. What will you do with your significant other on Valentine's Day? Will you go to a fancy restaurant? Maybe you're thinking of buying him or her an expensive gift that will cost you several months of pay. Here at Honey's Anime, we have a different idea for you, everyone. Why not sit down at home, put your feet up, cuddle with the love of your life and watch some good old-fashioned anime?
That's right, everyone, our recommendation for Cupid's holiday is to watch anime. However, you can't just watch any old anime on Valentine's Day with your partner. No, you need a good series to watch and that's where we come in. Our expert teams in the way of romance—at least in our minds—here at Honey's Anime HQ found the best anime to watch as a couple. With that, we welcome you to our Top 10 Anime to Watch on Valentines for Couples list. Bring some popcorn, candy and tissues…you're going to need them.
10. Ano Natsu de Matteru (Waiting in the Summer)

Episodes: 12
Aired: Jan, 2012-Mar, 2012
As he was testing a new camera he obtained, young Kaito Kirishima saw something bewildering. A large light was darting around in the sky. While filming the light, Kaito was then suddenly hit by said light and then woke up in his room with no recollection of how he got back. Things continue to get stranger when a new girl suddenly transfers into Kaito's class—despite it almost being summer break—and seems to have a focus on him. Little does Kaito realize that this new girl named Ichika Takatsuki might be someone Kaito bumped into recently…
Ano Natsu de Matteru is a romance story that is quite out of this world. We also mean that literally as its about an alien and human falling in love. You might be thinking, "now that seems like an odd show to watch with a boyfriend or girlfriend," but this out of this world romance story is filled with emotions and beauty. Ichika and Kaito's relationship will make any couple go aww together as they form an unusual bond that seems like a destined love to happen. We highly recommend couples try out Ano Natsu de Matteru together this Valentine's just because it shows love can be formed from anywhere.
---
9. ef: A Tale of Memories

Episodes: 12
Aired: Oct, 2007-Dec, 2007
ef: A Tale of Memories isn't just one romance story but two that are happening in unison. Hiro Hirono has met a rather unusual bike thief named Miyako Miyamura on Christmas Eve but this strange meeting will lead to something beyond friendship for these two. Meanwhile, a wannabe writer named Renji Asou runs into the twin sister of a friend of his called Chihiro Shindou who loves to read at an abandoned train station. For both couples, romance will fall hard for them. However, their romance tales won't be simple ones and they will see that love can be a hard thing to obtain as it comes with sacrifices you might be unprepared for.
Acting as the first season of a two season show, ef: A Tale of Memories is honestly such an amazing and unique take on dual romance stories happening at one time. What made us love ef: A Tale of Memories is that it's a story of how love can sometimes come with a price. You'll have to deal with situations no guru of love can prepare you for, but if you love that person, you'll make it work out somehow. This Valentine's Day, show your love that you can do the same and watch ef: A Tale of Memories together with them. Just bring tissues you might need them for the cascades to soon erupt from your ears while watching.
---
8. Kaichou wa Maid-sama!

Episodes: 26
Aired: Apr, 2010-Sept, 2010
Misaki Ayuzawa is well known throughout her school. Though not because Misaki is extremely cute or popular in school. Misaki is known because she is feared at her school for being a tough "Demon President" at her co-ed school that recently transitioned from an all boys school. Though little do the masses know that outside of school Misaki is forced to work at a place that completely changes her image, a maid café. Though Misaki's secret job is found out despite her attempts to hide it, and it was by the most popular dude in their school! What will Misaki do now!?
Kaichou wa Maid-sama! is one of those romance stories that just makes you laugh. Sure, it has the lovey dovey stuff you need for a good romance tale to work. Yet, it's more comedic in its approach. With loveable main characters and some solid shoujo animation, we fully recommend Kaichou wa Maid-sama! to those itching for a good rom-com anime to watch with your significant other. Though let's hope your partner doesn't get any strange ideas after watching Kaichou wa Maid-sama!
---
7. Nana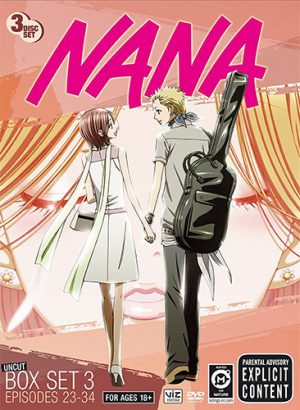 Episodes: 47
Aired: Apr, 2006- Mar, 2007
Nana Komatsu and Nana Osaki met on a train ride to their new leases on lives recently. Despite both being so different from each other, one who falls in love too easy and the other a punk rock singer, they form a friendship that seems so random. Though their friendship will be tested when they find their new lives are about to get a lot closer than just being friends. Both Nanas are about to become roommates! Will they survive or will their differences cause their quickly made friendship to shatter into millions of pieces?
There's a beauty to shoujo romance stories that we think most miss on. Most shoujo stories can be truly different from the usual romance tales and thanks to their animation styles, it comes across that way visually as well. Nana might have a strange episode count of 47 episodes but that will be more than enough to show you some of the best shoujo romance in anime we've ever seen here at Honey's Anime. Nana also leads to some very realistic lessons about love. That with a friend the harder moments of love can be survived. Definitely check out Nana with a girl or guy this Valentine's Day for a nice show about forming unbreakable bonds with those you love.
---
6. Kimi ni Todoke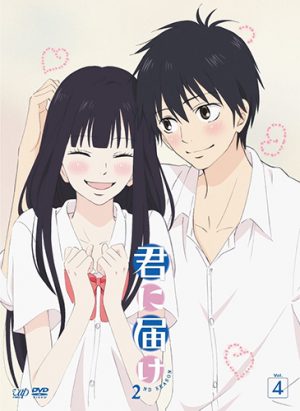 Episodes: 25
Aired: Oct, 2009-Mar, 2010
Kuronuma Sawako is a young shy girl who is constantly seen in the wrong way. Sawako's actions typically come across malicious in nature and thus, has given her a nickname at school, Sadako which is a creepy ghost girl from the popular The Ring movies. Sawako doesn't stop trying to make friends at school and prays she can just have a normal life with her peers. Then a chance encounter with Shouta Kazehaya—the so-called popular boy—begins Sawako's change in life. A romance tale is about to begin and Sawako has no idea she's going to be the main star.
Not every couple this year will be already older and in the workforce. Most couples for Valentine's Day will be still in high school or even college. The young men and women of love will be battling tough school days together and that's what makes Kimi ni Todoke so relatable; The feeling of being in love or wanting a normal school life but finding that hard because you're different than the rest runs strongly in this anime. Well folks, don't worry. Like Sawako, you can find love too and maybe it begins by showing the girl or guy you like this amazing show known as Kimi ni Todoke.
---
5. Toradora!

Episodes: 25
Aired: Oct, 2008- Mar, 2009
Ryuuji Takasu might have a tough face that makes him look like a delinquent straight out of an anime but he's really not a bad guy. In fact, Ryuuji is one of the nicest guys around. However, at school, Ryuuji isn't seen as a nice guy and it creates some problems for him to say the least. One day, Ryuuji meets a girl also known for being quite formidable in the form of Taiga Aisaka who has earned the nickname Palmtop Tiger. A random encounter between them will lead to a love story that they didn't see coming as they go from strangers to trying to help one another win the hearts of the people they love.
While creating our list of the Top 10 Anime to Watch on Valentines for Couples, we knew one show had to absolutely be here: Toradora! This 25-episode romance story blends comedy, romance, drama and slice of life perfectly together and is just so pleasant to watch. Watching Taiga and Ryuuji deal with their relationships is reminiscent of our days trying to court the people we loved here at Honey's Anime. Though minus the extreme love triangles and such.
---
4. Ano Hi Mita Hana Namae wo Bokutachi wa Mada Shiranai.

Episodes: 11
Aired: Apr, 2011-Jun, 2011
Young Jinta Yadomi isn't out with friends this summer but instead would rather play games and just lounge about at home. Long ago, Jinta would have been out with friends, but now he's a loner who couldn't be bothered. Then out of nowhere, an old friend named Meiko Honma—known as Menma to Jinta—appears out of the blue ruining his quiet summer days. Though there's a problem with Menma's sudden appearance. The girl named Meiko Menma Honma died years ago…
Ano Hi Mita Hana Namae wo Bokutachi wa Mada Shiranai., or simplified to Anohana, is a touching story that truly leaves the viewer moved to tears. Besides having stunning animation and a beautiful soundtrack, Anohana makes every scene and episode feel impactful. Watching as Jinta deals with his ghost crush seems comedic at first but slowly delves into a tear jerker as Jinta begins to reunite with childhood friends and piece together a shattered past. Are you ready for a truly amazing romance story with just a smidge of supernatural elements? Then get with your crush and watch Ano Hi Mita Hana Namae wo Bokutachi wa Mada Shiranai. this Valentine's Day coming.
---
3. Clannad

Episodes: 23
Aired: Oct, 2007- Mar, 2008
Tomoya Okazaki is the kind of guy that you find lounging about in school without a care in the world. As a delinquent, Tomoya doesn't care about studying and truly feels like his high school days are more trouble than they are worth. However, things change for Tomoya when he runs into a girl named Nagisa Furukawa. Despite being utter strangers, Tomoya feels incline to approach Nagisa and learn more about her. This action begins a domino effect which leads to both Tomoya and Nagisa getting closer together as friends and then something much more.
Clannad is one of those series we know you've probably heard of if you're a longtime anime fan. Though we also know that some people maybe just haven't heard of it. Clannad is both light hearted at times and then other times, it can be a truly dramatic romance story. Clannad is a two-season affair with the latter being known as Clannad: After Story, but you need to begin with Clannad to get the full grasp of this tale. Trust us, watch Clannad with a partner this Valentine's Day and let the tears and smiles join together. We know you'll love Clannad and thus why its number 3 on our list of the Top 10 Anime to Watch on Valentines for Couples.
---
2. Shigatsu wa Kimi no Uso (Your Lie in April)

Episodes: 22
Aired: Oct, 2014- Mar, 2015
There was once a time when, in Kousei Arima's house, you could hear the piano playing. At an early age, Kousei showed signs of being an excellent pianist and his skills were second to none for his age group. However, tragedy struck Kousei leaving him unable to hear the piano's beautiful tones. Kousei now lives everyday wanting to regain the skills he had but being afraid to do so. This all changes though when Kousei meets a young girl named Kaori Miyazono who will reawaken his love for piano lost to his past.
Shigatsu wa Kimi no Uso is an anime that we here at Honey's Anime have seen a dozen times over and never get tired of. With an amazing soundtrack and stunning animation courtesy of A-1 Pictures, Shigatsu wa Kimi no Uso is easily one of the best romance anime of all time. That moment when you begin to understand the romance story within Shigatsu wa Kimi no Uso and then even realize why the title makes sense is something that once you experience, you'll fully understand what anime can do in the world of romance. Want a way to win over the girl or guy of your dreams this Valentines? Go and tell them you're going to watch Shigatsu wa Kimi no Uso and they will share emotions with you that not many anime can do at the end of the day.
---
1. Ore Monogatari!! (My Love Story!!)

Episodes: 24
Aired: Apr, 2015- Sept, 2015
Guys are typically very afraid to approach a girl because of the way they perceive themselves. Just look at Takeo Gouda for an example of this. Takeo isn't a bad looking guy, but in his mind, the muscular and tall frame he has makes him think no girl would ever fall for him. Yet, all the guys adore Takeo for his kind nature which shows this is all in Takeo's mind. Luckily, Takeo is about to save a beautiful girl named Rinko Yamato and he will begin to see that love isn't about the way you look but is something so much more.
Ending our list of the Top 10 Anime to Watch on Valentines for Couples, we look at Ore Monogatari!! Are you afraid that maybe your partner needs an anime that isn't too outlandish and won't make them cry because tragic things happen? Then you're going to want to watch Ore Monogatari!! With a simple story, Ore Monogatari!! doesn't seem initially something that special, but that's where its beauty lies. This is a story of love seeing past looks and just seeing what makes an individual so loveable. Ore Monogatari!! wishes to show the world that you can find love no matter what you look like because love isn't so shallow and that's why it's a perfect anime to watch with someone you love this Valentines.
---
Final Thoughts
The beauty of Valentine's Day, folks, is that there is no right or wrong way to show your love how you feel today. This is a holiday that is meant to just pamper and show more affection for your partner and sometimes that doesn't have to be with rich gifts or expensive 3 course meals. Sometimes just spending time with your partner and watching something you both love is all you need and that's why we know the list above will help you out. Do you have any recommendations you feel you can add to our list? Leave them in the comments down below and for more Valentine's Day articles keep returning to our romance filled hive here at Honey's Anime.
---