Ben-To
You like anime, silly characters and stupid jokes? Then you have come to the right place, because today we want to introduce you to our Top 10 Baka anime!
What do we mean with Baka anime? It means we want to take the time and introduce you to our favorite comedy shows with hilarious storylines and weird senses of humor. Of course, to some people all anime are a little bit weird and over the top, but there are many shows that bring the art of silly jokes to a whole new level. You know, like the series is so stupid, it's funny! What better way to refer to these works than calling them Baka anime?
Today's list goes out to everyone who is stressed out by Christmas preparations or upcoming exams and just wants to lean back with some hilarious anime shows. Enjoy!
10. Boku wa Tomodachi ga Sukunai (Haganai: I Don't Have Many Friends)

Episodes: 12
Aired: October 2011 - December 2011
Friends are a great thing, right? Certainly not for the cast of Boku wa Tomodachi ga Sukunai who has more than just some troubles finding kindred spirits.
Transfer student Hasegawa Kodaka has never been able to make many friends due to his delinquent-like appearance. Even though he is a good guy his classmates don't want to have too much to do with him. The same goes for Yozora, a bad-tempered girl who enjoys talking to an imaginary friend. Together they decide to start a club designed for all people that cannot make friends, but don't want to settle for a life in solitude.
Our first recommendation is a great choice for people who love shows revolving around school clubs, especially with a main cast that couldn't be more diverse. Not only is this show hilarious, but it also doesn't try too hard to be a touching story; it doesn't end in the club members becoming friends for life and embracing each other while tears are running down their faces. Instead you get a laid-back and entertaining school adventure.
---
9. Beelzebub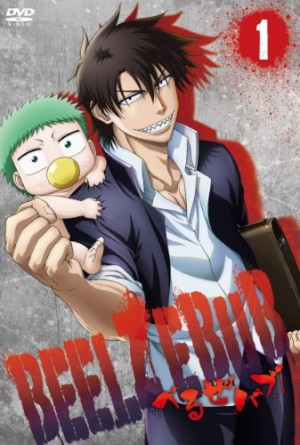 Episodes: 60
Aired: January 2011 - March 2012
After a show with a guy that only looks like a delinquent, let's move on to a show with an actual troublemaker as protagonist.
Tatsumi Oga is a first year student at a school dedicated to all boys who do not want to conform to society's rules. The life of the foul-mouthed and arrogant student changes when he encounters a green-haired baby boy who supposedly is the son of a demon king and needs Tatsumi to be his parent. How will his unforeseen parenthood turn out?
Just the whole setup of the show is already hilarious enough to make you smile. We have a tough male protagonist who suddenly has to look out for a baby while still continuing his normal life. On top of this unlikely duo you will also constantly get introduced to new characters that seem to get crazier and crazier each time. Beelzebub is a must-watch and definitely worth a try if you haven't seen it yet.
---
8. Danshi Koukousei no Nichijou (Daily Lives of High School Boys)

Episodes: 12
Aired: January 2012 - March 2012
Next up is a not-so-average Slice of Life show that will give you an insight into the daily lives of high school boys.
Friends Tadakuni, Hidenori and Yoshitake attend the same all-boys high school and spend almost every moment of their daily lives together. They are growing up and have to tackle classes and exams while being more interested in sports and girls. Join them on their daily adventures.
This recommendation definitely goes out to everyone who enjoys Slice of Life stories, but at the same time thinks they can be too slow or uneventful sometimes. Here we have a great combination of this genre with comedy that will make you laugh like no other. This show perfectly depicts the silly, carefree and action-filled lives of high school boys while still having a lot of simply hilarious jokes.
---
7. Baka to Test to Shoukanjuu (Baka and Test - Summon the Beasts)

Episodes: 13
Aired: January 2010 - April 2010
When the word baka is already in the title how serious can you expect a show to be?
Protagonist of this story, Akihisa Yoshii, is a baka, an idiot. He gets ranked into the lowest class of his local school and spends his days together with other failure students. But he is ready to take on the higher-graded students with the help of his friends and a summoned fantasy creature by his side.
BakaTest, as the show is sometimes called, could easily be another boring Fantasy/Action/Romance/School show, but only if you want to see it as one. Rather, you should not take the story too serious and see it as a parody on common battle shows. It is a weird combination of unlikely genres and unlikely characters and will certainly entertain you one way or another. Check it out!
---
6. Sakigake!! Cromartie Koukou (Cromartie High School)

Episodes: 26
Aired: October 2003 - March 2004
Let's move on to a show that might be the oldest one on this list, but charms fans with its timeless sense of humor.
We already had stories revolving around high school boys, but this anime puts a new spin to it with Cromartie High School, a school dedicated to delinquents. Here, tough guys constantly compete to show off their strength and to make clear who is the most badass of them all. One thing is clear: Takashi Kamiyama isn't it. But he has determination and his own goals in mind for this school.
Cromartie High School is not as famous as it deserves to be. It is one of the best comedy anime out there and turns common school anime clichés upside down. Nothing is normal about the setting of this show, especially not the crazy yet hilarious characters. This show is funny in a refreshing and clever way and definitely deserves you giving it a try.
---
5. Lucky☆Star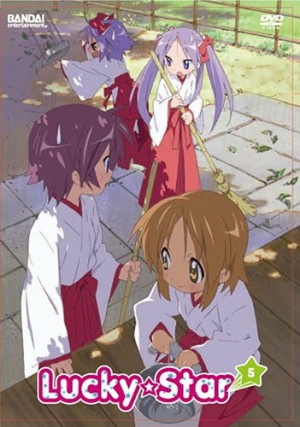 Episodes: 24
Aired: April 2007 - September 2007
For those of you that prefer girls over delinquent high school boys we have another must-watch anime legend: Lucky☆Star.
The anime tells the story of Konata, Kagami, Tsukasa and Miyuki and what they experience in their daily lives. Every episode is a combination of a bunch of different things and situations happening, all held together by the four girls and their friendship.
There are a couple of things that make Lucky☆Star unique. It really does not care about a long or coherent storyline, so you will be thrown into random moments of these girl's lives. But its main source of comedy are the amazingly accurate pop culture references between the scenes. The story of these charming girls definitely deserves some recognition.
---
4. Kore wa Zombie Desu ka? (Is This a Zombie?)

Episodes: 12
Aired: January 2011 - March 2011
Those of you that can only picture zombies as vicious monsters should take the time to watch our next recommendation.
High school boy Aikawa Ayumu really isn't the luckiest guy. First, he gets killed by a crazy serial killer. Then he gets resurrected by a girl necromancer and has to work as her zombie slave. But if that wasn't already enough, next he steals her Magical Girl powers by accident and has to fight all of her battles for her, a job that includes wearing a pink dress and an even pinker chainsaw. You think you are ready for this adventure?
Kore wa Zombie Desu ka? has already earned recognition on multiple lists on this website and there is a reason for that. The storyline sounds as weird as it comes, but that doesn't mean that the producers didn't invest time and effort into the show. The anime makes sense in its own universe and the characters are so weird that they are charming again. This show is a true must-watch, especially for fans of Harem, Magical Girl and Fantasy stories.
---
3. Gintama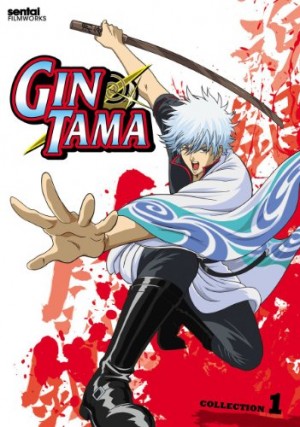 Episodes: 201
Aired: April 2006 - March 2010
We are moving into our Top 3 and what better show to start with than infamous and beloved Gintama?
This anime welcomes you into the world of ancient Japan, only set in a different universe. Meet freelancing samurai Gintoki Sakata who actually just wants to spend his days in peace, but needs to take on all different kinds of jobs to make a living. His daily adventures never get boring and it doesn't take too long for him to meet the strangest and most entertaining characters.
It is pretty unlikely that most of you haven't heard of Gintama yet so let me just name some of the reasons why this show is so great. It is unique and has something special to it while still being able to be loved by a big and diverse fanbase. The humor is universal and just plain hilarious as well as random enough at times for you to not take this show too serious. Gintama makes fun of so many other anime and shows so many pop culture references that it is hard not to fall in love with it.
---
2. Arakawa Under the Bridge

Episodes: 13
Aired: April 2010 - June 2010
Do you ever walk across a bridge and wonder what's going on underneath it? No? Me neither, but Arakawa Under the Bridge will still introduce you into the crazy world underneath a bridge.
The story begins with businessman Kou Ichinomiya being indebted to girl Nino who lives, you might have guessed it, underneath a bridge. His whole life revolves around the determination to never owe anything to anyone. In order to pay back the favor he promises to become Nino's boyfriend - and move in under the bridge.
With Arakawa Under the Bridge we are slowly moving into a territory where you need to love completely weird storylines in order to appreciate the show. However, if you are ready to go on a crazy adventure and do not expect much logic or seriousness, Arakawa Under the Bridge will get you hooked like no other show. It is the perfect combination of being weird while still remaining entertaining and having an actual storyline. This show will cheer you up, no doubts about that.
---
1. Nichijou (My Ordinary Life)

Episodes: 26
Aired: April 2011 - September 2011
You want scenes that are so hilariously random that you just have to burst out laughing? Nichijou will give you exactly that.
This anime can best be described as an everyday story set in an extraordinary universe. It is a School and Slice of Life show that will introduce you into the daily lives of a main cast that couldn't be more special. Don't say we didn't warn you!
It comes as no surprise that this show is part of our Top 10 list and even our top recommendation. Trying to describe just how charmingly weird Nichijou really is might be impossible, you have to experience this show for yourself to understand what the hype is about. Nichijou is easy-going, pure and so heartwarming while still being crazy enough to make you burst out laughing with almost every scene. Definitely give this little gem a try!
---
Bobobo-bo Bo-bobo wallpaper
How many of these shows have you already watched? Today's recommendations might be a little bit too much for people that are new to anime, but I am sure that lots of you guys can appreciate our choices. Anime are wonderful in the sense that there are (almost) no limits as to what you can expect to see and no character, joke or situation is too weird to be animated. Definitely check these shows out if you just want to relax and laugh your heart out.
As always, no list is complete without your personal recommendations, so let us know which hilarious shows you would include. Leave your comment down below!