We've all come to know and love our favorite sports over the years, but there's surely one sport where anyone can say they've played a lot growing up as a child. With various 90's classic movies such as Love & Basketball, White Man Can't Jump, Space Jam, and more, the realm of basketball has been adored by millions worldwide. Whether it's that spectacular jump shot from the three point line, or that last second buzzer shot to clinch the game, basketball always comes with some great entertainment to keep the audience on their toes. Honey's Anime would love to shed some light on some of the best basketball manga out there, so let's put on our court shoes and see who takes the number one position in our top ten basketball manga list.
10. Cross Over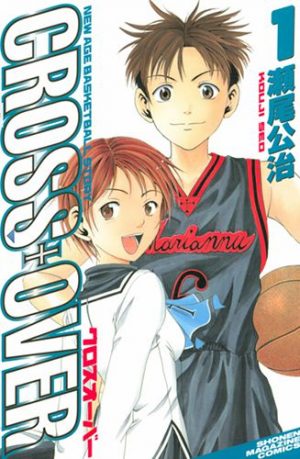 Mangaka: Seo, Kouji
Genres: sports
Volumes: 7
Published: May 2002 - September 2003
Natsuki is widely considered by many to be the best on his high school basketball team, although his team just never seems to get past the qualification rounds. Tired of never placing above 3rd round, Natsuki wants to try something new and so his friends encourage him to try out for the number one basketball team, Fujiwara Academy. He decides to try out and so he relocates to live with his aunt so that he could give it a shot, and see where it takes him. Unfortunately for Natsuki, he's quite small compared to other players so many don't find him to be very intimidating. After watching a practice game he notices how Fujiwara's team just toys around with their opponents, and this makes him wonder whether or not he's even capable of being number one again.
Natsuki just wants the best out of his basketball career, but with his team being very weak in comparison to Fujiwara Academy, it just annoys him to no end. His passion to overtake the number one spot boils in his blood, but he runs into constant problems due to his height difference which creates some funny moments in the manga. Will he ever get a shot at the top spot? Will he ever get a chance to play for the best team in the league? Pick up a copy of Cross Over and see what happens!
---
9. Dear Boys

Mangaka: Yagami, Hiroki
Genres: sports
Volumes: 23
Published: June 1989 - January 6, 1997
Dear Boys is a three part manga so we encourage you to check out the other acts after you've read the original. Kazuhiko was the proud captain of the Tendoji High School basketball team, but moved onto another high school to pursue his talents even further. However his new school's basketball team is far from great, in fact, the entire team has disbanded leaving him with no hope. In spite of this unfortunate start, Kazuhiko took to the court to demonstrate his passion for the game which led members of the defunct team to take notice and join in on the fun. Their goal is to reach the national tournament where they can showcase their true potential, and to go face to face with their competition.
Nothing can ever stop someone from pursuing something they truly love, especially if it's something they've been doing for many years. For Kazuhiko, he truly felt that the opportunity to play couldn't be avoided, and that same feeling resonated with other members of his new basketball team. Despite the team disbanding in the beginning, they reformed to create a powerful union and take their skills to the next level. Along the way Kazuhiko meets a certain woman who he becomes attracted to, and she too plays a major role in his success for the school team in this comedy basketball drama.
---
8. Fight no Akatsuki

Mangaka: Aoyagi, Takao
Genres: sports
Volumes: 7
Published: December 2002 - February 2004
Akatsuki and his good friend Kiyoharu have spent a good chunk of time playing one-on-one basketball together. Unfortunately their time together would not last, as the two friends are split up into different groups on a very strong basketball team. One is thrown into the B group, while the other was placed into the F group which many considered to be the failure group. Akatsuki was not discouraged by the decision to be placed in the F group, as he continued to maintain his positive charm and practiced consistently to refine his skills. Akatsuki made a promise to Kiyoharu however, so he intends to work hard not to break it at all costs.
This wonderful story looks at the life of two childhood friends who get split apart and now must cope with their situation as best as they can. Akatsuki isn't as skilled as Kiyoharu but tries his best to stay motivated, so that he too can get a chance to play on the more skilled side of the team. Through their hard work and determination, the two ensure that both their promises are kept and that someday they can play together again, much like they did as children.
---
7. Ahiru no Sora

Mangaka: Hinata, Takeshi
Genres: sports
Volumes: 45
Published: December 2003 - present
Sora truly loves the game of basketball, but due to his short and weak stature, he doesn't seem to have enough confidence to perform well. He's been running around the court since childhood, and has been trying to grow tall much like his mother who too was a basketball player. Curious about why she stopped playing and wanting to play more himself, Sora makes an effort to do his best to become a better player in the sport he loves most.
Ahiru no Sora is an inspiring comedy that looks at Sora and his struggles to become a well rounded basketball player, but along the way faces new challenges that strengthen his passion. As you read further into the story you come to realize that his mother used to play, but never really explains why she stopped. Of course that answer is for you to discover as you read deeper into the plot, but Sora is really the main reason why we chose him for the 7th spot. His warm hearted approach to learning, as well as his tenacity to never give up really hits you because you can see just how much he loves the game, and will do whatever it takes to achieve results not only for himself but for his mom too.
---
6. I'll

Mangaka: Asada, Hiroyuki
Genres: sports
Volumes: 14
Published: November 1995 - May 2004
Tachibana has a knack for basketball but due to the constant pressures that sports clubs bring, he decides to distance himself from them all in hopes to do something less stressful. Once he transfers to a new school however, all of those feelings immediately changed as he meets another basketball player who really impresses him and decides to join the team. The two go up against a very formidable opponent in an exhibition match which eventually leads the team mates to grow frustrated with one another, as they continue to fall behind in points. This changes however when one of the senior members on the team throws out some inspiring words to fire them up, and from there these young teenagers do their best to work their way to the top.
The name of the manga is certainly strange at first glance, but once you read more into this slice of life comedy you'll notice that it really is about Tachibana and his willingness to play better basketball. He'll always say things like "I'll do my best!", or "I'll make sure we don't lose again!" to ensure that he stays focused on what he came to the court to do, and that's to win. There are so many great inspiring moments in the manga as well that truly give it that slice of life shine, because it educates the reader on the more inner workings of the mind, and that you can accomplish just about anything if you just focus entirely on what you love at every moment.
---
5. Power!!

Mangaka: Seino, Shizuru
Genres: sports
Volumes: 10
Published: December 1999 - December 2002
Kyo Aizawa's father is devoted to the sport of basketball, but due to a serious injury he can no longer participate on the court. He insists that his daughter should fulfill his position and make her way to the NBA. To do this he enrolls her into a well known high school which focuses on not just the boys' basketball team, but very cute girl uniforms. Not too pleased by this result, Kyo must dress like a boy day and night to avoid being noticed since the team actually resides at the school dorm to maintain team spirit. Later she's introduced to a young talent on the team named Chiharu Eniwa who proves to be a pain in the butt for her, as he treats her with hostility at every opportunity. As fate would have it, the two would now have to face each other more often as they've been paired up to live in the same room, and as they build a better bond they come to realize that there's something they're each hiding.
This manga is sure to keep you laughing for a long time because there's just so much happening all at once that it's hard to avoid. Kyo struggles so hard to maintain her boyish demeanor but it often backfires on her in situations when she's confronted by Eniwa. The two clearly know there's something off about each other, so they always constantly bicker to try and dissuade the other from figuring everything out. Kyo does have a lot of talent however and it surprises a lot of the boys on the squad, who eventually learn a thing or two from her during their practices. You're always left guessing what will happen next, and pray that Kyo never gets caught because she brings so much energy to the mix. Be sure to check out this action packed comedy manga!
---
4. Harlem Beat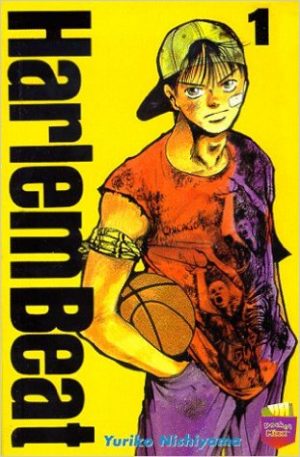 Mangaka: Nishiyama, Yuriko
Genres: sports
Volumes: 29
Published: December 1994 - March 2000
Nate Torres just wants a shot at all the glory, but he's labeled as a benchwarmer by his peers and it doesn't sit well with him. When an opportunity that comes his way gets shot down, Nate decides that the only way he can make a name for himself is to take it to the streets to show off his skills. Away from all of the pressure of being in the spotlight, Nate eventually begins to notice his talents improving and discovers that he's got a lot more game in him than most assumed.
Street basketball as we know has been around since the early 1960's, but really took off in Rucker Park back in the late 80's to mid 90's. Even to this day Rucker Park in Harlem still brings in huge numbers, and is a place where a lot of classic NBA members made their name. In the case of Nate, he realized that his raw talent could be showcased on the back streets where there were no strict rules involved, and where he could truly be himself on the court. It's a powerful story about a man who's hungry for more, and with enough teamwork behind him, he would become an unstoppable force on the main court.
---
3. Kuroko no Basket

Mangaka: Fujimaki, Tadatoshi
Genres: sports
Volumes: 30
Published: December 2008 - September 2014
Kuroko Tetsuya isn't very popular around others and just doesn't have any significant qualities about him. On the basketball court however, this unexpected showstopper somehow shines in his own remarkable way, using this edge to his advantage against other players. Kuroko's main purpose is to take this untapped potential to the major leagues, and to take down each member of the elite middle school team called the Miracle Generation, cementing a name for himself on the courts.
Despite what people around him have mentioned, it doesn't deter Tetsuya from stepping his game up to show everyone what he's made of. This hard work and devotion to the game is what sparks a lot of attention, and really gets you feeling hype for Tetsuya throughout the chapters. He knows of his own setbacks but turns them into something very unique to display to the world that he's no joke when it matters most.
---
2. Real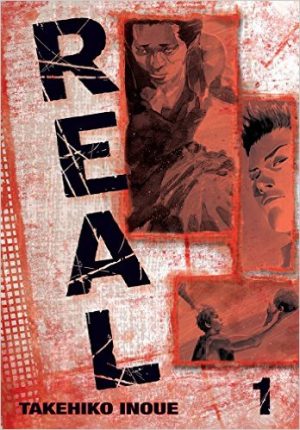 Mangaka: Inoue, Takehiko
Genres: sports
Volumes: 14
Published: March 2001 - December 2014
The story of Real revolves around three passionate players who dedicate their life to the game of basketball. Nomiya is a high school dropout with no future in his life, and lives with a deep guilt of crippling a young girl in a traffic accident. Togawa was a former talent in the world of track and field who had a goal to become the best in Japan, but now is confined to a wheelchair playing basketball with players who have no interest in the game whatsoever. Takahashi was once a very well known team leader and honor student, but due to unfortunate circumstances cannot move from the chest down. How will these three players manage to overcome their adversities to become the best?
Real is pretty much the best word you could use to define this very powerful manga, as it deals with the reality of physical setbacks and how these players deal with their shortcomings psychologically. As each chapter progresses, you're left in amazement as these three work desperately to break down their own psychological barriers, and to prove to the world around them that disabilities are nothing more than a temporary obstacle. This really hit home with us because we're all so self-centered sometimes and don't even realize how blessed we are to have what we have, and that we take so much for granted in many cases. Real puts you in your place and helps you to wake up and realize that your narrow minded approach to life is the real setback, and that just about anyone can attain true happiness as long as they see past their imperfections.
---
1.Slam Dunk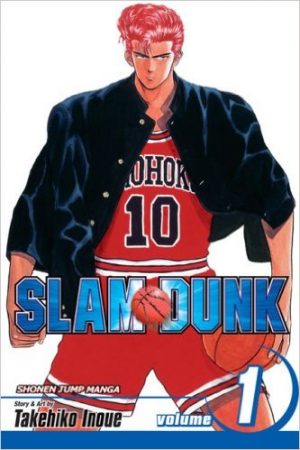 Mangaka: Inoue, Takehiko
Genres: sports
Volumes: 31
Published: September 1990 - June 1996
Sakuragi is deeply in love with both girls and basketball, but unfortunately he just can't seem to catch the right girl and it starts to bother him. However one day fate comes along in the form of Haruko, a girl who not only finds herself not intimidated by him, but eventually becomes the backbone of Sakuragi's success. When the two come together Sakuragi discovers more than he could ever ask for, which was the ability to become the boss of the court with unbelievable talent.
Sakuragi's desperate attempts to meet true love were finally granted to him, but even more so his talents on the court skyrocketed beyond comprehension. It's true that you find the one you love doing what you love and for Sakuragi it not only cured his loneliness, but it transformed him into a total powerhouse on the court. Haruko not only helped to reshape his entire life from the bottom up, but she too became a part of the one thing Sakuragi loved most and that was his devotion to basketball.
---
Closing Statement
As you can see from the list above, Inoue Takehiko's works have really become a global phenomenon for many years. They've reached out to millions and still continue doing so this day. Basketball is a sport that brings people together, and as you can see by Slam Dunk, love can truly turn anything into a beautiful game. Let us know if you have any other great basketball manga to share in the comments below, and also follow us on twitter for the latest article updates and tweets!
As always, if you want to know about all the latest buzz straight from the bee's nest in Japan, be sure to keep it locked here at Honey's Anime.
---