También puedes leer este artículo en:Español
2016 was an interesting year for anime in many ways. Many adaptations of classical anime and second seasons were done, while new movies and live actions were announced. We had a couple of deceptions and a couple of surprises as well. This year does not look slow either! However, before we get too deep into 2017, it is worthwhile to look back at what was the best from 2016. To remember is to live; Don't forget that! Here in Honey's Anime, we have listened to your voices to arrange this Top 10. So yes otakus, this is what you all consider the Best Anime of 2016!
10. ReLIFE

Episodes: 13
Aired: Jul 2 to Sep 24, 2016
Our protagonist is Arata, a guy who somehow has managed to fail at all his job interviews after being fired from his first job. A mysterious and smiling man named Ryou Yoake offers him a chance to join an experiment and gives him a pill. Now, thanks to the pill, Arata has become a teenager again! Will he manage to live his youth years in a better way than the first time?
This was the best anime of 2016 for anyone whose life sucks :p Because who would not want the opportunity to be young again and undo mistakes? We grow wiser with age, right? Or at least that is what we expect. Anyway, Arata also discovers that being young now is different from when he was young the first time. ReLIFE has its intense and comedic moments, which have remind us to be mindful of our peers.
---
9. Shokugeki no Souma: Ni no Sara (Food Wars! The Second Plate)

Episodes: 13
Aired: Jul 2 to Sep 24, 2016
So, Japan has offered us an interesting type of anime that combines the best of food with a competitive spirit. Following the tradition of Yakitate Japan! And Yumeiro Patissiere, one of the best anime of 2016 offered us the second season of a jewel called Shokugeki no Soma. The protagonist is none other than Souma, a teenager who has a particular talent to prepare delicious food. Having trained since a young age in his father's restaurant, Souma is sent to the top Culinary Academy Tootsuki, where he will have epical chef battles with the best cookers.
What can we not love about Shokugeki no Souma? Unless you definitely don't like food, this is the dream anime to get to know Japanese culinary traditions and a bit about others around the world. Besides that, we get all the action and an interesting and diverse set of friends and foes for Souma. Things do get hot in Shokugeki no Soma: Ni no Sara!
---
8. Mob Psycho 100

Episodes: 12
Aired: Jul 11 to Sep 27, 2016
Let us go to the supernatural side of anime. Unfortunately, this is a little bit unfortunate side. Meet Shigeo "Mob" Kageyama, a powerful guy with psychic abilities. He wished to live a normal life, but alas, sometimes he cannot control his powers. Thus, Mob enlists the help of Arataka, a con artist who fakes he has psychic powers. In the end, Arataka uses Mob to do regular spiritual fighting jobs, but that could drive Mob's powers to dangerous levels.
If Mob Psycho 100 was our regular supernatural anime, it would not have made it to the Top 10. The first thing that is attractive is that Mob does not like to have powers. The second one is that he is literally a time bomb. We don't know when he will explode! Also, the graphic style of the show is different from most anime, giving it a distinctive taste.
---
7. Boku no Hero Academia (My Hero Academia)

Episodes: 13
Aired: Apr 3, 2016 to Jun 26, 2016
The next best anime of 2016 brings us to the X-Men world! Ok, no. Seriously, the creator of Boku no Hero Academia was highly inspired by American comics. Just imagine a world where 80% of the population has special superpowers, called Quirks. Unfortunately, our protagonist, Izuku Midoriya, was born without a Quirk. This does not stop him from dreaming of becoming a superhero, which grabs the attention of the best hero in town, All Might. Therefore, with the support of such a great hero, Izuku enrolls in UA High to pursue his dream.
This anime is the perfect combination for the otakus who also like American comics. The graphic style is full of action and a slight retro feel. What stands out the most is Izuku's personality. Despite his lack of powers, he is the first one to give a hand to whoever might need help. An eternal enthusiast who is also shy, insecure and hardworking, Izuku reminds us of the nerd in some of us.
---
6. Bungou Stray Dogs

Episodes: 12
Aired: Apr 7 to Jun 23, 2016
More supernatural anime (yay)! Only that this time, for this best anime of 2016, we have a thriller with a steampunk vibe. Meet Atsushi Nakajima, a guy who has always been tossed aside until he meets Osamu Dazai, a supernatural detective. By his side, Atsushi will learn to use his own powers, while they fight against a mysterious criminal organization.
Steampunk and anything slightly historical gets a few extra points in the anime realm. However, the detail of naming the characters like Japanese and International authors was a clever move. We have so many interesting characters with a distinct personality and fighting style that everyone can chose their favorite(s). Also, Atsushi is the typical lead that dislikes himself at first, lacking direction in life but eventually finds a purpose.
---
5. Haikyuu!!!: Karasuno Koukou VS Shiratorizawa Gakuen Koukou (Haikyu!! 3rd Season)

Episodes: 10
Aired: Oct 8 to Dec 10, 2016
We all have had at least one rival in our school days. For Shouyou Hinata, that rival is Tobio Kageyama, who defeated him in the volleyball court during their Middle School days. Now that Shouyou entered High School, he is at first determined to make up for that defeat… until he finds out that he has to work with Tobio to train the school's volleyball team. Although his short height hasn't been a problem, Shouyou will have to learn to become the best teammate ever.
It has been a while since we had an interesting anime title about sports, but Haikyuu!!! has been the exception. In the first place, this best anime of 2016 took a less common sport than say, baseball or football. Fans of volleyball will agree that the stamina from this activity is also great! The duo of rivals working together almost since the beginning of the show is an interesting combination as well. Shouyou might be a charismatic lead, but his lack of intellectual abilities require a complementary character to help him. And that's exactly what Tobio is!
---
4. Ansatsu Kyoushitsu 2nd season (Assassination Classroom Second Season)

Episodes: 25
Aired: Jan 8 to Jul 1, 2016
Imagine that one day, you look up at the Moon and find out that it has become a permanent crescent. Someone has partially destroyed it! And that someone is your new teacher! Everyone, meet Koro-sensei, an infamous yellow creature who endangers the world and must be killed at all costs. This responsibility lies on the powers of Nagisa Shiota and his fellow classmates from the E-class. But not all in school involves killing plans, as everyone requires to pass with high marks!
If you ever wanted something like Battle Royale but with a lighter mood, Ansatsu Kyoushitsu is the best anime of 2016 for you. Koro-sensei is a lovely teacher when you are not concentrated in killing it. So, what's better than enjoying your school life while learning to work as a team and using weapons? Mysterious, bizarre and exciting, a class by Koro-sensei is definitely life changing.
---
3. Kimi no Na wa (Your Name)

Episodes: 1 movie
Volumes:

2016li>mangaka:

3. Kimi no Na wa (Your Name)
e finally get a movie in the best anime of 2016. And what a movie! Is there any otaku who didn't watch it? The confusing romantic comedy of two teens (Mitsuha and Taki) who interchange their bodies was one of the most pleasant surprises of the year. Especially when the story gets mysterious and exciting.

Makoto Shinkai is one of the most successful young promises in the anime world. With his attention to the story and a masterful depiction of natural and urban scenes, Shinkai is a great storyteller that knows how to reach people's hearts. Both protagonists are realistic teens surrounded by unforgettable characters. Plus, let's not forget the traditional Japanese elements embeded in the plot!
---
2. Re:Zero kara Hajimeru Isekai Seikatsu (Re:ZERO -Starting Life in Another World-)

Episodes: 25
Aired: Apr 4 to Sep 19, 2016
We also needed a wink to gamers in the best anime of 2016 😉 You have spoken, as this little anime became one of the strongest competitors in the ranking. Never before a visit to the local convenience store was so impactful in someone's life. However, Subaru Natsuki learns that to start his life all over again in a new fantasy like world will have both advantages and disadvantages.
We have had some anime about hikkomoris in the last years. What puts Subaru apart is that he reacts fast to the new situations he faces with his mind and body. The world where he travels has also its quirks and enigmas, which kept the suspense of the story in motion. And of course, we have a few strong heroines, as well.
---
1. Yuri!!! On Ice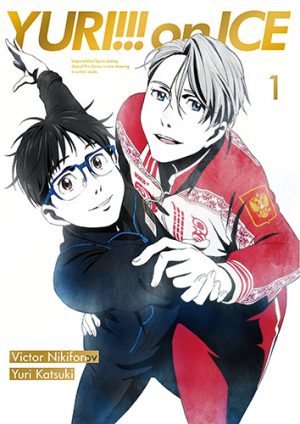 Episodes: 12
Aired: Oct 6 to Dec 22, 2016
After a crushing defeat in the Grand Prix Finals, Yuri Katsuki goes back to his quiet hometown to think what he will do next. Little does Yuri know, Viktor Nikiforov, his skating idol, will follow him there to help him train. However, the world of professional skating is far from easy, as powerful rivals will give their all to compete against Yuri. Will Yuri be able to win the Grand Prix and keep Viktor as his coach?
Ladies and gentlemen, the champion of the year! The best anime of 2016! For having a strong and concise story in its 12 episodes. For giving us a multicultural cast. For showing the beauty and skills required for figure skating (of all the sports). For giving attention to both animation and music. For giving us the best anime couple of the year and one of the best anime couples ever. And finally, for conveying the strong message that it is never too late to conquer our fears to pursue our dreams. That and much more is Yuri!!! On Ice. If you haven't watch it, you are missing a jewel. Point.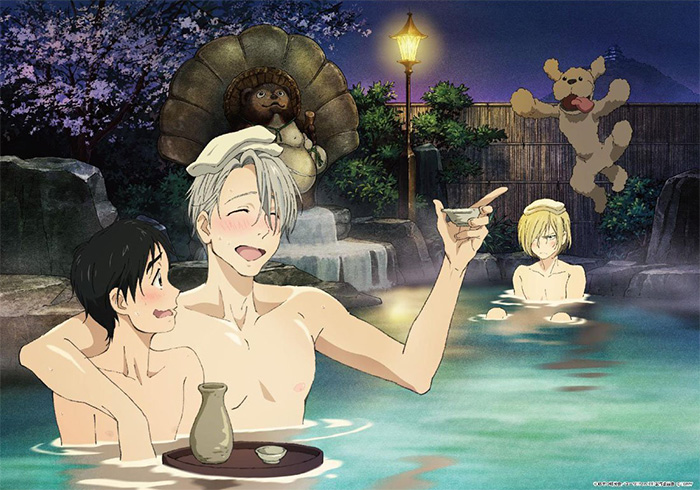 ---
Final thoughts
It surely was an exciting year, don't you think? But do tell us, which other anime do you think should have been in the best anime of 2016? Let's share your comments and your screen captures of the best anime of 2016. See you soon!
---