2016 has given us a wide variety of anime, whether if it's an action-themed anime, or mystery-themed, needless to say, it's been a hell of a ride. Taking into perspective, anime characters have gained so much recognition thanks to the people behind them, yep, their voice actors! Personally, I think being a voice actor/actress is not an easy task, it takes dedication to their assigned characters to fully embrace them as part of themselves. You can enjoy the results of hard work and dedication voice actor/actresses have put in their work through their respective anime characters.
So this list is dedicated to those voice actor/actress that have made anime in 2016 great! Say no more, let's get started on the Top 10 Best Seiyuu/Voice Actor of 2016!
10. Michie Tomizawa

Starting off the list, we have the veteran Michie Tomizawa! If you haven't already heard about this seiyuu, then let me refresh your memory! Michie Tomizawa is the voice behind Ume Matsuzaka or Matsuzaka sensei from Crayon Shin-chan! With the release of the 24th movie, Michie returns yet again to the big screen with more solid work on her character.
It's quite surprising to see Michie's name appear on this list, as she hasn't starred in any recent anime. But just one movie is all it takes to remind us all how we appreciate her work on her character as Matsuzaka-sensei. Her most notable work is probably as Rei Hino in the classic Sailor Moon series. Nevertheless, it's a breath of fresh air to see an old-timer being celebrated to be one of the most memorable voice actor/actress once in awhile, just so you would say, "Hey, I know that voice!"
---
9. Kengo Kawanishi

Next, on the list, we have Kengo Kawanishi! This young voice actor brought out some interesting characters in the year 2016. Although Kengo didn't have any significant roles of characters in the 2016 anime, but you can spot him as the supporting characters in a variety of anime. Kengo's most notable work is his role as Mikazuki Augus in the Mobile Suit Gundam series which gained much appreciation from fans.
His supporting characters in anime such as Shokugeki no Souma where he played as Shouji Satou, and Prince of Stride: Alternative as both Arata Samejima and Aoi Shima, and not forgetting his small role as Kenji Tanihara in Saiki Kusuo no Ψ-nan, all helped his name in this list!
---
8. Nobuhiko Okamoto

Moving on to number 8 on the list, we have Nobuhiko Okamoto! Throughout the years, Nobuhiko has been excellent at delivering certain personality traits to the characters that he plays. His best work is probably as the main character from Ao no Exorcist, Rin Okumura. There is a certain flair that blends perfectly with how he voiced his characters that add a 'cool' personality to them.
Other notable character roles that he voiced include Karma Akabane from Ansatsu Kyoushitsu, Obi from Akagami no Shirayuki-hime, Yuu Nishinoya from Haikyuu!!, Takumi Usui from Kaichou wa Maid-sama!, Ryou Kurokiba from Shokugeki no Souma and much more!
---
7. Yoshitsugu Matsuoka

"In the Witch's Cult, I am a Sin Archbishop representing sloth, Petelgeuse Romanee-Conti...DESU!!" If you're wondering who the voice behind this crazy and weird-looking anime character is, well, you're looking at the voice actor himself, Yoshitsugu Matsuoka! It's very impressive how Yoshitsugu pulled off on voicing Petelguese, as the character has a very unique way of speaking and Yoshitsugu nailed it, as he was able to make Petelguese not sound as silly and off-track but making it just crazy enough that it fits the character and its role as a whole in the series.
You can also recognize Yoshitsugu's works as he voiced Kazuto Kirigaya "Kirito" from Sword Art Online, Souma Yukihara from Shokugeki no Souma, Hajime Aoyagi from Yowamushi Pedal, and as mentioned in the paragraph above, Petelgeuse Romanee-Conti from the 2016 anime hit sensation Re:Zero kara Hajimeru Isekai Seikatsu, where he receives praises from the anime fanbase.
---
6. Junichi Suwabe

Taking the number 6 spot on the list, we have Junichi Suwabe! Junichi is one of the most respected and well-known voice actors in the anime community, as he won Seiyuu awards in the past for his works. His voice acting is considered versatile as he voiced varying characters and had done it on point. One of his most notable work is when he voiced Victor Nikiforov from Yuri!!! on ICE!
You can also recognize his other works such as the quirky, crazy Undertaker from Kuroshitsuji, or the cool, cocky, Daiki Aomine from Kuroko no Basket, the goofy character Dandy, from Space☆Dandy, the flirtatious charismatic character Ren Jinguuji from Uta no☆Prince-sama♪ Maji Love 1000% and a smothering bunch of other characters. It's definitely a treat for the anime community every time this voice actor does a character, so be sure to check out his works!
---
5. Kazunari Tanaka

Counting down from the number 5 spot on the list, we have Kazunari Tanaka! Before we continue, let's give a quick shout out and condolences as Aoni Production announced that seiyuu Kazunari Tanaka died on October 10, 2016, from a brainstem hemorrhage. Rest in peace.
You might easily recognize his works as he is the one who voiced Professor Hiroshi Agasa from Detective Conan. His most recent work is when he voiced Keishin Ukai from the Haikyuu!! Series. His works will be deeply missed as it brought so much impact to the anime community.
---
4. Hiroshi Kamiya

Next, on the list, we have the seiyuu star, Hiroshi Kamiya. If you're an avid anime fan, then 80% of the anime you watch probably was voiced by Hiroshi Kamiya. Winning several seiyuu awards, Hiroshi really has what it takes to be on this list. His most recent work is the voice of Kusuo Saiki from Saiki Kusuo no Ψ-nan.
Hiroshi is able to dish out many different voices and style when he does voice acting, which you can see through the many characters that he had voiced. His notable works can be seen in One Piece as he voiced the iconic Trafalgar Law, Levi from Shingeki no Kyojin, Yato from the Noragami series, and last but not least, Seijuurou Akashi from Kuroko no Basuke.
---
3. Yuusuke Kobayashi

Earning the number 3 spot on the list is Yuusuke Kobayashi! It comes to as no surprise that Yuusuke will end up on this list, thanks to his incredible voice acting on Subaru Natsuki from Re:Zero. If you have watched Re:Zero then you would see how Yuusuke's voice basically brought Subaru's character to life. His expressions when he's happy, depressed, sad, angry are all well voiced by this seiyuu.
He even won the 11th Seiyuu Awards for the Best New Actor (actors who debuted within the past five years.) recently. You can also see his other works as Arslan from Arslan Senki, Zenji Marui from Shokugeki no Souma, and his most recent works as Yuu Haruna from Fuuka.
---
2. Mamoru Miyano

This next voice actor has successfully made a character become a living meme. If you're still wondering what meme I am talking about, take a look at the anime Yuri!!! on ICE. Mamoru Miyano voiced Jean-Jacques Leroy, which became a meme in the anime community thanks to his famous catchphrase, "It's J.J. style!"
Mamoru Miyano has a uniquely charismatic voice, as it is reflected through the characters that he had voiced, such as Tokiya Ichinose from Uta no☆Prince-sama♪ Maji Love 1000%, Death the Kid from Soul Eater, Amai Mask from One Punch Man, and Matsuoka Rin from Free! All of these characters has a certain flair and 'swag' to their personality, which Mamoru was able to bring out through his voice.
---
1. Yuki Kaji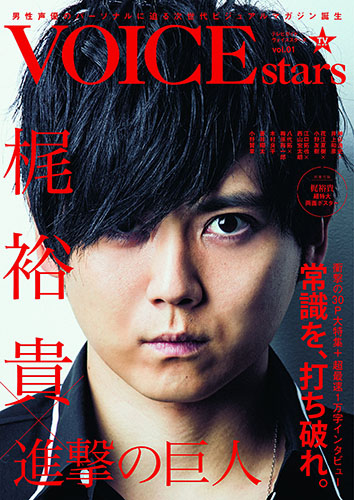 And the number 1 spot of the Top 10 Best Seiyuu/Voice Actors of 2016 goes to… Yuki Kaji! It's truly amazing the extent of voice acting Yuki can do. The range of vocals and voices he can do is astonishing. One of his bigger roles are Kouichi Hirose in the JoJo's series, Shouto Todoroki from Boku no Hero Academia, Silver Mask from Arslan Senki, and Haruyuki Arita from Accel World.
Most of Yuki's works are main roles and he even won several Seiyuu Awards in the Best Male Lead Role category as well as the Best New Actor Award. Furthermore, the characters that he voiced are from well-known and popular anime, yet his voice doesn't sound monotone. Kudos to Yuki for being able to give fresh new voices to the main characters of the anime world. We really hope he continues to voice more of your favorite main characters!
---
Final Thoughts
Voice acting isn't as easy as it seemed or you might expect it to be, and professional voice actors are required to fully dive into the character itself in order for the character to stand out. So let's take a moment to appreciate the hard work and dedication of these voice actors for being responsible for giving us unique characters that add to the overall quality of the anime itself.
That's all for the Top 10 Best Seiyuu/Voice Actors of 2016! What are your thoughts? What's your favorite character that's voice by the voice actors above? Be sure to leave them in the comments below! Cheers!
---