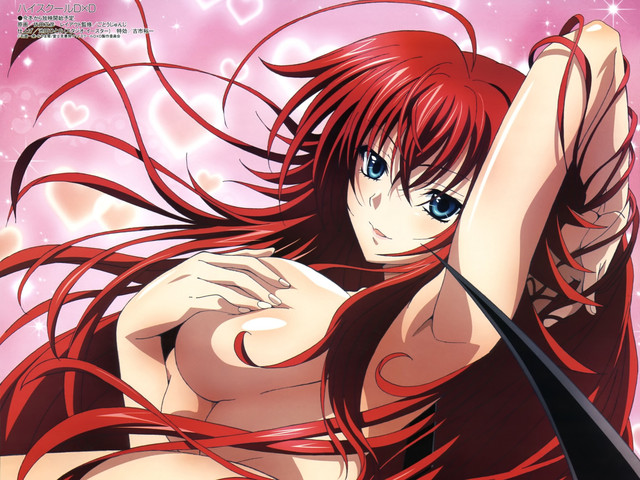 Welcome to the new decade—why not celebrate with some great stuff you might have missed from the previous one? In the Top 10 Best Ecchi Anime of the 2010s, we will take a look at the best of the best of ecchi anime that released in the past ten years. These anime will cover a lot of different subgenres including supernatural, comedy, fantasy, slice of life and more. But of course, each will also be full of fan-service, beautiful men and women, and plenty of sexy fun! Otherwise, they wouldn't be on our best ecchi list after all, and we would never lead you astray on something so important.
So if you're looking to start off your new decade with some great ecchi, you've come to the right place. We have a great line-up of ecchi anime that had great critical reception and were also loved by the masses. These are—if you excuse our pun—the cream of the crop. But you're here to find your next dream ecchi so without further ado, let's get onto the list!
10. Nanatsu no Taizai (The Seven Deadly Sins)

Episodes: 24
Aired: Oct. 2014 - Mar. 2015
Nanatsu no Taizai is set in a world similar to historical Europe in the land of Britannia, which is ruled by Holy Knights who protect it with their magic. But when seven knights go rogue and start an uprising, they tried to overthrow the ruler of Liones. The knights were stopped by the loyal Holy Knights but were not killed. Thus, these knights came to be known as the Seven Deadly Sins. Ten years later, the Holy Knights also led an uprising and became, themselves, the new leaders of Liones as tyrant rulers. It's up to the third princess of Liones, Elizabeth, to find the Seven Deadly Sins and learn the truth behind their uprising and exile. Only with their help can she overthrow the Holy Knights.
Nanatsu no Taizai is an incredibly popular, long-running anime based on a best-selling manga. It's a fantasy anime, but did you know it's also an ecchi? While the ecchi material may not be the focus of the anime most of the time, it's always present in the background in the way characters are drawn and represented, and the constant fan service that is something between funny and sexy and is scattered throughout the series. Nanatsu no Taizai is narrative and character-focused rather than fan service, so it's perfect for anime fans that want to enjoy a deep fantasy story—but have a little bit of ecchi fun on the side! The ecchi adds to the anime rather than stars in it, but that's exactly what makes it great because it's done so well.
---
9. Nisemonogatari

Episodes: 24
Aired: Oct. 2013 - Mar. 2014
Koyomi Araragi's life is completely out of control in Nisemonogatari. He gets attacked by vampires, is kidnapped by his girlfriend, and has to survive to be a high school boy which is pretty hard on its own. It turns out his girlfriend only kidnapped him to keep him safe after she got on the bad side of a con artist, which works for a little while. But when the con artist goes after his sister Karen instead, Araragi has to get involved in the scandal whether he wants to or not. Add into that some mysterious girls with supernatural powers and Araragi's other sister also bringing her problems to him and well. Araragi is definitely keeping busy.
Nisemonogatari is a harem ecchi anime that does it's best to play to everyone's ecchi girl fantasy. There's no shortage of beautiful female characters, from Araragi's girlfriend to his two sisters to the two mysterious women that seem to know an awful lot about Araragi and more. There's fan service galore, some light BDSM play, comedy, and some supernatural fun. With so many beautiful women always tying him up or attacking him or falling for him well, it's hard to not fantasied a little about being Araragi. Even when things aren't going great for him, the ecchi pros outweigh the cons for anime fans, making Nisemonogatari the kind of ecchi you watch so you can insert yourself in as the main character.
---
8. Kill la Kill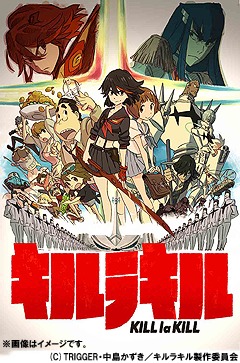 Episodes: 12
Aired: Apr. 2014 - Jun. 2014
Kill la Kill opens with a young woman named Ryuuko Matoi, searching for whoever murdered her father. Her only clue, half of the weapon he created called the Scissor Blade, leads her to a brutal school called Honnouji Academy. The school is ruled by the student council president Satsuki Kiryuuin and her Elite Four. These top students all have Goku Uniforms, clothing that gives them special powers in a fight. After being defeated by one of these students, Ryuuko returns to her childhood home and discovers the sentient God Clothes, which awaken to her blood. Equipped with the God Clothes and the Scissor Blade, Ryuuko returns to the academy determined to find her father's killer.
Kill la Kill is an ecchi anime full of fun and action. It's got tons of great fights with unique weapons, but what makes Kill la Kill really stand out are the clothes. The God Clothes and the Goku Uniforms that give the characters their unnatural fighting power are minimal at best in what they cover. Rather than full body armour, the clothes in Kill la Kill are very sexy and only cover what they need to to keep the anime from having full-on nudity. And the clothes are sentient, don't forget! Most of the characters in Kill la Kill are female, so you can enjoy ecchi fight scenes in sexy armour—and an intriguing story, too.
---
7. High School DxD

Episodes: 12
Aired: Jan. 2012 - Mar. 2012
High School DxD is the story of Issei Hyoudou, a high school student and complete pervert who peeps on unsuspecting women. His life gets turned on its head when a beautiful woman asks him out on a date... only to brutally murder him! It turns out she was a fallen angel. Luckily for Issei, a high school senior, who also happens to be a devil, revives him as her servant and forces him to join the Occult Research Club. Now, Issei has to keep his new life secret from his old friends and family while learning to live and fight in a world of angels and devils, and their ongoing war.
High School DxD is a comedy harem ecchi with lots of beautiful angel and devil girls to keep supernatural fans drooling. It's hard sometimes to not envy Issei even though he's technically a servant; having a sexy dominatrix devil as a master doesn't seem like the worst second chance at life. High School DxD is full of comedy, fan service, fights, and plenty of risqué situations to keep ecchi fans happy. It's a very traditional high school ecchi anime with a supernatural twist, and that makes High School DxD very accessible and fun for just about any ecchi fan. And if you like harems, well, that's an added bonus!
---
6. Shimoneta to Iu Gainen ga Sonzai Shinai Taikutsu na Sekai (SHIMONETA: A Boring World Where the Concept of Dirty Jokes Doesn't Exist)

Episodes: 12
Aired: Jul. 2015 - Sep. 2015
Shimoneta to Iu Gainen ga Sonzai Shinai is set in an alternate Japan where the government is determined to eliminate perversion through strict morality laws. They're enforced by devices worn around the necks of all citizens that keep tabs on them at all times and to keep them chaste. Meanwhile, Tanukichi Okuma, the son of an infamous terrorist who opposed the morality laws, has just entered high school and caught the attention of the Vice President of the student council, Ayame Kajou. She has a secret identity, Blue Snow, a figure whose goal is to spread lewd material to the masses in this suppressed world. And now, Tanukichi is caught up in her plots whether he wants to be or not!
Shimoneta to Iu Gainen ga Sonzai Shinai is a fun ecchi anime about a huge "what if" question—what if sexual material and immorality were banned? What if it all had to go underground? How would people rise up and what would they do? In their campaign to bring lewd material back to the people and with Tanukichi's own school as the first point of attack, things get crazy, funny, and downright scandalous. People will always find a way to access their porn and have sex, and it makes for a great basis for an ecchi.
---
5. Panty & Stocking with Garterbelt

Episodes: 13
Aired: Oct. 2010 - Dec. 2010
Panty & Stocking with Garterbelt is about two angel sisters who are kicked out of Heaven for being, well, naughty. If they want to get back in, they have to exterminate ghosts under the guidance of a priest named Garterbelt. To fight the ghosts, they use their lingerie and transform it into weapons. But the two sisters aren't actually that interested in working, to be honest. They would rather do the things they both respectively love the most. Panty loves to sleep with just about anyone she meets, and Stocking just wants to eat dessert. But they're going to have to stay focused if they ever want to get back into Heaven!
Panty & Stocking with Garterbelt doesn't hold much back when it comes to being an ecchi. After all, the two leading ladies fight literally with their lingerie, and that doesn't even mention what their names are. Panty & Stocking with Garterbelt is really funny, never taking itself seriously, and serves as a satire anime by using a lot of tropes from other ecchi and making them even more exaggerated. The art style may not be for everyone because the main characters do not have a traditional anime look, but don't let that stop you from giving Panty & Stocking with Garterbelt a chance. It's worth giving it a try and seeing if you like it because it really is funny and sexy in its own special way, and you might just be into it.
---
4. High School of the Dead

Episodes: 12
Aired: Jul. 2010 - Sep. 2010
High School of the Dead is a zombie apocalypse anime set in Japan. The zombie outbreak happened very suddenly, forcing Takashi Kimuro to have to kill his best friend when he gets bitten in their high school. Burdened by the death of his friend, Takashi vows to keep his friend's girlfriend Rei safe from all harm. When Takashi and Rei are barely able to escape from their plagued school, they discover that all of society has fallen to the zombie outbreak. With the help of some other people from their school that they pick up along the way, Takashi and Rei have to fight to survive and try to find out what caused the zombie outbreak—and how to stop it!
High School of the Dead is a supernatural horror anime—and also an ecchi, of course! A zombie apocalypse may not be the backdrop you imagine for a sexy anime but High School of the Dead really makes it work. Besides Takashi, the rest of the main characters are beautiful women including the hot school nurse, a gun otaku, and the president of the kendo club. All of these women are gorgeous and big breasted, and High School of the Dead is very creative with how physics affects their breasts. Imagine each breast simultaneously dodging different bullets moving independently from one another and you've got the right image for this ecchi. Of course with its story, there's lots of blood and gore too but if that doesn't put you off, High School of the Dead is certainly an interesting interpretation of an ecchi!
---
3. Prison School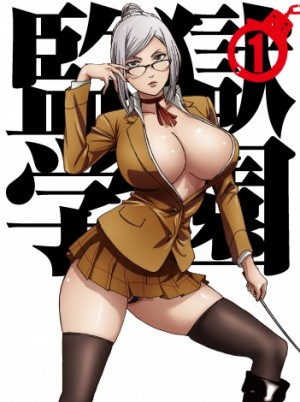 Episodes: 12
Aired: Jul. 2015 - Sep. 2015
Prison School is set at Hachimitsu Private Academy, an all-girls school just outside of Tokyo known for its high quality of education. Everyone is surprised when the school announces it will begin to accept boys as well, but in the first year of this new policy, only five boys are accepted. The five are treated like they don't exist by the majority-female population of the school, and soon take up the task of peeping into the girls' toilets. But that comes to a quick end when they're caught by the infamous Underground Student Council and sentenced to a month in prison. And Prison School will test everything that they're made of.
If you go by promotional art alone, Prison School is the easiest anime on our list to pick out as an ecchi. Meiko especially is famous for her huge breasts and scantily clad body. Most of the female characters in Prison School do not have logical body proportions, clearly drawn for their overly sexual appeal. Prison School has a lot of BDSM-style punishment play, too, for those that are interested in that kind of ecchi. So combining voluptuous girls with sexy clothes, throw in some whips and a few dominatrices, as well. You've got to hand it Prison School. It doesn't have any sex but it's undeniably sexy.
---
2. Monster Musume no Iru Nichijou (Monster Musume: Everyday Life with Monster Girls)

Episodes: 12
Aired: Jul. 2015 - Sep. 2015
Monster Musume no Iru Nichijou is set in a Japan that has been the first country to accept the integration of non-humans into regular society, albeit with some rules attached. One of these includes forbidding sex between species—with the loophole exception of a new experimental marriage act. Kimihito Kurusu lives in this strange world alone while his parents are abroad, and finds himself living unexpectedly with a Lamia named Miia. Fortunately for him (or is it unfortunately?!), she attracts a plethora of other monster girls who all push themselves into Kimihito's home and life. What is he going to do with all of them?
Monster Musume no Iru Nichijou is another ecchi harem anime on our list, and another funny one, too. It's also one of the most sexy ecchi of the decade, pushing the limits of what is still allowed in an ecchi before it becomes classified as hentai. The monster girls are not only beautiful but they're also very lustful and affectionate, and they all want a piece of Kimihito. Only the law protects most of the time, but even that cannot stop them forever. These girls' romantic and sexual advances and needs make Monster Musume no Iru Nichijou into a fun, sexy, and certainly interesting ecchi anime—especially if you like girls that are something a little beyond what you would find in reality!
---
1. Shokugeki no Souma (Food Wars! Shokugeki no Souma)

Episodes: 24
Aired: Apr. 2015 - Sep. 2015
In Shokugeki no Souma, 15-year old Souma dreams of owning his family's restaurant someday. He's been helping out there ever since he was a child, creating daring and original culinary creations under his father's tutelage. But Souma's dreams are shattered when his father decides to sell the restaurant in favour of touring and cooking all over the world. Souma ends up in an intense cooking academy called Tootsuki Culinary Academy, with the infamous reputation of only a 10% graduation rate. Tootsuki is also known for its food wars between students. Souma finds himself falling headfirst into the extreme lifestyle at the academy and working as hard as he can to impress the elites in the food challenges.
From its initial description, Shokugeki no Souma may not sound like an ecchi. And indeed, it's not your average one full of romance and courtship. Shokugeki no Souma delivers its ecchi in a new and original way—through its food. Whenever Souma and company create amazing dishes, the eating and even the food itself is overly sexualised. It's sometimes so good that people just lose their clothes entirely. It's a completely ridiculous concept that somehow just works, not to mention it is completely hilarious. Shokugeki no Souma is a new kind of sexy, and anyone who appreciates both ecchi and delicious food (don't we all??) will love this anime.
---
Final Thoughts
Well, there you have it, our list of the Top 10 Best Ecchi Anime of the 2010s. The last decade truly blessed us with ecchi that weren't only sexy but also had loveable characters, thought out narratives, and great animation. With just the right amount of fan-service balanced with a story that is actually enjoyable to experience, these ecchi anime were all really something special. Plus, some of them have fans that don't normally watch ecchi (we're looking at you, Kill la Kill and Shokugeki no Souma!), which speaks volumes for their quality as well. Whatever you choose on your ecchi journey, you won't be disappointed.
Have you seen any of these ecchi anime of the 2010s? Are there any you are adding to your watch list now or want to re-watch again? Did we miss any titles you think deserve to be here? Would you have ranked these ecchi in a different order? Leave all your thoughts in the comments below!
---