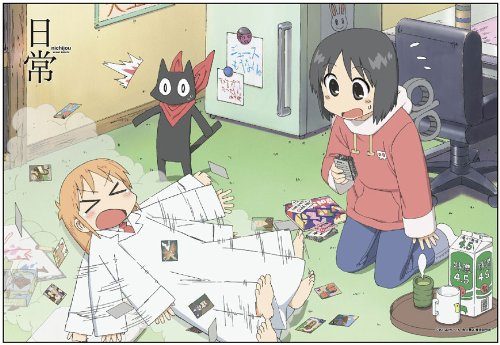 Now that we're fresh into the new year and new decade, we can't help but take stock of the various highs and lows of the past ten years. In this case, we're looking at ten different times slice of life anime peaked in the past decade. The 2010s was an era riddled with amazing anime throughout and some years proved to be iconic when we look back. This is the decade when some incredible anime of various genres was released, slowly but surely placing themselves in the center of anime discussion for years to come. These are some of the best titles of the slice of life genre from this era; an era we will surely remember as an iconic ten years for anime as a whole! 
1.3-gatsu no Lion (March Comes In Like a Lion)

Episodes: 22
Aired: October 2016 – March 2017
Kiriyama Rei is one of the few elites in the shogi world due to his professional status, which he achieved in middle school. He faces an incredible amount of pressure from the people around him as a result of his status, and his adoptive family is no different. Seeking to leave a tense home situation, Rei moves into an apartment in Tokyo. 17 and living on his own, Rei takes poor care of himself and his reclusive personality does very little to help him socially. However, soon after his arrival in Tokyo, he meets Akari, Hinata, and Momo, three sisters living with their grandfather who runs a traditional Japanese sweet shop. The eldest sister, Akari, takes an interest in Rei and seeks to combat his loneliness and improve his way of life. Coping with a difficult past of their own, the Kawamoto sisters become like family to Rei, a bond he has never had in his life. Struggling with the physical demands of his shogi career and his difficult past, Rei must learn how to deal with other people to understand himself.
 
Animated by Studio Shaft and going on for two seasons, the story of 3-gatsu no Lion bears some similarities to Shigatsu wa Kimi no Uso (Your Lie in April) in form and feel. Kiriyama is quite similar visually to Your Lie in April's Arima Kousei and suffering similarly from years of psychological affliction all while being a genius in some field. 3-gatsu no Lion has gone a lot less appreciated; however, it boasts characters and arcs that are engrossing and emotional, not to mention art that is absolutely beautiful, especially in the second season. There are happy moments, warm moments, sad moments, funny moments and even moments that are inspiring or even aggravating. A show capable of bringing out such a wide range of emotions in such deep ways is worthy of very high praise and that's why 3-gatsu no Lion is top of this list.
---
2.Nichijou (My Ordinary Life)

Episodes: 26
Aired: April 2011 – September 2011
There are many different modes of life. On one end, we have the high school trio of childhood friends, Naganohara Mio, Aioi Yuuko, and Minakami Mai, who we see attending school most of the time. On another end, Shinonome Nano is a robot girl living with her 8-year-old creator, the genius Professor Shinonome, and their talking cat, Sakamoto. Both groups of characters, as well as the people around them, experience their daily lives featuring all things calm and all things wacky, with the difference between those states being much closer than they'd think!
 
Nichijou is one big happy mass of random skits, gags, and banter, some of which are repeated a few times but only seem to get even funnier as time goes on. The characters are likable eccentrics or just happy-go-lucky people whose normal day-to-day lives are jam-packed with hilarity each day! Want to see a middle-aged man suplex a deer? Or maybe see your student council president ride his pet goat to school? Tune into Nichijou; because their daily lives are far more interesting than ours! 
---
3.Danshi Koukousei no Nichijou (Daily Lives of High School Boys)

Episodes: 12
Aired: January 2012 – March 2012
Hidenori Yoshitake and Tadakuni are a trio of friends who attend the all-boys Sanada North High School. With different but compatible personalities, the boys get along very well, living out their boring everyday lives through the application of their vivid imaginations. Together, Hidenori, Yoshitake and Tadakuni make every single day much more interesting than it could've been, with each "adventure" leading to hilarious results!
 
Daily Lives of High School Boys is an anime that got itself quite a lot of attention, and for good reason! The hilarity of each episode came as a direct result of the mundanity of each scenario. The boys just want to have fun in the springtime of their youth. Each character's personality comes out in each gag and the sheer goofiness of this friend group is something that makes them very likable. All things said and done, Daily Lives of High School Boys is one of the standout slice of life comedies of the past decade and anyone who wants to have a good laugh should definitely watch this.
---
4.Oregairu: Yahari Ore no Seishun Love Comedy wa Machigatteiru. (My Teen Romantic Comedy SNAFU)

Episodes: 13
Aired: April 2013 – June 2013
Hikigaya Hachiman is an apathetic high school student with intense narcissistic and nihilistic tendencies. His extreme pessimism makes him believe that joyful youth is nothing more than just a delusion. As punishment for writing an essay mocking social relationships, Hachiman's teacher forces him to join the Volunteer Service Club, a club dedicated to helping any student who asks for their help. With the cold Yukinoshita Yukino being the only other club member, Hachiman ends up being the front man of the club, having to listen to other people's problems. Can Hachiman's pessimistic view of human beings be useful in his new environment?
 
The anime spans two seasons and has an upcoming third season to the relief of its devoted fans who were frustrated with how the second season ended. The screwed up romantic comedy struck a chord with and audience that would become fanatical about the lives and ships of the characters. A devotion that is well deserved especially with a protagonist that many otaku can identify with in Hikigaya Hachiman. Hachiman's cynicism, sharp tongue, and "dead fisheyes" illustrate a character very much disillusioned with teenage life. The characters all bring their own baggage, something which is doubly true of Hachiman, yet even the most different personalities come together to form very deep and meaningful relationships. Characters, drama, sprinkles of comedy and even some heartwarming moments, Oregairu has many elements that will have it regarded a slice of life classic of the 2010s. 
---
5.Barakamon

Episodes: 12
Aired: July 2014 – September 2014
Handa Seishuu is an up-and-coming calligrapher who is handsome, talented, but also highly narcissistic. When a calligraphy veteran judges an award-winning Handa piece, dubbing it "unoriginal", Handa reacts violently. As punishment, Handa's father exiles him to the Goto Islands, a far cry from the comfortable city life he had lived in Tokyo. With his environment completely different, Handa must find inspiration for a new and unique art style, but how can he when every single day bring a host of characters and wacky adventures to his doorstep?
 
Barakamon is one of those shows that you watch from start to finish in one sitting and wish you had more. In a way, we do have more Barakamon, but it's in the form of the spin-off "Handa-kun". Barakamon is a downtempo kind of anime that reflects the new environment of the protagonist beautifully, all while delivering a healthy helping of comedy and even a steady growth arc for its protagonist. It also has the bonus of showing us the wholesome interactions of a child and someone who has so much of their attention and time that they might as well be considered one of the child's guardians. Over and above having some extremely likable eccentrics in its cast, Barakamon also boasts a great score and overall visuals that come together to create one of the best shows of 2014. 
---
6. Hanasaku Iroha (Blossoms For Tomorrow)

Episodes: 26
Aired: April 2011 – September 2011
Matsumae Ohana is an energetic teenager living with her mother in Tokyo but one day, her mother runs off with her boyfriend in order to flee from debt collectors. Ohana is now forced to fend for herself and decides to head over to her grandmother's inn in the countryside. Ohana must now adapt to life in rural Japan and deal with the challenges of working as a maid as well as making new friends at her new school.
 
Hanasaku Iroha is a show that came in a year riddled with amazing shows that got quite a lot of attention even several years after their release. We're given a fairly standard plot as far as main characters are concerned: an irresponsible parent's decisions end up dramatically changing the life of their child, the protagonist. Ohana initially hates her new environment; however, the tough-love approach exhibited by her maternal grandmother, which sets up the story to be less about the unfortunate circumstances Ohana finds herself in, and more about her growth into her own self and becoming her own person in many ways. The characters are varied; some are eccentric, some not, but the anime allows for multi-layered growth amongst all the characters, with relationships that you can truly feel that they were cultivated, nurtured, and took their time to bloom. A side note for those that really love this anime, Hanasaku Iroha inspired an actual festival the, Bonbori Festival that takes place in Kanazawa Japan.
---
7.ReLIFE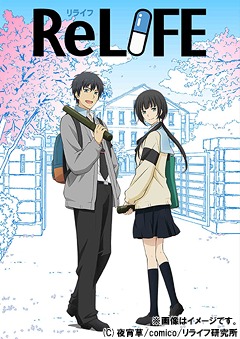 Episodes: 13
Aired: July 2016 – September 2016
If you had a chance to relive your youthful days, would you do it? 27-year-old single, jobless and penniless Kaizaki Arata is presented with the opportunity when he is approached by a representative of a project known as ReLIFE. The project is testing an experimental pill capable of making one ten years younger, so when Kaizaki is presented with the opportunity, he reluctantly accepts, using the opportunity to change his fate.
 
Romance, second chances and even secrets, ReLIFE feels a lot like a daydream as far as the plot is concerned. The anime would perhaps have a greater effect on older people than it would the younger; however, it is still good enough to implant the message of grabbing one's youth while it's still around and making the most of the time you have. The characters are decent, but it is the growing relationship between Arata and Hishiro, another member of the experiment, that has the most impact throughout the series; especially in the final arc which was released separately from the initial 13 episodes. With good humor and an overall warm, fuzzy vibe, ReLIFE might just be described as nostalgia in anime form.
---
8.Violet Evergarden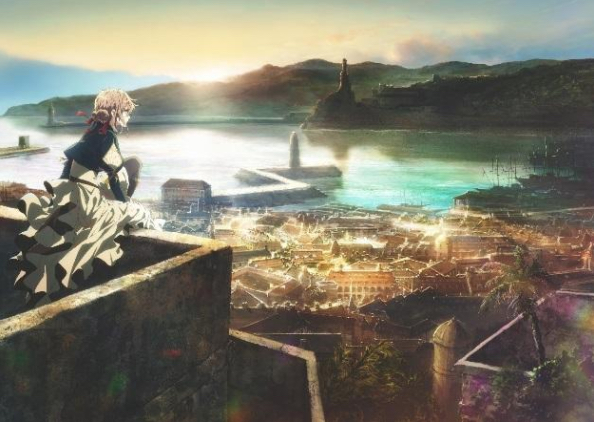 Episodes: 13
Aired: January 2018 – April 2018
After a four-year-long war, the continent of Telesis enjoys a period of peace and prosperity again. Violet Evergarden is a young girl raised for the battlefield who was maimed towards the end of the war, left with nothing but words from the one person she adored the most. In her period of recovery, Violet begins working at CH Postal Services after her intended post-war guardian family refused to take her in. There, she sees the work of an "Auto Memory Doll", a person hired to transcribe people's thoughts and feelings onto paper. Moved by the notion, Violet begins working as an Auto Memory Doll, a journey that will take Violet on many adventures, both outside and within.
 
2018's winter season is one that was quite memorable for many reasons, one of them being Violet Evergarden. With breathtaking visuals and a storyline to match, Violet Evergarden is the perfect tear-jerking, an engrossing journey of an anime that attempts to show the rehabilitation of a young girl who has known nothing but the terror of war and violent conflict. Having lost someone very close to her, we watch Violet come to terms with her new life; a life that requires her to get to know herself as well as she knows the barrel of a gun. 
---
9. Sakurasou no Pet na Kanojo (The Pet Girl of Sakurasou)

Episodes: 24
Aired: October 2012 – March 2013
Kanda Sorata is a second-year student at Suimei High School. Having found himself becoming the caretaker of some abandoned kittens, Sorata is forced to move into the infamous Sakura Hall, a dorm placed in an area off the main campus. Known for its eccentric residents, Sakura Hall becomes a learning curve for Sorata as he learns to get along with the various energies that make up the rest of the dorm: Misaki, the animator; Jin, the playwright; Ryuunosuke, the enigmatic programmer; art teacher Chihiro and the artistic savant, Shiina Mashiro. If Sorata can get new owners for the abandoned kittens, he can find himself back in the regular dorms; however, he is smitten with Mashiro, who seems to have grown attached to him as well. Sorata and Mashiro get to know each other and their fellow dormmates better as time goes on; time which inspires growth in the people around them, and themselves. 
 
Filled with romance, hopes, dreams, and teenage angst, Sakurasou no Pet na Kanojo is one of the titles from the early 2010s that goes widely recommended by fans of the slice of life genre. The characters are all quirky in their distinct ways, living lives that are wholly different from each other yet complementary, it almost feels like the characters wouldn't be who they are without each other. With bright, colorful animation and a somewhat peppy character design, Sakurasou no Pet na Kanojo is deceiving in its weight. The show becomes laden with drama and even pain as the characters face the challenges and pressures of coming of age, whether prodigy or average, and living in pursuit of their dreams.
---
10. Ano Hi Mita Hana no Namae wo Bokutachi wa Mada Shiranai (AnoHana: The Flower We Saw That Day) (AnoHana)

Episodes: 11
Aired: April 2011 – June 2011
Yadomi Jinta lives the life of a recluse; refusing to go to school on most days and playing videogames all day. One day his long-deceased childhood friend, Honma "Menma" Meiko, appears to him on a hot summer day to get him to grant her forgotten wish. Initially thinking himself to be hallucinating, Jinta soon realizes that he's seeing Menma's ghost. He and his childhood friends grew apart after Menma died but they find themselves patching things up to finally lay Menma to rest. Forced to revisit the past, the group must confront their guilt in addition to granting Menma's final wish.
Known for bringing a heavy dose of what is known as "The Feels", AnoHana is an early 2010s slice of life that deals heavily with concepts of grief, friendship and personal growth. This is evident in how Jinta and his childhood friends moved on from the trauma of Menma's tragic passing… or at least they think they've moved on. With a cast of various characters and some interesting relationships between each character, AnoHana digs deep into how things begin to unravel when people experience deep emotional pain. 
---
Final Thoughts
Slice of life is a genre that has had its heels dug into the fabric of many anime seasons in the last decade and represents a part of anime that is ripe with beauty of various forms. Somehow, being a genre centered on the mundanity of everyday life brings out immense creativity and imagination and despite it being on something rather basic, slice of life is able to be so many different things. What is your favorite slice of life title from the last decade? Drop a comment below and tell us all about it!
---