2018 has just started and it will take some time before some of the most anticipated games make their way to stores. Admittedly, Monster Hunter did just come out and God of War is coming pretty soon. Nonetheless, there's quite a time gap before we have an actual solid list of new games from 2018. Now what can you do to keep your mind off the wait? Well, you can check out some of the best games that 2017 had to offer. This list focuses on the best indie video games, and let it be known that 2017 was an epic year for indie games. The top 10 indie video games of 2017 demonstrated that indie scene is packing just as much of a punch as any mainstream developer.
10. Battle Chef Brigade

System: PC, NS
Publisher: Adult Swim
Developer: Trinket Studios
Release Dates: Nov. 20, 2017
Battle Chef Brigade just came out in November of 2017, and it is one of the most unique games that came out in 2017. It combines the fury of a side-scrolling brawler with the mental challenge of a puzzle game.
Battle Chef Brigade is simply explosive. It is fun and addictive and has a lot of vibrancy. With its anime-like artwork, every single moment pops off the page. The different types of battles also keep things interesting. Jumping from a three-match puzzle to a brawl out in the forest where you're stringing together combos is enjoyable. If for some reason the solo matches don't seem challenging enough, then jump to multiplayer.
---
9. Battle Chasers: Nightwar

System: PC, PS4, XONE, NS
Publisher: THQ Nordic
Developer: Airship Syndicate Entertainment
Release Dates: Oct. 3, 2017
Featuring turn-based combat and a JRPG vibe, this indie game follows the world that first started in the 90s cult-hit comic, Battle Chasers. Battle Chasers: Nightwar specifically puts us into the realm of an arcane-punk fantasy, where there are a ton of dungeons to crawl through and a lot of world to explore.
In terms of dungeon crawling, there is not a better game on this list. You can spend hours and hours scouring dungeons and roaming across the lands of this world. Enhancing the environment and world is the gorgeous artwork that takes a lot of cues from JRPGs. It keeps things lively even with the turn-based combat.
---
8. Little Nightmares

System: PC, PS4, XONE
Publisher: Bandai Namco Games
Developer: Tarsier Studios
Release Dates: Apr. 28, 2017
Little Nightmares puts us in the shoes of a little girl known as Six. She has been trapped on the vessel The Maw, and she has decided it is time for her to escape. However, the inhabitants of The Maw have other plans in store. As Six makes her way to the deck, she must outmaneuver and outwit those that stand in her path.
The atmosphere is definitely the strongest point of Little Nightmares. It is the type of game that will have you on the edge of your seat from start to finish. No, this is not the type of game with jump scares. Instead, Little Nightmares relies heavily on building tension. With each enemy you come to face, you can see them in plain sight and learn their movements. However, you never know what they're thinking. You might feel that you have picked the best spot to hide, and then suddenly the Chef is lumbering towards your hiding spot. Is he just coming to pick up something or has he figured out your little game. It's heart pounding as you wait to see if your enemy has indeed discovered you.
---
7. Doki Doki Literature Club

System: PC
Publisher: Team Salvato
Developer: Team Salvato
Release Dates: Sep. 22, 2017
Doki Doki Literature Club is a visual novel game with horror elements thrown into the mix. The main character of the game gets invited by his childhood friend to join the high school literature club. He does so and things progress like most anime with harem elements. The MC gets close to all four main girls, and then on the day of the festival, his childhood friend confesses her love to him. Then things go out of wack as the game suddenly restarts and your save files are deleted.
Doki Doki Literature Club is tremendous because of how perfectly it caught everyone off guard. It feels like you are playing a pretty average visual novel and then someone decides to hang herself. From that point on the game continuously throws twists at you Admittedly, once gaming websites starting writing about the game, its level of surprise and shock went down quite a bit. Still, the game has plenty to offer and will definitely send some shivers down your spine even if you know what is coming around the corner.
---
6. Flinthook

System: PC, PS4, XONE
Publisher: Limited Run Games
Developer: Tribute Games
Release Dates: Apr. 14, 2017
Flinthook is an action platformer with rogue-like qualities. In this game, you take control of a space pirate that zips across the levels with the use of a grappling hook. His/your goal is to collect the treasure littered about the room, and to avoid taking damage from your enemies.
Flinthook is in the same vein as games like Spelunky. You get thrown into a random-generated map and then you must do what you have to do in order to survive and collect as much loot as possible. Though you have the ability to slow down time, you generally must be able to act quickly. This is a game about reflexes and your ability to outmaneuver the obstacles in your way by using your environment creatively. It is the type of game that will always keep you on your toes, and it has massive replay value.
---
5. Nex Machina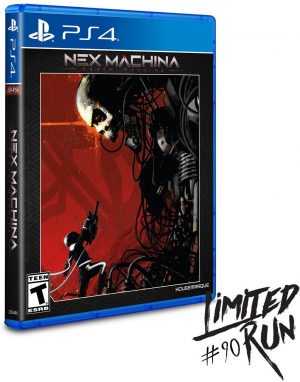 System: PC, PS4
Publisher: Limited Run Games
Developer: Housemarque
Release Dates: Nov. 10, 2017
Nex Machina is a shoot 'em up indie game with a top-down perspective. The premise is simple: kill all the enemies and save as many humans as possible as you push through each area. The tough part is that there are a lot of enemies and a lot of bullets coming at you.
Nex Machina is simply addicting. The artwork pops out at you constantly with all the special effects, and every single battle is heart pounding. There is never a dull moment in this video game as you jump from area to area and get surrounded by enemies immediately. If you live for a fast-paced action game, then you really can't go wrong with Nex Machina.
---
4. Night in the Woods

System: PC, PS4, XONE, NS
Publisher: Infinite Fall
Developer: Infinite Fall
Release Dates: Jan. 10, 2017
In this unique indie video game, you play as Mae, a 20-year-old college dropout, who has decided to come back home to piece her life together. However, her parents are dead and her hometown is stuck in an economic rut. Everything seems to be at a standstill (if not like its decaying) until Mae uncovers a dark secret that might explain why her town has become so eerie.
Night in the Woods is the game for you if you are looking for a strong narrative. The dialogue, tone, characters, and overall plot of Night in the Woods is absolutely incredible. It touches upon so many current problems today, and it handles them deftly. Rare is the moment when you can't relate to Mae or one of her close friends. They cover the whole array of human experience, from the need of tacos to the need of adventure. Admittedly, the target audience is definitely teenagers to young adults, but almost anyone can find some instance that will make them feel strangely at home with the game.
---
3. Detention

System: PC, PS4
Publisher: Red Candle Game
Developer: Red Candle Game
Release Dates: Oct. 3, 2017
Detention is a side-scrolling survival horror game that is set in Taiwan in the 1960s. The time period that Detention focuses on is known as the White Terror period, which is when martial law was enforced in Taiwan. You play as Ray, a senior in high school, who has been trapped in a nightmarish version of her school. It is your job to lead her to safety while mythological monsters rage about the haunted version of her school.
If you want an interactive narrative that will send chills down your spine, then look no further than Detention. This game has such an incredible atmosphere. It is intense, dark, and terrifying. The eerily beautiful artwork and infusion of mythological elements go a long way in keeping the tone of the game constant. Overall, it is hard to feel safe at any moment, especially because you can't shake the feeling that every step forward is leading you towards a greater tragedy.
---
2. Cuphead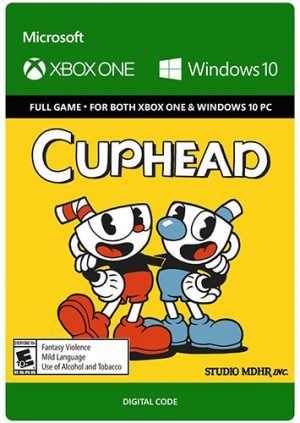 System: PC, XONE
Publisher: Studio MDHR
Developer: Studio MDHR
Release Dates: Sep. 29, 2017
In Cuphead, you make one of the oldest mistakes in the book. You make a deal with the Devil. That's just something you should never do, but Cuphead and his brother Mugman make the mistake and now they must go on some crazy missions to get their souls back.
Cuphead is a visual masterpiece. It takes on the aesthetic of a 1930s cartoon world with incredibly hand-drawn artwork that pops out at you. The artwork is by far the main draw of the game. It is so lively that it is hard not to feel immersed in the world. The gameplay is also extremely addictive. However, it is also extremely challenging. It is a run-and-gun game and it requires you to be precise and smart with every move you make. Don't let the fear of a challenge drive you away from the game though. The artwork will more than make up for any busted controls.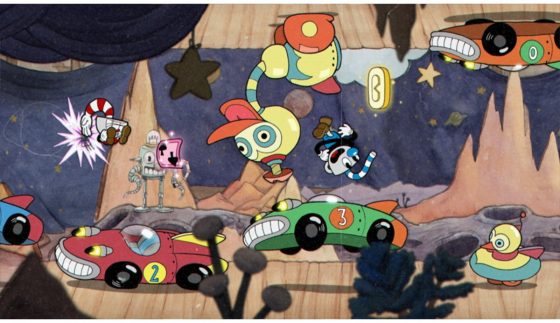 ---
1. Hollow Knight

System: PC, NS
Publisher: Team Cherry
Developer: Team Cherry
Release Dates: Feb. 24, 2017
Hollow Knight brings us into the world that is falling apart at the seams. Only the remnants of a few different towns remain in the Kingdom of Hallownest. Fewer are the beings that are still sane due to the spread of a plague known as the Infection. We enter this world with the mission to obliterate the plague or to at the very least stop its spread.
Who would have ever thought that the life of a bug could be so interesting? Everything about Hollow Knight is polished. The artwork is simultaneously serene and gloomy, and it is one of the main positive aspects of the game. The game also does an incredible job with its world building and gameplay. Exploration is a large part of the gameplay and Team Cherry did such a wonderful job with the world that you will always be willing to explore further into the depths of Hallownest, even when you're afraid that the next route might lead you to your death. Finally, the battles are challenging but rewarding. By mid-game you should have been able to collect enough trinkets to expand your pool of abilities to make every battle a lot simpler. Though getting good at the game involves being able to dodge, you can deck out your abilities in such a way to make tanking a possibility.
---
Final Thoughts:
2017 was a great year for indie video games. Not only do they provide memorable experiences, but also they won't put a massive dent in your wallet. Not one of these games go above $30, and most you'll be able to find on sale if you wait for the right time period. Now, were there any amazing indie video games of 2017 that you feel should be on this list?
---