Each new year brings with it sequels, remakes, and reimaginings galore. But we always get the most excited to see what brand new IPs (intellectual properties) will rock the gaming world when they step onto the scene. Whether they're huge AAA releases set to spearhead an entire franchise or creative indie games that show us something we've never seen before, great new IPs are electrifying to behold. Let's take a look at the top 10 new IPs of 2017!
10. Getting Over It with Bennett Foddy

System: PC
Publisher: Humble Bundle
Developer: Bennett Foddy
Release Dates: October 7, 2017
"I created this game for a certain kind of person. To hurt them." That's what Bennett Foddy, the creator of this game and other purposefully infuriating jaunts like QWOP, had to say about his latest project when it premiered on his blog. And judging by the countless defeatist reviews and rage-filled Let's Plays, he's accomplished his goal with great success.
Getting Over It has a simple enough setup: a man stuck in a cauldron must use only a climbing hammer to scale an enormous mountain of random objects without falling down. However, Foddy burdens you with his signature maliciously difficult controls, as well as adding to the pain by narrating over your failures with condescending commentary and fitting music. We suspect that it's less of a game and more of a social experiment to see how many people would pay $7.99 to ruin their own day, but it gripped the public consciousness nonetheless. And if you ever want to feel inadequate, check out speedruns of this game. We can't even imagine how much belittling narration those players had to sit through.
---
9. Dream Daddy: A Daddy Dating Simulator

System: PC
Publisher: Game Grumps
Developer: Game Grumps
Release Dates: July 20, 2017
2017 was a good year for bizarre visual novels, as you'll see later on this list. But the game with the best pure entertainment value was Dream Daddy, a dating sim about queer dads in Massachusetts. It was developed by members and friends of the YouTube Let's Play channel Game Grumps, who are known for their silly banter and occasional forays into serious topics. The game reflects their style by skillfully balancing lighthearted dad jokes and minigames with tough choices about parenting and romantic relationships.
You play as a single dad with a teenage daughter, your partner having died several years before the story begins. After moving to a new town, you meet a group of other (mostly) single dads and eventually strike up a relationship with one of them. The characters feel genuine and unique, and the equally prominent focus on being a good parent to your daughter is heartwarming. We wish the game had gone on longer so we could've progressed past the very beginning of these romantic relationships, but Dream Daddy is still a shining example of a realistic dating game.
---
8. A Hat in Time

System: PC, PS4, Xbox One
Publisher: Gears For Breakfast, Humble Bundle
Developer: Gears For Breakfast
Release Dates: October 5, 2017
So many indie games try to capture the magic of retro titles from the NES or SNES era, but here's a game that brings back the whimsical happiness of early 3D platformers like Banjo-Kazooie and Super Mario 64. It's just plain fun to romp around a colorful open world, bopping enemies with an umbrella and befriending all of the wacky bosses you find along the way.
A Hat in Time stars Hat Kid, who is trying to repair her spaceship and prevent Mustache Girl from taking over the world with her stolen time pieces. She does this by going on a delightful adventure across the planet she's stranded upon, which looks much less polygonal than what we used to have to deal with in this genre. Renowned former Rare composer Grant Kirkhope also contributed several music tracks to this game, making the throwback that much more enjoyable. In the rough year that was 2017, we were forever grateful for the ray of sunshine known as A Hat in Time.
---
7. NiOH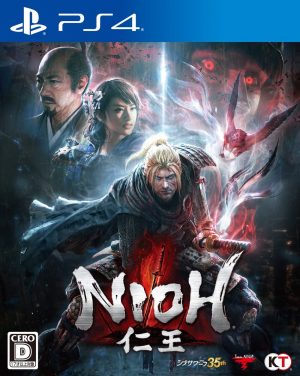 System: PS4, PC
Publisher: Sony
Developer: Team Ninja, Koei Tecmo
Release Dates: February 7, 2017 (NA), February 8, 2017 (EU), February 9, 2017 (JPN)
NiOH takes influence from a variety of successful games – Ninja Gaiden, Dynasty Warriors, Diablo, and most obviously Dark Souls – to serve up a Sengoku Jidai fantasy that stands on its own as an impressive title. You play as a blonde-haired, blue-eyed Irishman who finds himself entangled in a Japanese war against yokai monsters. The plot is very loosely based on a true story, which presumably didn't include the supernatural stuff from this version.
Its gameplay is rich and textured; a mixture of hack and slash, RPG elements, and a who's who tour of medieval Japan's famous personalities and fearsome mythological creatures. With such a depth of gameplay elements and folklore inspiration, NiOH can keep you playing for weeks just to see everything it has to offer.
---
6. Doki Doki Literature Club

System: PC
Publisher: Team Salvato
Developer: Team Salvato
Release Dates: September 22, 2017
On the complete opposite end of the dating simulator spectrum, Doki Doki Literature Club uses a traditional harem anime setup to trick you into thinking it's just another game where the girls only exist to fall in love with you. In reality, it's a deconstruction of this stereotype that brings in dark mental illnesses, jabs against the player's lewd intentions, and fourth wall-breaking madness that extends far beyond the confines of the game.
It may seem that this dating sim is a shallow attempt at shock horror, but looking deeper reveals that developer Dan Salvato (previously known for his work on the Super Smash Bros mod called Project M) worked hard to weave foreshadowing, differing random events, and hidden secrets into every part of Doki Doki Literature Club. Even if you've already seen someone else play it, this game's many layers ensure that your own playthroughs will always reveal something new.
---
5. Observer

System: PC, PS4, Xbox One
Publisher: Aspyr
Developer: Bloober Team
Release Dates: August 15, 2017
Survival horror is a genre with so many mediocre and formulaic games that a new survival horror IP really needs to hit it out of the park to catch anyone's attention. Luckily for Observer, it did just that. Developed by the Polish team that brought us Layers of Fear last year, this most recent game takes place in a dystopian cyberpunk future where a kind of digital plague has ravaged the land and killed thousands of people. Its dark, hopeless atmosphere and rich characters elevate Observer from just another horror game to an intriguing exploration of the human mind.
The most interesting part of the gameplay is its brain-hacking interface, where you use futuristic devices to hijack people's brain implants and rearrange their thoughts or fears to your own benefit. It's twisted and unnerving, but this mechanic integrates perfectly with the story as well as being engaging on its own. For making us feel like we were in a postapocalyptic Eastern European version of Inception, Observer gets our seal of approval.
---
4. What Remains of Edith Finch

System: PC, PS4, Xbox One
Publisher: Annapurna Interactive, Sony
Developer: Giant Sparrow
Release Dates: April 25, 2017
A woman wanders through her childhood home, trying to uncover the real reason why she and her relatives have been dubbed "America's most unfortunate family". Tragic deaths litter her ancestry, only one child in each of the five generations avoiding the reaper long enough to continue the legacy. Are they truly cursed, as everyone says? Or is there something more nefarious at play that has cast such a horrid shadow over the Finches for so many years?
As far as narrative in games is concerned, What Remains of Edith Finch has raised the bar for compelling storytelling. Its gameplay is little more than a walking simulator, but it allows the rich and engaging plot to take center stage. The creators of The Unfinished Swan bring a strange, yet beautiful air to this tale of life and death intertwining through a family that can never separate itself from its unfortunate fate.
---
3. PlayerUnknown's Battlegrounds

System: PC, Xbox One, Android, iOS
Publisher: PUBG Corporation, Microsoft, Tencent Games
Developer: PUBG Corporation
Release Dates: December 20, 2017
Sneaking in with its official release right at the end of the year, this game has already taken its place in the zeitgeist... and in Twitch streams. PlayerUnknown's Battlegrounds, better known as PUBG, is a new game created by former modder Brendan Greene. His battle royale style mods for games like DayZ were so popular that he further developed them into the insane snake pit that is PUBG and unleashed it unto the world.
Inspired by The Hunger Games and, indeed, Battle Royale, the objective of PUBG is to be the last player standing in an all-out brawl containing up to 100 people. The frenetic gameplay and constantly shrinking safe areas make this game exciting for both seasoned FPS players and new converts alike. Maybe next year we'll see AAA developers adding battle royale modes to their own games just to capture some of this buzz.
---
2. Horizon Zero Dawn

System: PS4
Publisher: Sony
Developer: Guerilla Games
Release Dates: February 28, 2017 (NA), March 1, 2017 (EU)
No, it's not a modern military shooter. Even though the name looks like a Mad Libs collage of generic game titles, Horizon Zero Dawn is actually quite the interesting game. It takes place in a world where machines have triumphed over man and nature has taken back the landscape, giving the open world a sort of Shadow of the Colossus feel. The surviving humans have returned to a tribal lifestyle, deprived of the technology that the machines stole from their ancestors.
You play as Aloy, a girl who hunts machines and loots their corpses to survive. Her Focus headpiece scans each monster and gives her vital stats about their strength and what she can scavenge from them. The compelling story, jaw-dropping graphics, and imaginative music all combine with the gameplay elements to create a game that sucks you in and won't let you go until you've explored every last bit.
---
1. Cuphead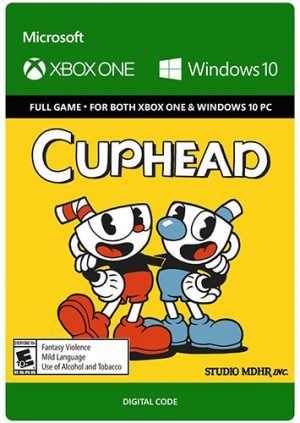 System: PC, Xbox One
Publisher: Studio MDHR
Developer: Studio MDHR
Release Dates: September 29, 2017
Cuphead is certainly retro, but its influence goes much further back than most games. Its art, music, and animation draw from 1930s Disney and Fleischer cartoons – rubbery limbs, simple rounded character designs, and a whole lot of terrifying imagery. This deranged animation style turns out to work perfectly with Cuphead's highly difficult run and gun gameplay, creating a simultaneously cute and tense atmosphere just like those old cartoons that really didn't care if they scarred kids for life.
As our pick for the best new IP of 2017, this game is such a breath of fresh air. Even though its style comes from generations ago, it feels so innovative compared to the cavalcade of sprite-based indie games that flood the Steam new releases page. The gameplay is challenging without punishing the player, the co-op mode is a barrel of fun, and the style brings everything together. Please don't leave us, Cuphead. We need more games like you in 2018.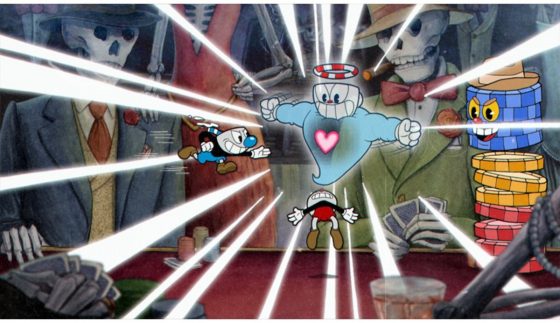 ---
Final Thoughts
2017 brought us great games like The Legend of Zelda: Breath of the Wild and Persona 5, but these 10 new IPs are just as unforgettable as the established brands. We hope to see more from these games and their creators in 2018, as well as the new up and comers that we don't even know about yet. What will the future hold?
Do you agree with out list? What was your favorite new IP of 2017? Let us know in the comments below, and thanks so much for reading!
---