También puedes leer este artículo en:Español
Well, we're all just sitting here dreading the moment when Ghost in the Shell and Fullmetal Alchemist will hit the big screen and prove all our worst fears true: another live-action adaptation of an anime that is horrible for anime fans. While we're wallowing in our woes over how nobody in the movie making industry understands us, we suddenly remember the good times. You know, those good film adaptations of the anime we love.
Wait two seconds. Good film adaptations? That's right, today we're presenting you with ten films we're proud enough to say is a partner piece to its anime rendition. We're not expecting all of you to have even considered watching a live-action adaptation. We're anime fans who love the 2D world! Still, before you get your tomatoes ready to throw at our staff, take a look, friend, and you may be surprised.
10. My Love Story!! (Ore Monogatari!!)

Cast: Suzuki Ryohei, Nagano Mei, Sakaguchi Kentaro
Release Date: Oct. 2015
Ore Monogatari is our favorite love story about a burly high school student Gouda Takeo who just wants to be the best man he can be, and also, he would be happy if he could find a nice girlfriend too. Unfortunately for Takeo-kun, he's more popular with his bros than the ladies, who think he's just a big, scary brute. Yamato Rinko, though, falls head over heels for the big, lovable oaf after he saves her from a pervert. With the help of his best bud, Sunakawa Makoto, Takeo-kun begins his first bout with love.
The film focuses mostly on a plot point from earlier on in the anime/manga series. Thank goodness they used the source material. Nonetheless, the extreme focus on one plot point makes Suna and Rinko slightly out-of-character, but it's all good in the shoujo hood, because Takeo-kun's representation in the film is so on point that you'll be laughing like you're watching the anime. What more could an anime fan ask for? Well, there are things we could ask for, but we're pretty happy with this anyway.
---
9. Ichi the Killer (Koroshiya 1)

Cast: Asano Tadanobu, Omori Nao, SABU
Release Date: Sept. 2001
Ichi the Killer only had an "Episode 0" OVA, but it still belongs here. Based on a manga series of the same name, the live-action adaptation lets the film do what many anime counterparts cannot: show all the gore and violence we crave. The film is so high on the grotesque meter that vomit bags were handed out for its screenings at international film festivals. Even now, Ichi the Killer is considered a cult classic, especially among fans of Japanese shock cinema. The film itself shines a critical light on how "heroes" and contemporary cinema can be excessively violent, all the while making you as uncomfortable as possible. Yay?
Psychological and disturbing even on top of the violence, Ichi the Killer is not for the faint of heart. A young man, Ichi, with a traumatic past is manipulated by a man looking to tear a yakuza operation apart and take all their money. Ichi wants to enact revenge on all bullies and becomes a killing machine when his emotions start to get the best of him. After taking down the boss of one yakuza group, his subordinates, led by Kakihara, are on the hunt for Ichi. As Ichi's mind becomes more and more distorted, we also peek into the masochistic mind of Kakihara before the two are fated to meet in a final battle. Mind-numbing and chilling, Ichi the Killer proves that sometimes the adaptation is better as a live action.
---
8. Joker Game

Cast: Kamenashi Kazuya, Fukada Kyoko, Iseya Yusuke
Release Date: Jan. 2015
Joker Game the film predates its anime adaption, but we're glad that it didn't crash and burn and kill all hopes of the anime's success. Based on a novel of the same name, Joker Game is a spy thriller set during the eve of World War II. Some of the more interesting scenes in both the anime and the film deal with Japanese military culture during the country's imperial years. It's not often we get to see stories from a Japanese point of view of this time period, let alone one based on Japanese spies that aren't of the ninja variety. Before you say something like, "Ninjas don't match the time period," please take those comments to Hollywood.
Anyway, it's a smart and shiny spy movie that shares many elements with the anime, including plot points and a little spy vs. spy. Many of backstories and personalities of our favorite D Agency members have been mixed together into a chimera character, Kato Jiro, an ex-military rookie spy who has a brilliant observation and memorization skills. Kato is tasked with retrieving a confidential German document before competing spy agencies can get their hands on it. Although a little less mastermind game than its anime counterpart and way more chase-scenes-and-explosions, Joker Game keeps you guessing all the way through. For Joker Game anime fans, join us in the Joker Game Game, in which we take shots when we can say which spy or anime episode matches each scene in the film!
---
7. Paradise Kiss

Cast: Kitagawa Keiko, Mukai Osamu
Release Date: Jun 2011
Shiny and bright, this live-action adaptation is an upbeat and admittedly tame version of Paradise Kiss. Regardless, it's fashionable and all the characters are well dressed with perfect hair and makeup. Arriving six years after the anime aired, many were pleased with this unlikely reboot filled with high fashion brands. Seriously, even though they left out a lot of the kissing, we're glad that they kept the fashion.
The live-action adaptation has notable differences with the manga/anime, but the foundation is there. Hayasaka Yukari attends a prestigious high school and looks like she's on the fast track to success, but she's suddenly scouted on the street by a fashion student looking for a runway model for their graduation show. After meeting the genius fashion design student Koizumi George, she starts to imagine a different kind of life for herself. Overall, Paradise Kiss has solid acting and a good balance between dramatic scenes and pretty things without too much angst. This adaptation brings back all those Paradise Kiss memories you've been missing in this modern day fairy tale.
---
6. Nana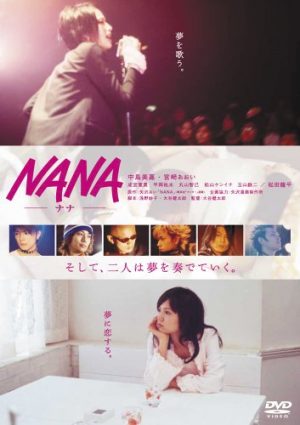 Cast: Nakashima Mika, Miyazaki Aoi, Narimiya Hiroki, Matsuda Ryuhei
Release Date: Sept. 2005
A story of friendship between two girls who couldn't be any more different, Komatsu Nana and Osaki Nana are brought together in a chance meeting on a train to Tokyo. Komatsu Nana, called "Hachi," is bubbly cute and has a bright personality. Osaki Nana is a cool and calm punk rock girl. Coincidence hits again, and they end up living together. After the exit of their bassist, Nana's rock band broke up, and her dreams of making it big are crushed. Hachi moved from her hometown to be close to her boyfriend who attends art school. Although their dreams are different, they support each other as their lives begin to change.
The live-action adaptation preceded the anime, and the anime shares the plot of the live-action Nana and Nana 2 until its nineteenth episode. Most fans are quick to say if you like one, you should enjoy the other. In fact, we're not sure if there are anime fans that haven't seen this film. Bringing all the feel-good vibes, this drama shows that friendship can come in all shapes and sizes.
---
5. Blue Spring Ride (Ao Haru Ride)

Cast: Honda Tsubasa, Higashide Masahiro
Release Date: Dec. 2014
That's right, your favorite teenage angsty ride has a suitable film adaptation. Ao Haru Ride is the story of high school student Yoshioka Futaba, who is reunited with her first crush after he suddenly disappeared in middle school. With a new name and a new moody attitude, Mabuchi Kou doesn't look anything like the boy she fell for. As Futaba starts to understand and once again fall for the new Kou, Kou continues to wrestle with the circumstances that changed him. Will Kou be able to reconcile the past and finally move forward?
Impressively, Ao Haru Ride is the perfect movie for fans of the anime. Love triangles, angst, friendship, and everything else you want from a shoujo story are all there. Honda Tsubasa and Higashide Masahiro's chemistry is unbelievably similar to the 2D Fubata and Kou, you'll reignite all those feels you had watching the anime. This film knew exactly what its fanbase wanted and delivered.
---
4. Detroit Metal City

Cast: Matsuyama Kenichi, Kato Rosa
Release Date: Aug. 2008
Negishi Soichiro is a young man from the countryside who moved to Tokyo in pursuit of his dreams to make pop music professionally as a singer-songwriter. With the motto "No Music, No Dream," Negishi writes happy songs about love, but he can't seem to get a break in his music career. Instead, he joins a popular underground death metal band called Detroit Metal City and becomes the "terrorist from hell" lead man Johannes Krauser II. When his college crush Aikawa Yuri shows up, Negishi is embarrassed by his vulgar on-stage persona and battles with his double life and his dream of being a musician.
Detroit Metal City is a hilarious parody of personality-produced bands and music snobs, and the film is also inspirational in suggesting the pursuit of music is greater than genres. Detroit Metal City's manga and anime became most popular for its comedy, and the live-action adaptation doesn't disappoint in that regard thanks to an impressive performance by Matsuyama Kenichi as Negishi/Krauser and an diverse soundtrack that features entertainingly vulgar death metal and saccharine-sweet J-pop. Even if you're not familiar with the manga or anime, this film sure is funny.
---
3. Death Note

Cast: Fujiwara Tatsuya, Matsuyama Kenichi
Release Date: 2006
Death Note is a two-part film series, consisting of Death Note and Death Note: The Last Name, based on the popular manga series that has an even more globally popular anime series. Yagami Light comes across a strange "Death Note" notebook. If he writes a name in the Death Note, that person dies. The son of a police chief, Light wants to use the notebook to rid the world of evil and starts systematically killing off criminals in the name of his own personal brand of justice; but if he becomes the new god, who will be there to stop him? Enter L, a genius detective who dedicates himself to solving the trail of mysterious deaths. Soon, it becomes a battle of wits, in this sometimes source-faithful adaptation.
Now a decade old, we have to admit that even then Ryuk's CG looked a little janky, but the voice acting was great! Also, Fujiwara Tatsuya's kamidere is frighteningly realistic, and Matsuyama Kenichi's portrayal of L is legendary. Seriously, L just jumped off the manga page and came to life. With the manga series coming to a conclusion in 2006, the hype around the film series was deafening, and the actual film didn't disappoint. The live-action's legacy lives on in Japan. The fourth Japanese film, Death Note: Light Up The New World, will be released later this year. Unfortunately, Hollywood is also developing its own adaptation of the story. Can't wait for that! Just kidding. Even if the Hollywood version fails miserably, at least we can say we already have these two films to stand by.
---
2. Beck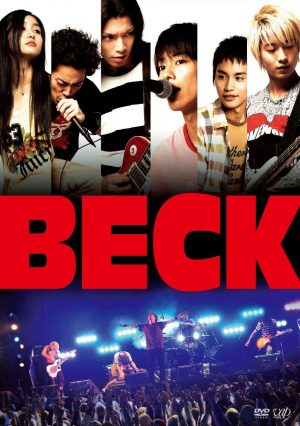 Cast: Mizushima Hiro, Satoh Takeru, Nakamura Aoi, Kutsuna Shiori
Release Date: Sept. 2010
Koyuki is a bullied high school student who believes his life and himself to be boring. One day he rescues an odd-looking dog named Beck and meets Minami Ryusuke a talented guitarist who just returned from living in New York. Through Ryusuke, Koyuki becomes interested in rock music and learns to play the guitar. After hearing Koyuki's miraculous singing, the band recruits Koyuki as a vocalist, and it's the beginning of his new life full of hopes and dreams.
Fan of the anime or not, this film had an overwhelmingly positive reception due to its great direction, cinematography, and sound. As a music film, the soundtrack is also solid, boasting pleasing original songs and featuring songs by the Red Hot Chili Peppers and Oasis. Most of all, the characters were exactly as anime fans remembered them from the original manga, accurate returnee English/inaccurate returnee Japanese and all. Coming out a good five years after the anime aired, Beck hits all the right spots and manages to deliver that good zero-to-hero story that we love.
---
1. Rurouni Kenshin

Cast: Satoh Takeru, Takei Emi, Aoi Yu, Aoki Munetaka
Release Date: Aug. 2012
When rumors started spreading that Rurouni Kenshin was getting a live-action adaptation, we largely ignored it. Then, we heard that the mangaka Watsuki Nobuhiro was pleased with the casting and the character designs, and our interest was piqued. Then, we saw the characters. Oh man, did we see the characters! Our beloved characters have come to life! From the very first scenes, we realize this is exactly what we were waiting for. The fight scenes are detailed and enthralling. The dialog is perfect. The costume designs are wonderful!
As the story begins, Kenshin has been living a life of a wanderer carrying a reverse-blade sword, but his reputation is being used to smear the name of the Kamiya kendo school. After Kenshin saves the dojo from hired thugs, life doesn't remain peaceful for long, as the many violent people are interested in the man with the cross-shaped scar. The story contains all the right elements from the source material and even has exact lines straight from the anime. The film doesn't go too deep into certain themes, but it looks gorgeous and is enjoyable to watch overall. Great music and pacing round out a wonderful live-action adaptation for one of the most loved anime in history. It's no wonder that they added two more films to make this a live-action trilogy!
---
Honorable Mention: Orange

Cast: Tsuchiya Tao, Yamazaki Kento, Ryusei Ryo
Release Date: Dec. 2015
Orange is a supernatural romance in which Takamiya Naho receives a letter from her future self. The letter explains that she will meet and fall in love with a Naruse Kakeru, and that Kakeru will die one year later. Naho tries to erase her future self's regrets about her relationship with Kakeru. Will she be able to creat a future that she won't regret?
Orange, based on a popular shoujo manga, is also getting an anime this summer! If you don't want spoilers, then don't watch this movie until after you've seen the anime. Either way, this film is a moving cryfest that'll have to rooting for our young protagonists. Yamazaki Kento gives a wonderfully emotional performance as Kakeru. If you want to see more of him in a non-spoiler role, Yamazaki is also starring in the Wolf Girl and Black Prince live-action film, which is currently in theaters in Japan.
---
DONE!
While news about mis-adaptations are getting you down, remember that not everything live action is horribly disappointing. Even though it's easy to write off all live-action adaptations as sub-par, every once in awhile a good one pops up. Recently, film studios seem to have also come to terms with being faithful to source material, which is music to our ears! Although not included on this list due to newness, look forward to the aforementioned Wolf Girl and Black Prince and the two-film series Chihayafuru, both in theaters in Japan, as possible good adaptations to add to your watch list.
---