También puedes leer este artículo en:Español
There's something special about boxing when you tune in that truly captivates the mind. Whether it's a wild bout or a boxer showing off their finesse, boxing always has something to treat us with that creates a fantastic form of entertainment. Boxing isn't something that you can just jump into, as the training regimen is fairly strict and requires a lot of dedication, perhaps slightly more than any sport. When you read a boxing manga it's like all of the things we thought were an impossible dream become a sure reality, such as landing an uppercut from the most awkward of angles, to somehow landing the ultimate knockout punch sending your opponent through the ring. Let's take a look at some of the world's best in manga, and rank our top ten boxing manga to see who takes home the belt!
10. Fuyu Hanabi

Mangaka: Hara, Hidenori
Genres:
Volumes: 1
Published: 2009-2010
If you're looking for a manga equivalent to the movie love and basketball, then this is the one to pick up. Dragon Gon is a young bachelor and professional boxer that has seen better days in the sport. He sets his sights on retiring from the ring until one day he meets a young woman who changes his mind, and reinvigorates his passion to fight inside the ring. Fuyu Hanabi is a story about love, laughter, and a passion for boxing as Dragon tries his best to reset the tone as he returns to the ring a different man.
Dragon Gon just wants to move on from his past life and set his sights on green pastures. However a new love blossoms in his life that catapults him back into the very ring he loved being in. Perhaps what was lacking in his game wasn't his lack of passion, but rather a lack of compassion and sharing his triumphs with someone he can protect. It's a beautiful story of a young man who turns his life around, and opens his heart to new opportunities that help him and his new love attain a brighter future in the world of professional boxing.
---
9. Buyuden

Mangaka: Mitsuda, Takuya
Genres:
Volumes: 13
Published: March 2011 - January 2014
Take Isamu is a multi talented student at school, and is quite efficient at everything he does. He claims to be in the upper tier of his classmates, and doesn't seem to get along well with "normal people." That mentality soon changes however, when a new student enrolls in his school and due to her attractiveness he immediately sees the opportunity to ask her out. This young girl somehow mistook what he said for a challenge, but little did he know that this very same girl was an experienced boxer. Now with this new challenge at hand, Isamu is going to great lengths to prove his point by becoming a boxer himself, and to show Kaname Moka just how determined he is to win her heart.
Isamu is an egoist who claims to be the best at everything he does, and his results surely make up for it. However his attitude starts to change when he finally meets his match, and now has to prove to Moka that he's not just all talk. Not only is she smart, sharp, and strong, but she too also knows what she wants and isn't going to play it easy with anyone. This awesome story looks at Isamu's life as he strives to not only talk the talk, but now he must prove himself in the ring where it all matters most and claim victory in Moka's heart.
---
8. ZERO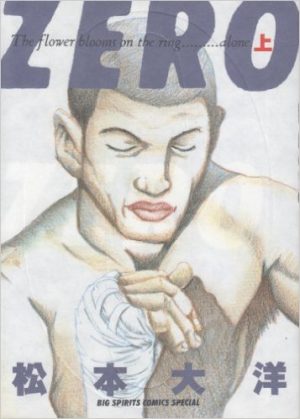 Mangaka: Matsumoto, Taiyou
Genres:
Volumes: 2
Published: 1991 - 1992
Goshima is a masterful boxer who has held the championship title for a number of years, and is undefeated in his bouts which garnered him the nickname zero. His coach proudly supports him, claiming that Goshima is like a flower that blossoms in the ring, and his talents shine once he's in the zone. With his age starting to catch up to him however, many people believe that this flower has grown to its maximum capacity and now speculate whether Goshima can continue to shine like he currently does. In order to prove to his fans that he's still a force to be reckoned with, Goshima is now on the search for the ultimate opponent that he can stand toe to toe with in the ring.
Zero is a fantastic story that details the life of Goshima and his overwhelming power in the ring. He is the undisputed champion and he vows to maintain the zero record he's well known for. As any champion would tell you, much of their success comes from embarking on new challenges, and searching for better opportunities. There's no such thing as a limit to a true winner, and Goshima intends to showcase just how much fuel he has left in his tank to not only his fans, but to himself.
---
7. Rokudenashi Blues

Mangaka: Morita, Masanori
Genres:
Volumes: 42
Published: May 1988 - February 1997
The story follows Maeda as he enrolls into a new school to start a new life. Much to his dismay he always stutters while under pressure and can't seem to pick up after himself, which only frustrates him further. Because of this inner anger, Maeda lashes out and eventually gets punished for his actions. Due to this behavior he's considered a loner by many, but his only passion is to become a professional boxer. He takes the opportunity to join a boxing club named Rokudenashi so that he can beat the leader of the club, and prove to everyone that he's no slouch.
Much of the manga showcases more of the delinquent gang lifestyle that took place in the mid 80's to late 90's in Japanese culture, but is an excellent source of information to know a little bit more about Japan's past. Boxing plays a role in the series as Maeda demonstrates his power in gang fights, but also when he's up against his rival who is the leader of Rokudenashi. We get to see his progress through many of his bouts, and just how serious Maeda is about becoming a world champion. If you're looking for a manga that takes a look at not only the boxing life but also delinquent lifestyles, then definitely check out Rokudenashi Blues.
---
6. Rikudou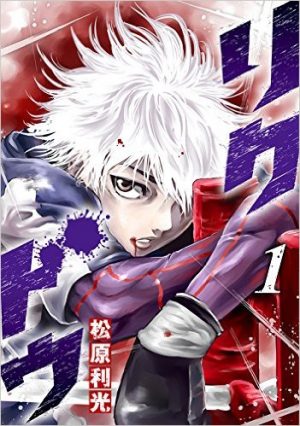 Mangaka: Matsubara, Toshimitsu
Genres:
Volumes: 6
Published: April 2014 - Present
Riku is no stranger to tragedy as he's had to deal with countless situations pertaining to loss. His father's untimely death left a permanent scar in his soul, and from that moment he just wasn't the same. That was until he was introduced to the world of boxing by a former Yakuza who taught him how to punch correctly, which in turn helped him to save his mother's life from a nasty drug dealer. Unfortunately Riku paid a heavy price as he kills the drug dealer marking him as a killer in society. Criminals sought after him to take his life, which led to more of his close associates receiving a tragic end and his own life hanging by the coattails. Now with more fire burning in his blood he turns back to the very same man who taught him his first punch, who now introduces him to a boxing gym that would change his life forever.
Rikudou is a powerful story of tragedy and triumph, as one man must take great risks in order to safe not his life but those around him. Riku turns all of his pain and sorrow into powerful bone crunching punches that leave his opponents motionless after their bout. He's simply had enough of all of the tragic events that have taken place around him, and so now he intends to lead a life that is embraced by justice in the ring, and taking home what he believes is rightfully his: the championship title.
---
5. Katsu!

Mangaka: Adachi, Mitsuru
Genres:
Volumes: 16
Published: August 2001 - February 2005
Katsuki is a lazy young boy with a crush on a girl who just so happens to share his name. He's alarmed by the discovery that Mizutani's father is actually a pro boxer, and realizes just how much she enjoys the sport as well. Determined to win over her heart, he convinces himself to to join a nearby boxing gym to impress Mizutani, and perhaps learn a new thing or two. One thing he begins to realize throughout his practice at the gym is just how fluid he is at the sport, and perhaps boxing was indeed the path he had to embark on after all.
Katsu! is a wonderful story about a young man with an unknown gift, and all it took was some love to bring it all out. Katsuki was totally unaware of his own talents because he didn't really care all too much about anything, considering how lazy he was. That all changed when Mizutani steps into his life and somehow transforms this listless individual into an extremely swift and menacing boxer at such a young age. There's plenty of romance to be enjoyed in this action packed manga, so if you're looking for a rocky type of story plot from a very youthful standpoint, then definitely check out Katsu!
---
4. B.B. [Burning Blood]

Mangaka: Ishiwata, Osamu
Genres:
Volumes: 31
Published: 1985 -1991
One night after an awesome performance at a jazz club, Takagi was mugged by a gang of thugs and had nowhere to run. The battle takes to the streets where it causes a major traffic accident, and eventually leads to Takagi being handcuffed and taken into custody. While doing time he comes to understand more of himself, and just what he needs to do in order to turn his life around. He finds himself in the environment of boxers who teach him how to defend himself when in trouble, and to only use his skills when absolutely necessary. Coming out of incarceration, he insists on making his life better but unfortunately life continues to throw punches in his direction, and now he must battle for survival at all costs both inside and outside the ring.
The title of the manga itself should be enough to get your attention, because throughout the entire manga that's exactly how we felt after reading through it. This timeless classic is a treat for those who want a taste of artistic beauty, as much of the artwork in Burning Blood is very well detailed for a series that dates back several decades. Not only that but the fight scenes and story telling are top notch and really get you involved in Takagi's battle to the top. His burning passion to survive under harsh circumstances just sucks you in, as you're constantly rooting him on to overcome adversity and to walk out a champion.
---
3. RRR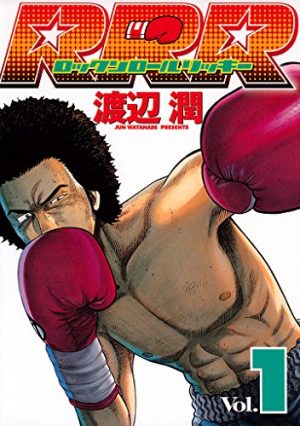 Mangaka: Watanabe, Jun
Genres:
Volumes: 10
Published: January 2007 - August 2009
Rikitaro had a dream to become like the greats in his favorite genre of music. His passion stemmed from Jimi Hendrix and Jim Morrison, but he knew deep down that his dream would slowly fade away, as his age was catching up to him. Somehow by fate, Rikitaro is introduced to a 3-time world boxing champion who recently started a reality show for aspiring boxers. Before anything takes place between them, Rikitaro is given one last opportunity to pursue his musical career and is offered a signing deal with a major record company. Unfortunately they require that he get himself back into shape, and so he decides to hit up a local boxing gym where he ends up crossing paths with the very same boxing champion he met earlier, Ooishi.
These two opposing figures end up working together in the most awkward of ways initially, but then slowly begin to understand one another and train together continuously. Little does Ooishi realize that Rikitaro packs more of a punch than he assumed, and is now about to discover just how talented Rikitaro truly is inside the ring. This is a powerful story of a man dealing with past tragedy, and having to take care of his family by pursuing something he never really imagined would turn him into the very rock star he had dreamed of in the first place.
---
2. Ashita no Joe

Mangaka: Kajiwara, Ikki
Genres:
Volumes: 20
Published: January 1968 - May 1973
Joe grew up in the slums of Tokyo and just needed a way out of it all. It was then he met a former boxer by the name of Danpei Tange, who helps him to discover his potential and boxing and change his life forever. Unfortunately due to committing some petty crimes, Joe is sent to prison and serves time. While behind bars he is confronted by foes, one of which is Toru Rikiishi, a promising boxer who lays Joe out with one punch while trying to escape prison. With this event now etched in his mind forever, Joe now sets out on a boxer's journey to become the best there is, but more importantly to take out the very person who knocked him out: Toru Rikiishi.
This Rocky-like story is about a man with hopes and dreams to stand atop the podium as one of the world's greatest, but along the way must go up against countless foes who threaten to take everything away. Joe is no slouch and takes his boxing career seriously, especially after being humiliated in jail by another aspiring boxer. His purpose became quite clear that very moment, and that was to ensure that his fists would penetrate deep into Rikiishi's jaw and seal the deal as one of the best in the ring.
---
1.Hajime no Ippo

Mangaka: Morikawa, Jyoji
Genres:
Volumes: 114
Published: September 1989 - Present
Makunouchi had been picked on throughout his school years and wasn't very popular with many students. One day as he was being bullied under a bridge, an unknown man sees Makunouchi being punished and crushes everyone around him. At that very startling moment, Makunouchi knew right away that this was his destiny, and he immediately took interest in how to become a boxer. The loss of his father left his mother lonely at their family fishery, so he continued to work with her while heading to the gym late nights to becoming the incredible boxer he dreams of.
Makunouchi promised his mother that he would bring home enough income to support them, since their fishery business wasn't coping so well. The tragic loss of his father hit his mother really hard, and so to make his mother proud he vowed to become the greatest boxer so that she'd never have to worry again. This amazing manga went on to win countless awards in Japan for its outstanding and captivating storytelling, and strong character development. Every fight that Makunouchi enters is one that grips you so hard, and leaves you tearing up with excitement as you cheer on the underdog to take home the glorious prize of the world championship. A definite must read for any boxing enthusiast or fan of compelling dialogue.
---
Closing Statement
Boxing has definitely evolved over the years that it's become a global sport that we can see not only on pay per view, but now the Olympic stage. There are so many explosive and amazing boxing manga to check out and we just can't list them all. So if you have any that you truly enjoyed, be sure to let us know in the comments section below! And also follow us on twitter for the latest article updates and tweets!
As always, if you want to know about all the latest buzz straight from the bee's nest in Japan, be sure to keep it locked here at Honey's Anime.
---