También puedes leer este artículo en:Español
Reading a sports manga is a good activity to start the day. It can give you that much needed adrenaline rush. Being said so, the genre is one of the most popular themes. Almost every sport has a manga dedicated to it. The greatest wonder of it is that the readers, despite never trying the sport themselves, are able to relate and understand the rules of the game. Soccer, being one of the most popular sports in Japan, has a lot of manga dedicated to it. Just like the other genres, not every series is good. Here are five that will charm you in different aspects.
5. Mai Ball!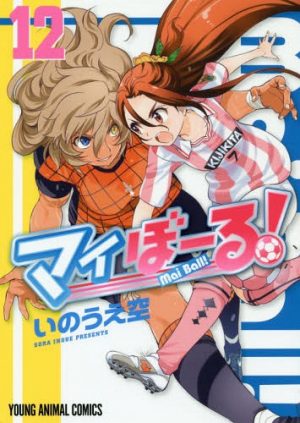 Authors: Sora Inoue
Genres: 16
Volumes: Comedy, Ecchi, Sports
Published: July 2012 – March 2019
Mai Ball! may have soccer as its core, but this series is far from the typical soccer manga. The protagonist is undeniably talented, but her motivation is not the passion for playing. Rather, it's her crush who she has been practicing with since she was a child. Because of this, her talent gets polished. With her lack of knowledge for the sport, we get to see how talent alone isn't enough to rise to the top. Hard work, theoretical knowledge, and motivation also factor in. It just so happens that her primary motivators are fantasizing about the people she's attracted to.
---
4. Keppeki Danshi! Aoyama-kun (Cleanliness Boy! Aoyama-kun)

Authors: Taku Sakamoto
Genres: 13
Volumes: Comedy, Sports
Published: May 2014 – January 2018
Adding a ton of humor to the genre, Keppeki Danshi! Aoyama-kun steers away from the norm. Featuring a protagonist that's incredibly skilled at soccer and also an extreme germaphobe, we are treated to something hilariously spectacular. There might not be a lot of theoretical tidbits and soccer know-hows in this manga, but there are definitely a lot of stereotype-shattering and unexpected laughs. For those who aren't too into soccer or don't want to read a lot of the sport's jargon, then this is definitely a good one to pick up.
---
3. Blue Lock

Authors: Mineyuki Kaneshiro, Yuusuke Nomura
Genres: Unkown
Volumes: Shounen
Published: August 2018 – Present
As the series repeatedly preaches, it's better to forget about what you know about soccer and build it from scratch. Blue Lock rarely shows any typical soccer match as the series focuses on creating the best striker. Following the idea of the project, it's sacrificing 299 forwards for that one outstanding striker. In order to do so, we get to see a dystopian-esque system. The participants are basically kidnapped and are forced to duke it out with the others. As they do that, they also improve their skills. They may scrimmage and brawl in order to become that chosen, but this manga shines the brightest during that chaos.
---
2. Giant Killing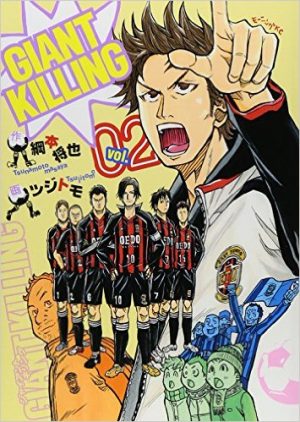 Authors: Masaya Tsunamoto, Tsujimoto
Genres: Unknown
Volumes: Drama, Sports
Published: January 2007 – Present
Giant Killing sheds light on professional soccer more than what's shown within the confines of the rectangular field. Following the exploits of a legendary coach as he comes back to his homeland, the manga features realistic team building. There's no such thing as immediate improvements or an unparalleled team in this series. Despite the protagonist's undeniably genius managing and coaching, the team still suffers multiple losses. This manga may not show as much flare as the other manga in this list, but it definitely deserves its spot in terms of story, characterization, setting, and pacing.
---
1. Days

Authors: Tsuyoshi Yasuda
Genres: 42
Volumes: Shounen
Published: April 2014 – January 2021
Days is probably everything that you'll expect from a shounen sports manga. The difference, however, is that the team we're following are already strong in their own right. Nevertheless, that doesn't mean they are the best of the best. Despite following the path of the other great sports manga like Haikyuu!! and Slam Dunk, Days does the cliche right. The matches are blood-pumping, and the developments are always much anticipated. The manga doesn't just focus on the main character, but also the other members of the team. Most of all, a shounen sports manga won't be complete with a good laugh or two.
---
Final Thoughts
Even though there are relatively a lot of soccer manga available to us today, great ones don't necessarily pop up frequently. Even so, we are happy to share ones that we believe stand at the top of the theme. Some of these manga may not have the typical soccer matches, but we believe they offer an entertaining touch to the genre. After all, manga doesn't have to always be very realistic.
---
---
Honey's Anime has been scoring a lot of goals recently with the growing popularity of our website, and we'd like to thank all of you for supporting the team. Manga is constantly evolving with more and more ideas blossoming each and every day. Soccer is one of those genre that constantly grow and evolve since soccer is the second most played sport in Japan. We gave you a long list of the top ten best soccer anime, and you got to see the number one scorer on the team. Now we're about to dive into the manga list and provide you with our top ten best soccer manga for your viewing. Who will be the top scorer this time on our list? Continue reading to find out who takes the trophy!
10. Tokyo Wonder Boys

Mangaka: Tsunamoto, Masaya
Genres: Sport
Volumes: 1
Published: March 3, 2014 - May 12, 2014
Hinomoto is an unstoppable force in Japan's high school soccer league. He's currently ranked number one among many, and his skills are unmatched on the field. A lot of fans expected that he would take things to the pro level and join the J-League, but Hinomoto knew that if he ever wanted to become even better he would need to live abroad and play in the European league. Before all of that would happen however, he would meet Nanjo Ichimaru, another strong player who seemed to have similarities to Hinomoto's favorite childhood player. The two would join together and eventually play on one of the J-League's weakest teams, SA Nishigaoka, and so now these two must work together to bring this slacking team back to victory.
Soccer is all about teamwork and morale, and for SA Nishigaoka these two areas were severely lacking. Hinomoto wanted to fulfill his dream of playing in the big leagues, but this became even more of a challenge for him and Nanjo. Hinomoto must now focus his attention on not only bringing the team back to life, but ensuring that he can use this experience as a stepping stone towards the big leagues. Tokyo Wonder Boys is sure to amaze you with it's graceful techniques, and because it's serialized by jump there's certainly quality placed highly on its artwork.
---
9. Fantasista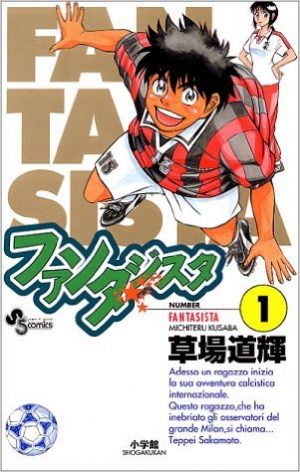 Mangaka: Kusaba, Michiteru
Genres: Sport
Volumes: 25
Published: July 28, 1999 - March 3, 2004
Teppei was born in the countryside and had a passion for soccer from a young age. Much of his skills are credited from his older sister, who taught him the many techniques and strategies about the beautiful game. After seeing great progress from Teppei, his sister encouraged him to join the Mizumoto High School soccer team. With all of his years of experience under his belt, Teppei is ready to embark on a new journey in the world of soccer, but with every new journey comes new challenges. His opportunity has risen and now it's up to Teppei to show everyone what he's made of.
Teppei is hungrier than ever to go onto the field and show everyone just how strong he is. Fantasista is such a great story because it shows how valuable relationships are with your family, and how much of an inspiration they can be to your overall growth as a person. Essentially starting from the bottom and working your way to the top is no easy feat, but Teppei ensures his sister that all of the training they put in together will surely pay off in the end. This story is sure to captivate you not just with the sheer action on the field, but because it teaches us how to appreciate those around us, and the advice people provide to better our lives for the future ahead.
---
8. Shuukyuu Shoujo

Mangaka: Wakamiya, Hiroaki
Genres: Sport
Volumes: 10
Published: November 7, 2008 - September 5, 2014
Yuuki is considered as one of the top players on his team, along with his close friend Shinichi. Yuuki made a promise to his childhood friend Miyuki that he would work hard so that he could enter the prestigious J-League, and take on the best of the best. He decides to take a different course than Shinichi and joins a normal soccer league in hopes that his path to stardom can be attained. He signs up for the best school in the country but is then shocked to realize that all of the members of the team of dissipated, and all that's left is a young girl named Rin and her friend Ayane. Unsure of what transpired, Yuuki must now confront this problem and also deal with the antics that both girls committed, and to restore the team back to its full form.
Something truly weird is happening and Yuuki just isn't too sure as to why. He joins a prestigious school league team only to find out no one is left but two random girls. Little does he know that these two girls have more in store for him than he imagines, and it will only propel him closer to his true goal. There's a lot of blackmail, crossdressing, and very shameless acts that happen throughout this manga which are bound to excite you both on and off the field, so be sure to check this one out to see the outcome!
---
7. Whistle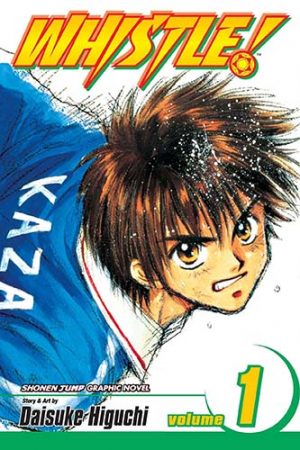 Mangaka: Higuchi, Daisuke
Genres: Sport
Volumes: 24
Published: February 24, 1998 - October 8, 2002
Whistle focuses on Shou and his dream to be a well known high class player. One major issue is that he isn't very skilled at the game. He enrolls into Musashi no Mori High School, which is recognized for having a top class soccer club, but due to his inexperience the hill he had to climb became very high. Shou managed to pick up where he left off and improve his skills at Sakura Jousui Junior High, shortly after departing from Musashi. With enormous encouragement from his newly acquired teammates, and most importantly his own strive for success, Shou makes it his goal to continue being the spirited leader of the team, and to keep the team alive by any means necessary.
Whistle shows that, with just enough determination you can accomplish just about anything in life. Shou started off very weak at soccer but eventually made his way to the top of the team, simply because he never went off course and kept his promise. It's truly inspiring because Shou is a great example of someone who doesn't give up despite how hard the beginning was, and that the process of it all is what truly makes the experience richer in the end.
---
6. Ultras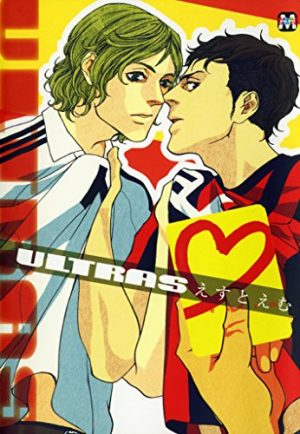 Mangaka: Est, Em
Genres: Sport
Volumes: 1
Published: November 2009
Ultras is a collection of stories put together to create some interesting moments of laughter, and fun. In the story of Ultras, the national team had just scored a triumphant victory in the European Championships and the entire country roared with excitement throughout the streets. Main lead Leon celebrates wildly by drinking and raising hell, and then somehow throughout the entire ordeal finds himself in bed with someone he shouldn't have gotten involved with. That individual is named Al, who is a member from Ultra's rival team Liberta, and Leon tries to convince himself that their little fling just wouldn't work out. Unfortunately your heart can't let go of what it truly loves, and so now with the memories of Al lodged inside of his heart, he now has to juggle not only his team but his new found love interest.
Expressing our sexuality is a normal thing and in Japan there are a lot of manga that look at male couples. While most of the action takes place on the soccer field, Leon gets distracted a lot by his new love interest which starts to affect his game slightly and his team as well. Just how he'll manage that's for you to find out through reading this, but also be sure to read the other 5 stories that take place in just one entire volume! They're sure to be just as entertaining as Ultras, and some of the stories tie into one another which make for an interesting ending.
---
5. Area no Kishi

Mangaka: Hiroaki, Igano
Genres: Sport
Volumes: 52
Published: August 2006 - Present
Kakeru didn't really have much faith in himself pertaining to soccer. He figured it would be best if he focused more of his time off the pitch and helped to encourage other players on the team, which included his brother Suguru who's currently the leading scorer. Things turn tragic when an unfortunate accident turns his world upside down, and Kakeru starts to reevaluate what he must do next in his life. Kakeru didn't realize that within himself there was a hidden talent gifted to him by his brother, and it wasn't until a familiar face makes her way back into his life that he recognizes it all. With dreams of one day performing on the main stage of the world cup, Kakeru trains harder than ever with the motivation of Nana who too, is a top ranked player for the women's national squad.
Area no Kishi is a heart wrenching story in its beginnings because so much happens throughout Kakeru's life, that you totally feel for everything he's going through. He had to deal with an incredible loss that really threw him into a dark state of mind, but eventually the light managed to reach him with the help of his childhood crush Nana. It's so wonderful to see how he works extremely hard to overcome his past burdens, and to become the best striker on the team and to live out his dream. This is surely a must read for those who love a mixture of romance, character growth, and a hard working protagonist that shows us that anything is possible.
---
4. Captain Tsubasa

Mangaka: Takahashi, Yoichi
Genres: Sport
Volumes: 37
Published: March 31, 1981 - April 26, 1988
Tsubasa has experienced a lot of setbacks such as tough rivalries and uphill battles to reach the championships. Now it is time for Tsubasa to pack his things and move forward, and to become victorious in his purpose to stand next to the upper echelon of players in the ultimate battleground: The World Cup.
Tsubasa moves with his mother to Nankatsu City to pursue his career. Nankatsu has a lot more competition of higher skill levels and Tsubasa requires more training to be on the same level. Throughout his new experience in Nankatsu, he meets a young girl named Sanae and a talented goalkeeper named Genzo. His Brazilian coach Roberto Hongo sees potential in Tsubasa and offers him one of the greatest opportunities any fan of soccer would love, a chance to play in Brazil. They all share the same passion for soccer, and so they all place their hearts together to ensure that team Japan is well represented, and Tsubasa leading the way to win the championship for the nation.
---
3. 1/11: Juuichi Bun no Ichi

Genres: Sport
Volumes: 9
Published: May 19, 2010 - June 4, 2014
Sora just felt in his heart that he'd done everything in his best abilities, and decides to hang up his boots shortly after his graduation. However fate wasn't about to leave him empty handed, and one day he encounters Wakamiya Shiki, a young talented woman who represents the national team. After meeting with her something within him starting to unravel again, and from that very moment the sleeping giant woke up once again and Sora immediately found himself right back in the one place he loved: the soccer field.
Many of our chosen manga all have a lot to do with main leads who somehow lose their passion for the game, and then come back even stronger than ever. The very same premise can be defined here with Juuichi Bun no Ichi, where Sora just felt that his path had ended in the world of soccer, but the world was saying otherwise. His stubborn outlook on things sometimes cost him a lot of opportunities, but once he met with Shiki, his tragic past and poor attitude began to melt away as he became more powerful over time. Sheer motivation, inspiration, and devotion to the game are some of the things Sora learns over time from Shiki, and the two build a strong bond to create a wonderful story of triumph and commitment to the things you love.
---
2. DAYS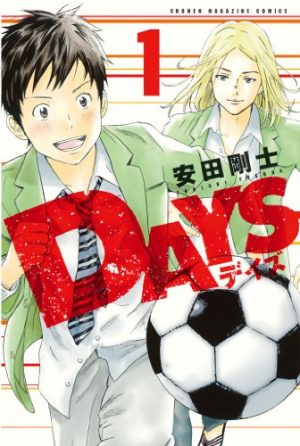 Mangaka: Yasuda, Tsuyoshi
Genres: Sport
Volumes: 18
Published: April 2013 - Present
Tsukushi and Jin have aspirations to make it into the big leagues of soccer. Tsukushi claims to have no special talents and considered a burden by many of his teammates, while Jin is widely regarded as a soccer genius and is masterful on the field. One night the two cross paths and suddenly each of their lives change as they both get dragged into the competitive world of soccer. We follow Tsukushi as he goes through many rough ordeals such as running laps, and doing deeds for others, only to transform into a leader who brings the team to victory.
Tsukushi just didn't have soccer built into his blood naturally, but that didn't stop him from training like a beast to ensure he became the best at what he enjoyed. Every night while everyone else would be partying away, Tsukushi would run laps, ask for advice from other rival team players, and learn the true form while playing on the field. He not only became an incredible talent over time, but his passion to achieve more was what fueled his team to better themselves, and to overcome their own insecurities. A powerful story that brings not only tears of joy and excitement, but a profound feeling of motivation to cheer Tsukushi on to keep going.
---
1. Giant Killing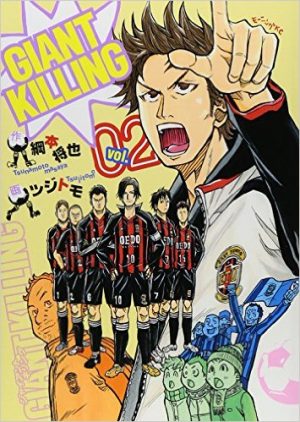 Mangaka: Tsunamoto, Masaya
Genres: Sport
Volumes: 41
Published: January 2007 - Present
Giant Killing follows former East Tokyo United captain Takeshi Tatsumi, who abruptly leaves the team after a long successful career to join a lesser known team in England. This decision alarmed many as their team morale plummeted, and their new captain Murakoshi isn't able to pick up where Takeshi left off. Several years have passed since the incident and Takeshi makes his way back to East Tokyo but this time to help rejuvenate this once intimidating team back to prime form.
Since his departure, many fans of the club still held a deep resentment for what happened, and a lot of weight is put on Takeshi's shoulders in order to restore faith in the team. The fans only want the team to bring home the championship, but with so much on the line Takeshi has to make every shot count in order to win back the respect of not only his squad, but the adoring fans that once held his name in high regard. There's much to be entertained by in this action packed soccer manga, that's sure to have you cheering Takeshi on to lead his once proud team to a well deserved victory.
---
Honey's Closing Statement
There are a load of soccer manga out there that we just couldn't get a hold of to talk about, so if you have any other great soccer choices that we haven't mentioned, please leave us with your lists down below! We'll always be sure to make your voice heard and do our best to have your chosen series be showcased on our future lists!
As always, if you want to know about all the latest buzz straight from the bee's nest in Japan, be sure to keep it locked here at Honey's Anime.
---