Other Reference: Mai Kawakami (Musaigen no Phantom World)
Men and women around the world are well aware of the sheer popularity of breast sizes. Women aspire to achieve a greater bust, while men aspire to have a partner who is well endowed. Both sexes have had the fascination of seeing a woman who is shaped well in every way, since it stimulates the mind in a fantastic way. With all that being said, Honey's Anime presents to you the top 10 Busty Anime.
10. Leafa from Sword Art Online

Episodes: 25
Aired: July 8, 2012– December 23, 2012
Bouncing its way into the tenth spot on our list of busty anime characters is Leafa. Leafa is the adopted sister of Kazuto in the real world. She is a practitioner of the Kendo arts, and displays a mastery of this art all throughout the series. Now Leafa was chosen because she has the appeal that both men and women die for: innocent, pure, but bold and adventurous. Her physical appearance really stands out as her body hourglass shape really gives her a very model like exterior, which shows how fit she is. Her Kendo work surely pays in almost every way.
With a quirky and loving personality to match, she is a lady who can hold her own but also shows support when needed. That is the true definition of a woman, and is the reason why we added her to the list of busty characters.
---
9. Nami from One Piece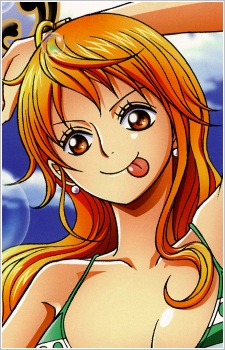 Episodes: Ongoing
Aired: October 20, 1999 – Ongoing
Nami has always made a name for herself all over Japan and the world for her stunning good looks, and exceptionally well shaped body. Much like Leafa, both of them possess a very well defined hour glass structure, which accentuates the bust that they both have. Her strength is also what makes her such an attractive woman in anime, simply because she can strike enemies down not only with her impeccable looks, but with her extremely powerful attacks. Whatever the outfit or occasion, Nami stands out in her own way which gives off a strong aura of confidence.
That element of confidence tied in with her large bust is what makes her such a sexy and bold individual. She is not one to be trifled with, as she can put a stop to anyone who stands in her way. Her loving nature and teamwork are another reason she made our list. Check out One Piece to see more of this busty warrior in action.
---
8. Alex Benedetto from Gangsta.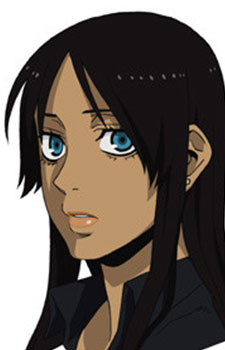 Episodes: 12
Aired: July 2, 2015 – September 24, 2015
Making her way into the top eight spot on our list of busty anime, is Gangsta.'s Alex Benedetto. In the series, Alex is a struggling addict who finds herself in harms way when she has to decide her own fate. She eventually makes the right choice, but also has to deal with her own inner demons along the way. Her extremely large bust (at least DDD) are very dominant in their own regard. What make them stand out however, is not the size, but rather her sexy sense of style.
What make a woman's bust pop out more is not in the bust itself, but how they sync well with the clothing. Alex is tall, slim, with sharp facial features that really bring everything together in one attractive package. Not only that, but she is extremely clever which only makes her that much more alluring to the eye.
---
7. Rias Gremony from High School DxD

Episodes: 12
Aired: January 6, 2012 – March 23, 2012
Rias Gremony slashes her way into number seven with a great size to match. With jiggle physics being such a popular trend in the anime world, Rias really bounces around a lot not just with her huge bust, but all around the screen. High school DxD has a lot of great action tied with some very visually stunning scenes (ahem), and we get to see Rias demonstrate her abilities all throughout the series. Her personality sizes up very well to that of her bust in addition. It's important to note that, a woman's body should never be the defining factor in choosing her for any particular reason.
With that being said, Rias has such a cool and outstanding personality as she really shows off her leadership skills, but also her innocent side around her friends. It's this fine balance of audaciousness and being amiable that really help her stand out in both ways.
---
6. Miharu Kanaka from Girls Bravo

Episodes: 11
Aired: July 5, 2004 – September 27, 2004
When you look at Miharu, you see an extremely cute and fun loving character who just enjoys every minute of life. Then when she takes off her suit, you see a larger side of this very petite looking body. Coming in at number six is Miharu Kanaka. Her outlandish character is fun to watch, as you are easily attracted to her by her warm glow of excitement. Her body type is also an attractive trait as she is very small in size, but makes up for it with her relatively large bust. That imbalance of petite body big bust is something that a lot guys tend to run to, and have women aspiring to achieve the same look.
It's a popular look across Japan, and perhaps all around the world. But let us not forget that bust isn't the only thing we observe, as we felt she deserved a spot on the list because of her quirky and outgoing personality. One should never judge someone merely by the size of the chest, but rather the size of the heart. She is lovable and carefree, which is what we all should strive for, both man and woman.
---
5. Rangiku Matsumoto from Bleach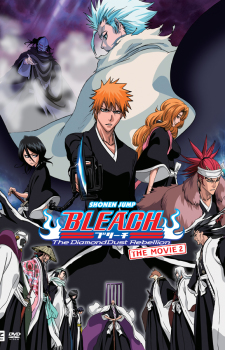 Episodes: 366
Aired: October 5, 2004- March 27, 2012
With sultry eyes and body worth worshipping, Rangiku most definitely deserves a spot in our top five. For much of the bleach series, we get to see a wide variety of characters that all have distinct characteristics. Of all the powers the shinagami had, Rangiku's was totally unique. It was mysterious because we never really had much of an opportunity to see it, but when we did, it blew us away. It's this mysterious allure that makes her so sexy. Also the way she dresses also further emphasizes the mystery, as she gives us a taste of what lies under, by showing a little cleavage through her kimono. It's that image of uncertainty that really stands out, and makes her such a cool yet attractive character.
She is also a very loving and caring character, as we see throughout most of bleach. That paired with her two assets add even more asset to her tools of destruction.
---
4. Miia from Monster Musume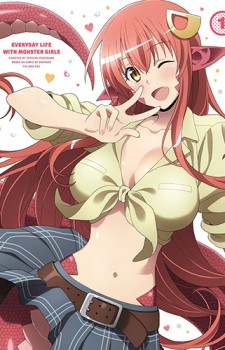 Episodes: 12
Aired: July 8, 2015 – September 23, 2015
Innocent, a little jealous, and devoted. These words are what truly define Monster Musume's Miia. She stands out as being the main female lead in the series, but more so because of her wonderful nurturing ways. It's every mans dream to have a woman who is solely devoted to him, and in the woman's case its their dream to give everything to the one they love. Miia is very seductive, which is a very attractive trait for obvious reasons, but she does so with class and subtlety. It isn't overly contrived, which makes the seduction even more satisfying. Her bust definitely catches the attention of those around her, especially when she wraps herself around Kurusu, who clearly becomes overwhelmed.
It's this wonderful blend of quirkiness and loving kindness that put Miia on our top ten busty list. While the other characters in the series such as Centorea have a much larger presence, it's Miia's colorful personality that just add more icing to that wonderful cake.
---
3. Falangies from Arslan Senki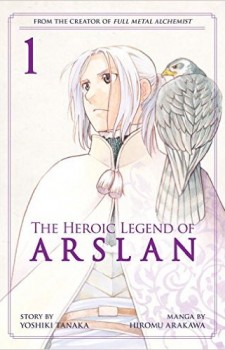 Episodes: 25
Aired: April 5, 2015 – September 27, 2015
Aloof, mysterious, and strong. Falangies rides her way into the top three very convincingly. Now you might ask, why is she top three? Well for one reason, much like Rangiku from bleach, the two share a very mysterious demeanor which add more attraction to the overall character. Falangies shows off her bust in a very unique way, with her cleavage being shown through a fashionable cloak that is split down the middle. Remember as we said earlier, that it really isn't the bust itself but how it is all put together. Much like Alex, she incorporates style and sexiness in one package which make the bust stand out even more. Not only that, but everything about her, from her stunning good looks, to her piercing stare only make her that much of a threat.
She is an independent woman, who is loyal to the one who she trusts as you see with Arslan. She doesn't back down from a challenge, and when confronted with a problem she deals with it with class and tactful thinking. This impressive package is why Falangies rides off into the distance on our list of busty anime.
---
2. Meiko Shiraki from Prison School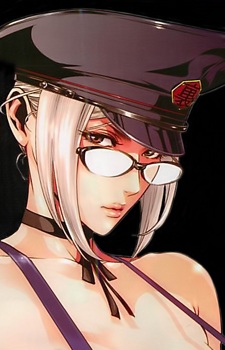 Episodes: 12
Aired: July 11, 2015- September 26, 2015
Aggressive, yet extremely sexy about it is none other than Prison School's Meiko. Playing the security guard at the all female academy, Meiko's goal was to torment the boys not only with her whip but with her extremely large breasts. It's no surprise that the boys always got into trouble, because they knew the reward of seeing Meiko would just make them stand up in joy. There really isn't much to be said about Meiko, as her tall intimidating demeanor really speak for itself.
She is devoted to her body, as she is always constantly working out to perfect her curves. That in itself is attractive since it shows that she takes very good care of herself despite the stressful routine work she puts up with. The rock hard body paired with her ability to demand respect among everyone around her is totally sexy in our books, and only adds onto the bust she has.
---
1. Shidare Hotaru from Dagashi Kashi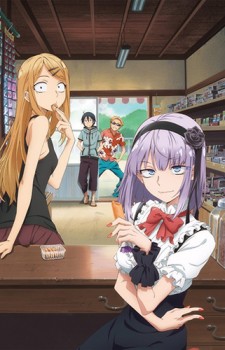 Episodes: Ongoing
Aired: January 8, 2016 - Ongoing
Nothing feels sweeter than number one, and here we have a very sweet character to show you for our number one spot. Hotaru is not your ordinary type of girl in the sense that, her wacky ways make you wonder if she has a few screws loose. But it's that unorthodox way of hers, paired with her own large assets that deserve the top spot.
Hotaru loves sweets and snacks so much, it shows all over her face (literally). She gives off this very innocent look with her very Shinjuku-esque style, but then once she gets her fill of energy she is all over the place. That fun and quirky personality is what really shines all through Dagashi Kashi, and further emphasize her size in both character and bust.
---
Other Reference: Isuzu Sento (Amagi Brilliant Park)
So there you have it, we have covered a pretty large cast of characters who truly show off their assets in a big way. These anime are sure to keep you entertained as well, as they are some of the more popular titles out there. We hope you enjoyed reading this article. If you feel that there are some extra busty anime characters that we missed, be sure to leave us a comment down below and we will definitely respond.
As always, for your sweet anime fill, keep it locked here at Honey's Anime.
---