También puedes leer este artículo en:Español
Body shape plays an essential part in society, in that suitors are attracted to certain physical attributes. When it comes to identifying and comparing body figures, there is no such thing as "one size fits all". Everyone is different and unique in his or her own way, and that is the nature of life. So when you walk down the street and someone catches your eye, the first thing noticed is his or her appearance. Could it be the eyes? A lovely smile? Or maybe a thick, thick booty?! In the world of anime, some of these features are often exaggerated. To an extent, these overstating illustrations represent a general consensus of what the target audience is drawn to, as well as what society envisions the female form to be like.
However, in this article, the following characters possess a distinctive attribute that does not conform to the typical anime girl shape or overall Japanese ideal body standards. Fat, chubby, DUFF, plus size, etc., are some common terms referring our more heavy set friends, and unfortunately, they aren't always portrayed in the most positive light. More recently and contrasting this, there has been a rise in adding different sizes and shapes to a cast of characters, setting a more realistic and personable approach for viewers. With that being said, in addition to all that bass and boom boom pow, some of the girls on this list have stand out personalities, making them even more memorable. So without further ado, here is our list for top 10 fat/chubby anime girls! Are you down with the thickness?!   
10. Natsumi "L" Asaoka from The Kabocha Wine (The Pumpkin Wine)

Episodes: 95
Aired: July 1982 – August 1984
For most of his life, Aoba Shunsuke has been surrounded by a lot of women and girls, and not in a good way. In fact, he is fed up with it. Deciding that he wants a change in his life, Shunsuke transfers to Sunshine Academy, an all-male school. However, to his dismay, Sunshine Academy recently transitioned to co-ed attendance. When Shunsuke arrives at the academy, he meets Natsumi Asaoka, a female student who towers over him, but he is taken aback by her kindness. Surprisingly, the two instantly hit it off. Bold and brash, Shunsuke's eventful life at his new school is bound to be an unforgettable journey.
Natsumi is nicknamed "L" because of her cup size. More so, Natsumi is a great deal bigger than Shunsuke. As they appear as an unlikely duo, Shunsuke and Natsumi are quite the pair. Even though Shunsuke has encountered a fair share of female figures in his life, he still gets awkward around women, particularly when it comes to working at the family lingerie store. Eventually, Natsumi helps Shunsuke shed all that awkwardness. Furthermore, the adorable couple proves to everyone that there is no boundary to the words "beautiful couple." As such, while this anime is an older pick, Natsumi is on this list because of how her size and role are important components to the overall story.
---
9. Yukino Ito from RD Sennou Chousashitsu

Episodes: 26
Aired: April 2008 – October 2008
The year is 2061 AD. The creation of the Network society has allowed the population to be joined with one another at a deeper level of consciousness. As with many new developments, complications arise. The new infrastructure has realized its flaws, such as personal data leaks and fabrication of information. Although these problems have surfaced, the population would rather endure these risks instead of abandoning the Network society altogether. So as a remedy, a new network called "the Metal" was created with more effective safeguards. Unfortunately, the Metal has posed an even greater threat than before, penetrating the lives of the population in every aspect, rendering everyone powerless in differentiating reality and the Metal. Watch and see how expert cyber-divers investigate this perilous situation.
Yukino Ito is Minamo Aoi's classmate and close friend. When Minamo starts out as an intern at the EISF, and later on becomes a full-time employee, her friendship with Yukino and Sayama is what keeps her grounded. Throughout the series, the trio can be seen participating in a wide range of activities and dining out at tons of restaurants. Yukino's distinguishable appearance, in comparison to Minamo and Sayama, does not strain her thoughts whatsoever. The three friends enjoy their quality time together, less concerned with keeping appearances.
---
8. Satomi "Beautiful Person" Ishihara from Plastic Neesan

Episodes: 12
Air Date: May 2011 – July 2012
Plasic Neesan follows the story of Iroe Genma, a third year high school student. One of her favorite pastimes is creating plastic models, as she is the head of the Model Club at her school. Despite her short stature, Iroe is quite the troublemaker. Alongside her friends Hazuki "Okappa" Okamoto and Makina "Makimaki" Sakamaki, the trio gets entangled in a myriad of over-the-top situations. Whether it's dealing with the Model Club, or just plain teenage drama, watch these characters carry on school life in this short, wacky twelve episode ONA.
Satomi "Beautiful Person" Ishihara screams sassy and confident. She is completely into herself and is not afraid to tell Iroe, Okappa, and Makimaki her opinion of their looks or anything else she believes they're doing wrong. She is a force to be reckoned with, highlighting every quality of herself as something to covet and envy.
---
7. Mirei "Yaji" Yajimma from Genshiken Nidaime (Genshiken Second Season)

Episodes: 13
Air Date: July 2013 – September 2013
Society for the Study of Modern Visual Culture, also known as Genshiken, serves to combine all elements of otaku culture into one. Pick your poison; each member holds an interest in a particular component of otaku culture, reminding us about the joys and obsessions that accompany our nerdy community. As such, the second season starts of on a new, refreshing note, as the returning members of Genshiken attempt to recruit new members. As the semester begins, the club is able to gain four new members. However, veteran members are fearful of the new direction the club is taking. Will the club's new label as the "rotten girl's club" result in its dissolution or will their bond for otaku life keep them together?
Mirei "Yaji" Yajimma is one of the new recruits that was drawn in by one of Ogiue's BL posters. Identical to the other members of the group, she is also a fujoshi. Appearing stocky, overweight, and dressed in gender-neutral clothing, she has never made an attempt to dress more feminine. However, after the arrival of Kenjirou Hato, Yaji has grown self-conscious of her own appearance. Essentially, Yaji makes it on the list for spotlighting insecurity when faced with a presence more confident than most.
---
6. Hanako Ohtani from Persona 4 the Animation

Episodes: 25
Aired: October 2011 – March 2012
Persona 4 the Animation follows Yuu Narukami as he moves to the small and quiet town of Inaba. Upon his arrival, he quickly befriends Yousuke Hanamura, Chie Satonaka, and Yukiko Amagi. Just as he thought the town of Inaba couldn't be more ordinary, it gets a jolt of excitement, when it suddenly experiences a string of mysterious murders. Additionally, rumors have spread of a strange channel on TV called the "Midnight Channel", that allows one to view their soulmate when staring at the screen at midnight. When Yuu realizes that many of the victims have appeared on this Midnight Channel, he also discovers that he has the ability to enter the channel. He then reveals that the alternate dimension harbors "Shadows", creatures responsible for the murders. With this newfound knowledge, Yuu and his friends attempt to crack the unsolved cases, using their awakened "Personas."
Persona 4 the Animation can be categorized as a mystery/supernatural anime. However, the story detours viewers a bit, presenting to us a lot of scenarios of guys and girls in compromising situations, thus adding some comedic relief. As a supporting role, Hanako Ootani is recognized as the gal with a deep love for food. She is also one that has no trouble getting a hot guy and turning him down in a heartbeat. Hanako's size and personality offers the message "if you got it, flaunt it."
---
5. Nikuko from Oshiete! Galko-chan (Please tell me! Galko-chan)

Episodes: 12
Air Date: January 2016 – March 2016
Oshiete! Galko-chan shows the daily on-goings of Galko and her friends, Otako and Ojou, in and around school. In addition, the girls attempt to "bust" the myths surrounding the female anatomy. Galko-chan is "a bit sharp-tongued, but a good-natured, popular girl in the class." As such, we explore the minds of school-aged youths and what they experience as they go through various physical and psychological changes.
Nikuko is one of Galko-chan's classmates and a member of the girls' futsal team. Many may suggest that being overweight means being out of shape, but Nikuko proves this isn't the case. She has gained the nickname "Sonic Meat" by the boys because she is surprisingly fast. Furthermore, Nikuko's active lifestyle denotes that overweight does not equate to lazy and unfit.
---
4. Shigemi Kubota from Sakamoto desu ga? (Haven't You Heard? I'm Sakamoto)

Episodes: 12
Air Date: April 2016 – July 2016
Haven't you heard? Sakamoto is an awesome guy; he's super cool, good looking, smooth and perfect in every sense of the word. All the girls want to date him and all the guys are jealous of him. Sakamoto desu ga? documents his everyday events, both in the classroom and after school, with all the shenanigans that come his way. Many have attempted to topple his effortless charisma, but fail to achieve his standing. As they observe and mimic his every move or even try to knock him down, everyone wonders how Sakamoto's got that swag.
Shigemi Kubota is Yoshinobu's creepy mom, who has an obsession with Sakamoto because he looks like one of her favorite K-drama actors, Chon Choriso. Once Sakamoto came around the Kubota residence, Shigemi was swept away by his charm and looks, often going out of her way to run into Sakamoto. It didn't help the situation when Sakamoto gave her a shell pendant. Despite the game of hide-and-seek and wearing her son's uniform to get closer to Sakamoto, Shigemi finally regains sight of her maternal instincts, tending to sick Yoshinobu the day after. With that being said, Shigemi makes the list for being such an unforgettable character.
---
3. Tamako Inada from Gin no Saji (Silver Spoon)

Episodes: 11
Aired: July 2013 – September 2013
"With neither a goal nor a dream, Hachiken enters Ozeno Agricultural High School in Hokkaido, also known as Ezono. What awaited him there were sweat, tears, youth and …animals!" As his peers are driven and ambitious, Hachiken has uprooted himself from his city life into the countryside, where he believes he will excel, but couldn't be more wrong! Silver Spoon tells the story of Hachiken, growing to appreciate the struggle of agricultural routines and life, and learning these strenuous skills with his newfound, experienced friends.
Tamako Inada is one of Hachiken's classmates. Tamako has a business track mind, stating that she is one day going to take over her wealthy family's farm, Giga, and build it into something greater. Keeping things 100, Tamako can be brutally honest, which can sometimes be both good and bad. Moreover, underneath her extra weight, Tamako displays a beautiful slim figure, occasionally, when she works too hard or goes on a fad diet. However, she often remarks that she prefers her large figure.
---
2. Charlotte "Big Mom" Linlin from One Piece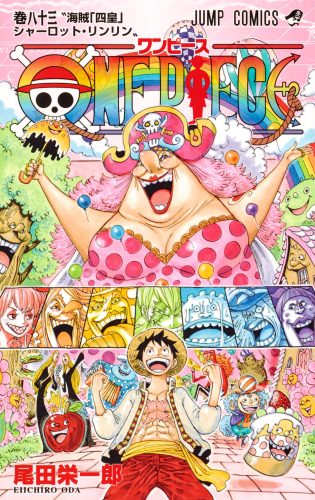 Episodes: 786+
Air Date: October 1999 - Ongoing
In an era where pirates make a significant influence on land and sea, Gol D. Roger was the most prominent "Pirate King" to sail the Grand Line in search of One Piece. Upon his capture and death by the World Government, his last words invoked a challenge to the next generation of pirates. Among the challengers is Monkey D. Luffy, unlike the typical pirate persona, he quickly distinguished himself with the highest bounty to boot. Luffy and his Straw Hats crew, with missions of their own, dream of sailing the Grand Line in search of riches, fame and glory. Their adventurous spirits take them on an incredible voyage, with countless twists and turns.
Charlotte "Big Mom" Linlin is the captain of the Big Mom Pirates. Not only does she have a menacing crew to back her up, she is the queen of her own country, Totto Land. Coming from a distinguished family, Big Mom has made quite a name for herself. In appearance, she is a heavy-set, towering woman with a big personality to match. Equipped with extreme rage when she doesn't have her favorite foods in hand, Big Mom is not someone you'd want to cross.
---
1. Witch of the Waste from Howl no Ugoku Shiro (Howl's Moving Castle)

Episodes: 1
Air Date: November 20, 2004
Howl's Moving Castle is an epic tale of wizards and witches. We journey through the story with Sophie, who gets caught in the war of magic with a curse that turns her old. As Sophie tries to break the curse, she runs into Howl's moving castle, which really doesn't appear castle-like at all, but a big pile of assembled parts. On her quest to return to normal, Sophie experiences a range of peculiar individuals who essentially accompany her on her endeavor. Collectively, they teach each other a thing or two about the value of living life with spontaneous excitement.
The Witch of the Waste is a snooty woman who is overconfident in her pursuit of Howl. After Howl discovered that the Witch was using her magic to stay young and beautiful, he left her, leaving her bitter and vengeful. When the meeting with Madame Suliman took place, the Witch of the Waste was restored to her proper state, leaving her harmless and helpless. On the whole, the Witch of the Waste is number one because she shows the ultimate message: that beauty is only skin deep.
---
Final Thoughts
Based on popularity, we hope you enjoyed our choices of top 10 fat/chubby anime girls! If you haven't already, make sure to check out the original article! Also, some other mentionable girls we didn't include in the top 10 are Sumire Hara from Ansatsu Kyoushitsu (Assassination Classroom) and Kaoruko "Gyanko" Sazaki from Gundam Build Fighters Try. As these two aren't as big and chubby as the others on the list, their names do come up often when bringing up this particular topic.
In conclusion, we wanted to end on an important note. As we highlight these characters, we don't intend to off-put the essence of larger body shapes IRL. Moreover, this article seeks to acknowledge the trend of fat/chubby characters in anime. Overall, it is crucial to embrace self-confidence, regardless of body shape. Be who you are meant to be and love yourself for it.
P.S., don't forget to comment below on any suggestions or other great fat/chubby girls we've missed. Thanks for tuning in! See ya!
---
---
"…I got that boom boom that all the boys chase. And all the right junk in all the right places…"
Chubby, chunky, fluffy, fat, marshmallow girls, whatever you want to call them. "Heavier" female anime characters don't come along very often; much like in the rest of entertainment media (though that's a whole different topic, so I won't get into it here). And even if the characters sometimes are supposed to be on the chubby side, or overweight, the art doesn't really reflect that, making the girls look just as slim as their counterparts. For example, Lucy in Fairy Tail is supposed to be on the heavy side, and so is Yomi from Azumanga Daioh, but you'd never know if it wasn't mentioned (repeatedly) in the show.
That being said, there are female characters with more curves than most, and while some of them are self-conscious about their weight and constantly struggling with it, there are plenty more who own it or just don't make a point of mentioning it or complaining about it. The bootylicious girls on this list are not all young or traditionally beautiful, but they are strong, talented, caring, confident, cute, sexy or a combination of these traits. And, of course, they are noticeably curvier than their co-stars. Chubby girls don't get enough screen time in anime, so if you're in search of cool chicks with some junk in their trunk, sit back and enjoy!
10. Chouchou Akimichi from Boruto: Naruto the Movie

Episodes: Movie
Aired: August 2015
Chouchou inherited her father Chouji's appetite as well as his body type. She is also surprisingly fast and has a large amount of chakra which gives her an edge over other Genin that even Chouji didn't have when he was her age. Unlike her father, Chouchou doesn't care about being called out on her weight and is in fact a very self-confident girl. She tries to lose weight for a little while in her teen years (like many girls do) but realizing her genetic predisposition, she seems to let it go.
While she can be a little self-centered at times, she is also independent and has decided to follow her own path and do things her own way. She's at spot number 10 because out of all the girls on the list, she's the only one to ever try to lose weight and feel unhappy with herself.
---
9. Minori Nakazawa from Nourin (No-Rin)

Episodes: 12
Aired: January 2014 – March 2014
Minori is a sweet country girl who's in love with her childhood friend Kosaku. Unfortunately for her, a recently retired idol he worships, Yuka, just moved to their farmland and enrolled into their school. Despite obviously not having a petite idol-like physique, Minori still stays positive and continues to pursue her love interest. She even makes sure to flaunt her full breasts to Yuka often to remind her she's the winner in that department!
Physically, Minori is obviously fuller than the other females in the show, she's kind of a voluptuous tomboy tsundere, and all she wants is to settle down Kosaku. She's kind, honest, caring, not to mention strong as she does farm work often. She's a healthy, curvy country girl who knows what she wants!
---
8. Satsuki Yotsuba from Negima!?

Episodes: 26
Aired: October 2006 – March 2007
Satsuki is an outstanding cook and even manages a restaurant. She's a very hard worker and is the school's dinning officer and is often praised for her cooking skills. Everybody likes her and she has the ability to break up fights between martial arts students. Her calm, positive personality and soft way of speaking makes the atmosphere calm and light whenever Satsuki's around.
Satsuki always dreamed of owning her own restaurant because she loves making people happy with her cooking. Being the motivated hard-worker she is, she eventually does end up opening branches of her restaurant in orbit!
---
7. Chieko from Kuragehime (Princess Jellyfish)

Episodes: 11
Aired: October 2010 – December 2010
Chieko is an otaku, just like everybody else who lives at her mother's apartment building, which she manages, by the way. Her particular love is that of traditional Japanese clothes and dolls. In fact, she herself looks like a doll with her round face and since she is always seen in a kimono.
Physically, she has the aforementioned chubby face, and is clearly of a thicker build than other girls in the show. Chieko is also mature and clever as not only does she manage the apartment building but she is able to stay calm in stressful situations and get what she wants. On top of all that, because of her interest in traditional clothes, she is also a gifted seamstress. My favorite part about Chieko is that in a show where everybody gets a makeover, Chieko is the only one to reject it. Why? She finds that she is stylish enough as she is! You go girl!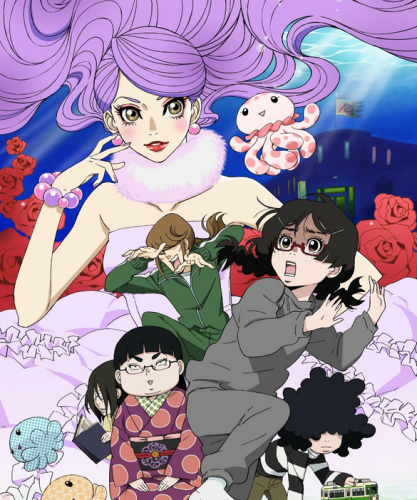 ---
6. Pine-Pine from Space☆Dandy

Episodes: 13
Aired: January 2014 – March 2014
Pine-Pine is definitely a BBW. She's tall and has all the right junk in all the right places! Her face is chubby and her pink pouty lips are decorated by a beauty mark just to the side. Her plump physique makes her look provocative no matter if she's in her work clothes or out for a night on the town! She's so self-confident that when she takes her co-worker, Scarlet, out to a cocktail party to help her meet a man, Pine-Pine is the one who ends up getting hit on by all the guys.
Dandy even refers to Scarlet as "not particularly attractive" even though at first glance she fits the stereotypical tall-skinny hot girl mold. Though it doesn't help that she's always kind of depressed and in a bad mood, unlike Pine-Pine who is not only confident but always cheerful and positive. Men can't resist a self-confident curvaceous woman!
---
5. Yuriko Gouda from Ore Monogatari!! (My Love Story!!)

Episodes: 24
Aired: April 2015 – September 2015
Yuriko is a 40 year old mother and housewife. As she puts it herself, she has the body (and stamina) of a 20 year-old. Stronger than even most men, she can work all day, carry all sorts of heavy things, cook amazing dinners, and care for her husband and son without batting an eyelash. She even continued her regular hard-working, heavy-lifting lifestyle during her pregnancy. She is also an amazing mother.
Yuriko has raised Takeo to be an outstanding, respectful, kind and gentle man, traits which he's clearly gotten from her, as she is always helping others and thinking of everybody before worrying about herself. In fact, when she was pregnant with Takeo, she carried another pregnant woman to the hospital!
---
4. Risley Law from Fairy Tail (2014)

Episodes: 261+
Aired: April 2014 – Present
Risley is a member of the Mermaid Heel guild. She is naturally quite plump and she owns it, wearing a bandeau top and low-rise skirt with side slits showing off just as much skin as the skinnier girls in the show. She is also very determined and confident in her abilities. Her magic powers can change the effects of gravity around her, her opponents and herself. This allows her to move along walls, jump high and even change her body size, sometimes becoming slim when she uses her powers.
However, she prefers her natural, curvier size and shape and is seen in that state most of the time. She also warns her opponents "no to underestimate the chubby"! And she sure isn't one to be underestimated!
[/hide]
[/hide]
---
3. Kamado Ueshita from Mirai Nikki (Future Diary)

Episodes: 26
Aired: October 2011 – April 2012
Our list continues with another motherly figure, Ueshita Kamado who runs an orphanage and has been doing so for 14 years. She's very caring and loves all children. She's become involved in a life-or-death game as one of the owners of future-telling phone-diaries who must kill each other off in order to become the new God of time.
Being the kind, gentle, pacifistic woman she is, she isn't interested in being a God, and only wants to win so she can make the world a better place for children. Her sweet, round face and soft plump body make you just want to hug her and have her bake you cookies! All her children love her to death and though she won't fight in the situation she is in, her kids will do anything to protect her.
---
2. Super Sonico from SoniAni: Super Sonico the Animation

Episodes: 12
Aired: January 2014 – March 2014
While Sonico is made to fulfill all kinds of fan service, she's not your typical big-breasted anime cutie. Unlike most other well-endowed anime heroines, she has thick thighs, a bit of a belly and a thicker body overall. Not only that but she's usually spilling out of her (sometimes barely-there) clothes and is often seen with a bit of a muffin top or skin folds when she sits or gets in certain positions.
Sonico really has more of a realistic body type of what a voluptuous sexy college girl would look like. And to top it all of, she's also a model, works at her grandmother's bar and a musician in a band! And while she's gorgeous, curvy, talented, and busy she's still a down-to-earth, somewhat clumsy, sweet girl. I'll be honest, the first time I ever saw a Sonico figure, I was very surprised and loved the fact that she had a very realistic body type. That's why, even though she was only a mascot for Nitroplus at the time, she became and still is one of my favorite characters!
---
1. Kazami Torino from Valkyrie Drive: Mermaid

Episodes: 12
Aired: October 2015 – December 2015
It's starting to seem like a lot of chubby girls in anime are either motherly or sensual. Well, here's a girl that has the best of both worlds! Kazami Torino is a sweet, smart, generous and kind voluptuous woman who takes in girls who don't want to battle or have nowhere else to go on Mermaid Island. She really is like a mother to all the girls in the village and everybody loves her for it.
Physically speaking, she is more than well endowed in the cleavage department and you can usually see where her clothes naturally dig into her hips, belly and breasts. And when you see her in a bikini (or less!) I'm sure you'd agree she's the most adorable plump MILF you've ever seen. And that's how she got to number 1 on our list!
---
Conclusion
Well, there you have it! There are some other girls in anime that are meant to be chubby or fat but for the most part you can't tell and in a lot of cases even if it is noticeable, the girls are usually self-conscious of their weight and constantly trying to lose it. The girls in this list were selected because they aren't ashamed of their body, are confident, successful, kind or smart, but most importantly, their weight doesn't play a big role in who they are. In fact, the majority of these girls never bring up their weight at all or try to change their appearance, they are who they are, they love it and own it!
A special mention goes out for Real Drive. All the females in this anime have pretty realistic, curvy body shapes. And it's by Masamune Shirow and Production I.G! Believe it or not, some people didn't like it because of the chubbyness...
What do you think? Do you agree with our picks? Do you think there should be more realistic bodies in anime? You like marshmallow girls? Let us know in the comments below! I hope you enjoyed the countdown! Till next time!
"Fat bottomed girls you make the anime world go round..."
Nya~!
---