It is the festive season again and we all know what that means - holidays, cheer and goodwill, as well as some time off to rest and recover. Knowing how much more free time people have in this period, we thought it'd be great to recommend titles that don't necessarily have you rocking back and forth or biting your nails in anticipation - we want to show you the ones that have the opposite effect: the manga that slow things down a little bit. That being said, get your favourite blanket and a cup of tea because we're about to shed a little light on titles that read just like a cold winter's day indoors with nothing but pure comfort on the agenda. So let's get to it with our Top 10 Comfy Manga!
10. Hiyokoi

Authors: Yukimaru Moe
Genres: Romance, School, Slice of Life, Shoujo
Volumes: 14
Published: November 2009 - November 2014
A year after a tragic accident leaves high school student Hiyori in the hospital, she is finally ready to embark on her high school journey. With her small stature and timidity, she struggles with social skills; however, she earnestly wishes to make some friends and live the type of high school life that she's dreamed of - one that may even involve Hiyori finding someone who'd want to be more than friends...
Hiyokoi is a refreshing story about a small girl with a good heart who just finds social settings more daunting than the average person her age. In true magnetic fashion, she finds herself attracted to Hirose Yuushin, her polar opposite and the most laid back and popular guy in her class. Hiyori's day to day struggles are often light-hearted caricatures of teen angst, but her adorable appearance and overall good vibes create a love story not unlike one we have already seen, but still one we love to see play out in the little universe that is their school.
---
9. Nijiiro Days (Rainbow Days)

Authors: Mizuno Minami
Genres: Comedy, Slice of Life, Shoujo
Volumes: 15
Published: December 2011 - March 2017
Nijiiro Days follows the lives of four male high school students: the hopeless romantic Hashiba Natsuki, the sadistic Katakura Keiichi, Matsunaga Tomoya the playboy as well as Tsuyoshi Naoe, the otaku. Together, the four of them live a teenage life filled with silliness and a few romantic misadventures. The story kicks off with Natsuki being dumped by his girlfriend on Christmas Eve. While crying alone, he receives a pack of tissues from a girl dressed up as Santa. In return, Natsuki gives the mystery girl the scarf he originally meant to give his ex-girlfriend. Soon he comes to the realization that the girl was Kobayakawa Anna, a girl at his school! Having fallen in love with Anna, Natsuki tries to get closer to her; however, his friends make it much more difficult that he initially bargained for!
Nijiiro Days has many makings of the kind of manga that keeps you smiling because of the straightforward slice of life component it brings. Elements of romance and the outright purity of the main character, Natsuki, makes it the kind of manga you can kick back and read at your own pace and leisure. The hilarity brought on by the four protagonists tickles the right parts - making Nijiiro Days a great manga to read on a comfortable day at home.
---
8. Yokohama Kaidashi Kikou (Yokohama Shopping Log)

Authors: Ashinano Hitoshi
Genres: Sci-Fi, Slice of Life, Drama, Seinen
Volumes: 14
Published: April 1994 - February 2006
Japan, at some point in the distant future, has seen rising sea levels do away with various coastal towns and cities, and even Mount Fuji has erupted in recent memory. The population has decreased drastically, media such as television and telephones are no longer functional even though other forms of technology do exist; such as intelligent humanoid robots which live amongst the human beings in a situation where local areas have become nations and life overall has become slower for people. One such robot is the female model named Alpha, who runs a café by the same name outside what used to be Yokohama. Travelling on her motorized scooter, the good-natured Alpha makes friends with humans around her, all while observing the slow-lurching passage of time age everything around her.
The very objective of Yokohama Kaidashi Kikou is for the reader to experience the various changes that Alpha observed in the world around her. In a somewhat sombre yet completely optimistic light, the manga allows one to be "immortal" like Alpha herself; coming to terms with changes that seem rather rapid from one perspective, but slow and steady in another. The story allows one to completely be absorbed in this strange dystopian setting, in a way which is different to what we normally get when offered a title set in a world that has decayed from the one we all know.
---
7. Grand Blue

Authors: Inoue Kenji (Story), Yoshioka Kimitake (Art)
Genres: Comedy, Slice of Life, Seinen
Volumes: TBC
Published: April 2014 -
Kitahara Iori is excited to be moving to his new life as a university student near the ocean in Izu City. Moving into his uncle's diving store, Grand Blue, where he will be surrounded by the blue ocean, beautiful women and men who dive and drink like that is what they were born to do. With so many distractions around him, will Iori be able to live his ideal college life?
Grand Blue is a somewhat relatable and hilarious manga about a college student surrounded by distractions. In many ways, many of us can attest to the way in which he world seems to open up when we go to college, which in turn exposes us to all manner of... interesting things which can serve to consume us if we're not too disciplined. Somehow, seeing an exaggeration of a life you already live can serve to be therapy, as well as the one thing you never knew you needed for a comfy day by yourself.
---
6. ReLIFE

Authors: Yayoi Sou
Genres: Romance, Comedy, School, Slice of Life, Drama
Volumes: TBC
Published: October 2013 -
Imagine being offered a pill which had the ability to turn you back into a high school student; would you take it? Jobless 27-year-old Kaizaki Arata didn't have much to mull over when Yoake Ryou, a representative of the ReLIFE project, presents him with the miracle drug, giving Arata the chance to do things right the second time around. Presented with the opportunity to turn back the clock and turn his life around, Arata takes the drug...
ReLIFE is an awesome and refreshing concept as it blatantly brings up a question which often comes up with us human beings: if you could do something differently, would you? Each character has their own motivations and Arata's is one that gnawed away at him for a very long time. The characters in ReLIFE are, of course, relatable and the humour surrounding having a full-grown adult try to maneuver his way through high school ten years after he'd actually graduated makes ReLIFE find that perfect zone between philosophical questions and A-Grade banter.
---
5. Minamoto-kun Monogatari

Authors: Inaba Minori
Genres: Ecchi, Romance, Harem, School, Seinen
Volumes: TBC
Published: September 2011 -
Minamoto-kun is a boy born with a face so beautiful, it could pass as a girl's. However, as a result of his beauty, Minamoto-kun faced intense bullying from the girls in his school, who were jealous of the sheer beauty of his face. As a result of the trauma, Minamoto-kun develops a fear of women and decides to enroll at an all-boys school. He graduates without a hitch and works at preparing himself for college, promising himself that he'll work at overcoming his fear. However, his father remarries and asks him to live with his aunt for the time being. Minamoto-kun's aunt is incredibly beautiful and also a professor at his university. When Minamoto arrives at his aunt's house, he is greeted by her breasts and these strange words: "You will be my guinea pig!"
The coming-of-age story of a teenager who lived a difficult life of bullying due to his attractiveness is truly one that we can expect from a medium like manga. With Minamoto being thrown into the deep end by being moved into a woman's house, he truly has his work cut out for him as he endures his aunt's "Reverse Hikaru Gendu" project. The crazy dynamic between Minamoto and his aunt spawns much of the surprising and somewhat humorous situations that make this a manga one can enjoy on a quiet night in.
---
4. Sekine-kun no Koi

Authors: Kawachi Haruka
Genres: Romance, Slice of Life, Drama
Volumes: 5
Published: May 2009 - July 2014
Despite the fact that he's an elite hunk and the object of desire for many women around him, Sekine is a man who has lived a life out of focus. Being the passive and stoic individual that he is, it is as if life passes him by, and it definitely doesn't help that he's a jack of all trades and master of none. Maybe Sekine can find that one thing that makes him feel complete... or maybe, that one person...
This story is strange and sobering as it presents what could be the reality of those who are seen as conventionally attractive as well as incredibly talented. Sekine's brilliance seems to be the very bane of his existence and he doesn't seem to be able to process his emotions well; however, he is committed to trying. The story is laid back and rolls off the pages in a nature that is almost as stoic as Sekine himself. While Sekine loses himself in yet another activity, one can comfortably lose themselves in this manga.
---
3. Yakumo-san wa Edzuke ga Shitai (Yakumo-san Wants to Feed)

Authors: Satomi U
Genres: Seinen
Volumes: TBC
Published: March 2016 -
After the abrupt death of her husband, lonely widow Yakumo Shuuko ends up in a very interesting dynamic with a high school baseball star. Every day or so, after his intense practice, Yamato Shuuhei heads over to Yakumo-san's unit in order to receive a delicious home-cooked meal. This has spawned a friendship between the two, who are at completely different points in their lives, not to mention being complete and utter strangers.
As weird as it may sound, very few storylines are as calming and relaxing as one about a widow who spends her free time cooking for a random teenager in her neighbourhood. The relationship between the two is oddly pure and somehow, the two tend to show genuine concern for one another. From a less analytical perspective, what could be better than reading about someone getting fed, while lying back and feeding yourself as you page through a great manga?
---
2. Re:Marina

Authors: Harada Shigemitsu (Story), Seguchi Takahiro (Art)
Genres: Ecchi, Romance, Comedy, Seinen
Volumes: 6
Published: April 2013 - April 2015
After the death of his useless deadbeat dad, 16-year-old Rinosuke is forced to fend for himself, quitting school in order to make ends meet. On the night of his father's death, a naked woman randomly appears from the sky, falling square on top of Rinosuke. She introduces herself as Sakamoto Marina, Rinosuke's... wife from the future?! Claiming to have used a time machine to bring herself to this point in time, Marina imposes herself on Rinosuke's life - thus Rinosuke begins his new life living alongside his wife.
As would be expected, Re:Marina is a title filled with many hilarious moments, but given the dark nature of the premise, one can expect a few jarring revelations and moments which pull at the heartstrings ever so slightly. Nonetheless, the manga's great art and overall light-hearted feel make it a great companion on days where there is no real plan but just to kick back and relax... perhaps even with your future spouse coming back in time to keep you company!
---
1. Horimiya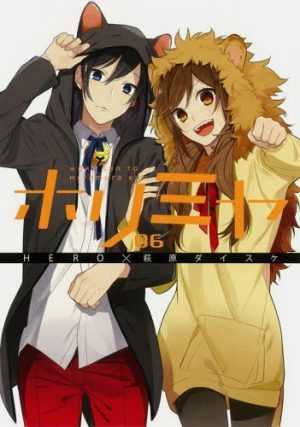 Authors: Hagiwara Daisuke (Art), HERO (Story)
Genres: Romance, Comedy, School, Slice of Life, Shounen
Volumes: TBC
Published: October 2011
At school, Hori Kyouko is revered for her beauty and her incredible academic ability; however, unbeknownst to everyone at school, Hori leads a fairly difficult life. As a result of her parents' constantly travelling, it is up to Hori to ensure that the housework is done and that her younger brother is taken care of. Meanwhile, Miyamura Izumi is thought to be an otaku due to the way in which he presents himself at school. In reality, however, Miyamura is hiding a gallery of tattoos and piercings on his body and his completely inept academically. On a chance meeting, Hori and Miyamura meet away from school, both seeing a side of each other no one else at school has seen yet. Sharing a common secret, the two become friends, promising to take each other's secrets to the grave.
Horimiya is a manga that is saturated in positive energy and hilarity, given the complementary personalities of the titular main character, Hori and Miyamura. Their relationship is one born from agency, but cultivated in sincerity and such beautiful friendships place hope back in the eyes of those who contemplate it, laughs in the bellies of those who enjoy it, and comfort to all who read and enjoy it. It's a beautiful little story which uses the irregularity of human life to create an interesting dynamic between two very different characters.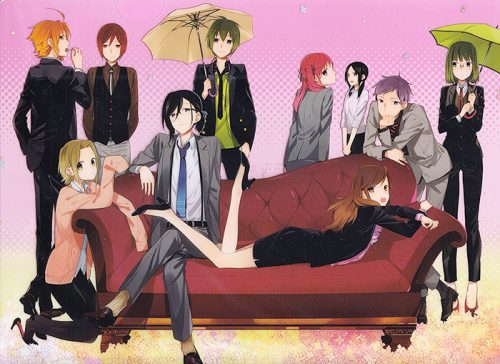 ---
Final Thoughts
Manga is an incredible medium due to the sheer volume of things it can accomplish and inspire in those who read it. The stories we've mentioned all have the ability to sedate, to calm, to replenish tired souls due to the way in which they approach their own progression and characters. Most people would agree - slice of life titles tend to get this so right and that is reflected in our list; however, there could be much more and that's where you come in. Drop a comment below telling us of your favourite comfy manga and spread the comfort to every other manga fan!
---