Having just come out of the festive period and full swing into the year 2018, most of us haven't had much time to ourselves recently. Such time is incredibly vital, and we often like to spend our time alone doing things we like, or things that keep us calm and happy. What better than lazing about with a good manhwa to get all the way lost in? With that in mind, we drew up a list of manhwa that are enjoyable enough to commit time to, as well as soothing in terms of pacing to keep one more than comfortable. Off we go - Top 10 Comfy Manhwa!
10. Cheese in the Trap

Authors: Soonkki
Genres: Romance, Comedy, School, Mystery, Slice of Life
Volumes: 6
Published: July 2010 - May 2011
Returning to college after a long break, the hardworking, over-achieving Hong Sul inadvertently finds herself getting on the bad side of a freakishly perfect senior named Yu Jeong. Since then, her life has spiralled out of control on multiple occasions and Hong Sul is certain it is all Yu Jeong's doing. But Hong Sul finds herself completely puzzled as Yu Jeong seems to be so friendly a year later. What's going on?
With a likeable main character in Hong Sul and beautiful, quirky art, Cheese in the Trap is fully capable of luring one in with only those two factors. However, when one gets into the story, the everyday life and times of its protagonist very well reflect the somewhat angsty romantic life of a university student. Cheese in the Trap also has moments of comedy and irony throughout its pages, making it an easy read on a calm day.
---
9. Winter Woods

Authors: Van Ji
Genres: Drama, Josei, Romance, Slice of Life, Supernatural
Volumes: 74
Published: November 2014 - June 2017
An Alchemist decides to create winter one fateful day. After the passage of a few thousand years, this Alchemist finds himself living alongside human beings, specifically a human woman named Jane. The idea is that the Alchemist will learn what it means to be a human being in this world, this world which has been overtly changed by his own actions.
Winter Woods is a manhwa with an ethereal, yet dark theme which is reflected in its art. The direction of this darkness is not that which is disturbing, it is cool and airy in its appearance and approach. The fantasy element adds flavour to the spice of life aspect which we experience through the life of the Alchemist who has long forgotten the warmth of the human heart and seeks to learn of the world he had a hand in creating. The plot and art work in tandem to create the sort of fantasy work that isn't extremely jarring, yet is capable of holding one's attention, especially on a serene day where one would bundle up in blankets and read.
---
8. unTouchable

Authors: massstar
Genres: Comedy Drama Josei Romance Slice of Life Supernatural
Volumes: 142
Published: July 2014 - April 2017
Sia Lee is a vampire living in the modern era who unlike her contemporary vampiric brethren, does not drink blood. She survives by sapping people of their life energy through physical contact. She has craved to touch Jiho since he moved in next door, but there is a massive stumbling block: Jiho is a total germaphobe! Will Jiho one day overcome his phobia and allow Sia Lee the bliss she has craved since the day she laid eyes on him?
Most vampire stories tend to be incredibly dramatic and even intensely violent; however, unTouchable is an adorable vampire story which plays around with the common sense of these undead creatures. The protagonist, Sia Lee, lives a normal life as a high schooler, and apart from her otherworldly good looks and her need to touch other people to survive, she's just another regular girl. The story's fixation over her pursuit of a particular meal is both comedic and ridiculous - it isn't a story which takes itself too seriously and that is the perfect work for someone simply looking to relax.
---
7. My Heart is Beating

Authors: Ha Il-Kwon
Genres: Comedy, Drama, Gender Bender, Psychological, Romance, School, Seinen, Slice of Life, Sports
Volumes: 3
Published: June 2009 - November 2009
17-year-old Bae Sugu is an excellent student who lives alone with his father, who is also the vice principal of the school he attends. Feeling the intense weight of his father's expectations, Sugu finds himself having to hide his true passion: swimwear. The origin of this passion is unknown and it is often misunderstood; however, it is true and pure. Unfortunately for him, one day while he is taking pictures of swimsuits at the school pool, he is caught by his homeroom teacher who then forces him to do something completely ridiculous. Can Sugu find a way to get out of the rut in which he finds himself?
Ha Il-Kwon has a knack of creating incredibly memorable and quirky characters, as well as stories which aren't too heavy or intense, yet leave a lasting impression. My Heart is Beating is no difference, with its beautiful art giving the impression of a light and fluffy storyline with an eccentric character at its centre. Humour is part and parcel of this manhwa and all together, the protagonist, Bae Sugu, the art and the lightheartedness of it all make My Heart is Beating a great comfort manhwa.
---
6. I Love Yoo

Authors: Quimchee
Genres: Romance, Comedy, School
Volumes: TBCs
Published: April 2017 –
Plagued by a constant stream of pain and misfortune in her life, Yoo Shin Ae decides that she does not want anything to do with people, let alone romance. Content with her antisocial, boring and totally loveless existence, Shin Ae's steady life is completely shaken up when she ruins a particular stranger's clothes at a party. Shin Ae really was not interested in attending the party on that fateful day, but coercion from her social butterfly friends proved to be too much to overcome. Will her life ever return to relative normalcy?
I Love Yoo is a quirky and comical webtoon about the difficult life of an extremely cynical teenager with a fairly troubled past. Despite its occasionally dark content, the work by Quimchee is the perfect story to get completely absorbed by on a calm day. It is a beautifully illustrated slice of life comedy which highlights the mundane life of its main character, Shin Ae, in addition to bringing a healthy dose of humour to the mix. It is definitely gripping enough to have one pining for every new chapter, yet it is light-hearted enough for enjoyment on a comfy day.
---
5. Orange Marmalade

Authors: SeokWoo
Genres: Comedy, Drama, Romance, School, Shoujo, Vampire, Slice of Life
Volumes: 8
Published: February 2011 – December 2013
In this world, the existence of vampires is common knowledge and has been for quite some time; however, they are forced to live in human society as outcasts and keep their identities hidden as a result of a peace treaty they signed two hundred years ago. The treaty restricted the satiation of vampiric hunger to solely pig's blood. The story follows Baek Ma Ri, a young vampire who has had a fairly difficult life as a result of her nature. Ostracised in many different places, her family has lived a nomadic life; however, Ma Ri eager to settle down in their current city. The prejudice has caused Ma Ri to develop a cynical outlook on friendships and love; however the sweet-scented Jung Jae Min stands to become a stumbling block in her chosen path of social solitude.
Orange Marmalade is a refreshing take on the vampire trope, using the concept as a romantic plot device, almost akin to the manga and anime Karin: Chibi Vampire. The storyline is intriguing and the protagonist's desire to live a fairly quiet high school life is reflected in the soft edges of the art. Orange Marmalade has emotionally intense moments; however, the overall feel of the manhwa is that of a beautiful story about a young high school girl whose life is slowly improving for the better. The art, plot and the earnest nature of the main character produce a work that is both inspiring, and also light enough for easy reading.
---
4. Oh Holy!

Authors: Ahyun
Genres: Romance, Comedy
Volumes: TBC
Published: October 2016 -
For the longest time, Jamie's only friends have been the deceased - ghosts have been his companions his entire life. Completely used to this somewhat lonely way of life, Jamie gets the shock of his life when the most popular girl in school, Holy. It turns out that Jamie and Holy are childhood friends bound together by a childhood promise the two had made: they had promised to one day travel the world together, but certain obstacles prevent them from truly coming to an understanding!
Oh Holy is a hilarious comic which makes use of the childhood friend trope in order to bring the story to life. The contrast of the gloomy protagonist and the outgoing and upbeat Holy creates some of the funniest misunderstandings in the story. However, the pure honesty and relationship of the two characters makes the story incredibly heartwarming at times, although the various misunderstandings brought on by their differences and supernatural influences can get frustrating! Overall, Oh Holy is the perfect manhwa to read when one seeks a good laugh and a story that isn't too serious.
---
3. Annarasumanara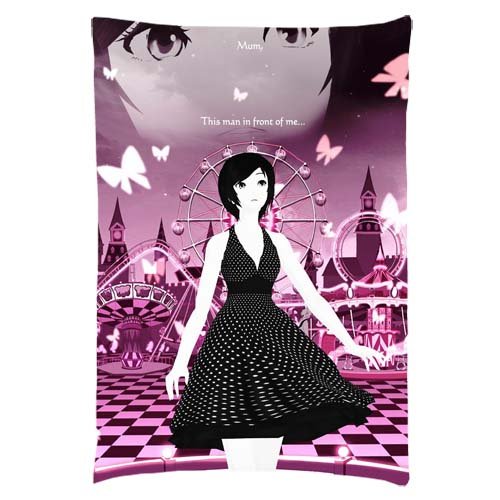 Authors: Ha Il-Kwon
Genres: Psychological, Romance, School, Mystery, Drama, Seinen
Volumes: 3
Published: July 2010 - December 2010
Yoon Ae is a high school student struggling to make ends meet for herself and her little sister after their mother abandons them. A rumour about a magician residing at an abandoned amusement park makes its rounds around her school and the town, and Yoon Ae's curiosity brings her to the amusement park one day. It follows that this magician is capable of making people disappear. Her meeting with him changes her life forever.
Annarasumanara is an incredibly sobering work by Ha Il-Kwon that somehow manages to find the balance between skirting in fantasy and remaining very grounded in reality. The story is one from which readers can learn a whole lot. The art makes heavy uses of black and grey, perhaps in an attempt to show the reader the colourless life lived by the protagonist, Yoon Ae. It is a bit of a ride at times; however, it is the grounding quality of this work that makes it perfect for a comfy day at home, one filled with this manhwa and perhaps a bit of reflection thereafter.
---
2. The Friendly Winter

Authors: Lee Jun
Genres: Psychological, Comedy, Slice of Life, Drama
Volumes: 2
Published: October 2011 - February 2013
A 15-year-old girl suffering from a rare growth condition which leaves her living life in the body of a small child. Soon she meets a 17-year-old boy who has a rare mental condition which practically makes him a child in a teenager's body. The story follows the story of the two characters, Han Da Jeong and Kim Min Seong, sharing their daily lives, as well as their trials and tribulations.
In some ways, A Friendly Winter reminds one of Toradora - a small protagonist with a large personality finds herself linked with a male character who isn't quite what he seems to be. Da Jeong's condition leaves her incredibly frustrated with the world around her, and it doesn't help that people around her treat her the way they see her - as a small child. This often has hilarious consequences, especially when she finds herself in need of some time in retail. Meeting Min Seong ignites the sense of responsibility that she has always craved - he sees her for what she is. The intricate relationship between the two is the type of heartwarming thing that one can truly get comfy to.
---
1. Skill of Lure

Authors: Woo Sang Ho
Genres: Ecchi, Romance, Comedy, Slice of Life, Shounen
Volumes: 7
Published: March 2013 - January 2016
Jang Sung Gi has lived a pretty difficult life due to misconceptions of him being a total pervert. Seen as a completely lecherous man by his fellow students, the reality of his situation is simply the fact that he lacks decent social skills and always finds himself in compromising situations. His lack of social skills leaves him unable to express himself to the women around him; however, his luck seems to change when fellow student Jae Hwang takes pity on Sung Gi and decides to train him in the art of seduction - in order for him to get the girl of his dreams! The two begin building Sung Gi from the ground up, becoming great friends along the way!
Skill of Lure is an incredibly heartwarming tale of self-improvement and self-discovery, showing that hard work can get one where they would like to be. The romance aspect is greatly augmented by the comedy which permeates every chapter. This makes the story incredibly lighthearted while at the same time, it manages to impart several life lessons to the reader. The art is beautiful and greatly complements the story, making Skill of Lure the self-help manhwa you didn't even know you needed to read on a chilled day at home.
---
Final Thoughts
Like anime and manga, manhwa is an endless well of beautiful stories with a plethora of different perspectives and characters. This makes it an equally beautiful world in which one can get lost and escape from reality. However, sometimes we just need something a little lighter for our tired souls and weary bodies. Something that will take us away from our difficult reality, but gently place us in a whole new world which can slowly rock us into the type of serenity we desperately need. Are there any other manhwa which you think should be on this list? Drop a comment below and help us get comfy too!
---