También puedes leer este artículo en:Español
There are days when things go in the wrong direction at every turn. You return home exhausted wanting nothing more than a warm shower and some comfort food waiting to help you relax. You might watch some anime to wind down, which may occasionly end up lighting up your face with a smile without you even noticing; this is what today's top 10 recommendation list is about. This is a list of top 10 comfy anime!
Among the action-adventures and romantic comedies of anime, there is a relatively small but still significant subset of shows that are much loved for special reasons. These shows aren't necessarily written or produced especially well. Instead, they are remembered for being nice for a calming, comfy watch, perfect for when you just want to sit back, relax, and let the anime bring you wherever it wants.
10. K-On!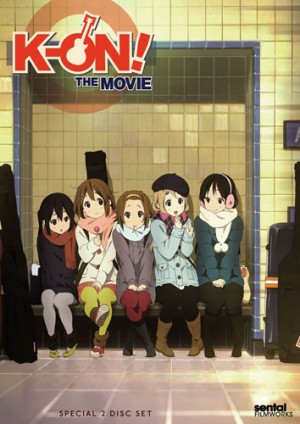 Episodes: 13
Aired: April 2009 to June 2009
K-On! is an anime about an extracurricular high school club of girls doing not much of anything; performance scenes are few and far between, but comprise many of the most memorable moments of the show. Regardless, watching K-On! is to witness Yui, Mio, Ritsu and Tsumugi's entry into high school life and their meandering episodes of cute nothingness.
Kyoto Animation shows could easily occupy over a third of this list, but we decided that most had moments of intense drama that made it difficult to justify over other anime that we came up with. As a result, it came down to deciding between K-On! and Lucky Star for the tenth spot, of which it wasn't too hard to settle on the former. Unlike Lucky Star, K-On! is accessible to anime fans of all experiences and is one of TV anime's best examples of characters simply coming to life. If you enjoy a hot beverage observing well-directed character interactions and a low-key coming-of-age story, K-On! may very well be just your thing.
---
9. Bokura wa Minna Kawaisou

Episodes: 12
Aired: April 2014 to June 2014
Bokura wa Minna Kawaisou is one of the few shows in recent years that has dorm tenants of multiple age groups and occupations, leading to one of the more dynamic slice of life experiences in anime. The viewer follows the thoughts of Kazunari Usa, who falls in love with a girl he catches sight of in the school library. Moving into the Kawai Complex, he learns that he will be living with Ritsu, the very same girl, along with a strange combo of a promiscuous office lady, provocative college girl and a masochistic NEET as fellow dorm mates. As they all project their everyday troubles and onto one another, the unconventional bonds they form end up being what they rely on most.
Kawaisou is an anime that ends up being sweeter than one might expect at first sight. It is comparable to a hot cup of lemon tea dunked in sugar. In the same way, each character's dichotomous outlook on life might just end up putting a smile on your face as you see them go through their troubles together.
---
8. Servant x Service

Episodes: 13
Aired: July 2013 to September 2013
The show's narrative is centered upon a trio of newcomers, Hasebe, Yamagami and Miyoshi. While Hasebe is talented enough to immediately becomes a useful member of his workplace and Miyoshi struggles due to her popularity among the elderly guests, Yamagami embarks on a quest of personal vengeance to find the ward office worker who allowed her parents to give her a ridiculously long given name.
Despite there being countless TV anime titles out there, the Japanese workplace is rarely used as a setting in any of them. Servant x Service breaks this trend by covering the lives of government workers inside a city ward office, following not only their personal interactions but also touches on how they deal with being in a professional environment. Servant x Service may sound like an anime that reminds older viewers of the source of their stress, but manages to give the workplace environment enough of a positive spin that no viewer could possibly find the show a painful watch. Instead, we are treated to small revelations of each character's background and the growing romantic relationships that appear between unlikely pairs.
---
7. Kannagi (Kannagi: Crazy Shrine Maidens)

Episodes: 13
Aired: October 2008 to December 2008
Riding the wave of the Haruhi Suzumiya boom is an anime first aired in 2008 called Kannagi, which rehashes some of the same narrative features of the aforementioned megahit anime while somehow being even more light-hearted, even more crazy, and to many an even more fun experience.
Kannagi starts with high schooler Jin carving a statue from the trunk of a sacred tree. When he returns to the completed statue a while later, Kannagi is met by Nagi, a goddess on a mission to cleanse the impurities of the world but had been under years of slumber. Don't let this fool you though, as Kannagi is really about the shenanigans that Jin is forced into partially by Nagi eccentricity and the other parts by the sheer weirdness of all the people around him. They even manage to fit in a karaoke episode in there.
Filled to the brim with energy, Kannagi is an anime that is sure to bring you to laughter without forcing you to attach emotionally to any lasting dramatic consequences. Kannagi as a manga adaptation doesn't reach deep into the source material's core story, and is much better thought as a delivery of light humour by appealing characters.
---
6. Kono Subarashii Sekai ni Shukufuku wo

Episodes: 10
Aired: January 2016 to March 2016
Like Kannagi, Konosuba is also a comedy with great characters. Unlike Kannagi, you might end up loving Konosuba precisely because you ended up loving to hate its characters and had a fantastic time laughing at their misfortune.
Real world high schooler Kazuma is met with an unexpected early death, bringing him to the care of goddess Aqua. There, he is given the choice either to ascend to heaven or to be given another chance at life, this time in a RPG-inspired world of mortal combat against an oppressive demon king. As an avid gamer himself, he and Aqua embark on his own quest towards becoming a hero.
Or so it should have went.
Konosuba quickly reveals its intention to subvert any and every expectation a viewer can have for an RPG-based action-adventure story. Instead, the show is absolute comedy gold in how Kazuma's genre-savviness is destroyed by the idiocy of his party-mates and his own hilariously mean-spirited personality. Really, although Kazuma, Aqua, Megumin and Darkness may act antagonistic towards one another, it only takes the show's 10 episode run to make us believe that there is a part within all of them that undeniably cares for one another, and that is an absolute joy to see.
---
5. Full Metal Panic? Fumoffu

Episodes: 12
Aired: August 2003 to October 2003
Sousuke Sagara is a militant youth who, for the reasons of protecting her, attends the same high school as the beautiful Kaname Chidori. However, having lived his entirely life surrounded by war and conflict, Sousuke often overreacts or even fails to comprehend the most basic aspects of living peacefully in Japan much to Kaname's dismay. Fumoffu brings this a step further by framing the entire series around the most ridiculous misunderstandings between Sousuke and his classmates, always leading to moments of hilarity that cannot be matched easily by anime before or since.
Spin-off series occupy an interesting space in anime, where they are often not taken seriously by fans of their respective franchises. For the purpose of our list, Full Metal Panic? Fumoffu being a comedy spin-off of the action-romance Full Metal Panic series plays in its own favour as we can get a full taste of the romantic hijinks and situational comedy of the franchise. Perhaps the best part about this show is its ability to make any viewer comfortable with its writing. Fumoffu's jokes have a low entry barrier, making it a simple, comfortable watch for all who are interested, making it an approachable starting point for today's anime fans who have heard of Full Metal Panic but never gave it a try.
---
4. Isshuukan Friends. (One Week Friends)

Episodes: 12
Aired: April 2014 to June 2014
Yuuki Hase is in love with Kaori Fujimiya. However, she is an enigma to everyone around her, keeping secret her condition of being unable to retain memory for over a week. Discovering this, Yuuki makes it his personal mission to become Kaori's first real friend, no matter how difficult that may be.
Memory loss is a strong narrative tool, often used by many titles as a way to create drama. That being said, it makes it all the more impressive that One Week Friends managed to weave a light hearted, low calorie tale of heartwarming friendship. At its core, One Week Friends is a celebration of friendship as a teenager with all the hopeful emotions and occasional awkwardness it brings. For the stressed viewer, One Week Friends is pure fluff with only the lightest of drama, an optimistic message and a beautiful rendition of a classic Japanese rock song waiting for you episode after episode.
---
3. So Ra No Wo To (Sound of the Sky)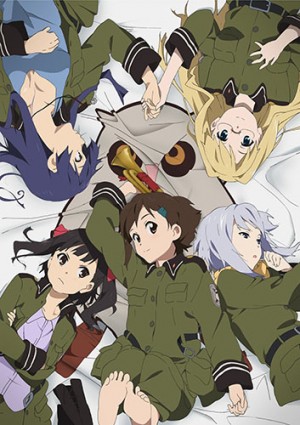 Episodes: 12
Aired: January 2010 to March 2010
Just like the four main high school light music club members of K-On!, So Ra No Wo To revolves around the meeting and interactions of Kanata Sorami and her three fellow unit members in the 1121st Platoon, led under platoon captain Filicia Heideman. The setting of this anime is a war-torn world, one in which each character is faced constantly with the prospect of having to fight for their lives. At this point you may ask, how in the world can such a tense show be comfy? To that, So Ra No Wo To answers through music.
Some say that So Ra No Wo To is K-On! with a fresh coat of paint and a military theme. We at Honey's Anime believe that there are things either series do better than the other, but nothing in K-On comes close to the immersive viewing experience that So Ra no Wo To provides. As much as this anime is an immersive war story, it is framed around the Kanata's desire to play the bugle in remembrance of a beautiful soldier who once inspired her with a breathtaking rendition of 'Amazing Grace'. As a result, So Ra No Wo To actually spends more time showing Kanata and co. struggling through their day-to-day life (be it on the military side or playing their instruments) and fits well within the boundaries of a slice-of-life show. What So Ra No Wo To does best, which many anime have tried and failed to do, is make a connection between the concepts of a meandering daily life and how precious it really is. Sit back and get comfortable with this anime, but beware that it is one that will elicit strong emotions and thoughts.
---
2. Nichijou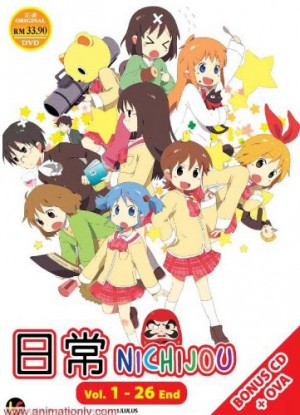 Episodes: 26
Aired: April 2011 to September 2011
Nearly everyone has seen a clip of Nichijou. It's that gif-able. At first split between two narratives, Nichijou sees the antics of pre-teen Hakase Shinonome, her robotic caretaker Nano and their talking cat Sakamoto in one set, but also the wacky school life of female high schoolers Yuuko, Mio and Mai. Nano, despite being a mechanical being, aspires to be a human but is constantly dismayed by Hakase's whims. The high school trio on the other hand go through the motions of their daily life, but mess with each other in increasingly ridiculous way that often ends up in hilarious situations. As an adaptation of a 4-kona manga, Nichijou does an exemplary job.
What puts Nichijou above all other anime in this list is a truly magnificent presentation, top-tier production values and a sense of progression never seen for an anime that is entirely about silly characters doing silly things. Nichijou is the equivalent of anime's ultimate Saturday morning cartoon show, pushed to the limit of what anime is capable of. Prepare a warm mug of cocoa for this one, as you might just need the sugar.
---
1. Aria the Natural

Episodes: 26
Aired: April 2006 to September 2006
If Aria the Animation is an introduction to Neo-Venezia and Origination is a concluding arc to all of the cast's character development, Aria the Natural is certainly when the viewer grows to love both Neo-Venezia and the people inside it.
Akari Mizunashi decided to go to what we call Mars, a place in Aria's world that has been colonised and made into a planet of water. The newly named Aqua houses the city of Neo-Venezia, constructed to recreate the image of Venice. In Neo-Venezia, Akari is committed to pursuing her dream of becoming an Undine, a female tour-guide who makes it their job to share their love for Neo-Venezia to whomever boards their gondola.
If anime has ever been concerned with portraying a paradise on Earth (or Mars in this case), Aria may be the closest to accomplishing this. Absolutely every single character is a joy to see in this show, ranging from the romantic Akari, the blunt but friendly Aika and the snotty but lovably childish Alice to all who makes up a part of the intricate jigsaw puzzle that is Neo-Venezia. It is in Aria the Natural that we may become convinced that Neo-Venezia itself may be as much of a central character as any other individual, having the power to bring out the best of everyone treading upon it and connecting through fateful meetings those who become better people because of it.
For its expansive setting and a delightful collection of lovable personalities providing no shortage of comfort for the heart, Aria as a franchise deserves the top spot for our list of 'Top 10 Comfy Anime'. There is no bad day that can't be made better with Aria, and there is no place in anime that can be held as dear as the paradise that Akari and co. made Neo-Venezia into. If there's anything that's unfortunate about the show, it's that there is an inevitable end to the story of Aria Company, but even then such is only a way to connect to a new beginning.
---
Final Thoughts
What one finds comfy is definitely subject to personal preference. The list we have compiled is simply a reflection of our own values, but may serve as a useful compass for a day when you want something new to try without fear of being overwhelmed. Even then, we'd like to hear about what you have to say about this.
Is there an anime you feel should have made the list? Do you get comfy from something entirely different? Let us know in the comment section below.
---