También puedes leer este artículo en:Español
---
They say food and love go together to create the best relationships, and we here at Honey's Anime couldn't agree more! Cooking is an art, a passion, and is constantly evolving in this wonderful world we live in. From your typical fresh dish to the more eccentric exotic cuisine, there are always options for the food connoisseurs out there to dip their fingers in. We thought we'd serve up a nice top ten list of cooking manga for those who are not satisfied with the lack in cooking anime, and provide you with an excellent assortment of manga to pick up and read. This list is sure to provide a fresh taste and most certainly give you an overload of flavors, so be sure to have your utensils ready because we're about to dig in!
10. Hana no Zubora Meshi

Mangaka: Kusumi, Masayuki
Genres: Cooking
Volumes: 3
Published: April 2009 - Present
Hana no Zubora Meshi is about a young woman named Hana who lives on her own, while her husband is away for work. While at home she cooks up her own dishes, but she's quite sloppy at it and somehow manages to make them taste delicious. More so, she's a little chubby but that doesn't stop her from using her creativity to come up with meals that cater to her needs, while her husband is out.
Hana is such an amusing character because despite not being able to create dishes that look presentable, she still somehow comes up with a meal that tastes great to her. Her sloppy ways and poor preparation at times makes you chuckle, as she truly tries her best and you can clearly see it in her efforts. We can all relate to Hana in some way because let's face it, cooking is no simple task. You need to be able to prepare your ingredients, make sure to wash and clean dishes before and after you eat, but more importantly make sure the meal itself actually tastes satisfying. Luckily for Hana there's no one around but her to clean up for, so she can do whatever she pleases.
---
9. Kinou Nani Tabeta?

Mangaka: Yoshinaga, Fumi
Genres: Cooking
Volumes: 11
Published: February 2007 - Present
Kinou Nani Tabeta, which in English translates to what did you eat yesterday, is a slice of life cooking manga starring Shirou Kakei. Shirou is a professional lawyer who has a passion for gourmet cooking and lives with his gay roommate Kenji Yabuki, who is the total opposite of Shirou in every way. Kenji is more laid back and carefree but truly appreciates all the hard work that Shirou puts into every meal he creates, which clearly shows when Shirou breaks down his dinner preparations.
This manga focuses primarily on how Shirou prepares his meals, breaking down each ingredient that goes into his dish, and educating the reader on how to become better cooks. This is a wonderful manga to read for that very reason because coming up with your own recipes or creations at times can be cumbersome, so having someone give you a head start on things can make the ordeal a lot less overwhelming.
---
8. Oishinbo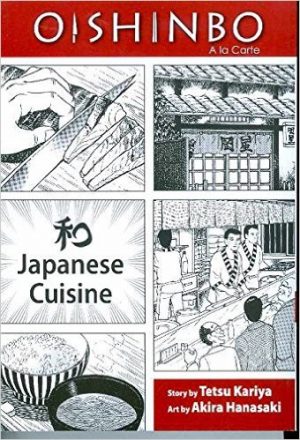 Mangaka: Kariya, Tetsu
Genres: Cooking
Volumes: 111
Published: September 1983 - Present
Oishinbo is one of the longest running cooking manga and for good reason. In the Tozai news department Shiro isn't the type to really motivating when it comes to his position. He's usually lacking ambition and never seems to take his work all too seriously. Somehow despite all of this, Shiro has been chosen to come up with the ultimate menu to celebrate the newspaper's 100th anniversary. This is because in spite of his lack in work ethic, his exceptionally strong sense of taste, superb kitchen skills, and a passion for food and drink make him the perfect candidate to bring the newspaper back to the top.
Shiro is a very colorful character in that, he doesn't really show much hope when it comes to his normal position at work, possibly because it doesn't serve a purpose in his life. However his energy explodes once the topic of culinary comes into the picture because, that's truly where his heart resides. We all have been in his shoes before, being told to do things which we don't like, while deep down our greatest desires are just waiting to erupt from within. Shiro possesses a remarkable talent which is unmatched, and his encyclopedia of knowledge pertaining to cooking is incredibly fascinating, since every time you read you too are being educated.
---
7. Addicted to Curry

Mangaka: Funatsu, Kazuki
Genres: Cooking
Volumes: 49
Published: January 2001 – December 2012
Makito is a passionate and dedicated chef who assists Yui to ensure that her father's restaurant, Ganesha, stays in business. The restaurant has had a ton of problems as of late, dealing with a severe lack of customer retention, huge companies seeking to take over the family owned franchise, and various other ordeals that place a ton of stress on Yui and the others. This however doesn't phase Makito as he strives to keep the restaurant alive by enduring every challenge that comes his way, and to keep his promise to help Yui's father stay afloat.
It's quite clear that this manga is all about curry, and that you may just become addicted to all of it once you dig in. That is most certainly the truth as this manga explores the many realms of curry oriented cuisine, and Makito demonstrating his talents in the kitchen. Every dish is constantly evolving, with new spices being added to the mix every time to reel in new prospects. Nobody knows Makito's mysterious past but once you dive deeper into this wonderful series, you'll start to understand why you're addicted to curry and also addicted to cooking.
---
6. Hell's Kitchen

Mangaka: Amazi, Gumi
Genres: Cooking
Volumes: 13
Published: February 2010 - August 2014
Before we move on with this one, we'd like to stress that this isn't a manga rendition of Gordan Ramsay's television series, although there are some pretty devilish things that happen throughout the manga that will remind you of Ramsay's terror. The story follows Satoru, who was trained by Dogma to become the perfect chef. However what Satoru doesn't realize is that only death awaits him after his training, as his sensei is a demon from hell who has made a promise to devour his soul, and plans to have Satoru spend his lifetime being a puppet to his orders.
This sounds a lot like the actual TV show in some way, because quite frankly we'd probably soil ourselves if Mr. Ramsay was our teacher. Dogma takes no prisoners in his training, and ensures that Satoru follows his every order to make sure dishes are prepared exactly the way he sees them. If Satoru makes a mistake he's punished heavily for it, and if he makes a great dish he gets punished for it. Either way there's no escaping this kitchen of terror, and if you'd like to be a spectator to this comedic cooking extravaganza, then be sure to pick up your copy real soon!
---
5. Yumeiro Patissiere

Mangaka: Matsumoto, Natsumi
Genres: Cooking
Volumes: 12
Published: September 2008 -August 2013
Amano is a small young girl with an incredibly large sweet tooth. Her love for cake surpasses many, so she decides to enroll in St. Marie Academy, a school that tailors to training and inspiring upcoming patissier. She's quickly thrown into the fire however, as her group is an elite squad of handsome looking princes who all master in sweets, and now she must learn from all of these wonderful men while maintaining her control. While not being the best at making cakes, Amano will do whatever it takes to master the art which she loves, and to become the best patissier for her fans.
Amano is such a treat to watch because she is very sweet herself, and really just wants to live her dream to create delicious cakes. She realizes that eating them is far more easier to making them, but it doesn't stop her from doing her best to succeed around a group of handsome men who flirt with her. You're constantly amazed at her progress and how well she evolves, as each man who guides Amano truly inspires her to become her greatest version. If you love cakes, sweet princes, and just sweets in general then be sure to pick this one up.
---
4. Toriko

Mangaka: Shimabukuro, Mitsutoshi
Genres: Cooking
Volumes: 38
Published: Date: May 2008 - Present
Toriko is on a mission to become the greatest chef in the world, but to do so he needs to collect only the finest ingredients in order to reach the very top of the culinary mountain. Along his journey he must travel vast lands, all with very funny names pertaining to food, and tagging along with him is Komatsu who is timid but shares a great abundance of knowledge that helps Toriko on his adventure. The two come across many enemies who are also out to grab the best ingredients, and so they must team together to make sure they grab what they need fast, before the enemy gets a chance to strike.
Toriko is an action packed cooking adventure that follows him on his wild adventure to come up with the most insane dishes known to man. You'll come across really cool dishes ranging from the typical soups to your more exotic puffer whale dried poison sack created by Tylan. Each chef that Toriko encounters has a full course menu that they must serve, and so he has to plan out his strategy carefully in order to create a dish that eclipses theirs entirely. It's a battle of wits in this exciting manga, and if you love cooking, travel, and creativity then this one is certainly for you.
---
3. Bambino!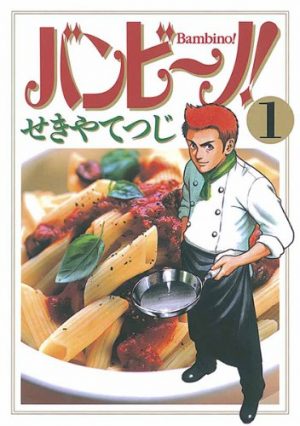 Mangaka: Sekiya, Tetsuji
Genres: Cooking
Volumes: 15
Published: December 2004 - February 2009
Shogo Ban just really enjoys cooking and never takes his position lightly. He works at a prestigious Italian restaurant in Roppongi named Trattoria Baccanale, and over time Shogo learns that this job is exciting yet very challenging. The story looks at his life as Shogo tries his best to overcome the struggles that working in a fast paced environment come with, while dealing with his personal life to ensure his girlfriend doesn't get left behind.
This is such a wonderful story of a young man who found an opportunity due to knowing the owner of the restaurant, and tries his best to make a career out of what he loves. Shogo understands how hectic cooking can be, so he tries his very best to make sure that he and his colleagues get along, while serving up dishes that have to always meet the highest standards. On top of that, his girlfriend still lives in Fukuoka so it's hard for them to see each other frequently. We see his growth throughout the manga as each experience helps train him to become more mature, more refined, and most importantly more prepared.
---
2. Kitchen no Ohimesama (Kitchen Princess)

Mangaka: Kobayashi, Miyuki
Genres: Cooking
Volumes: 10
Published: August 2004 - August 2008
Kitchen no Ohimesama follows Najika who prides herself on her cooking, and loves to make dishes for others around her. Despite all of this she feels that something important is missing from her life, and that is a boy who she fell in love with when she was younger. She's determined to find his whereabouts but her only clue is a silver spoon that will guide her towards Seiki Academy, which is very well known and established. During her time at the Academy she encounters two young boys who seem to match her criteria, but now it becomes her mission to find out who the one truly is.
Najika just wants her life to be fulfilled and we couldn't agree more. Life just isn't complete without devoting your love and energy to someone else, for their happiness, and that's all she strives to achieve. Najika's passion for cooking for others certainly goes a long way, but she feels like her dishes would go beyond the stars if she had her childhood love to do it all for. As we said in the beginning of the article, food and love go together, since you're putting all of your heart and soul into making that one dish that speaks to the other. Will Najika finally get her chance to express her true feelings? Or will she continue her desperate search for the one she loves? Find out more when you pick this manga up.
---
1. Shokugeki no Soma (Food Wars: Shokugeki no Soma)

Mangaka: Tsukuda, Yuuto
Genres: Cooking
Volumes: 19
Published: November 2012 - Present
Shokugeki no Soma was the clear winner in this cook off simply because Yukihira knew exactly what he needed to do to outwit his opponents. This manga is a masterpiece because not only does it demonstrate so much talent in various culinary circles, but it also provides the reader with an encyclopedia of information that even surprised us as we read it. Each battle that Yukihira encounters is always a nail biter because his opponents have so a wealth of knowledge under their belt, that it's always neck and neck as to who comes out on top.
We've only managed to read up to volume 13 thus far, and we must say that things are only starting to heat up in the competition. There's never a shortage of excitement for the reader because each page consists of a load of details that you can use in your everyday cuisine, to help create better dishes of your own if you ever felt like it. We love cooking here at Honey's Anime and this series is not just about incredible competition and wicked detailed information on ingredients, but it's educational and most importantly inspiring for many cooks out there. This is a for sure read so make sure to buy all 19 volumes so you can stay ahead of the game!
---
Closing Statement
Well that about wraps things up for us here at Honey's Anime. We hope that these top ten cooking picks have enticed you to go out and grab a copy, so be sure to let us know how you feel in the comments section down below! Cooking manga will always stand the test of time because we will always need a recipe to learn from, and these manga have everything covered for you. If you feel that there are any other fantastic cooking manga out there that you admired, be sure to let us know as well! And also, follow us on twitter for the latest article updates and tweets!
For all of your sweet manga needs, keep it locked here on Honey's Anime.
---